ALA: Most targeted books were by or about Black or LGBTQ+ persons
Nearly 1,600 books in more than 700 libraries/systems across the nation involving race, gender & the LGBTQ community, were targeted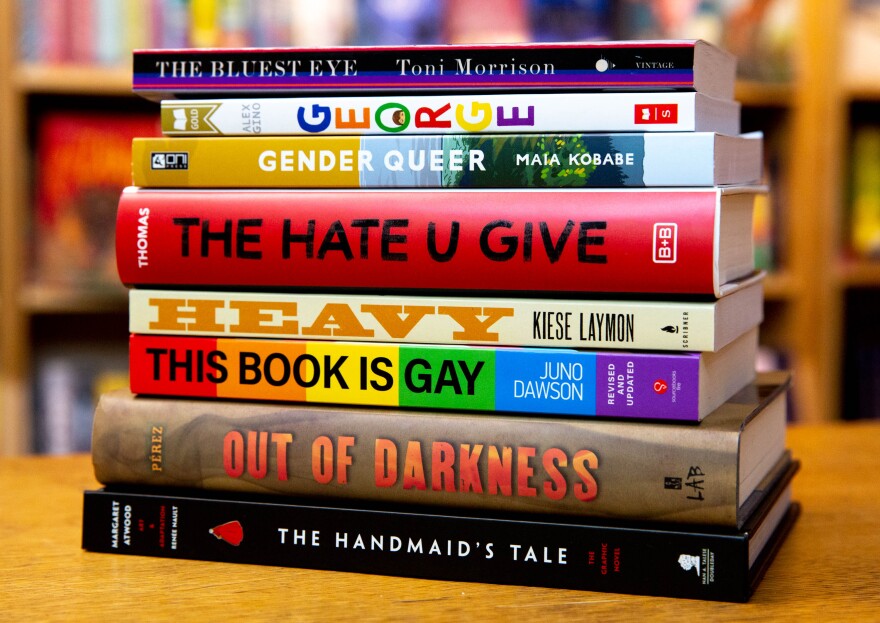 CHICAGO – A new report released by the American Library Association (ALA), covering its annual assessment of books being challenged or banned in the United States showed a dramatic increase in just a three month period of time in 2021 versus all of the previous year.
According to the ALA, nearly 1,600 books in more than 700 libraries and library systems across the nation involving race, gender and the LGBTQ community, were targeted by conservative groups in many cases led by anti-LGBTQ+ groups like the Florida-based 'Moms for Liberty.'
ALA's Office for Intellectual Freedom tracked 729 challenges to library, school, and university materials and services in 2021, resulting in more than 1,597 individual book challenges or removals.
In 2021, libraries found themselves at the center of a culture war as conservative groups led a historic effort to ban and challenge materials that address racism, gender, politics, and sexual identity. These groups sought to pull books from school and public library shelves that share the stories of people who are gay, trans, Black, Indigenous, people of color, immigrants, and refugees.
"Libraries represent values that are core to democracy. Trained and certified librarians and library workers provide services and collections that inform, engage, illuminate and help people of all ages learn more about the world around them.
"Libraries across the country are addressing the effects of historical inequality and systemic racism on library users, especially people of color and those who belong to historically marginalized and minority communities. Library professionals are dedicated to developing collections that allow every person to see themselves in library resources and provide a means to build understanding among all users," said Patricia "Patty" Wong, American Library Association President.
The ALA report noted that although many bans and challenges originated from
parents, in some cases law enforcement and state legislators got involved.
In Wyoming, a group of residents led by a local pastor filed criminal complaints with local prosecutors, requiring the appointment of a special prosecutor who weighed the possibility of prosecuting public library officials for shelving books some said were obscene in sections
intended for children and young adults.
The books claimed to be in violation of the law included This Book is Gay by Juno Dawson, How Do You Make a Baby by Anna Fiske, Doing It by Hannah Witton, Sex is a Funny Word by Corey Silverberg, and Dating and Sex: A Guide for the 21st Century Teen Boy by Andrew P. Smiler.
In November, the Associated Press reported that no charges would be filed.
The special prosecutor, Weston County Attorney Michael Stulken, wrote to Campbell County Sheriff Scot Matheny that "[he] cannot ethically bring criminal charges if the facts surrounding a certain matter are not supported by probable cause." He concluded that the books in question were not obscene and that there was no basis in law for the criminal prosecution of the library staff who had presented the books to the public.
Those concerned about censorship have reason to worry. "Book challenges and removals are significantly up this school year from last year," said Nora Pelizzari, director of communications, National Coalition Against Censorship. "The most frequently challenged books are by and about people of color and LGBTQ+ people. All of the intersections apply."
A St. Louis Public Radio analysis of the books being challenged in the area in November found two-thirds were written by authors of color or authors who identify as LGBTQ. "The Bluest Eye," was the book with the most official requests for removal from libraries. It was the first book by Toni Morrison, who would go on to win a Nobel Prize in Literature and a Pulitzer Prize.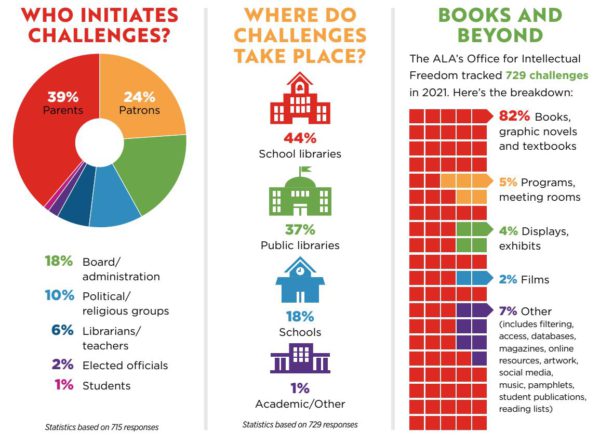 Top Ten most challenged books: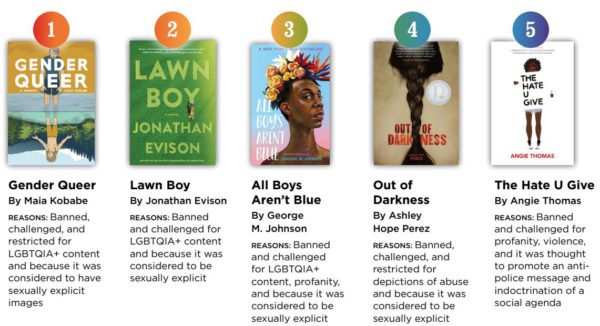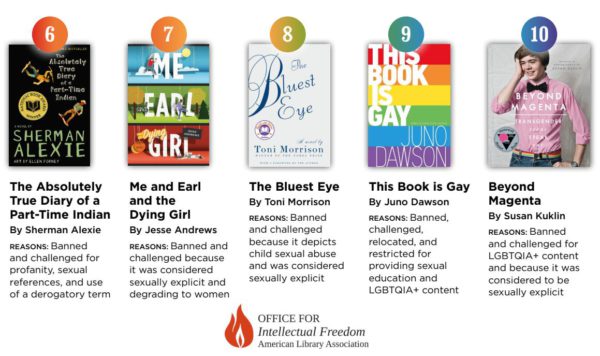 Anti-trans activist Kellie-Jay Keen spreads hate across America
Violence mars speaking tour by the UK's "Standing for Women" leader whose next stops include Florida, Washington, D.C. and New York City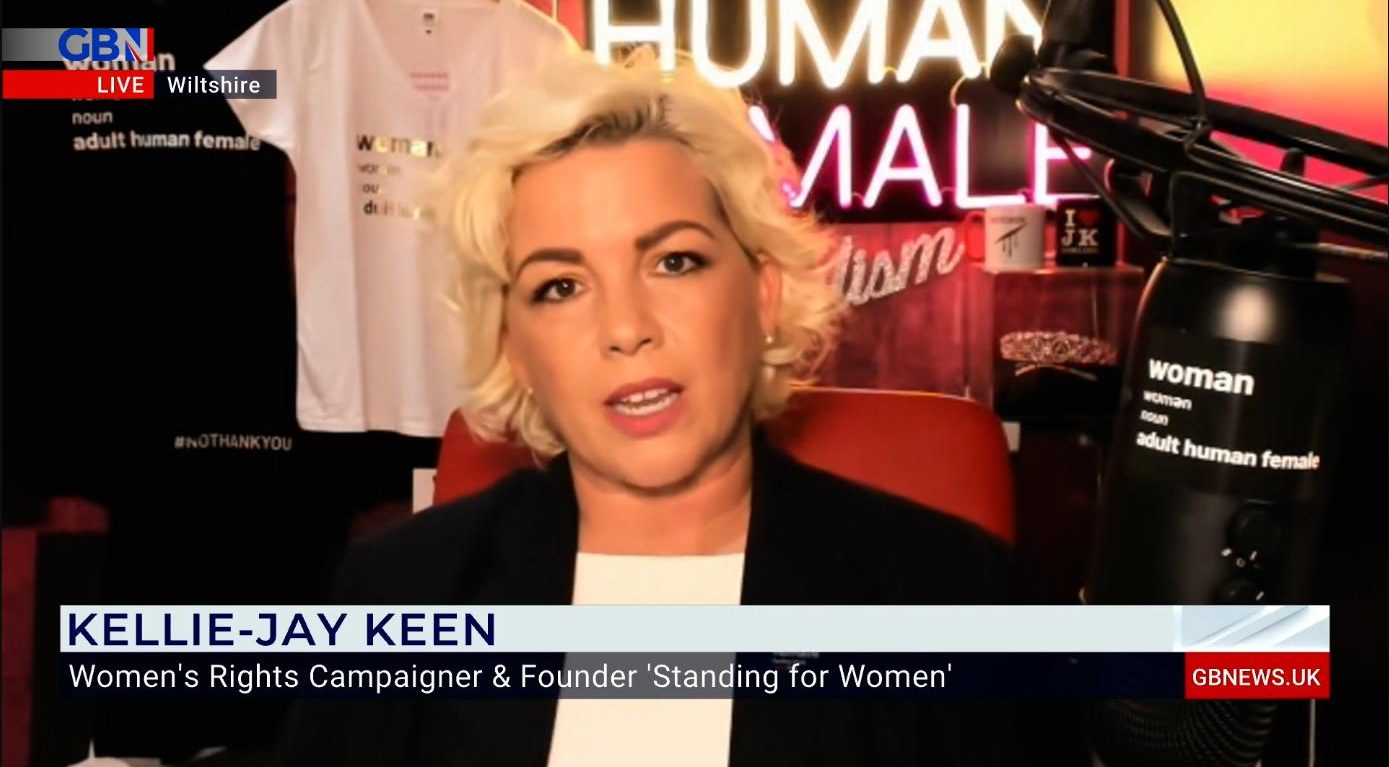 CHICAGO – Outspoken British TERF Kellie-Jay Keen, who goes by the pseudonym "Posie Parker," is in Chicago Sunday for the sixth stop in her 11-city "Standing for Women" speaking tour, which she launched in Los Angeles Oct. 16.
Her mission, she said when she announced the tour on Twitter earlier this month, is to "let women speak" and to "change the world."
"Women," according to Keen and her supporters, only means cisgender people presumed to be female at birth and does not include transgender women. "No woman has a penis," Keen said in Austin, Texas Saturday. "No man has a vagina." GC activists and TERFs like Keen are campaigning for laws discriminating against trans rights on both sides of the Atlantic.
Keen streamed the event on YouTube and posted photos on social media, showing what Keen claimed were Chicago police officers escorting her through crowds due to incidents of violence that had erupted on that tour. As of press time, Chicago police could neither confirm or deny whether on-duty officers provided security or whether off-duty uniformed officers were present.
@Chicago_Police stepping up. #LetWomenSpeak #Chicago#LetWomenSpeakUSA pic.twitter.com/dTuvHnMJFA

— SFW Kellie-Jay Keen #AdultHumanFemale (@StandingforXX) October 30, 2022
In Tacoma on Wednesday, police made one arrest for assault and The News Tribune reported at least six counter-protesters were treated for being hit with pepper-spray. The woman wielding the can of bear spray, similar to that used in the Jan. 6 insurrection at the U.S. Capitol, was identified in that report and via YouTube as Jenna Hoch of Denver, an anti-trans activist. She can be seen in the video, backing away from counter-protesters, screaming "Don't touch me."
A 14-year-old girl claims to have been targeted by Hoch in a video posted to YouTube.
"I was prepared for the violence," Hoch told The News Tribune, following what she described as an assault in Portland, Ore. One protester's hand was injured and required medical treatment, Hoch said. Keen, however, canceled the Portland event due to threats she claimed were made by Antifa. Video of a pie attack at that canceled event has since gone viral.
Despite canceling the stop in Portland, Keen did show up in Tacoma. A video posted by Keen shows a counter-protester storming the area of Tollefson Plaza where Keen and a dozen fellow speakers were holding their rally; One of Keen's supporters swiftly intercepted the counter-protester. According to The News Tribune, about 30 people showed up at the plaza in support of Keen. However, within minutes, the crowd of 20 counter-protesters grew to about 200 and made their way into the plaza. By that time, Keen had already fled, according to the report.
Keen is the U.K. activist who earlier this year advocated for gun-carrying, cisgender dads here in the U.S. to "use women's toilets… to combat the insanity" of allowing transgender girls and women to use bathrooms matching their gender identity. Keen represents cisgender women who call themselves "Gender Critical," and oppose laws and policies here and in the U.K. that allow transgender women to identify as women, compete as women and use public facilities dedicated to females. Keen also confronted this reporter covering the NCAA Women's Swimming Championships in Atlanta in March about use of public bathrooms.
When Keen launched her speaking tour on Oct. 16 on Hollywood Blvd., she was joined by a handful of supporters and fellow speakers and no opposition. And police presence was non-existent.
Kellie-Jay Live from Los Angeles #LetWomenSpeak#LetWomenSpeakUSAhttps://t.co/YFhJOQx6Zs

— SFW Kellie-Jay Keen #AdultHumanFemale (@StandingforXX) October 16, 2022
The same was true in San Francisco, her second stop. But when protesters started showing up at Keen's events, she asked for but did not receive police protection, including in Tacoma. That visibly changed when she arrived in Austin, Texas on Saturday, as ex-detransitoner and former radical feminist Ky Schevers tweeted, with a screenshot of armed security guards flanking Keen.
Kyle KD Sims & his team did security for Kellie-Jay Keen's anti-trans rally in Austin. Sims is a right-winger who's previously done security for former Senator Don Huffines & Kelly Neidert/Young Conservatives of TX. TERFs are increasingly turning to right-wing men to do security. pic.twitter.com/Qnv93fUIIK

— Ky Schevers (@reclaimingtrans) October 30, 2022
According to Schevers, "Jeannette Cooper of PEC [anti-trans group Partners for Ethical Care] hired private security for Chicago & K. Yang aka the Deprogrammer is paying for security for the NYC rally."
Also on hand on Sunday in Chicago's Pioneer Court: Counter-demonstrators brandishing signs declaring, "TERFs MACE KIDS."
#TerfsMaceKids https://t.co/T8KnyvbCMq

— Katy Montgomerie 🦗 (@KatyMontgomerie) October 30, 2022
The counter-demonstrators staged their own rally in Chicago's Cityfront Plaza, attended by at least one man identified by Twitter users as a member of the Proud Boys.
Keen's next stops include Florida, Washington, D.C. and New York City, and she announced she plans to make a documentary from video of her events.