"The absolute worst campuses for LGBTQ youth" in the nation
Most exhaustive update to 'The Worst List' since 2016 adds 50 new campuses for total of 180 unsafe campuses for LGBTQ youth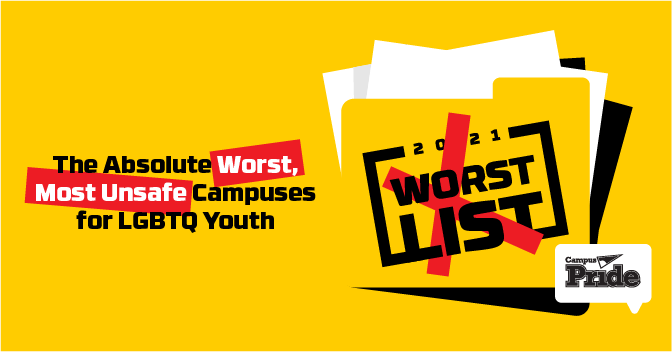 CHARLOTTE – Campus Pride officially released its 2021 Worst List, naming 180 campuses across the country as "the absolute worst, most unsafe campuses for LGBTQ youth."
The colleges and universities included in this year's list have either received or applied for a Title IX religious exemption to openly discriminate against LGBTQ youth, or they have a demonstrated history of anti-LGBTQ policies, programs and practices. 
In March of 2021, 33 LGBTQ students and alumni from 29 campuses filed a class action lawsuit against the U.S. Department of Education demanding that they stop granting religious exemptions to tax-payer funded religious colleges and universities that discriminate against and abuse their LGBTQ students.
In 2019, 41 campuses filed an amicus brief in Bostock v. Clayton County voicing their support for employment discrimination at religious institutions for LGBTQ employees. Ultimately, the U.S. Supreme Court ruled in the landmark case last year determining that discrimination against gay and transgender workers is unlawful and violates the Civil Rights Act of 1964.
"Campus Pride was founded 20 years ago with a vision of campuses and a society free of anti-LGBTQ prejudice, bigotry, and hate," said Shane Windmeyer, Founder and Executive Director of Campus Pride. "And while much progress has been made since then, clearly there remains a lot more work to do as we develop and train future leaders to create safer, more inclusive communities on campuses.
"This is the most exhaustive update to our annual 'Worst List' since 2016, with more than 50 new campuses added this year in part because of the lack of updates in filing procedures since the Trump Administration's Department of Education told campuses they did not have to apply for Title IX religious exemptions to openly discriminate against LGBTQ people. The Biden Administration has yet to clarify this DOE memo or mandate that a campus must apply for Title IX to discriminate based on religious beliefs."
Shameful mentions from this year's Worst List, includes Baylor University for its past and recent history of anti-LGBTQ discrimination and because it is one of the campuses named in the class action lawsuit, Hunter v. the U.S. Department of Education, for abuses to LGBTQ+ students.
Brigham Young University is included on the Worst List because former President of the University, Elder Jeffrey Holland denounced LGBTQ+ students, including Matt Easton's heroic act of coming out in his commencement speech as valedictorian of BYU's political science program, and for suggesting that BYU professors needed to use their "musket fire" agaiinst LGBTQ ideology rather than directing "friendly fire" against the church.
Malone University qualified for the Worst List after an associate professor was forced to resign after telling the administration that she would be getting married to a woman. In an email sent to the student body, the university shares how the professor was in violation of Malone's religious beliefs and their Community Agreement for Sexual Conduct, which states "sex should be exclusively reserved for the marriage relationship, understood as a legal, lifelong commitment between a husband and wife."
College of the Ozarks filed a lawsuit against the U.S. Department of Housing and Urban Development, arguing that the Fair Housing Act, which prohibits discrimination on the basis of sexual orientation and gender identity, "requires private religious colleges to open up female showers, restrooms, and dorm rooms to biological males who assert a female gender identity." College of the Ozarks is shamefully mentioned as one of the worst, most dangerous colleges for LGBTQ youth.
Lee University is also shamefully mentioned in this year's Worst List because of a past and recent record of anti-LGBTQ discrimination and because they specifically argued as a part of a 2019 amicus brief in Bostock v. Clayton County to allow employment discrimination against gay and transgender employees of religiious institutions. In September of this year, Lee University removed "gender identity" from the campus anti-discrimination policy.
For the full list of the 180 worst, most unsafe campuses for LGBTQ youth in the country, please visit www.campuspride.org/worstlist and find more details about how these campuses intentionally create an unsafe campus environment by openly discriminating against LGBTQ people.
Prospective students and families who are looking for LGBTQ-friendly campuses are encouraged to visit the Campus Pride Index at www.campusprideindex.com.
If you or someone you know is experiencing discrimination, bias or involved in a hate crime, please Report It at this online form.
Central American Studies now offered by LACCD's East LA campus
"The Central American Studies Program at East Los Angeles College further diversifies and amplifies LACCD curriculum"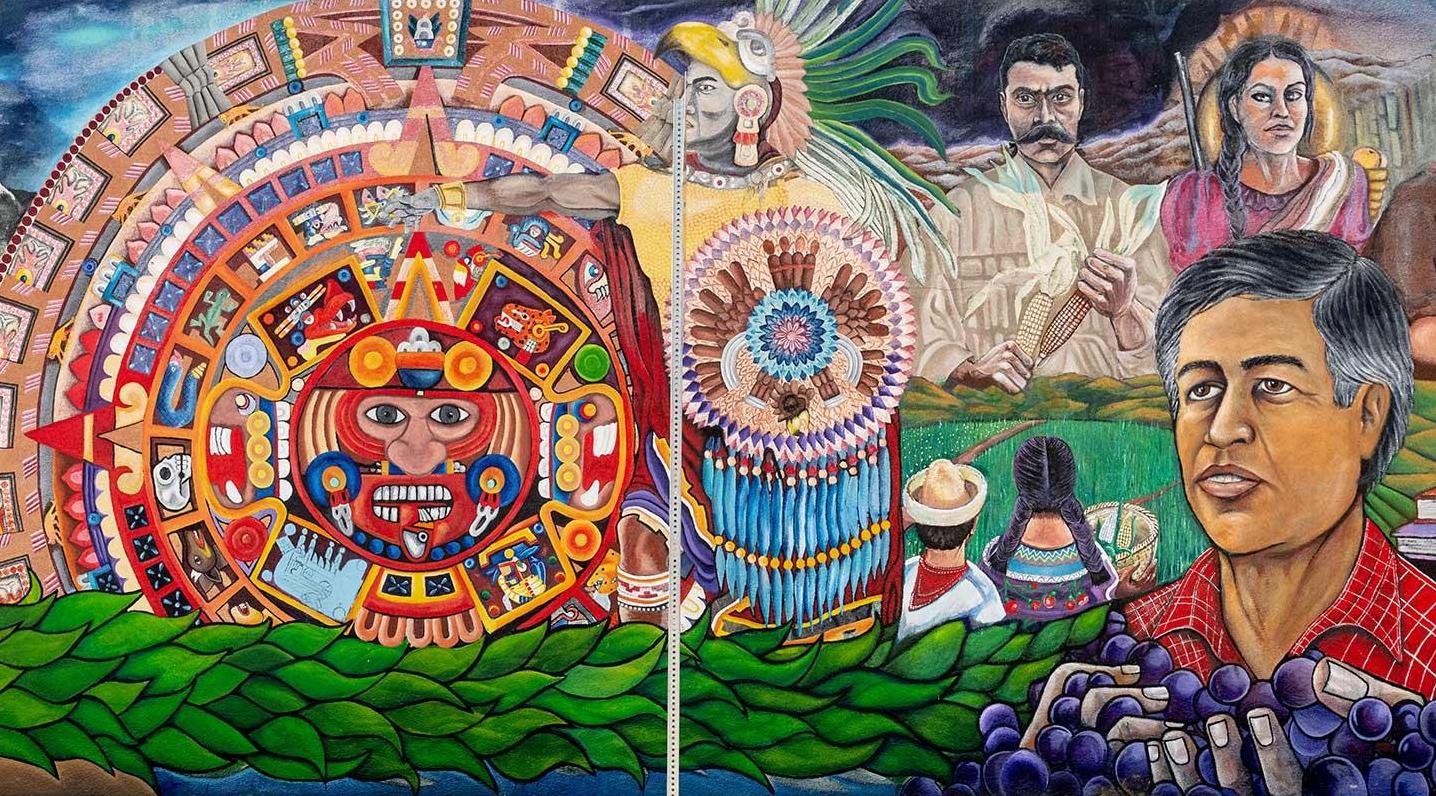 MONTEREY PARK, Ca. – In a first for a California community college, East Los Angeles College (ELAC), one of the nine Los Angeles Community College District's (LACCD), network of campuses, announced Friday that the school will offer its new Central American Studies program.
Assemblymember Wendy Carrillo (D) who represents the 51st Assembly District which is home to close to 500,000 residents in the City of Los Angeles, unincorporated East Los Angeles and includes some of the most historic and iconic communities in the city joined Los Angeles Community College District officials to launch the new program.
A spokesperson for LACCD said this program is historic as it will be the first Central American Studies program offered at a California community college mirroring similar programs found in the CSU and UC systems and at Occidental College, a private liberal arts college in Los Angeles and Loyola Marymount University, a private Jesuit and Marymount research university also located in Los Angeles.
The program will be housed in the ELAC Chicano/a Studies department and students who complete the requirements can earn an Associate's of Arts (AA) Degree in Central American Studies. Five transferable CSU and UC courses in Central American Studies will be offered, including the Central American Experience, Central American Literature, Introduction to Central American Studies, Central American Arts, and Central American Film.
"East Los Angeles College historically has paved the road for the development of Ethnic Studies programming. The Department of Chicana/o Studies is excited to establish a program focused on the Central American experiences and perspectives, which is the first of its kind in the community college system in California and the nation," said ELAC Department of Chicano/a Studies Chair Beatriz Tapia. "We are committed to educating all of our diverse Chicana/o, Central American, and Latina/o students by providing them with a relevant and challenging curriculum that will prepare them to transfer to a 4 -year institution and beyond. This program will further prepare students for careers that center the experience of Central Americans and overall, our increasingly diverse community."
"Central Americans are the fastest growing demographic across the country according to a 2021 study by the Pew Hispanic Center. In California alone, Salvadorans make up the largest population outside of the country of El Salvador followed closely by people from Guatemala and Honduras. Given the history of civil strife in Central America, many 1.5 and second-generation Central Americans who immigrated or were brought to the US as children, don't know the history of their countries of origin, nor the contributions of the Central American diaspora to the United States," said Assemblywoman Carrillo.
"As the only Salvadoran immigrant elected to the California legislature and co-author of AB101, which ensures Ethnic Studies are a high school graduation requirement, I applaud East Los Angeles College for their commitment to the Central American community and advancing much-needed academic discourse," she added.
"I offer my congratulations to the faculty and staff of East Los Angeles College for their bold leadership in establishing the first Community College Central American Studies Program in the state. This will be an incredible learning opportunity for all LACCD students," said LACCD Board President, Gabriel Buelna, Ph.D. "This new curriculum prepares our students to become well-informed, 21st- century citizens and professionals in an increasingly culturally and linguistically diverse world and job marketplace.

"The Chicano/a Studies department has always been a vital part of ELAC and this new program will continue to provide quality diverse educational options to our students. I applaud the department's leadership in making this program a reality. East Los Angeles College serves diverse communities within our service area and this program will create learning opportunities for students to embrace and celebrate diversity through an equity-minded and rigorous academic program that will be the first of its kind for a community college in the nation," said ELAC President Alberto J. Roman.
LACCD Chancellor Francisco C. Rodriguez, Ph.D. noted: ""At LACCD, we have advocated aggressively in support of ethnic studies because it provides a critical view and better understanding of our society's intersection of race, ethnicity, and class, which ultimately helps our students build a more informed, racially-just and inclusive future. The Central American Studies Program at East Los Angeles College further diversifies and amplifies our curriculum and makes today's urgent call for racial equity and social justice a reality."