Alleged leader of Bulgaria LGBTQ community center attack charged
Boyan Rasate is ultranationalist presidential candidate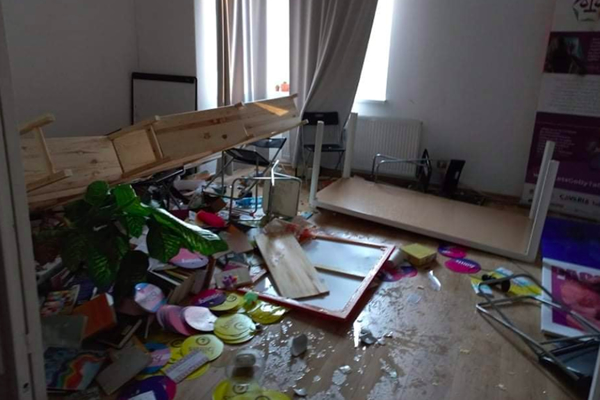 SOFIA, Bulgaria — Bulgarian authorities have charged an ultranationalist presidential candidate in connection with an attack against an LGBTQ community center.
Media reports indicate Boyan Rasate, who leads the Bulgarian National Union, has been charged with hooliganism and infliction of injury in connection with the Oct. 30 attack against Rainbow Hub, an LGBTQ community center in the Bulgarian capital of Sofia that the Bilitis and GLAS (Gays and Lesbians Accepted in Society) Foundations operate. Bulgarian authorities detained Rasate for 72 hours after they charged him in connection with the incident.
The Bilitis Foundation says Rasate led a group of "about 10 men and women" who stormed Rainbow Hub while a group of transgender people were meeting inside. The mob vandalized the community center and assaulted Bilitis Foundation Project Coordinator Gloriya Filipova.
U.S. Ambassador to Bulgaria Herro Mustafa is among those who have publicly condemned the attack.
Ukrainian ambassador to U.S. highlights LGBTQ+, intersex rights
Oksana Markarova spoke at servicemembers photo exhibit in D.C.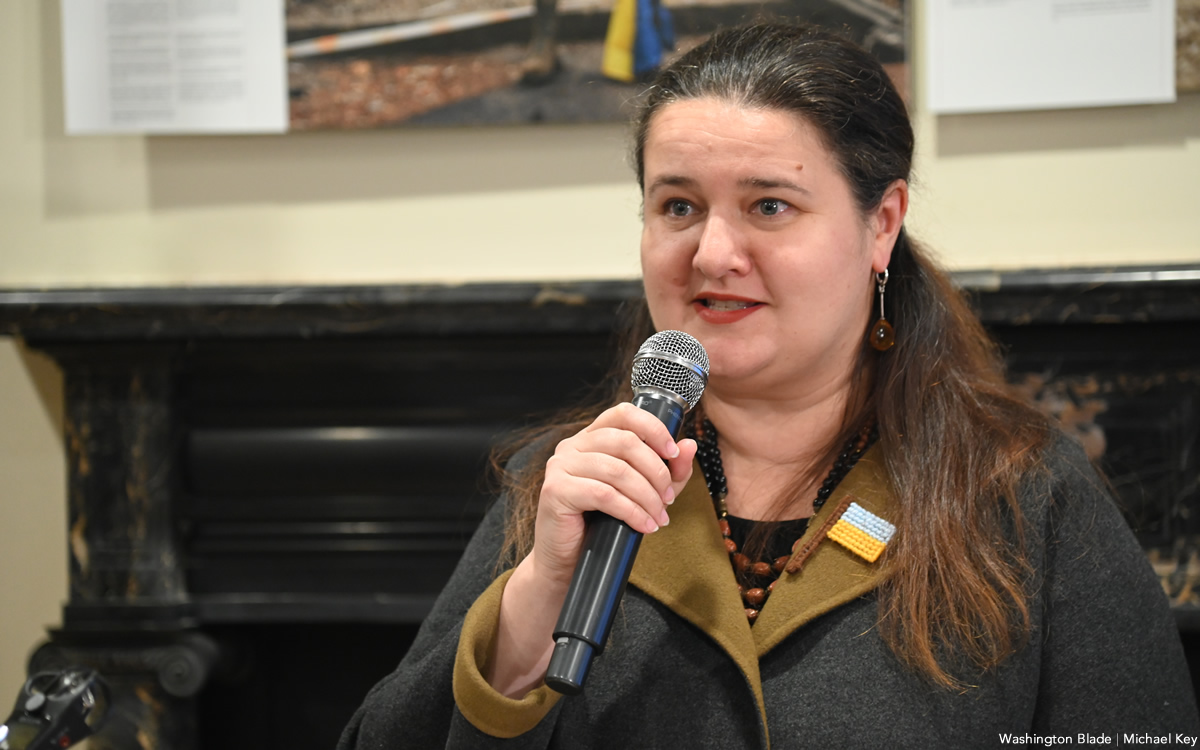 WASHINGTON — Ukrainian Ambassador to the U.S. Oksana Markarova on Jan. 26 spoke in support of LGBTQ+ and intersex rights during an event that highlighted her country's LGBTQ+ servicemembers.
"(The) LGBTQ+ community is an inseparable community of us, whether it's here or in Ukraine," said Markarova. "The faster we can stop any discrimination, the faster we will win, not only in the battlefield in Ukraine, but we also will win globally."
Markarova spoke during a photo exhibit at Ukraine House that showcased LGBTQ+ and intersex Ukrainian servicemembers.
QUA – LGBTQ Ukrainians in America, the Ukrainian Union of the LGBT Military and KyivPride organized the exhibit that features photographs from Alim Yakubov, a Crimean Tartar who moved to Kyiv, the Ukrainian capital, after Russia annexed the peninsula in 2014.
KyivPride Executive Director Lenny Emson, QUA – LGBTQ Ukrainians in America President Bogdan Globa and U.S. Agency for International Development Senior LGBTQI+ Coordinator Jay Gilliam are among those who spoke alongside Markarova.
Viktor Pylipenko, an openly gay Ukrainian servicemember who founded the Ukrainian Union of the LGBT Military, spoke via a video from the frontlines of Russia's war against his country. A Russian missile attack forced him to end his remarks and seek shelter.
"I want to thank all of them for their service to country," said Markarova. "It's unbelievable and (the) ultimate sacrifice to be there in harm's way."
Markarova also described Globa as "a leader for all Ukrainians here" and said she is "really thankful for all the activities that we do together, and everything that you do." Globa later told the Washington Blade that Markarova is the first Ukrainian ambassador to speak at an LGBTQ-specific event in the U.S.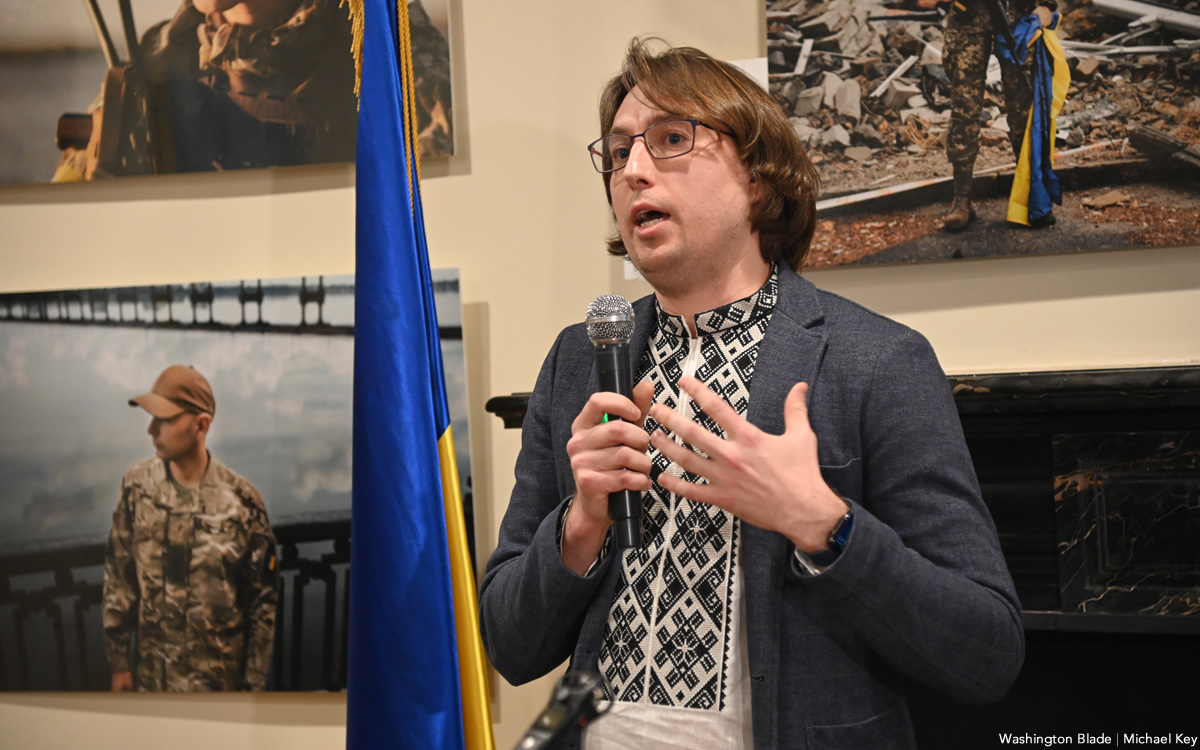 President Volodymyr Zelenskyy in 2021 pledged Ukraine would continue to fight discrimination based on sexual orientation and gender identity after he met with President Joe Biden at the White House.
Russia on Feb. 24, 2022, launched its war against Ukraine.
Zelenskyy last summer said he supports a civil partnership law for same-sex couples.
Ukrainian lawmakers last Dec. 15 unanimously approved a media regulation bill that bans hate speech and incitement based on sexual orientation and gender identity. Zelenskyy less than a week later traveled to D.C.
Zelenskyy, a former actor and comedian, earlier this month made a broad reference to LGBTQ and intersex rights in a virtual Golden Globes appearance.
Markarova praised Emson and Kyiv Pride and other Ukrainian LGBTQ and intersex rights groups that include Gender Z and Insight.
"Thank you for everything you do in Kyiv, and thank you for everything that you do in order to fight the discrimination that still is somewhere in Ukraine," said Markarova, speaking directly to Emson. "Not everything is perfect yet, but you know, I think we are moving in the right direction. And we together will not only fight the external enemy, but also will see equality."
"It's a constant fight," added Markarova. "It's a fight that makes us better. It's a fight that makes us freer, and it's a fight that ultimately will give us the opportunity to live in the country where everyone again, regardless of their nationality, religion, color of their skin or sexuality, can live where they want to live."
Markarova also noted Russia "brutally crossed the border and attacked us in 2014 and again attacked us now." She added her country is "also fighting for something bigger."
"We are fighting for our right to live how we want to live. We are fighting for our democracy. We're fighting for the right to choose who we want to choose and whether it has to do with the government or whether it has to do with who we love and how we believe and this is very important," said Markarova. "This is what differentiates Ukraine from Russia that attacks us; that we are free, we are democratic and we want to live like we want to live. That's why we will never give up or surrender again."