Protestors & parents oppose 'Gender Queer' to Chicago-area school board
Josiah Poynter, a senior told the board: "Inclusion matters to young people. This is why we must have this book in our school's library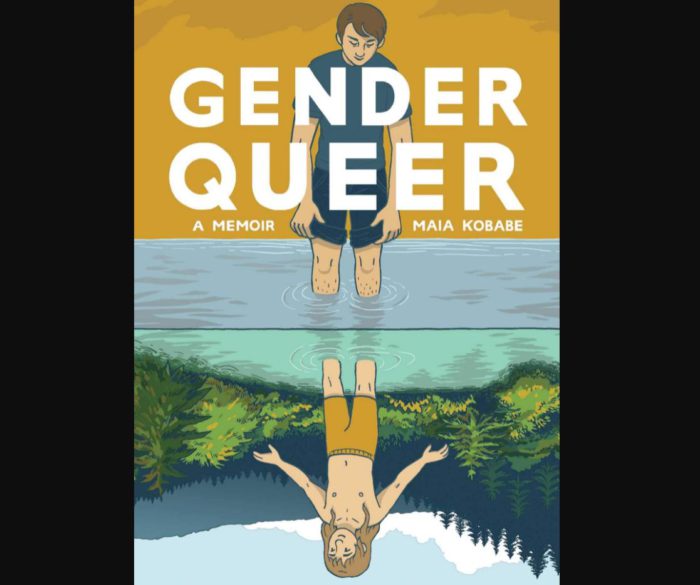 DOWNERS GROVE, Il. — Conservative protestors and some parents held "NO PORN" signs at Downers Grove North High School Monday night opposing "Gender Queer" by Maia Kobabe.
The Chicago Sun-Times reports that approximately 200 people packed the high school's auditorium with police and security for the Community High School District 99 board's monthly meeting in a suburb of Chicago.
According to the paper, a third of the crowd held "NO PORN" signs and posters with illustrations and excerpts from the book.
"Gender Queer," an autobiography about Kobabe's journey of gender identity as a teenager and young adult, has been subject to bans across the country as a burgeoning GOP-led effort to ban books that address gender identity, sexuality and racism continues to spread throughout the U.S.
School boards have become a hotbed for political debate, especially COVID-19 safety measures and, recently, books. According to the Sun-Times, the Chicago-area has largely avoided such debates, some of which have resulted in school board member's being threatened. That was until Monday night.
According to the newspaper, members of the Proud Boys — a far-right group involved in the January 6, 2021 storming of the U.S. Capitol that has latched onto school board protests around the country — promoted the meeting on a popular far-right messaging app. It is unclear whether any Proud Boys showed up to the meeting.
The board did not plan to discuss "Gender Queer," but school officials will review the book since two formal challenges have been filed — even though Supt. Hank Thiele said the book already met the school's requirements for inclusion in its library. Currently, only one copy of the book is available to students at each library at Downers North and Downers South high schools.
During the public speaker portion, Thiele called on Downers Grove residents to speak first, the Sun-Times reports. All but three local speakers showed support for "Gender Queer."
"This isn't being forced upon your kids, but it gives kids who would be interested in this story a choice to read it," Lauren Pierret, a 17-year-old senior at Downers Grove North, said, adding she didn't even know the book existed before last week.
Josiah Poynter, an 18-year-old senior at Downers North, told the board: "Inclusion matters to young people. This is why we must have this book in our school's library. Inclusion brings an opportunity to grow in a safe environment. It brings comfort to people who feel unsolved and cast out."
Terry Newsome, who said he has a son and daughter at Downers South, said his concerns about the book are not homophobic. "The problem is … this is liberal code for teaching children how to perform oral sex, anal sex, wear strap-on dildos," he said. "These graphic images are totally unacceptable regardless of their gender or sexuality."
"It's not your right to decide if our minor children should have access to pornography," he said.
"Gender Queer" has won awards from the American Library Association and is recommended for high-school aged teenagers.
Kobabe recently penned a Washington Post Op-Ed in which she explained the importance of books like hers.
"By high school, I had met multiple out gay, lesbian and bisexual people, but I didn't meet an out trans or nonbinary person until I was in grad school," Kobabe wrote. "The only place I had access to information and stories about transgender people was in media — mainly, in books."
Exclusive: Chicago's Out mayor describes Roe ruling as 'gut punch'
Lori Lightfoot in 2019 became the first Black lesbian woman elected mayor of a major U.S. city, the nation's third largest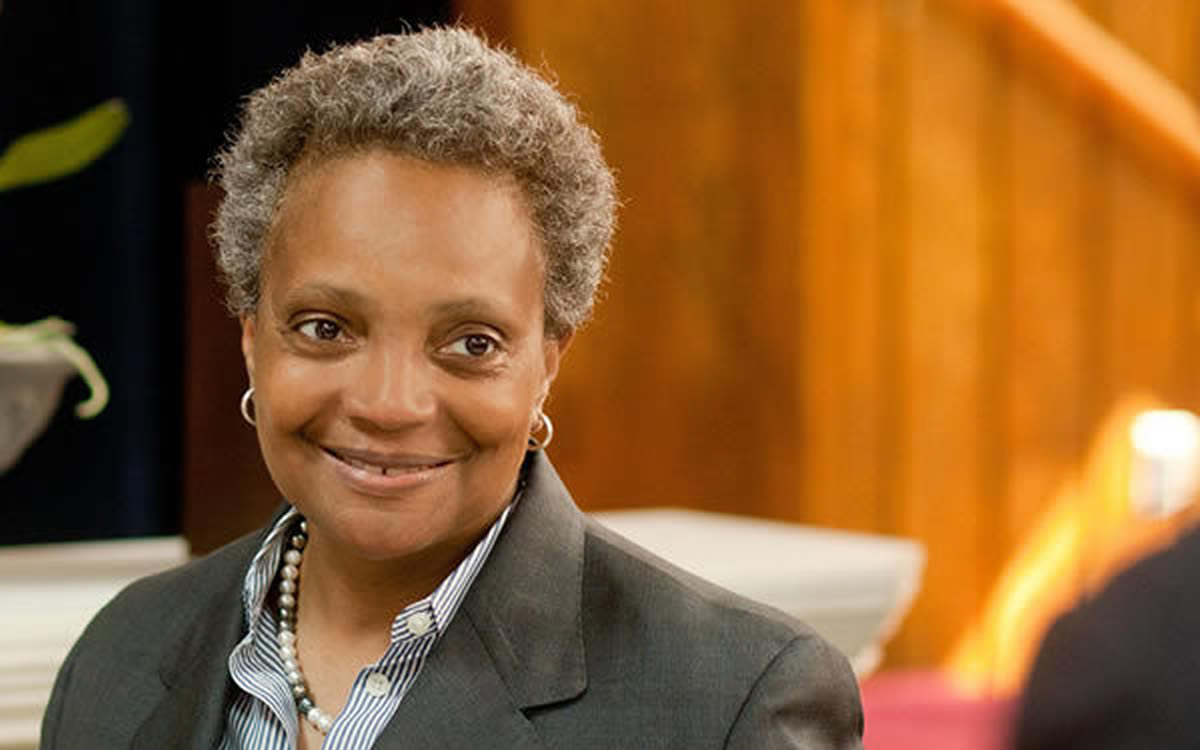 CHICAGO – Mayor Lori Lightfoot on Monday said the U.S. Supreme Court ruling that overturned Roe v. Wade was a "gut punch."
"It wasn't a surprise," she told the Washington Blade during an exclusive interview. "This had been a 50-year quest for people who don't want to recognize our rights and want to take us back to 1950s America, when our community was pushed very decidedly into the closet because we didn't have protections — we certainly didn't have marriage. That was inconceivable back then."
"We didn't have protections on employment, on housing and the basic rights of citizenship that we've come to really embrace and expect as Americans," added Lightfoot.
Lightfoot in 2019 became the first Black lesbian woman elected mayor of a major U.S. city.
She noted Justice Clarence Thomas in his concurring opinion in the Roe decision said the Supreme Court should reconsider its decision in the Obergefell, Lawrence and Griswold cases that guarantee marriage equality and the rights to private, consensual sex and access to contraception respectively.
"Fuck Clarence Thomas," said Lightfoot on Sunday when she spoke at Chicago Pride.
"I woke up yesterday morning feeling pretty sad for all the reasons that you would expect," she told the Blade on Monday. "It was still inconceivable that we are now living in an America where all of us who have been empowered to teach and live our own authentic lives are now at risk in this country by the stroke of a pen and a radicalized right-wing majority on the court with seemingly little regard of the consequences."
Lightfoot said the ruling's "immediate impact" will be on women in "red states" and "states that have trigger laws" that ban abortion. Lightfoot added women of color and low-income women will be disproportionately impacted.
"You got to play the long game here," she said. "Clarence Thomas clearly signaled what his intent is, which is when you talk about reconsidering Griswold, that's the right to contraception access. They talk about reconsidering Lawrence in Texas. We know what that is. Well really, are gay men going to be in a position where they have to worry about cops breaking into their bedroom and try to haul them off to jail by engaging in a natural act of intimacy between consenting adults?"
"We are very much in the target, and the sights of this right-wing mob that feels like the only way that they can exercise their power is by taking ours," added Lightfoot.
'We're going to respect your rights'
Lightfoot in May announced a "Justice for All Pledge" after Politico published a leaked draft of the Roe decision.
Her administration and the Chicago Department of Public Health pledged an additional $500,000 to "support access to reproductive healthcare for Chicagoans and patients seeking safe, legal care from neighboring states that have or ultimately will ban abortion if the Supreme Court decides to strike down Roe v. Wade, as outlined in the leaked decision." The "Justice for All Pledge," among other things, reaffirms Chicago will "fight for the rights of all people regardless of race, color, sex, gender identity, age, religion, disability, national origin, ancestry, or sexual orientation."
"We will fight to ensure that no person will be attacked, assaulted, bullied, or discriminated against because of who they are, the choices they make regarding their bodily autonomy, or who they love," reads the pledge.
"We have to be a beacon of light and hope across the country and particularly in the Midwest region," said Lightfoot.
She also encouraged LGBTQ people from Florida, Texas and other states that have passed homophobic and/or transphobic laws to consider moving to Chicago.
"We're going to respect your rights," said Lightfoot. "We're going to allow you to live in an environment where you can live your true, authentic life without the worry of some radicalized right-wing legislature cutting off your rights. People have to start making choices."
Lightfoot also challenged corporations to do more to support LGBTQ rights and their LGBTQ employees.
"Corporations have to start making choices," she said. "All those nice little value statements on a corporate website, if you value your employees and their rights, you cannot be situated in states that are attacking everyone in our community."
"When you look at the fact that many of these states are attacking children and their families, that tells you there's no floor, there's no floor to which they will sink," added Lightfoot. "It's open season on us and we've got to respond."
Mayor lacked role models 'that looked like me'
Lightfoot lives in Chicago's Logan Square neighborhood with her wife, Amy Eshleman, and their daughter.
She told the Blade that she met a transgender teenager from downstate Illinois during Chicago Pride. Lightfoot said she hugged her and her parents and she "just felt such joy."
She said she "didn't see any role models that looked like me" and "didn't see a lot of gay and lesbian leaders on a national level or even at the local level" when she was younger. Lightfoot told the Blade in response to a question about how she feels about being the first Black lesbian mayor of a major U.S. city that there are now "so many more of us who are living our authentic lives."
"One of the greatest gifts that we can give is to say to those young people, you're going to be great," she said. "Be who you are, embrace, embrace your authentic life. Because there's always going to be a home for you. There's going to be a village, a community that's going to be supportive. That's one of the things I think the most powerful statement that I can make as mayor, using my platform as mayor of the third largest city, to say to our young people, you're always going to have a home here."
Lightfoot earlier this month announced she is running for re-election in 2023.
Crime and the response to protests in the wake of George Floyd's murder in 2020 are among the issues over which Lightfoot has faced criticism.
She referenced efforts to make "real meaningful, permanent progress on public safety that we are doing here in our city against a lot of different headwinds" and economic development in low-income neighborhoods as two of her administration's accomplishments. Lightfoot said she decided to run for a second term because "the work's not done."
"We have been through a lot, as every major city in the country has in these last three years, but we've persevered and continued to do really good work on behalf of the people and made a lot of progress," she said.
"I liken it to being a gardener," added Lightfoot. "You till the soil, you plant the seeds, you want to be around to reap the harvest. And I want to make sure that the work that we put in place, that those roots are deep and strong and they continue to bear fruit for years and years to come, long after I fade from the scene."
Lesbian super PAC again endorses Lightfoot
LPAC endorsed Lightfoot's initial mayoral campaign. The super PAC that supports lesbian candidates has once again backed her.
"I am just grateful that they are ready to re-up for round two," said Lightfoot.
"When we are present in those corridors of power, we bring a life of experience that is different than traditionally the straight white men that have populated these corridors of power," she added. "We show up and we show up importantly for our community and that is critically important."
LPAC Executive Director Lisa Turner in a statement to the Blade praised Lightfoot.
"When I think of the Black LGBTQ leaders serving in office like Chicago Mayor Lori Lightfoot, I am filled with pride about the work LPAC has done to uplift women and support their campaigns," said Turner. "We were the first national organization and LGBTQ organization to endorse Mayor Lightfoot in 2019, and we are proud to be the first again as she seeks re-election. LPAC's unwavering support shows our commitment to not solely electing more LGBTQ women to office, but to elect LGBTQ women who represent the full diversity of our community."
Chicago mayor exercises her 1A at Pride, vid-clip viral in right-wing spaces
Gregory Pratt, the Chicago Tribune reporter whose beat includes covering Mayor Lori Lightfoot and City Hall tweeted a video of the mayor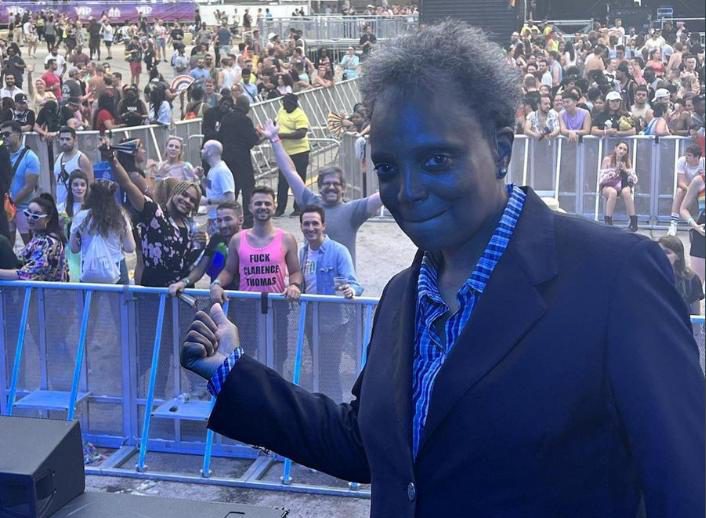 CHICAGO – Speaking to attendees at the Windy City's Pride festivities this past weekend, Out Chicago Mayor Lori Lightfoot spotted a man wearing a pink tank-top that read, "Fuck Clarence Thomas" and incorporated the phrase into her remarks on stage.
Gregory Pratt, the Chicago Tribune reporter whose beat includes covering Mayor Lori Lightfoot and City Hall tweeted a video of the mayor which according to Pratt has now gone viral in right-wing spaces.
Chicago Mayor Lori Lightfoot responds to Supreme Court justice Clarence Thomas writing about overturning gay marriage ruling, other important cases: "Fuck Clarence Thomas!" Clip is going viral in right wing circles. pic.twitter.com/12qq4Qq8PR

— Gregory Pratt (@royalpratt) June 27, 2022
In another tweet Pratt clarified the incident: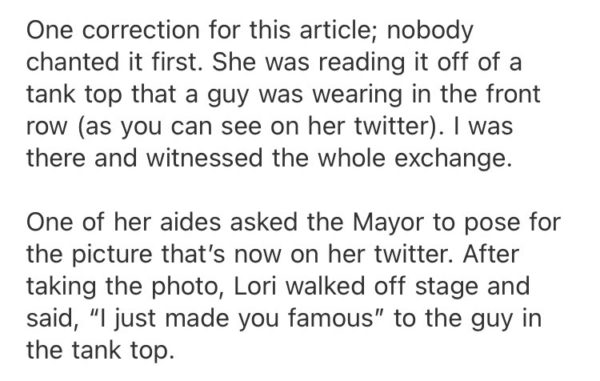 Mayor Lightfoot on Monday afternoon after the Tribune article and Pratt's tweet were active posted her take on Twitter:
I said what I said. pic.twitter.com/z4BXZ4Jj9Y

— Lori Lightfoot (@LoriLightfoot) June 28, 2022
Aurora Pride Parade will be held Sunday after city reverses its decision
The action followed a court hearing earlier Thursday when a judge upheld the city's initial decision to revoke the Pride Parade permit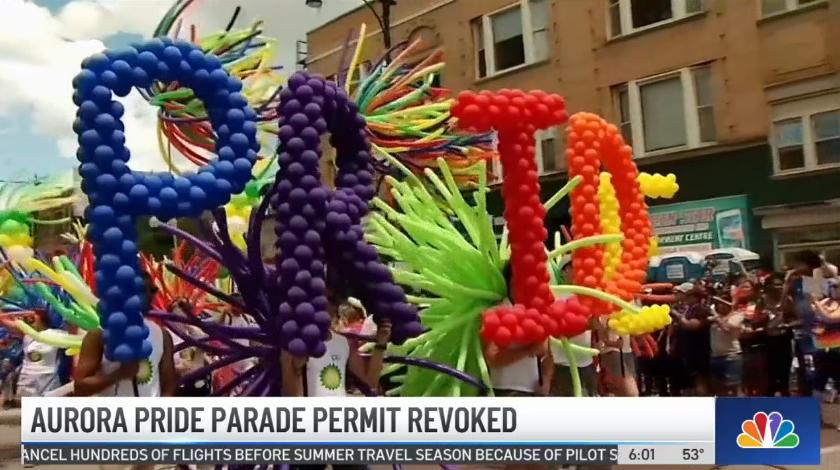 AURORA, Ill. – The 2022 Aurora Pride Parade in the City of Aurora, Illinois which looked as though it was scrapped after the City revoked the permit issued for the event, got an unexpected reprieve Thursday when the City reversed its permit revocation.
That action followed a court hearing earlier Thursday when a judge upheld the city's initial decision to revoke the Pride Parade permit based on manpower shortages and not enough police officers to man the event as required.
Parade organizers represented by the ACLU of Illinois had announced their intent to file an emergency appear with the U.S. District Court to overturn the judge's ruling.
In a surprise move the City reversed itself saying in a statement saying; "Even after an independent hearing officer upheld the City's decision to revoke the Pride Parade permit based on manpower shortages, we continued our good faith efforts with the Aurora Police Department to secure the additional officers needed for the 2022 Aurora Pride Parade. The City didn't just double down on our efforts; we tripled down by offering an unprecedented triple-time financial incentive to our officers, and the required number of police officers to secure the parade has been successfully attained."
"Consequently, a rescission of permit revocation has been submitted to Aurora Pride, and the Aurora Pride Parade can proceed as planned for Sunday, June 12," the city's statement said.
A couple hours later, organizers announced on Twitter the permit had been reinstated.
Great News! The City of Aurora has notified us that our permit for Sunday has been reinstated. The Aurora Pride Parade is on. We look forward to welcoming everyone on Sunday morning.

— Aurora, IL Pride (@AuroraILPride) June 9, 2022
To be clear, one of the aims of this suit is reversal of the permit revocation and preservation of Sunday's parade.

— Aurora, IL Pride (@AuroraILPride) June 9, 2022
The decision to revoke the permit had come after an uproar last month when Aurora Pride announced they would not allow police officers to march in the parade in full uniform or bring police vehicles which sparked serious controversy in this fairly liberal suburban Chicago city of 200,000 situated next to the conservative right-leaning city of Naperville, Ill.