Anti-LGBTQ+ foster agency discriminates against married Jewish couple
Holston said it "only provide[s] adoption services to prospective adoptive families that share our [Christian] belief system"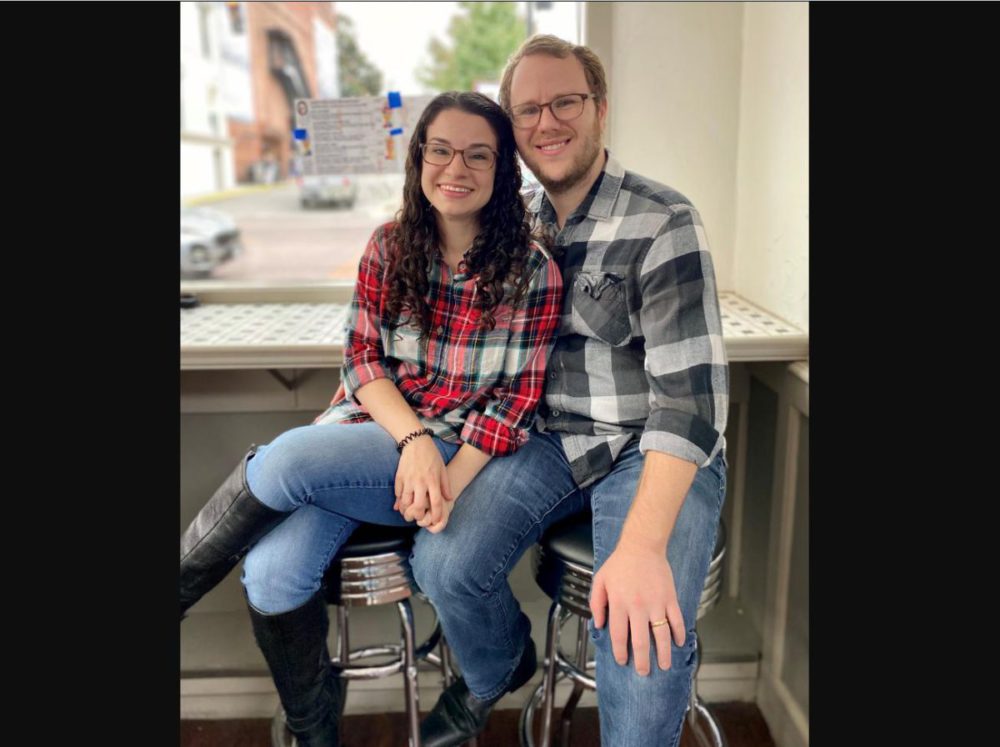 GREENVILLE, Tn. – The Holston Home, which is affiliated with the Holston Conference of the United Methodist Church and operates as an orphanage, foster agency and adoption agency, was sued in state court Wednesday after a married cis-gender Knox County, Tennessee, couple were denied foster-parent training and a home-study certification by the state-funded agency.
The Rutan-Rams in early 2021 were excited to begin the process of fostering to adopt a male child from Florida. They were told they needed to complete Tennessee-mandated foster-parent training and a home-study certification.
The Rutan-Rams contacted the only agency in their area that was willing to provide those services for out-of-state placements – Holston United Methodist Home for Children, a state-funded agency that provides foster care placement, training, and other services on behalf of the Tennessee Department of Children's Services.
In court documents filed in the state of Tennessee's 20th Judicial District Court, Elizabeth and Gabriel Rutan-Ram allege that Holston initially told the couple that it would provide them with the services they needed.
But the day that the Rutan-Rams were scheduled to start Holston's training class, Holston told the couple it wouldn't serve them because they are Jewish. Holston said it "only provide[s] adoption services to prospective adoptive families that share our [Christian] belief system."
Because there was no other agency in the Knox County area that would provide the foster-parent training and certification for the adoption of an out-of-state child, the Rutan-Rams were unable to adopt the boy from Florida.
"I felt like I'd been punched in the gut," said Liz Rutan-Ram. "It was the first time I felt discriminated against because I am Jewish. It was very shocking. And it was very hurtful that the agency seemed to think that a child would be better off in state custody than with a loving family like us."
"It's infuriating to learn our tax dollars are funding discrimination against us," said Gabe Rutan-Ram. "If an agency is getting tax money to provide a service, then everyone should be served – it shouldn't matter whether you're Jewish, Catholic or an atheist. We're all citizens of Tennessee, regardless of our religion."
The religious discrimination experienced by the Rutan-Rams occurred almost exactly a year after Gov. Bill Lee signed into law House Bill 836, which authorizes taxpayer-funded foster-care agencies in Tennessee to deny services to prospective families who are the "wrong" religion or don't follow an agency's religious tenets.
State legislators were warned the law clearly violates religious freedom as outlined in both the state and U.S. Constitutions, but legislators passed the law despite public outcry.
"The Tennessee Constitution, like the U.S. Constitution, promises religious freedom and equality for everyone. Tennessee is reneging on that promise by allowing a taxpayer-funded agency to discriminate against Liz and Gabe Rutan-Ram because they are Jews," said Alex J. Luchenitser, associate vice president and associate legal director at Americans United. "Laws like House Bill 836 must not stand when they allow religion to be used to harm vulnerable kids and people like Liz and Gabe who want to provide those children with safe and loving homes."
Joining the Rutan-Rams as plaintiffs in the lawsuit are six Tennessee residents, four of them faith leaders, who object to their tax dollars being used to fund any child-placing agency that engages in religious discrimination. The plaintiffs include:
The Rev Jeannie Alexander, an interfaith pastor from Davidson County
The Rev. Elaine Blanchard, a Disciples of Christ minister from Shelby County
The Rev. Alaina Cobb, a Christian minister from Davidson County
The Rev. Denise Gyauch, a Unitarian Universalist minister from Davidson County
Dr. Larry Blanz of Davidson County, a retired psychologist with more than forty years of experience that includes working with foster parents and children
Mirabelle Stoedter, a Davidson County resident who serves as treasurer of the Tennessee chapter of Americans United for Separation of Church and State.
The lawsuit, Rutan-Ram v. Tennessee Department of Children's Services, also names department Commissioner Jennifer Nichols as a defendant. The suit explains that the department and Nichols are violating the religious-freedom and equal-protection provisions in Articles I and XI of the Tennessee Constitution by funding religious discrimination in foster-care services.
In December of this past year, the Holston Home filed a federal lawsuit alleging that its religious beliefs were violated by federal rules that it must place children with same-sex couples.
The Holston suit also claims; "The messages Holston Home recites in its child placing activities are consistent with Holston Home's religious beliefs about cohabitation, and about
marriage being between a biological male and a biological female."
The Southern Poverty Law Center listed anti-LGBTQ extremist hate group Alliance Defending Freedom, a Scottsdale, Arizona far-right legal group is representing Holston in both cases.
The Holston president and CEO Bradley Williams could not be reached for comment Wednesday. Instead, a receptionist at Home for Children told Knox News and other media outlets to email the organization's law firm, Alliance Defending Freedom which also did not respond to an emailed request for comment.
*********************
Tennessee bans collegiate Trans athletes
The law also requires Tennessee colleges to determine a student-athlete's gender using the student's "original" birth certificate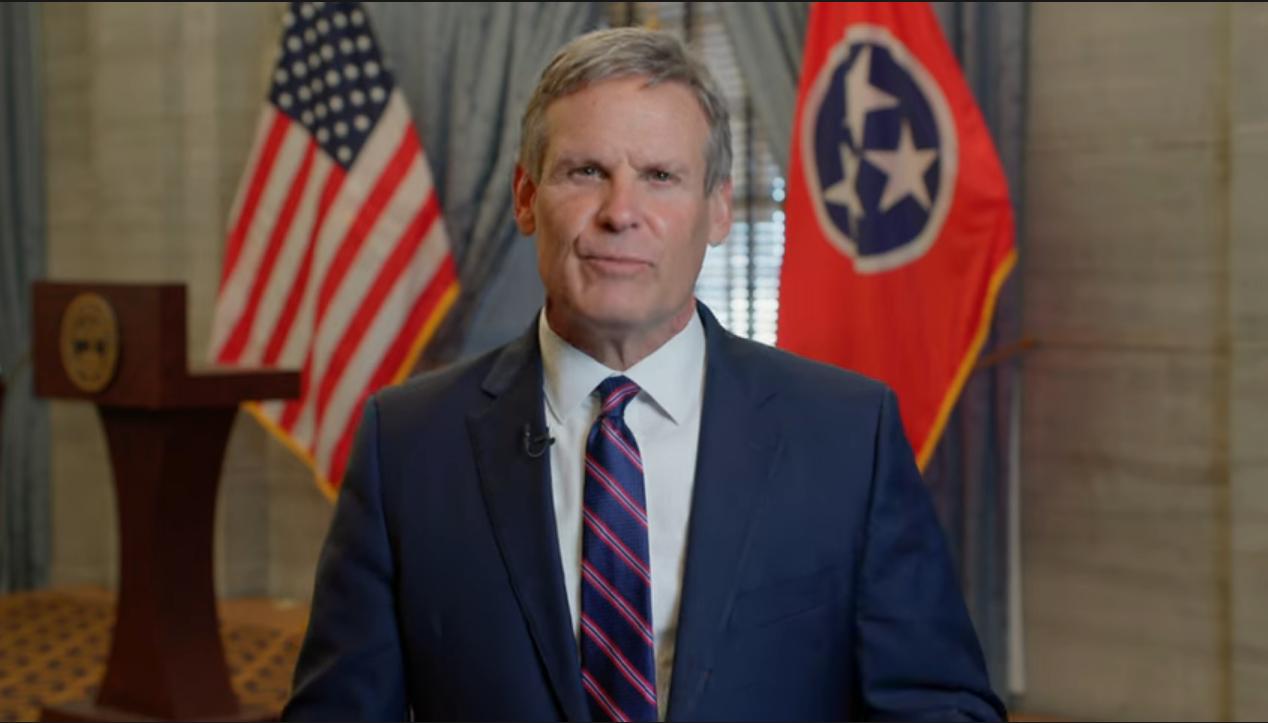 NASHVILLE – Republican Governor Bill Lee signed a bill last Friday that effectively bans transgender women from competing on college sports teams consistent with their gender identity in Tennessee.
The new law, Senate Bill 2153, "prohibits males from participating in public higher education sports that are designated for females." The law also requires Tennessee colleges to determine a student-athlete's gender using the student's "original" birth certificate.
Every university and college in the state will also be required to adopt and enforce a policy ensuring compliance with the new law. The measure would also prevent any government entity, organization or athletic association from taking "an adverse action" against a school that complies with the law or a student who reports a violation.
"This law sends a horrible message that trans and nonbinary youth can be excluded from the many benefits of participating in sports," Chris Sanders, the executive director of the Tennessee Equality Project, said Friday in a statement issued by the Human Rights Campaign.
"More broadly, it also stains those who are complicit and creates habits of lawmaking that endanger everyone in Tennessee," he said. "Legislation crafted from animus and ignorance protects no one."
Terminated CEO who bullied LGBTQ+ teen sues comedian Kathy Griffin
"Yep. This is what it means to be an LGBTQ+ ally. I will fight this suit and I will not settle. I don't think he got fired because of me"
NASHVILLE – The former Chief Executive Officer of a Franklin, Tennessee-based healthcare company, who was terminated a year ago after his homophobic tirade against a former LGBTQ high school student, announced that he was suing comedian Kathy Griffin claiming Griffin's Tweets led to his dismissal.
Samuel Johnson, was fired by VisuWell in April 2021 hours after a Tik-Tok and Instagram reel went viral, which was also tweeted by Griffin.
Nahville ABC News affiliate WKRN 2 had first reported the story after a cell phone video posted to multiple social media platforms went viral. In the video taken at the Harpeth Hotel in downtown Franklin, Dalton Stevens, a senior at Franklin High School, was with his boyfriend and date Jacob Geittman when Johnson walked up to Stevens and ridiculed him for his formal prom attire, a red full length dress.
"Slander terms thrown towards me of like 'You look bad,' 'You've got hair on your chest, you shouldn't be wearing a dress,' 'You're not a man,' blah, blah, blah," Stevens told WKRN. "The fact that he thought he had the audacity to come tell me what I was supposed to wear and what I was supposed to do because of his standards."
Stevens told the station that, "I very much view clothes as genderless," His boyfriend chimed in with "You can have your thoughts and opinions, [but] keep them to yourself," Geittman said. "You don't need to go up to a teenager in public on their prom night and publicly shame and harass them for what they decided to wear."
In a series of tweets on the company's Twitter account, VisuWell issued a formal statement then added that "in response to those asking for additional clarity on Sam Johnson's termination as CEO, we can confirm that Mr. Johnson is no longer employed by VisuWell in any capacity.
He no longer has a position on the Board of Directors or any informal advisory role. His behavior was not representative of our values, which include respect and compassion for all."
After filing his suit in U.S. District Court Johnson tweeted: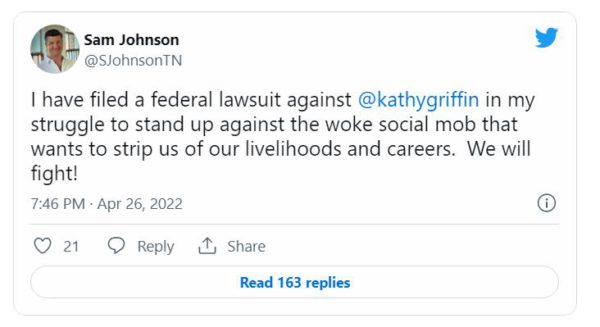 Griffin responded: "Yep. This is what it means to be an LGBTQ+ ally. I will fight this suit and I will not settle. I don't think he got fired because of me. I hope these kids are ok."
Yep. This is what it means to be an LGBTQ+ ally. I will fight this suit and I will not settle. I don't think he got fired because of me. I hope these kids are ok. 💪🌈 https://t.co/9Slm3iPZaP

— Kathy Griffin (@kathygriffin) April 28, 2022
New law restricts funding to schools allowing Trans students to play sports
"Telling transgender students that they can't participate as who they really are amounts to excluding them from sports entirely"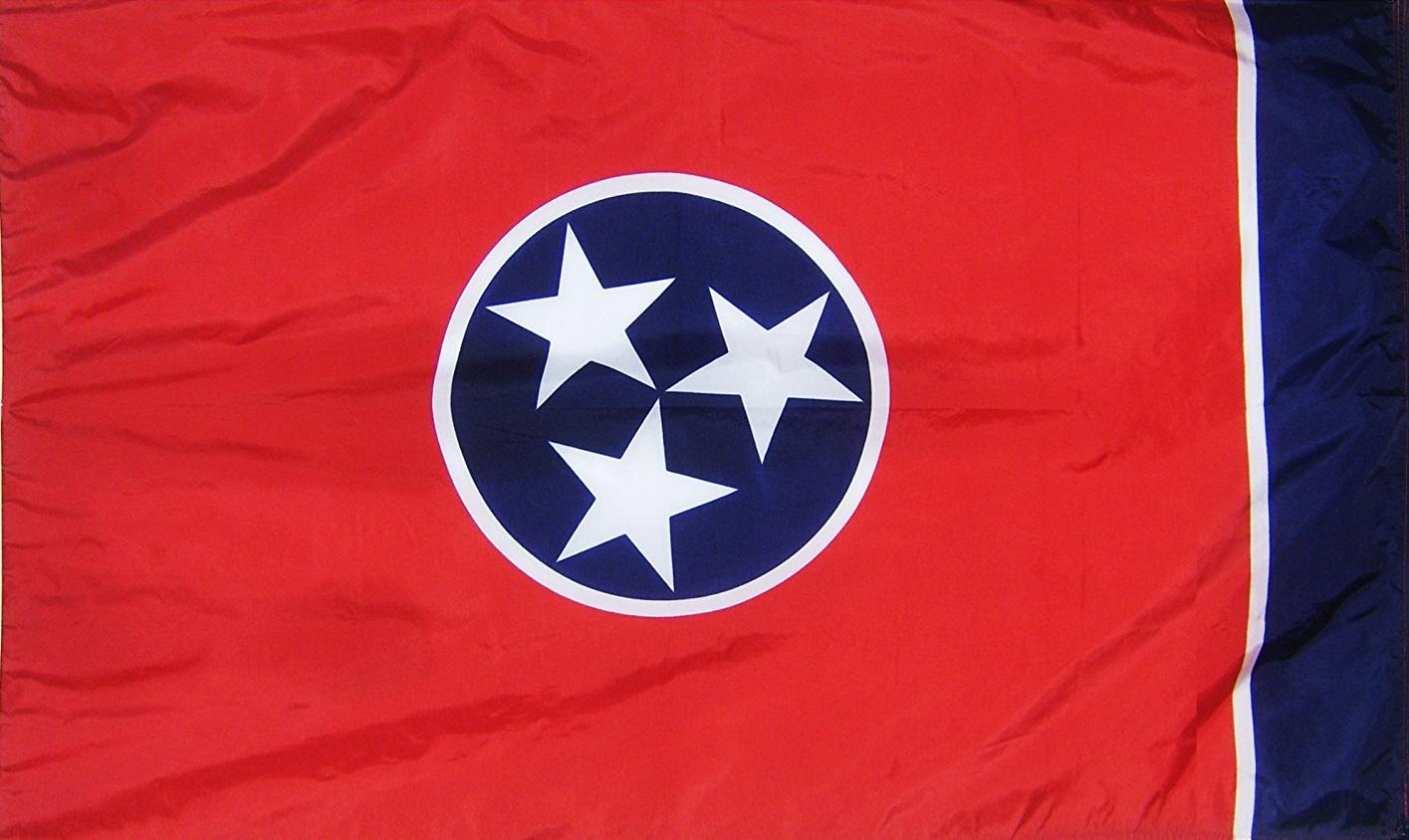 NASHVILLE – Republican Governor Bill Lee signed a bill last Friday that allows for the withholding of state funds from any Tennessee school districts that don't comply with the trans-exclusionary law Lee signed in March of 2021, Senate Bill 228.
The law, S.B. 228, bans trans children from participating on middle and high school sports teams that match their gender by requiring student athletes to prove the sex they were assigned at birth with an "original" birth certificate or other forms of proof. 
Written into the language of the law, Tennessee's Department of Education would withhold a portion of state funds from local school districts that fail to determine a student's gender for participation in middle or high school sports. The measure does not specify exactly how much money should be withheld by the state.
"Telling transgender students that they can't participate as who they really are amounts to excluding them from sports entirely – depriving them of opportunities available to their peers and sending the message that they are not worthy of a full life," said Henry Seaton, ACLU of Tennessee's transgender justice advocate, in a statement.
Last Fall, The American Civil Liberties Union (ACLU), the ACLU of Tennessee and Lambda Legal filed the lawsuit on behalf of Luc Esquivel, a 14-year-old boy from Knoxville, in the U.S. District Court for the Middle District of Tennessee, arguing that the law is discriminatory and unconstitutional. 
Tennessee lawmakers are also advancing a separate bill that would ban transgender athletes from participating in female college sports. Republicans have also pushed another measure to let teachers and school districts use the pronoun that a transgender student does not prefer, exempting teachers from facing employment punishment and protecting schools from civil liability. Both proposals are expected to clear the General Assembly, the Associated Press reported.
Governor Lee has signed legislation that restricts funding to schools that allow transgender students to play sports.

Trans kids in Tennessee: you're loved and you're perfect just as you are. https://t.co/PGKNzyiJ4o

— Human Rights Campaign (@HRC) April 24, 2022