Dodger Stadium to host wedding for team VP Erik Braverman & his fiancé
Braverman is marrying software engineer and photographer Jonathan Cottrell Friday in "one of the most iconic venues in all of sports"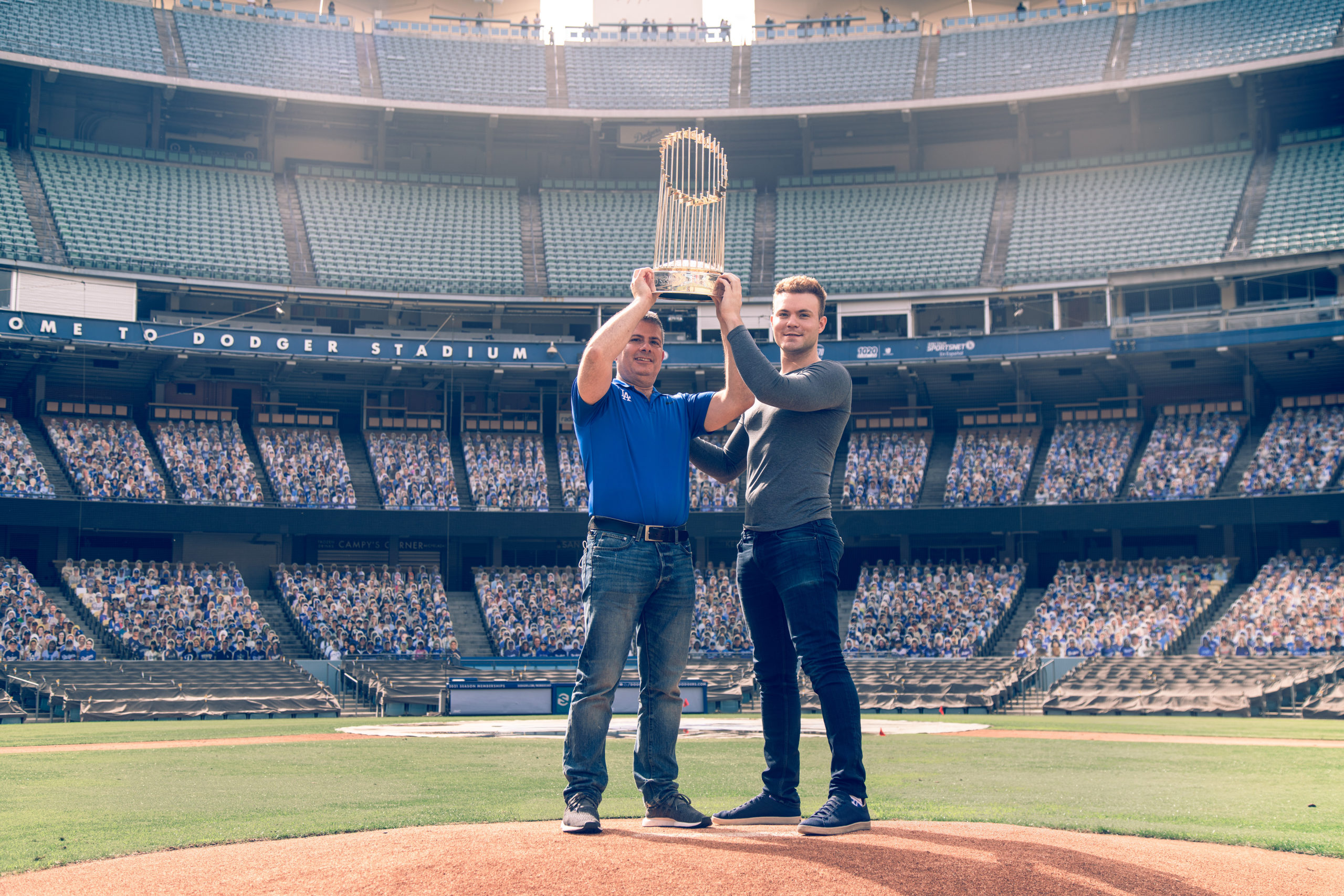 UPDATED: See video below from KTLA 5 News
LOS ANGELES – The biggest homestand of his life awaits Los Angeles Dodgers' senior vice president for marketing, communications & broadcasting, Erik Braverman. On Friday, he will marry his fiancé, Jonathan Cottrell, where he works: Dodger Stadium. 
"I am grateful to the Dodgers for allowing this to happen," Braverman, 51, told the Los Angeles Blade.
Of course, the Dodgers organization has built a reputation as host of the most well-attended Pride events in all of professional sports for several years. The team hosted the first "Gay Night" in pro sports back in 2000 and continue to celebrate its LGBTQ fans year after year.
As L.A. Times columnist Bill Plaschke first reported, Braverman will enter the baseball diamond from the home dugout on Friday and Cottrell will walk the aisle from the visitors' dugout. They will meet and exchange vows on the pitcher's mound.
It's a dream come true for the baseball executive, but it wasn't always so. Four years ago, Braverman told the Blade: "My dream wedding would be something small surrounded by a few friends and family… in Hawaii or somewhere tropical."
Somewhere tropical is ultimately, after all, where Braverman found the love of his life, three years ago.
"We met in a swimming pool in Mexico, both visiting Puerto Vallarta at the same time," Cottrell told the Blade. "We happened to head to the same beach club and struck up a conversation while sipping on pina coladas. The chemistry was almost instant."
So, what changed from 2019 (besides COVID-19 and the pandemic, of course)?
"At the time of the interview, the idea of being married at one of the most iconic venues in all of sports didn't even cross my mind," Braverman told the Blade. "After Jonathan accepted my proposal and Dodger Stadium became a possibility as a venue, the idea seemed perfect to both of us for so many reasons."
As the Blade reported last August, Braverman popped the question on one knee at the Eiffel Tower Restaurant. Not in Paris, but in Las Vegas.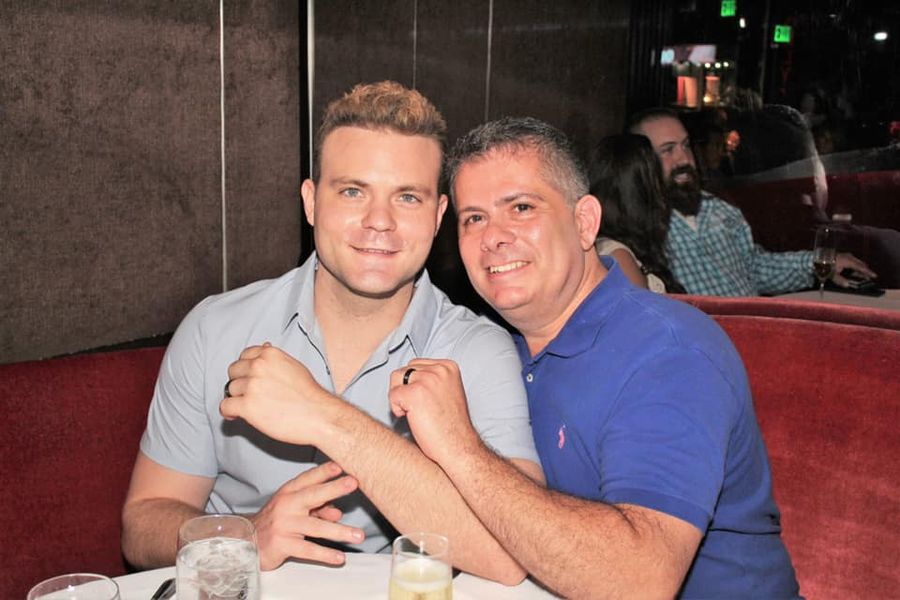 "I thought it was the right time to pop the question," said Braverman. "And given that Jonathan is from France, I thought it would be a cute and romantic idea that I thought I could pull off despite the pandemic. We are planning a honeymoon in Tahiti as soon as that becomes a possibility."
Not much is known about Cottrell, other than he's 31, works as a WeHo software engineer, and is also a photographer and model. So, the Blade asked him to tell us a little about himself.
"My father is from New York and my mother is French," Cottrell said. "My first language is French, though I did eventually grow up bilingual. My parents were missionaries and humanitarians, (and grandparents as well before them!). I spent most of my childhood in Cambodia, but lived all over the world: Haiti, Thailand, Laos, Uganda. I studied at McGill University in Montreal, earning my degree in Physics and Computer Science, number one in my class. I worked as a Software Engineer for Google for many years before diving into the tech startup world. I've explored photography and modeling in my spare time. I may be an engineer by training, but I'm an artist at heart."
But is he a fan of the Dodgers?
"I am absolutely a Dodgers fan, but to be candid, when I met Erik and he told me he worked for the Dodgers, my response was 'That's baseball, right?' Being from France, I've had very little exposure to baseball. But my knowledge and appreciation grows every season! And I was lucky enough to be there in person when we won the World Series in 2020!"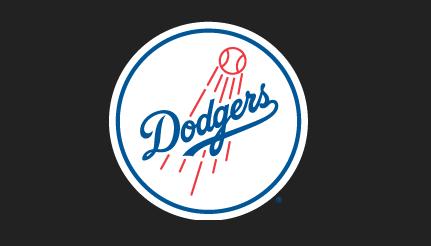 Baseball is most definitely the theme of their wedding: Invitations sent to about 80 relatives and friends resemble a ticket stub. No doubt, there will be happy tears on Friday, despite that line from "A League of Their Own" about there being "no crying in baseball." And the wedding ceremony will end with the sounds of the Dodgers' unofficial anthem, Randy Newman's classic "I Love L.A."
The love Braverman and Cottrell have received since announcing their engagement has been overwhelming, they told the Blade: "The outpouring of support has been phenomenal," they said in an email. "One thing we did not anticipate was how many people who are in situations where they can't be their authentic selves are feeling encouraged and inspired by our story. We are both active on social media and welcome anyone who would like to reach out." They asked us to share their handles on Instagram with readers: @erik_braverman and @modelcottrell"
What's next for the happy couple after getting hitched and, eventually, a honeymoon? Do they see themselves raising pitchers and catchers of their own, perhaps?
"Yes, starting a family is certainly in the cards," Cottrell said. "In fact, I suspect that will be happening sooner rather than later."
********************
Out actor Andy Dick arrested for sexual battery in Orange County
After an investigation, Dick, 56, was arrested on suspicion of felony sexual battery and booked into Orange County jail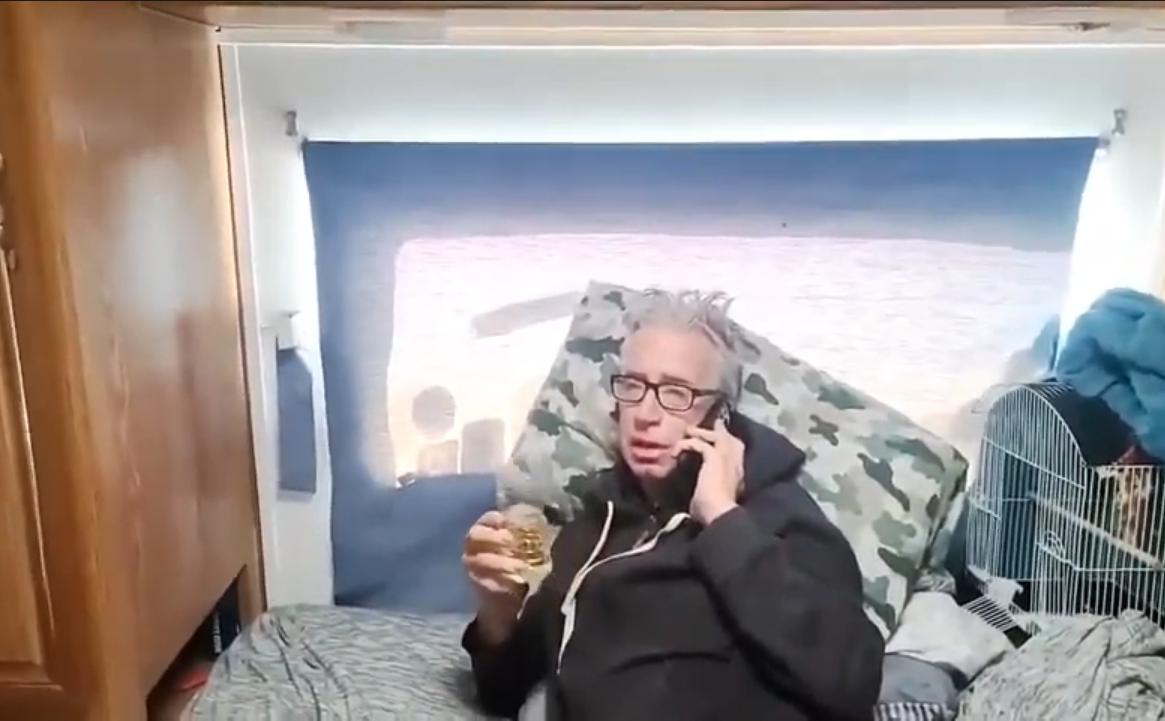 RANCHO SANTA MARGARITA, Ca. – Orange County Sheriff's deputies were called to O'Neill Regional Park, located at 30892 Trabuco Canyon Road in Trabuco Canyon Wednesday, after a man called 911 and said that actor and comedian Andy Dick had sexually assaulted him.
A spokesperson for the Orange County Sheriff's Department told media outlets that deputies arrived at a campground at the park at around 9 a.m. Wednesday morning and contacted the caller, a man who said he was the victim of the assault.
After an investigation, Dick, 56, was arrested on suspicion of felony sexual battery and booked into Orange County jail, Sgt. Scott Steinle said and added that the victim was taken to a hospital for an assault examination.
The arrest and the prelude to the arrest was apparently live streamed on YouTube by a channel labeled Captain Content's RV.
There are no further details available as of Wednesday afternoon the Orange County Sheriff's Department said.
The Los Angeles Times reported that Dick has been arrested several times on allegations including drug possession, groping and more. In November of 2021, Dick was arrested by the Los Angeles Police Department on a felony domestic violence charge.
Law enforcement sources told TMZ at the time that Dick allegedly hit his boyfriend on the head with a liquor bottle, leaving a deep cut.
He was also arrested in late June 2021 on suspicion of felony assault with a deadly weapon — a metal chair — on a man identified by Page Six as ex-lover Lucas Crawford. The arrest led to a breakup between Dick and then-fiancée Elisa Jordana.
Dick told Page Six that Crawford first "body-slammed" his leg in that brawl. Dick said he threw the chair after his leg was broken.
Video of Andy Dick being confronted over his alleged sexual assault:
Dave Chappelle assaulted on stage, jokes attacker was a Trans man
The popular comic performing as part of the Netflix Is a Joke Fest has long courted controversy with comments made about trans people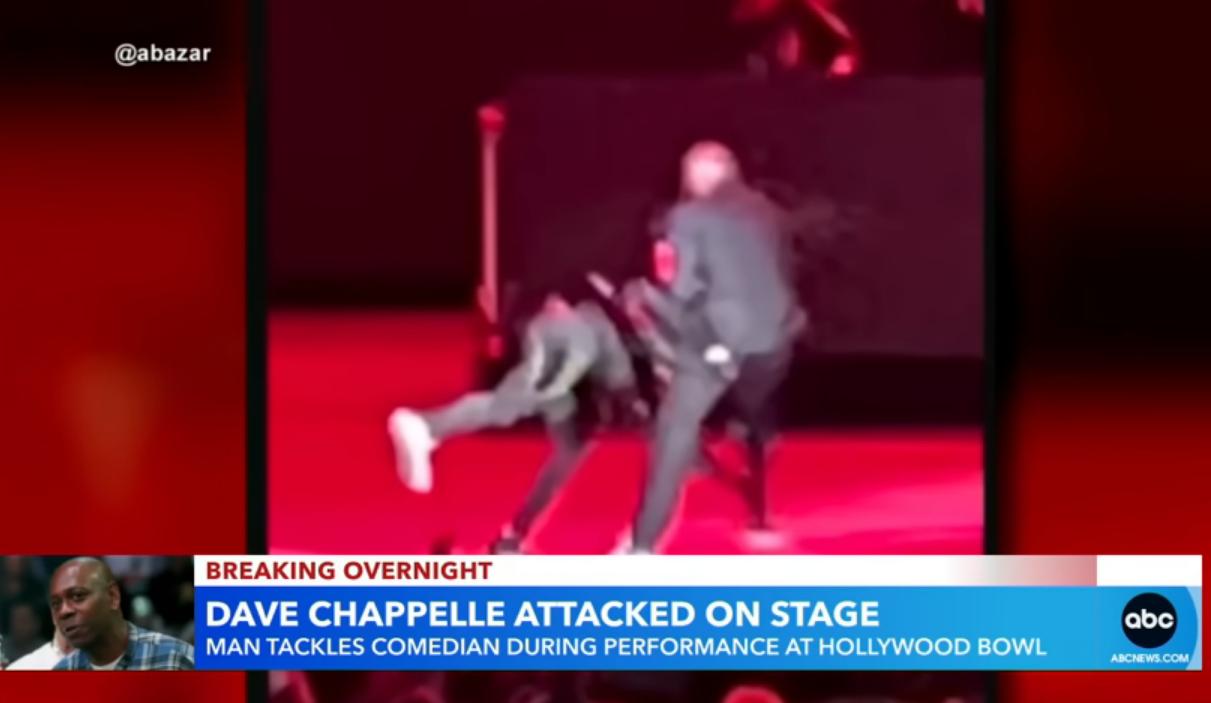 LOS ANGELES – Comedian Dave Chappelle was attacked during a performance at the Hollywood Bowl Tuesday night. A suspect is in custody for rushing the stage while brandishing a plastic replica of a gun that shoots forth a blade, according to the Los Angeles Police Department. After regaining his composure, Chappelle joked that the attacker "was a trans man," a reference to the comic's controversy within the LGBTQ+ communities.
The suspect has been identified as 32-year-old Isaiah Lee, who is being held by LAPD on $30,000 bail. Chappelle and the man scuffled on the floor of the stage before the man ran away behind a screen. Security staff surrounded and tackled the man, and according to Chappelle, stomped him in the rear corner of the stage. Lee was rushed to a local hospital. So far, there's no evidence that Lee identifies as transgender.
Chappelle, beloved by many for his clever television program Chappelle's Show, has long been a controversial figure to the LGBTQ+ communities. Last October, following the premiere of his Netflix The Closer, which featured insensitive cracks about trans women's genitalia and TERFs (or trans-exclusionary radical feminists), among other topics, several trans employees of Netflix staged a walkout. Additionally, trans comedians told CNN they felt that the comments were an example of "punching down" on those with less power and a betrayal of the astute social commentary for which Chappelle is known. Chappelle eventually agreed to meet with members of the community to discuss the tenor of his jokes about trans people.
The Bowl incident echoes the Academy Awards ceremony in March, in which eventual best actor winner Will Smith walked on stage and delivered a blow to the face of Chris Rock due to an off-the-cuff joke the comic made about Smith's wife Jada Pinkett Smith's hairstyle.
It also further raises questions about the safety of comedians who are known for caustic humor.
The comedian was performing at the venue as part of the Netflix Is a Joke Fest, an 11-day stand-up comedy festival. Rock, who also performed during the concert took the stage with Chappelle, and asked "Was that Will Smith?"
Dave Chappelle attacked on stage during Hollywood Bowl performance:
Grammy winner country music hall of fame nominee Naomi Judd dies at 76
The mother-daughter performers scored 14 No. 1 songs in a career that spanned nearly three decades in Country Music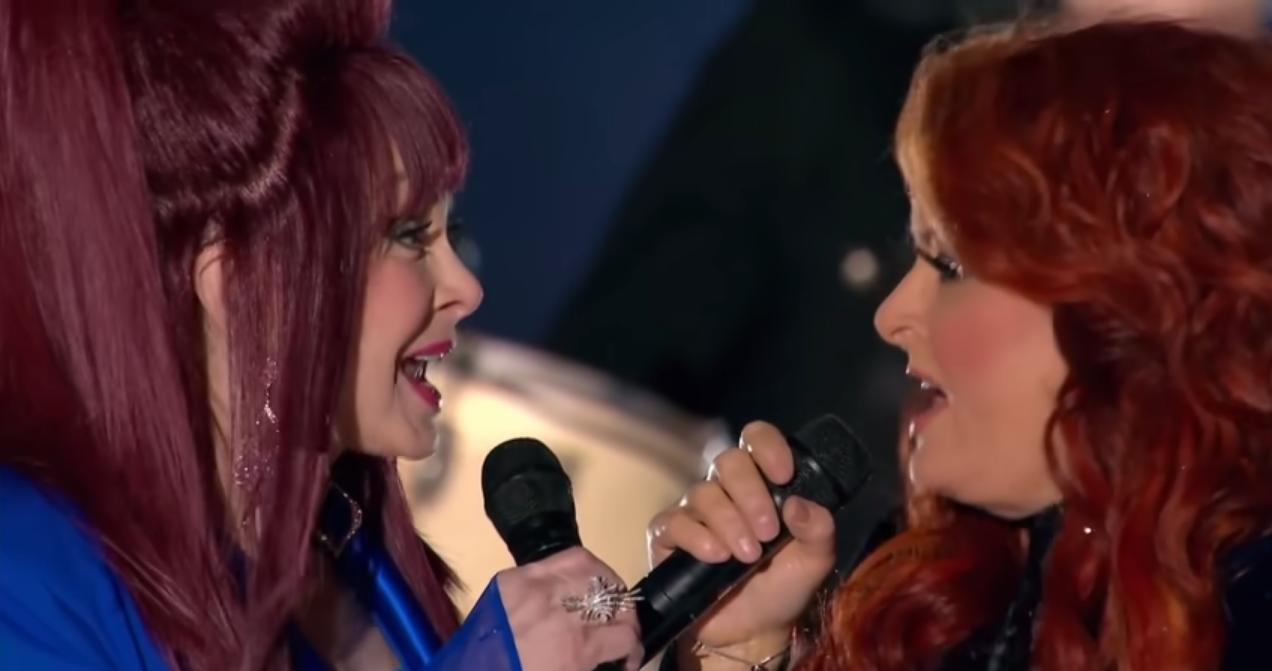 NASHVILLE – Shock waves of sadness enveloped the Country Music community on Saturday as the news broke that Grammy Award winning Country Music Hall of Fame nominee Naomi Judd had died suddenly at age 76.
Judd, the Kentucky-born singer of the Grammy-winning duo the Judds and mother of Wynonna and Ashley Judd, died near Nashville, Tennessee, said a statement on behalf of her husband and fellow singer, Larry Strickland. Strickland, who was a backup singer for Elvis Presley, was married to Judd for 32 years.
Naomi Judd's publicist told media outlets in a statement that Judd's husband, "will not be making any further statements."
"Naomi Judd's family request(s) privacy during this heartbreaking time. No additional information will be released at this time."
Grammy-winning country vocalist Naomi Judd — the matronly half-of mother-daughter duo The Judds, has died at 76.https://t.co/Suc1rXp1T9

— Tennessean (@Tennessean) April 30, 2022
The daughters confirmed her death on Saturday in a statement provided to The Associated Press.
"Today we sisters experienced a tragedy. We lost our beautiful mother to the disease of mental illness," the statement said. "We are shattered. We are navigating profound grief and know that as we loved her, she was loved by her public. We are in unknown territory."
WTVF News Channel 5 in Nashville noted that The Judds — Naomi and Wynonna — were scheduled to be inducted into the Country Music Hall of Fame this coming Sunday.
They had not performed together at an awards show in more than 20 years, Rolling Stone reported until they sang their 1990 hit, "Love Can Build a Bridge," earlier this month at the 2022 CMT Music Awards.
The @Juddsofficial will be inducted into the Country Music Hall of Fame on May 1. @theNaomiJudd and @Wynonna helped take country back to its roots in the 1980s. Wynonna's 2019 program at the Museum includes an interview and performance.

Watch: https://t.co/F1Izbtei1d

— Country Music HOF (@countrymusichof) April 29, 2022
The mother-daughter performers scored 14 No. 1 songs in a career that spanned nearly three decades. After rising to the top of country music, they called it quits in 1991 after doctors diagnosed Naomi Judd with hepatitis.
The Judds' hits included "Love Can Build a Bridge" in 1990,"Mama He's Crazy" in 1984, "Why Not Me" in 1984,"Turn It Loose" in 1988, "Girls Night Out" in 1985, "Rockin' With the Rhythm of the Rain" in 1986 and "Grandpa" in 1986.
Country singer Chely Wright, who became the first commercial country music artist to come Out gay in 2010, said in an interview with The Huffington Post, that only three country music stars – Mary Chapin Carpenter, LeAnn Rimes and SHeDAISY – publicly supported her decision.
"Privately – Faith Hill, Trisha Yearwood and Naomi Judd" supported me, Wright said.
Grammy Award-winning music superstar Kacey Musgraves, who received the 2022 Vanguard Award at the 33rd Annual GLAAD Media Awards in Los Angeles this past month, introduced The Judds as they made a return to the stage at the 2022 CMT Music Awards at the Nashville Municipal Auditorium in Nashville.
The Judds Perform "Love Can Build A Bridge" | 2022 CMT Music Awards: