Mississippi library defies anti-LGBTQ+ Mayor, holds fundraising campaign
Undeterred by the mayor's blatant homophobia the library set up a crowd fundraiser to offset a potential financial shortfall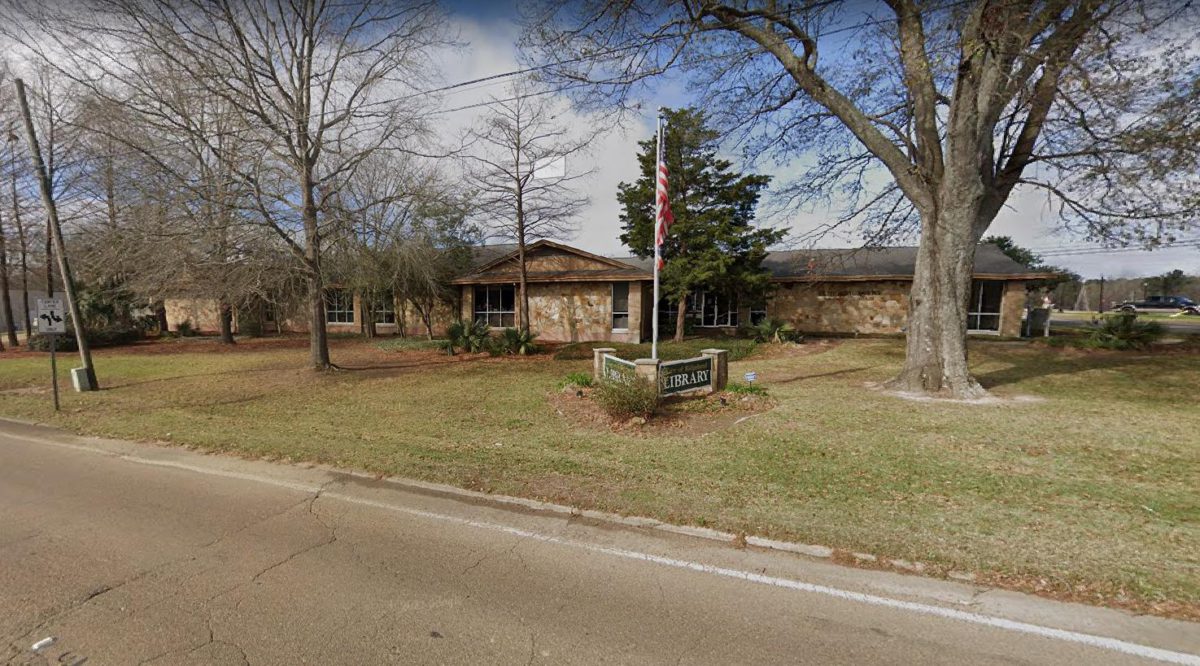 RIDGELAND, Ms. – When Tonja Johnson, the executive director for the Madison County Library System, reached out to Ridgeland Mayor Gene McGee after failing to receive the City's first quarterly payment of 2022 for funding- the mayor informed her that no payment was forthcoming.
"He explained his opposition to what he called 'homosexual materials' in the library, that it went against his Christian beliefs, and that he would not release the money as the long as the materials were there," Johnson said.
The director then explained to the mayor that the library system, as a public entity, was not a religious institution. "I explained that we are a public library and we serve the entire community. I told him our collection reflects the diversity of our community," Johnson said.
Apparently, the mayor was unmoved. "He told me that the library can serve whoever we wanted, but that he only serves the great Lord above," she finished.
The lack of funds would significantly negatively the library's services and even cause a likely lay off its employees, Johnson told local media outlets as the story spread. Undeterred by the mayor's blatant homophobia and coupled with the ongoing battle to receive its promised funding, the library set up a crowd fundraiser through its 'Ridgeland Friends of the Library,' volunteers group.
Initially the group set a modest goal of only a few thousand dollars with the posted message of; The Ridgeland Friends of the Library is a fundraising and support organization for the Madison County Library, especially the branch here in Ridgeland. We are welcoming donor support in this difficult and trying time for the library. If the Mayor doesn't relent, the library will see its funding cut. We believe that the public library is for the entire public. Help us prepare for the worst and send a message that the library budget should not be held hostage to these un-American views. All donations will be used to benefit the library and the people it serves."
The response, however, was overwhelming. The group had then readjusted its goal upwards to $75,000.00 with an end date of Valentines Day, February 14 and as of Thursday, February 3, the group was within a few hundred dollars of reaching that goal with $74,380.00 raised.
"We are amazed and humbled by the overwhelming support and generosity you have shown. Please know that your donations will be used to help ensure that our library's collections and programs continue to reflect the diversity of our community and will remain uncensored. Thank you," read a message from Teresa Gerald, the President of the Friends of the Ridgeland Library.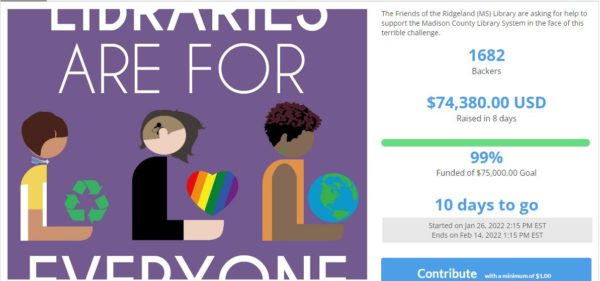 In the meantime the battle over the library's funding continues. Whatever authority the mayor intends to serve, it's unclear if his action is legally defensible.
"This is taxpayer money that was already approved by the board of aldermen," Johnson explained. "It was included in the city budget for 2021-2022. It's the general-fund appropriation that the City of Ridgeland sends every year for daily operation of the library. That money goes to everything from purchasing materials to supporting programs and staff salaries."
Without the support of the board of aldermen, it is unclear if the mayor will be able to maintain the funding hold for long. Moreover, the mayor's action may well violate basic constitutional rights, based on earlier court cases on the subject of LGBTQ book bans, including Sund v. City of Wichita Falls.
University band director mocks trans, women, & others on podcast
University declined to comment on its hiring of Steven Hugley who repeatedly misgendered trans people on his conservative commentary podcast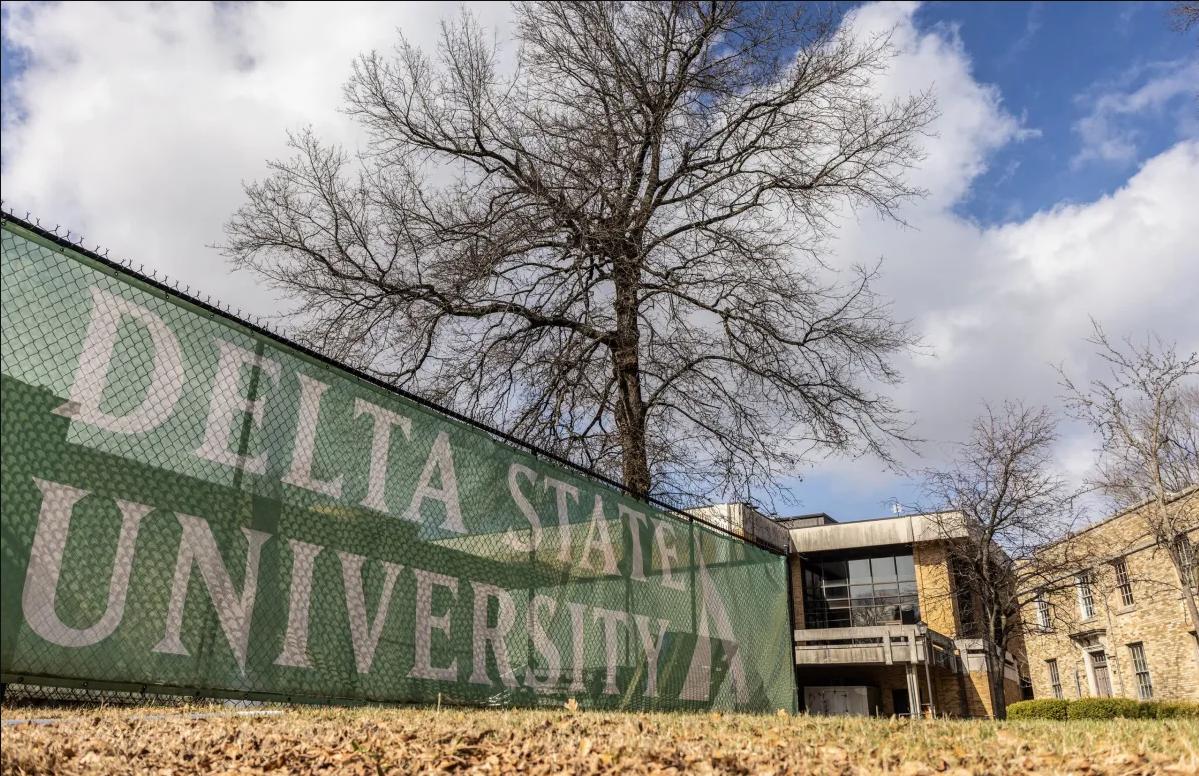 By Molly Minta | CLEVELAND, MS. – The new interim band director at Delta State University co-hosted a conservative commentary podcast in which he mocked people who choose to be childless, agreed pro-LGBTQ religious leaders should be stoned and misgendered notable transgender people.
In one instance on "Always Right," the podcast that Steven Hugley co-hosted, he gagged at a photo of Jamie Lee Henry, the first openly trans active-duty military officer who was charged last year with providing confidential medical records to an FBI agent posing as Russian intelligence.
"I do take a little joy in the fact that it's the first openly trans person, I'm not even gonna lie," Hugley said to his co-host, Jeff Dotson, in a clip captioned "Man With No Loyalty to His Genitals Also Has No Loyalty to His Country."
"And oh man, that picture, it's haunting. Like, oh, I'm going to see that in my nightmares," he said, and gagged again.
Hugley's June 29 Facebook post celebrating his new role, made the day before it was announced internally, caught the eye of Jonathan Szot, a library assistant at Delta State who has helped organize on-campus Pride events. Szot, whose pronouns are they/ them, had known Hugley ever since they were in a music fraternity in undergrad at Delta State.
That day, Szot helped put together a Google Drive of recordings of Hugley's podcast, which they reported to the university's diversity, equity and inclusion coordinator.
"Imagine you're an 18-year-old band kid, probably one of the queerer groups in Mississippi — not to stereotype the whole group but a lot of band kids end up somewhere in that alphabet — and now you're going to college and you're like 'I'm gonna be free for once' and you wind up with this," Szot said.
Now, they're calling on the university to rescind Hugley's hiring. Hugley and Dotson have not uploaded a new episode since March, but Szot said they are concerned Hugley's beliefs could show up in the classroom.
"If Steven wants to govern his own life by those rules, fine by me. It doesn't affect me; it doesn't bother me," Szot said. "But he should not tell our students how they should behave, and based on his own podcast, I do not feel confident in his ability to separate his role as an educator in a university and as an evangelist." 
What's at stake for Szot goes beyond Hugley's comments; they say the university's action or inaction is a litmus test. With support from the prior administration, the LGBTQ community has grown at Delta State despite backlash from some locals in Cleveland, the small town in the Mississippi Delta that plays host to the university. Will the new president, Daniel Ennis, make inclusivity a priority too ?
"If they don't address his views — his outspoken, public views — in some way, then yeah, it definitely will feel like a step back," Szot said.
Delta State declined to comment for this story or to say what steps, if any, the administration plans to take to ensure future band students feel safe training under Hugley. The university also did not confirm if Dotson, who used to work in the registrar's office, is still employed at Delta State. 
'If you don't like it, go somewhere else': New band director at Delta State mocked trans people, women and other groups on podcast
Experts who study civil liberties in higher education told Mississippi Today that even though Hugley hosted his podcast as a private citizen, the university could still condemn his speech. 
Hugley told a Mississippi Today reporter on Tuesday that he could not talk for long because he was arriving at a recruitment event for the band. He added that he had not heard anything from the university. Shortly after, he locked his Twitter account. All the videos on the podcast's YouTube channel, which has five subscribers, were deleted.
The next day, Hugley declined to comment or provide additional context for his statements on the show. His co-host, Dotson, did not return a request for comment, but in the first episode, he articulated the premise of the show: "We felt that our opinions were just too important to keep them to ourselves — that, and our wives got tired of listening to us." 
The controversy is a test for Ennis, the university's new president and an outsider to the Delta who took his post earlier this summer after a split vote from the Institutions of Higher Learning Board of Trustees. It remains to be seen how he will respond to Szot's report.
"We're still reading the tea leaves in his every gesture and mannerism," Szot said. "A lot of the staff feels fairly optimistic about him. He seems like one of us. We're all giant nerds."
It's unclear when university officials first learned about Hugley's podcast. Last week, the provost, Andy Novobilski, emailed Szot's superior to confirm "that the 'steve' on the Steve And Jeff podcast is actually Steve Hugley," according to a copy of the email.
The interim chair of the music department, Kent Wessinger, couldn't say if he knew about the podcast before interviewing Hugley for the interim band director position earlier this year. 
"There was so much going on in that moment, I don't really recall," Wessinger said.
Wessinger added that Hugley, who graduated from Delta State in 2012, is a dedicated alumnus who is deeply involved in the community. Hugley is a minister at the Bolivar Church of Christ. His Twitter username is a reference to the university's okra mascot. He's on the alumni board of directors.
And in his Facebook post, Hugley wrote that it had been his 12-year dream to become the band director — a passion that has gained him sympathy with Wessinger.
"I happen to believe that he can rise above and he can do something significant, not for himself, and not just for the university, but for every student that comes here that wants to major in music and be in the band," Wessinger said. "And so I'm not going to be the person that judges him for the positions that he takes, because everybody has positions that are adverse to other people."
This is more than a dream for Szot. They want to live in a safe community, but instead, they're used to backlash. And in a small town where Szot knows everyone, politics are inherently personal.
In fall 2019, a university marquee advertising a drag show as "family friendly" was shared in a Facebook group. Outraged community members left comments suggesting they would protest the show, which was going to be held on the library steps. As a precautionary measure, Okra OUT, the on-campus organization that hosted the show, relocated inside the Jobe Auditorium.
Szot and other Okra OUT members were heartened to see Bill LaForge, the university's former president, and other upper-level administrators attend. But that doesn't change the wider context in Mississippi, they said, where the state government is hostile to LGBTQ+ rights.
"It's the whole paradox of tolerance," they said. "To have a tolerant society, you cannot tolerate the intolerant. That is simply how that works." 
A Facebook post about the fall 2019 Okra OUT event prompted outcry from some conservative community members in Cleveland.
"The First Amendment doesn't stop the university from putting out its own statement criticizing what the band director said," said Aaron Terr, the director of public advocacy at the Foundation for Individual Rights and Expression. "The university can use its bully pulpit in that way, if it chooses to."
There's precedent for this, Terr noted, most notably in 2019, when the University of Mississippi condemned social media posts by sociology professor James Thomas. While nationally, conservative professors often find themselves at odds with university administration for controversial speech, Terr said in Mississippi, the reverse tends to be true.
Kristen Shahverdian, a program coordinator with PEN America, a nonprofit that promotes free expression, said Delta State could also hire a second band instructor so that students who don't want to interact with Hugley could still participate in band.
"I would say what the university should do is not ignore this and address the community by reaching out to the communities most impacted by the speech first," she said. 
The 24 episodes of "Always Right" cover a range of newsy and at-time philosophical topics, including the police shooting of Tyre Nichols; the train derailment in East Palestine, Ohio; Christmas (the only holiday Dotson likes); a TikTok made by the comedian Chelsea Handler about being a childless woman and even the nature of civic disagreement.
Toward the end of episode 22, Hugley called Dylan Mulvaney, a trans female actress who received online abuse after she partnered with Bud Light on TikTok, a "flaccid man at best." He added that since Mulvaney documented her transition online, she doesn't "get to cry when people make comments and mean things about you."
Then he addressed Dotson.
"When you and I decided to start this podcast — we don't care if we have one viewer, we don't care if we have a million viewers — we knew we were putting ourselves out there and that ridicule comes with it," he says. "That's part of the game, you know? If you don't like it, go somewhere else. You don't get to be a public figure and then cry about people who disagree with you. It doesn't work that way."
In the most recent episode, Hugley refers to Dr. Rachel Levine, the United States assistant secretary for health and the first openly trans federal official, as "a dude." He said transitioning — the process of changing one's physical appearance to align with gender identity — should be illegal not just for trans kids, but for trans adults too.
"If you do, not only are we gonna lock you up, we're also gonna lock up the doctor," Hugley said in reference to parents who seek gender-affirming care for trans kids, "and then we take it the next step."
Hugley doesn't "hate" trans people either, he said in one episode. It is not "mean and evil" to misgender them, he said in another.
"I'm concerned about these people," he said. "I know that lying to them and feeding into their fantasy is not going to help them."
On the show, Hugley and Dotson watch multiple viral videos of religious leaders who support or are members of the LGBTQ+ community. In episode 21, they play a viral TikTok from an associate pastor in the United Methodist Church who preaches in drag, which prompts Dotson to say "every man in that building should have been talking over him and should have been pelting him with song books." 
"We are so soft, we are so weak, we are so tolerant," Dotson added.
Another TikTok they watch, in a clip titled "Christians Need to Play Offense," shows a progressive reverend wearing a rainbow stole and delivering a sermon that begins "God is gay, God is lesbian, God is trans."
"These people should be afraid to say these kinds of things in public," Dotson said after referencing Biblical scripture. "Except, then we go back to the thing where there's not really free speech in public, because we're afraid to speak our mind, because we're afraid to get fired.
"They should be afraid to be stoned spouting this kind of nonsense," Dotson said.
Hugley nodded.
"When all the institutions of power are on your side, we're not punching down," Hugley said. "The administration? They're on your side. The media? They're on your side. Hollywood and all entertainment? They're on your side."
Dotson concludes that if he lives to see his "dream" of communism becoming illegal in the U.S., he wouldn't care about the institutions.
"Oh, Jeff, that sounds like McCarthyism," Hugley jokes, referencing the period in the 20th century when U.S. Sen. Joseph McCarthy accused hundreds of government employees of being communist spies.
Dotson replies, deadpan: "McCarthyism was good. It didn't go far enough."
"McCarthyism was highly underrated," Hugley agrees. 
******************************************************************************************

Molly Minta covers higher education for Mississippi Today. She works in partnership with Open Campus, a nonprofit news organization focused on investigating higher education. Originally from Melbourne Beach, Florida, Molly reported on public housing and prosecutors in her home state and worked as a fact-checker at The Nation before joining Mississippi Today. Her story on Mississippi's only class on critical race theory was a finalist for the Education Writers Association National Awards for Education Reporting in 2023 in the feature reporting category.
******************************************************************************************
The preceding article was originally published by Mississippi Today and is republished by with permission.
Founded in 2016 as the state's first nonprofit, nonpartisan newsroom, Mississippi Today's roots in Capitol coverage have grown to encompass a myriad of beats beyond politics and policy, including education, public health, justice, environment, equity, and, yes, sports.
We believe that an informed Mississippi is a better Mississippi. We center readers in everything we do, informing–and engaging–Mississippians through reporting, podcasts, events and online communities.