Animated docs tell gay stories a century apart
'Coded,' 'Flee' essential viewing for any queer film fan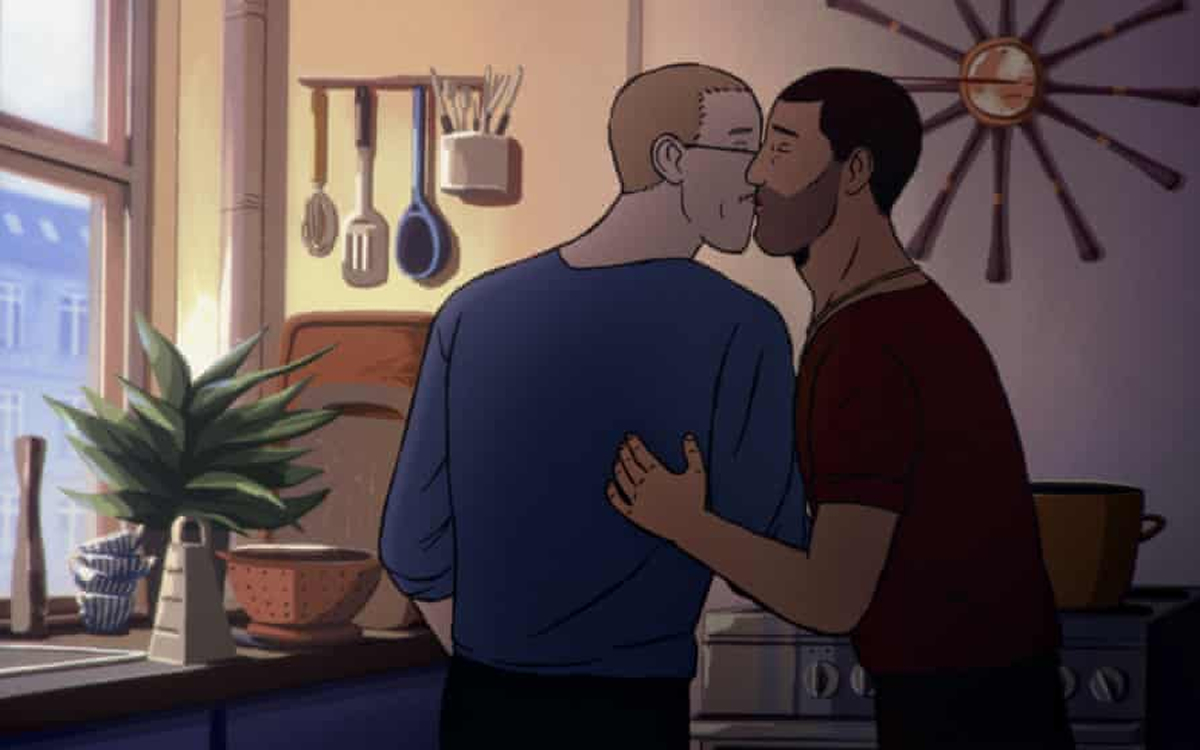 At first thought, the idea of using animation to make a documentary film seems fundamentally at odds with what a documentary film is supposed to be. When the entire purpose of a movie is to offer a truthful, non-fictional presentation of a real-life situation or story, using an inherently artificial tactic like animation feels somehow less than honest. What happens, though, when the information that filmmaker wants to deliver is 100 percent truthful, yet no visual record or documentation of it is possible?
That's when it's time to get creative, and as two of 2021's best documentaries prove, "creative" is not synonymous with "dishonest."
In "Coded: The Hidden Love of J.C. Leyendecker," director Ryan White relies predominantly on animation in telling the long-obscured life story of its subject – one of the most prominent artists of his time, whose early 20th century commercial illustrations helped to define modern advertising art but whose life and legacy have long been all but forgotten. Forgotten, that is, except within the gay community, where the obvious homoerotic undertones of his impossibly idealized male figures and the settings in which he placed them shone like a beacon signal that reminded them they were not alone.
In fact, Leyendecker's heyday was during a time known as the "Pansy Craze," in which the giddy progressive atmosphere of the "roaring 20s" allowed for a brief surge in LGBTQ acceptance and visibility; nevertheless, he remained closeted for life, to all but his inner circle (and of course his long-term partner, who was also his model and muse), even going so far as to destroy most of the letters and drawings that would have "outed" him after his death.
With virtually no visual material to work with – save for a few grainy photos and Leyendecker's copious catalogue of illustrations – White tells much of the story via animation inspired by the artist's visual style, accompanied by voiceovers from Neil Patrick Harris and interspersed with "talking head" style remarks from cultural historians and others with insight on his legacy. It's a perfect match to the material, for obvious reasons, but it also gives emotional resonance to what might otherwise be a mere recitation of dry biographical facts. Tellingly, Leyendecker remains a distant, enigmatic figure even as his story draws our empathy – a solemn reminder of the self-erasure he felt compelled to perform on his own life.
Danish filmmaker Jonas Poher Rasmussen undertakes a more ambitious challenge with the feature-length "Flee," which must chronicle an Afghan teenager's escape from his homeland without any real-life footage. It's the story of Rasmussen's high school friend Amin, now a successful adult pursuing a postdoctoral degree, who has always kept secret the full story of his ordeal for the protection both of those who helped him find refuge in the West and of family members still in peril. On the brink of marriage to his boyfriend Kasper – who knows only a set of false facts concocted to obscure the risky details of his past – he feels the need to share the truth of his traumatic experience and confides it to Rasmussen in recorded conversations.
Those interviews form the bulk of "Flee," unfolding a grim but inspirational take that begins with happy memories of Amin's childhood (such as his fondness for wearing his sister's dress) before launching into the nightmare history that has cast a shadow over his life ever since: how his father was persecuted and finally taken away by the mujahedeen, who had seized control after the collapse of the Soviet-backed Afghan government; how his remaining family, with the help of an older brother living in Moscow, enlisted the expensive aid of human traffickers to be smuggled out of an increasingly dangerous Kabul, only to suffer one heartbreaking setback after another; how he was finally able to make it to safety in Denmark only by leaving his mother and siblings behind and vowing to respect the admonitions of the traffickers never to veer from the cover story they made him learn by heart.
There are surprising moments of lightness, too, many of which involve Amin's coming of age into his queer identity (no spoilers, but that part of the tale is a refreshing departure from expectation in stories such as this), which pull us back from the brink of despair; and interspersed throughout are scenes of the present (also animated) in which he opens up about his relationship with Kasper and his desire to fully connect – because despite having built a successful life for himself and even being in furtive and occasional contact with some members of his long-lost family, he still finds himself feeling like a fugitive, unsafe and alone.
That's the truth at the heart of Rasmussen's film, driven home by Amin's recorded observation that "When you flee as a child, you are constantly on guard – you're afraid to trust anyone, even your partner, even your best friend." It's the point of access to Amin's harrowing story for many of us who have never endured the hardships he was forced to face as a refugee but can nevertheless, through that simple but hard-won insight, feel authentic solidarity with him. In allowing his friend to finally share the emotional burden of his experiences, and us to share in it, Rasmussen offers the poetic suggestion that trauma can make refugees of us all.
For that to be accomplished, the filmmaker needs to get us deeply invested, and the choice to use animation – instead of simply showing us Amin as he tells the story – enables him to use the full visual vocabulary of cinema to do it. Indeed, the stylized presentation adds just enough distance to evoke a deeper response than might be sparked by a direct, live-action recreation of events; real-life people and events are given a larger-than-life quality by seeing them rendered artistically, connecting them to the realm of our psyche which deals in archetypes and myth and giving them a wider significance to us than the mere intellectual assimilation of facts. It's a story that tugs at our heart, and while for most documentaries that might be a liability, in this case it makes the truth Rasmussen means to reveal shine through even more.
To a lesser degree, perhaps, the same can be said of "Coded," which in many ways serves as a perfect companion piece for "Flee." It's the story of a man at the top of his highly visible profession who hides in plain sight for a lifetime, leaving only his work and a few scraps of personal papers behind to hint at the vast landscape of his private self; seen that way, it's impossible not to recognize his parallels with Amin, who hopes finally to be free of a life lived looking over his shoulder.
Both "Coded" and "Flee" are short-listed Oscar contenders, perhaps representing this year's best chance at LGBTQ visibility among the winners – "Flee" is a potential nominee in three categories, including International Feature. That's reason enough to see both – but as testaments to the experience of two remarkable gay men 100 years apart, they should be considered essential viewing for any queer film fan.
Belgian Oscar contender strikes 'Close' to home
Exploring gender expectations we force upon our children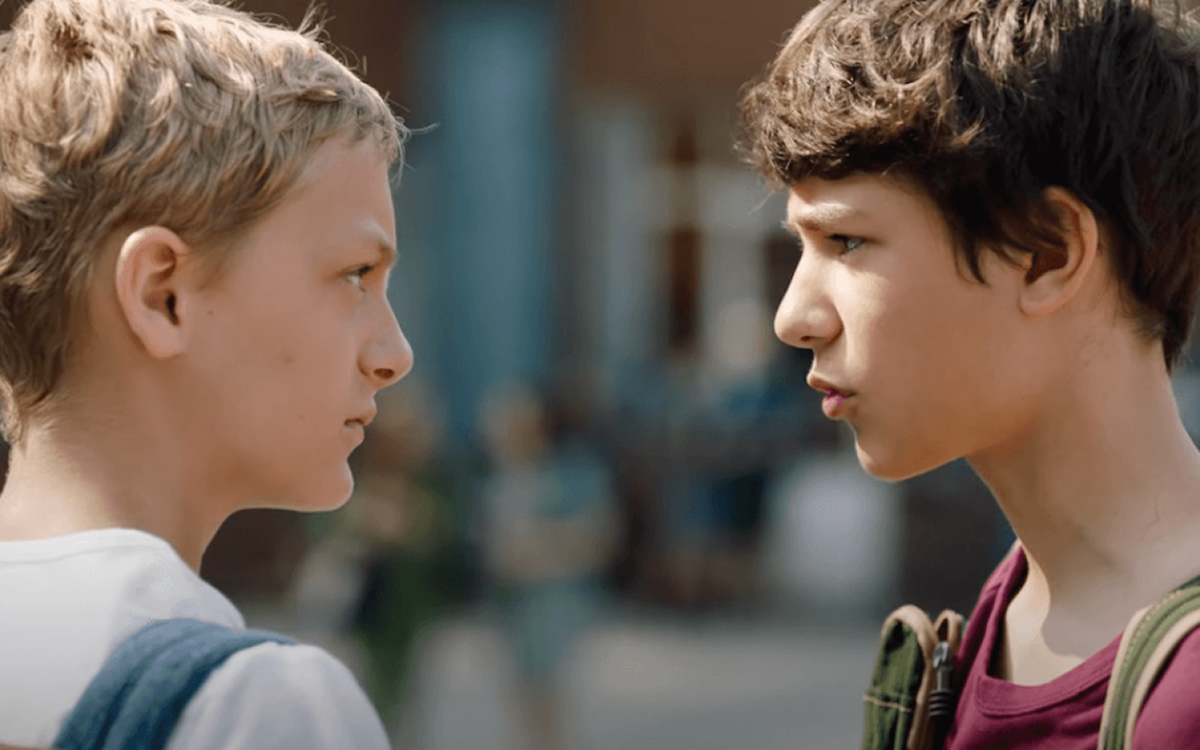 When queer Belgian director Lukas Dhont debuted his first feature film "Girl" at the 2018 Cannes Film Festival, it made quite an impression. As winner of the Caméra d'Or prize for Best First Feature, as well as the Queer Palm Award and a Jury Award for Best Performance for its star Victor Polster, it was quickly acquired by Netflix and catapulted Dhont onto the international cinema scene. He was even named on the Forbes "Europe 30 Under 30" list of business and industry professionals to watch.
Not all the attention heaped on his movie was positive, however. The tale of a teen trans girl seeking a career as a ballet dancer, it raised sharp objections from some queer and trans commentators for what they perceived as a sensationalized approach to gender dysphoria and self-harm, not to mention for the casting of cisgender actor Polster in the leading role; though other queer and trans voices – including real-life trans ballerina Nora Monsecour, who inspired the story and consulted with Dhont and co-screenwriter Angelo Tijssens during the writing process – were quick to defend the movie, the controversy nevertheless created a blemish on its reputation, and that of its filmmaker, too.
Now, Dhont is back with his second full-length film, and while it certainly marks an escalation of his success, it's not without its own detractors. "Close," based on experiences from his own childhood and again co-written by Tijssens, also took Cannes by storm, winning the Grand Prix Award this time, and has gone on to accumulate accolades from other festivals and awards bodies around the world; yet its subject matter, perhaps inevitably, has opened the filmmaker up to another round of criticism from queer observers who are uncomfortable with the story he has chosen to tell – or at least with the way he has chosen to tell it.
It centers on two young teen boys, Léo (Eden Dambrine) and Rémi (Gustav De Waele), tightly bonded best friends who start their first year of secondary school after a summer spent together in innocent but intimate companionship working on Léo's parents' farm. When new schoolmates begin to make comments about the closeness of their relationship, Léo begins to distance himself from Rémi, becoming involved with hockey and pursuing a camaraderie with the rougher, more athletic boys on his team instead; first confused, then devastated by his abandonment, the heartbroken Rémi is moved to a public schoolyard confrontation with his former friend, further driving a wedge between them and setting the stage for an unthinkable turn of events.
The film's provocative title is partly a nod to psychologist Niobe Way's book, "Deep Secrets: Boys' Friendships and the Crisis of Connection," which documents a study of intimacy among teenage boys – frequently using the term "close friendship" to describe their relationships – and was one of Dhont's inspirations for making the film. More than that, however, it's an important clue to what his movie is all about. Though the director revealed before making "Close" that it would be about a "queer character," there is no suggestion, either explicit or implicit, that its two teen friends have a sexual relationship with each other, or even that such a thing has ever crossed their minds; they are simply two boys, comfortable with each other in that tender and trusting way that only boys at their age can be. Likewise, there's no bullying, no aggressive or even "microaggressive" shaming; it's only their schoolmates' perceptions that introduce the suggestion this friendship might be something more – but that's more than enough to sour the sweetness between them, forcing us to question why some ways of being "close" are only OK for boys until they start to become men.
More to the point, perhaps, it begs the question of how this kind of low-key homophobia, so culturally ingrained that it is perpetuated without a flicker of awareness, remains persistent in a community that should know better. We don't see a lot of the adult world in "Close," but what we do see leads us to an impression that most of the grown-ups around Léo and Rémi are intelligent, educated, compassionate, and sensitive; their parents are unconditionally loving, and more than welcoming of the close companionship between their respective offspring. Yet throughout the film, throughout the boys' conflict and beyond, there is no adult figure in their lives who seems willing or able to broach the subject of sexuality, or to show by example that there's nothing about being queer – or even being perceived as queer – to be ashamed of.
These things, of course, are part of the criticism that has been leveled at the movie. Without positive messaging to counter its bleak narrative, some have seen "Close" as perpetuating a bevy of toxic tropes. Though we try to avoid spoilers, it's hard to discuss a movie like this without revealing that something tragic happens, and many have expressed disappointment that Dhont's film "punishes" its gay characters – even if we're never sure they're really gay. Further, in the absence of any affirmation of queerness (or even non-traditional masculinity), some have been troubled by an assumed reinforcement of a homophobic status quo within its narrative.
We can't – and won't – argue with any of those points. "Close" is a challenging film in the same way as "Tár," another controversial title among this year's awards contenders, in the sense that it presents a problem and doesn't offer a solution or tell you how to respond to it – yet unlike "Tár," it encourages us to feel things for its characters, and the consequences here are much more tragic. That might be especially true for queer men, certainly of older generations but still among today's youth, for whom the film may trigger traumatic memories that hit particularly close to home. That means, when it comes to deciding if you're up to the substantial challenges of watching it, you're on your own. (SPOILER ALERT: it's rough going, emotionally speaking.)
Still, "Close" is a beautiful film on a lot of levels. In the most literal sense, it's visually stunning, framed with an almost tactile up-close intimacy and brimming with the preternatural light that glows through Frank van den Eeden's delicate cinematography; in a larger sense, it strikes a resonant chord for anyone who has ever (is there anyone who hasn't?) experienced the terrible pangs of losing a childhood friendship, an unforgettable hurt it captures with heart-rending authenticity. Though we want our coming-of-age stories to be uplifting, there are some kinds of pain that cannot be erased, and it's to Dhont's credit that he doesn't try. He wants you to feel those feelings, and his movie is delicately crafted to make sure that you do, complete with the remarkable performances he elicits from his two underage stars.
That doesn't make it easy to watch, of course, but for those who are willing to take it on, it offers plenty of food for thought; and if the observations it makes about the gender expectations we force upon our children make you uncomfortable, then it's accomplished what it set out to do in the first place.