NPH is 'Uncoupled' in new Netflix sitcom
Show lampoons queer NYC social scene's mores and manners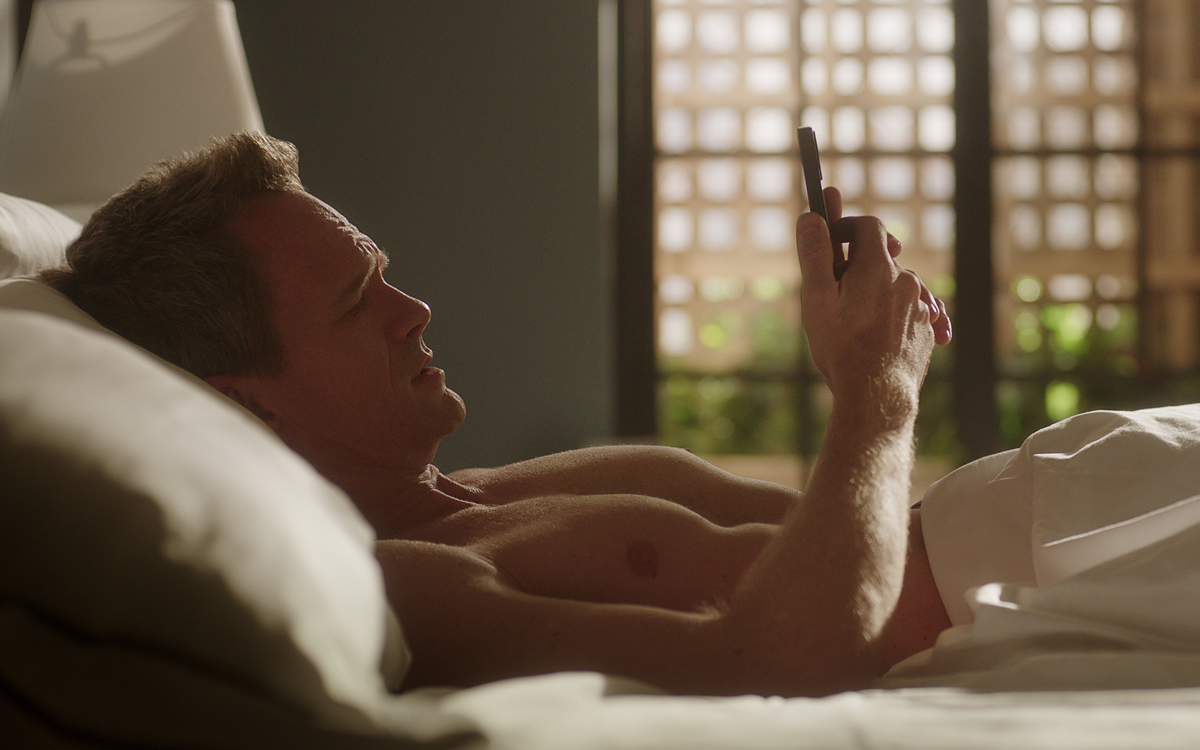 Summer of 2022 might just go down in history as "The Summer of the Queer Romcom." With movies and shows like "Heartstopper," "Fire Island," and "Anything's Possible" already gracing our screens, and upcoming projects like Billy Eichner's much-anticipated "Bros" still on the horizon, it seems like Hollywood is trying to make up for all those years of content in which LGBTQ people were only allowed to be shown as tragic victims or comic relief – when we weren't being erased altogether, that is – by giving us a glut of the kinds of happily-ever-after stories we never got to see about ourselves. It's about time, and nobody is complaining.
Still, with all these feel-good romances heading our way, it was inevitable that we would eventually get something that looks at the flip side of that coin – a story about breaking up. What we might not have expected, however, is that it would be a comedy.
"Uncoupled," the new Netflix series from Darren Star and Jeffrey Richman, is exactly that. It stars Neil Patrick Harris as Michael, who – as a successful Manhattan real estate broker with a close-knit group of friends and a 17-year loving relationship with the handsome Colin (Tuc Watkins) – seems to be living every gay man's dream. He gets a rude awakening, however, when Colin, on the eve of his 50th birthday, blindsides him by abruptly packing up his things and moving out of their apartment, leaving him to face two nightmares he never saw coming – the loss of a person he believed was his soulmate, and the reality of being a 40-something single gay man in New York City.
Fortunately, he doesn't have to do it alone. His business partner and confidante Suzanne (Tisha Campbell) is at his side to walk him through the painful stages of dealing with a breakup, as are his two closest friends, TV weatherman Billy (Emerson Brooks) and high-end art dealer Stanley (Brooks Ashmanskas). While it's true that none of them are exactly qualified when it comes to giving relationship advice, he needs all the help he can get – especially when he begins to awkwardly fumble his way back into a dating scene that looks a lot different than he remembers.
As written by Star and Richman, with director Andrew Fleming at the helm, the show's deep dive into the funny side of breakups doesn't have much time for tears and regret. Playing out in the upscale, glamorous world of New York's high gay society, it keeps the tone light and lifted, moving beyond the heartbreak as quickly as possible and setting its sights on the rich comedic territory to be found in the frolics and foibles of the privileged set. It's a milieu that should come as no surprise considering that co-creator Star is the man responsible for "Sex and the City," not to mention "Beverly Hills 90210" and "Melrose Place," all of which banked on similar currency. Indeed, it's easy to see Michael and his trio of compadres as natural successors to the iconic gal pals of "Sex and the City" – more diverse and openly queer, perhaps, but recognizably kindred in spirit.
Star's co-creator brings his own pedigree into the mix, too. As an executive producer and writer on "Modern Family" (and similar duties on shows like "Frasier" and "Wings" before that), he doubtless has much to do with the whip-smart sitcom sensibility that both undercuts the show's "guilty pleasure" appeal and enriches it. Indeed, much of the fun of "Uncoupled" comes from its lampooning of the queer social scene's mores and manners – the shallow obsessions with youth and hotness, money and status, and all the other interpersonal dynamics that enable us to judge each other – and letting us laugh at the attitudes and pretensions we love to hate about ourselves. It allows us to let its characters off the hook, and ourselves, too, by reminding us that we are all only human, and that humans are sometimes ridiculous.
In service of that, "Uncoupled" has a stellar cast that not only has the comedic chops to sell its farcical goings-on but the nuance to go a little deeper. At the forefront, of course, is Harris, who deploys the confidence of a seasoned sitcom star to give us a fully realized leading character, and whose eternally boyish looks and persona have aged just enough to make him an ideal centerpiece for a story that is, in many ways, about growing up. Campbell more than holds her own next to him – their BFF chemistry makes them one of the more interesting platonic pairings in recent television memory – and Brooks and Ashmanskas turn their roles into much more than mere side characters. It's a likable cast, across the board; yet the show's most impressive acting turns might just come from two of its recurring supporting players – Oscar-winner Marcia Gay Hardin as a high-profile (and high maintenance) real estate client, and Broadway legend André De Shields as Michael's elderly-but-regal neighbor – who bring some much-needed weight to the proceedings and make their scenes among the most memorable of the season.
Still, all the superficiality on display does sometimes wear thin, and some viewers might begin to wonder if Michael and his friends really are as vapid as their priorities often make them seem; and while all the characters get some hard lessons as the season progresses, it's by no means certain they will learn from them, and these moments can feel like lip service in a show that sometimes seems to celebrate self-absorbed vanity even as it satirizes it.
Still, Star and Richman know their audience, and they're not interested in wagging fingers at them. "Uncoupled" is not meant to be social criticism; it's about learning how to live again when your heart gets broken. To that end, instead of turning Colin into just another stereotypical hated "ex" to be treated as an enemy and subjected to bitter scorn, or simply letting him leave and forgetting about him, they keep him in the picture. They never let us forget that their series, ultimately, is about a relationship; it may have changed, but it still exists, and there are overlapping threads between two lives that can never quite be untangled. That's a decidedly un-shallow level of understanding, handled with a refreshing lack of maudlin sentiment or rancor, and it's more than enough proof that the show has much more going for it than just shallow characters, sexy situations, and soapy plot twists.
More than that, it makes us interested in seeing where things might go in season two.
For Gaiman fans, 'Sandman' is a 'Dream' come true
Netflix series offers fantasy space where all feel welcome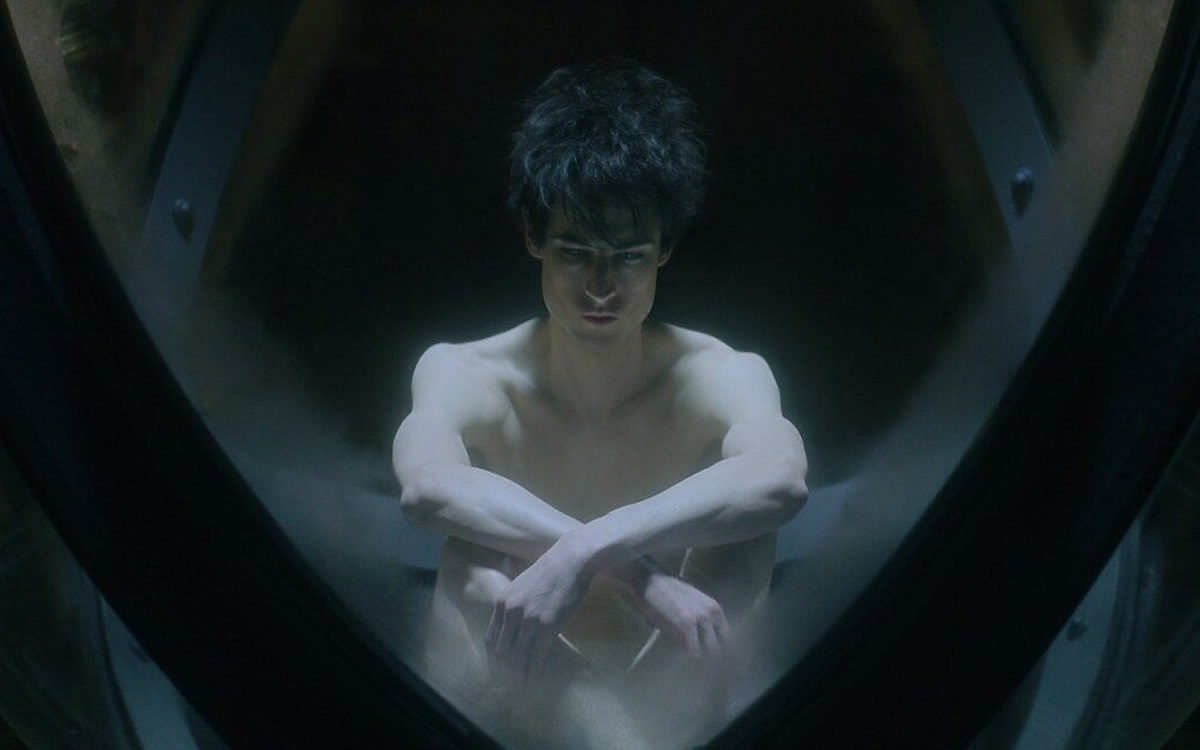 For the millions of fans who have embraced Neil Gaiman's "The Sandman" and its darkly beautiful, queer-inclusive mystical universe since it debuted in comic book form more than three decades ago, the arrival of a new Netflix series based on it is a very, very big deal – even if, for the uninitiated, it might be hard to understand why. After all, the streaming giant has already unleashed such a vast array of LGBTQ-friendly fantasy movies and shows that one more, welcome though it may be, hardly seems like anything new.
As any of the above-mentioned fans will quickly tell you, however, "Sandman" is not just any fantasy series. Initiated by DC Comics as a revival of an older comic book of the same name, it was handed over to Gaiman – then still a budding writer of comics with a few promising titles under his belt – with the stipulation that he keep the name but change everything else. The comic series he came up with went on to enjoy a 75-issue original run from 1989 to 1993, an era when an expanded literary appreciation for such works gave rise to the term "graphic novel", and it joined "Maus" and "Watchmen" among the first few comics to be included on the New York Times Best Seller List. Arguably more important, it also generated a huge and diverse fan following, and its incorporation of multiple queer characters and storylines has inspired subsequent generations of comic book creators to envision new and inclusive fantasy worlds of their own.
Despite that success, it's taken 33 years for it to finally be adapted for the screen. Beginning in the late '90s, attempts were made to develop "The Sandman" for film, but though a few scripts initially managed to win Gaiman's approval, creative differences inevitably led to a dead end, and the Hollywood rumor mill began to buzz that the story was ultimately "unfilmable" – until 2019, when Netflix and Warner Brothers (parent company to DC Comics) officially reached a deal to bring it to the screen as a series, with Gaiman fully on board and a creative team in place that was determined to faithfully adapt the much-loved original for a contemporary audience.
The show that came from that decision, which premiered on Netflix Aug. 5, makes it clear that the long wait was more than worth it.
"The Sandman" of the title refers to the story's leading figure – Dream (known also as Morpheus, among other names), one of seven elemental siblings whose mystical realms overlay and intertwine with the human world. As ruler of the dream world, he holds hidden power over all mankind – until a human sorcerer manages to trap him and imprison him on Earth for more than 100 years. Finally freed, he returns to his kingdom to find it in disarray, and he sets out to restore order and undo the damage done – a quest that will require him to enlist the aid of numerous (and sometimes less-than-willing) allies, both human and immortal, to save the cosmos from a chaotic force that has been unleashed in his absence.
Like any good myth cycle, it's both an epic story and an episodic one, making it a much better fit for the long-form storytelling capacity of series television than for any of the one-off film adaptations that it almost became. In his sweeping, unapologetically allegorical saga of the ever-dueling forces within our human psyche, Gaiman uses broad strokes in composing his plot, recycling and reinventing timeless motifs and themes while relying on our comfortable acceptance of the familiar tropes of myth and magic to get us all on board; the narrative is a massive structure, but it's not hard to follow the basics. Where "Sandman" becomes complex – and exceptional – is in the details Gaiman gave himself room to explore along the way, the human moments caught in between the monumental cosmic drama.
It's these parts of the story that have made his graphic novel iconic, more even than its gothic melancholy or its layered personification of primal forces into complex human archetypes; it's there, too that he was able to explore a broad and diverse range of human experience, including many queer characters in a time when comic book literature was far from a queer-friendly space. It's these things that made Gaiman's comic a touchstone for a wide spectrum of fans – and they would have been the first things that would have been jettisoned had any of the potential "Sandman" films seen the light of day. Because Gaiman has held out for so long to make sure it could be done right, series television has finally given him the chance, as co-creator and co-executive producer (alongside David S. Goyer and Allan Heinberg), to make it happen.
The big-budget Netflix production values certainly help, too, allowing the striking visual aesthetic of the comic – in which even the horrific can be exquisitely beautiful – to come thrillingly alive. The show's many baroque and gruesome deaths bear testament to that, as does a fourth episode sequence when Morpheus's quest requires him to descend into a Hell that evokes the macabre beauty of Dore's illustrations for Dante's "Inferno," the very landscape itself made up of the writhing and tormented souls of the damned. The artfulness of this show's scenic design lingers in the memory, appropriately enough, like images from a dream.
Still, it's all just scenery without the players, and "Sandman" assembles a top-drawer cast capable of bringing Gaiman's characters to life with the level of depth they deserve. Tom Sturridge makes for a compelling leading figure, capturing the titular character's complex mix of coldness and compassion without ever losing our loyalty; he's supported by an equally talented ensemble of players, including heavyweight UK stalwarts like Charles Dance, Joely Richardson, David Thewlis, and Stephen Fry among a host of less familiar faces, and there's not a weak performance to be found among any of them.
As to whether the show's writing does justice to the original, different fans will surely have different opinions. The story has been remolded to fit the modern world, and many elements of the comic have been reconfigured in the process. This is particularly true in terms of representation; though queer characters were always a part of the "Sandman" universe, the comic debuted 34 years ago, and much has changed since then. In bringing the story to the screen, the author and the rest of the creative team have brought things up to date, bringing more nuance to its queer representation even as it expands it wider, and reimagining many of its characters to reflect a more diverse and inclusive vision of the world. Inevitably, these choices may upset some die-hard fans – there's already been the inevitable toxic outcry against the show's gender-swapping of characters and the decision to cast actors of color in roles originally depicted as white.
Still, for those who loved the original for providing a fantasy space where ALL could feel welcome – exactly the way Neil Gaiman intended it to be – it's hard to find a reason to complain.
The Los Angeles Blade congratulates KTLA on its L.A.-area Emmy awards
The Governors Award went to KTLA's Gayle Anderson for her substantial contribution to television broadcasting in the greater LA area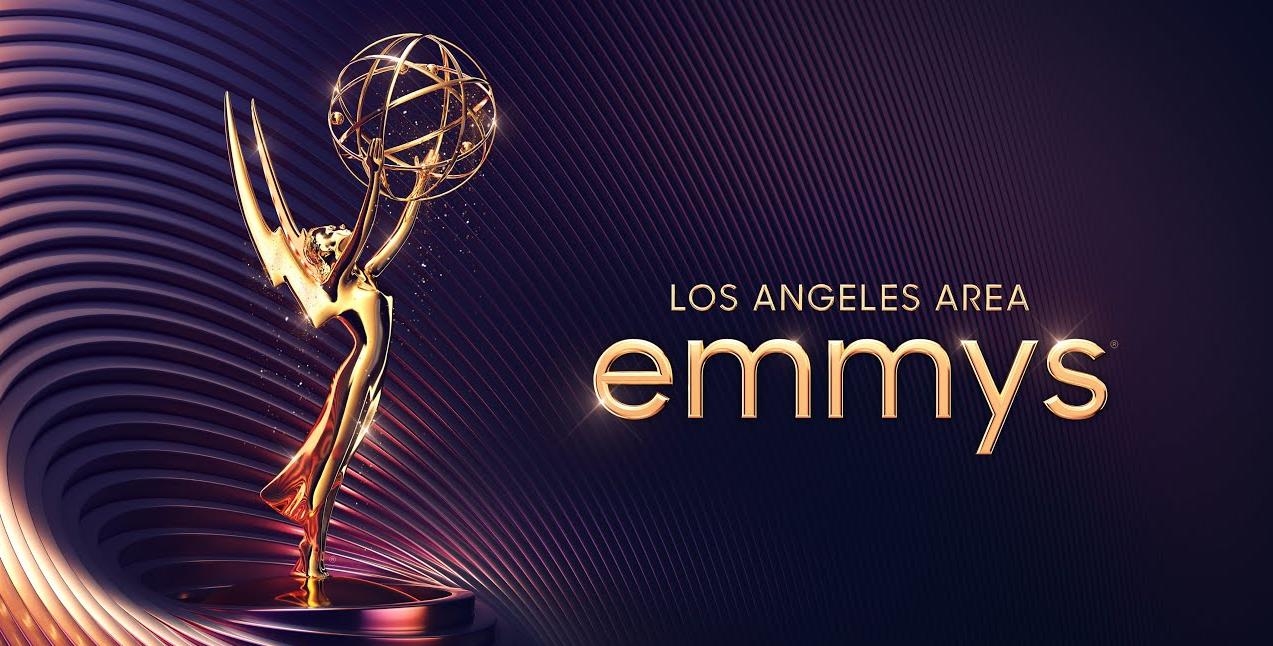 LOS ANGELES – The Los Angeles Blade congratulates KTLA 5 for its Emmy award wins this past Saturday. Of particular note was the 74th Los Angeles Area Emmys Governors Award to longtime KTLA journalist Gayle Anderson.
When presented with the Governors Award by the Television Academy and Los Angeles Area Governors Award committee, Anderson appeared to be stunned.
"I just want to take it all in for a minute, OK?" Gayle whispered as she received the honor. "Thank you."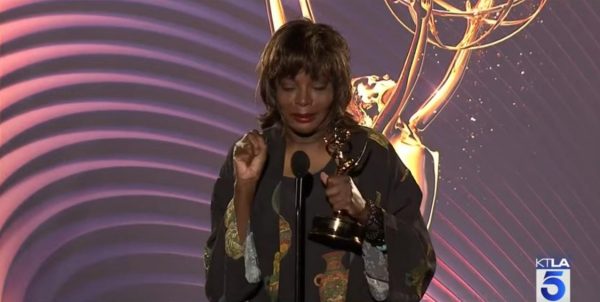 The award is presented once a year to an "individual, company or organization that has made a substantial contribution to television broadcasting in the greater Los Angeles area," according to the Television Academy.
"It's not work to me," she explained to KTLA after her acceptance speech. "It's just, I'm going to school every day and I'm learning something new every day. I love working stories I know nothing about and I learn.
"I've got some new stuff I'm going to learn next week in fact," she revealed. "So it's kind of exciting and I don't know why it's drawn this kind of attention, but yikes!"
"There is no one like Gayle Anderson and we all know it at KTLA," said Assistant News Director Kerry Brace. "She is so important to us. She's a huge member of our family and she's so important to the community. She really tells the stories that capture people's hearts and she gives people the information that they need. So, we love you Gayle."
Gayle wasn't the only winner of the night.
KTLA's series "Breaking Bias: Race in America" won in the crime/social issues category, which awarded our Frank Buckley, Cher Calvin, Kimberly Cheng, Gene Kang, Elyse Madison, Chris Pace and Summer Yu with a statue for the evening.
The series "California Leavin'" won for business/consumer new story, which awarded gold to Pablo Chacon, Brian Choo, Jessica Holmes, Adrian Huerta and Leila Shalhoub.
The KTLA 5 News at 11 was awarded Best Evening Newscast.
Best Public Service Announcement was awarded to KTLA's Garry Ashton, Matt Mary, Robert Matthews and Estella Medina for the You Were Born to Shine Campaign.
A queer-friendly year for the Emmys – almost
This year's Emmys are already an epic fail. One glaring problem? Chapelle's aggressively transphobic "comedy" special with 2 nominations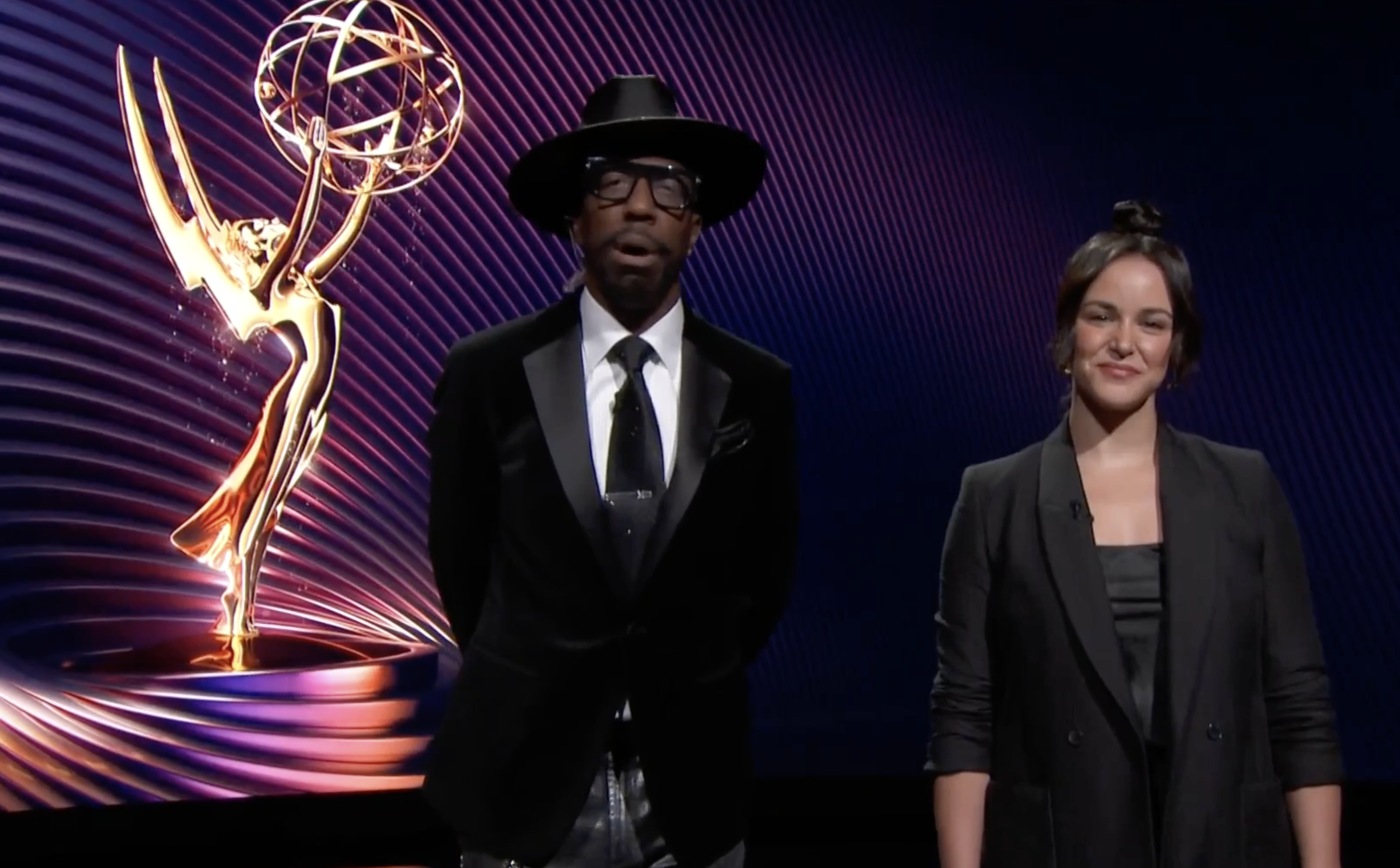 LOS ANGELES – Earlier this week, the Academy of Television Arts and Sciences kicked off Hollywood's second "Awards Season" of the year with the announcement of its nominations for the 74th Annual Emmy Awards, with actors JB Smoove and Melissa Fumero doing the honors in an early morning virtual ceremony on July 12.
That means it's time for the Blade to break down the nominees for our readers and call attention to the LGBTQ+ shows and talent that are included in the mix – and since the word count on the complete list is probably comparable to a 19th-century Russian novel, that's no small feat, so we'll just say "You're welcome" right now.
At first glance, the list might not look too queer-inclusive. Out of all the nominees for the leading actor categories, there is only one out LGBTQ+ individual – Sarah Paulson, whose performance as Linda Tripp in FX's "Impeachment: American Crime Story" made the cut for Best Lead Actress in a Limited Series – and that was for playing a straight character.
The supporting categories look somewhat queerer, however. Nominations in the Comedy Series division include both Bowen Yang and two-time previous winner Kate McKinnon for NBC's "Saturday Night Live," alongside previous nominee Hannah Einbinder for HBO's "Hacks."
In addition, Murray Bartlett scored a nod in the Limited Series Supporting Actor category for his work in HBO's "The White Lotus," while Nathan Lane and Jane Lynch each received nominations, as Best Guest Actor and Actress in a Comedy Series, respectively, for their turns on Hulu's "Only Murders in the Building."
Comedian Jerrod Carmichael, who came out publicly in his 2022 HBO stand-up special "Rothaniel," was also singled out as Best Guest Actor in a Comedy for hosting "SNL."
For off-camera contributions, Carmichael was also nominated for Outstanding Writing for a Variety Special for "Rothaniel," and bisexual "White Lotus" creator Mike White scored a nod for both Outstanding Writing and Direction for a Limited or Anthology Series or Movie.
Other shows that received nominations for queer non-acting contributions include "American Crime Story: Impeachment" (Sarah Burgess, Writing for a Limited Series, Movie, or Drama Special), "Only Murders in the Building" (Jamie Babbit, Cherien Dabis, Directing for a Comedy Series), and Hulu's "The Dropout" (Francesca Gregorini, Directing for a Limited Series).
Considering the sheer number of total nominations (there are 119 categories, after all), the number of openly queer contenders feels like a mere handful – especially in an era when television has made notable strides toward LGBTQ+ inclusion. Yet precisely for that reason, we can't fault the Emmys for a lack of queer-friendliness based simply on the number of queer individuals it has chosen to recognize – because many of the shows represented in the list, including several major contenders in major categories, are fully queer-inclusive.

Most notable, arguably, are the number of queer characters represented among the acting categories. In addition to the nominees noted above, several straight-identifying performers are nominated for playing LGBTQ+ roles. 
Colin Firth's starring turn in HBO's true crime drama "The Staircase," as bisexual accused murderer Michael Peterson, scored him a nod as Best Lead Actor in a Limited Series; Jodie Comer and Sandra Oh each received nominations for Lead Actress in a Drama Series for playing the lesbian assassin/lovers of Hulu's "Killing Eve," and their competition includes previous winner Zendaya, whose drug-addicted bisexual teenager is at the center of HBO's hugely queer "Euphoria," as well as Reese Witherspoon for her performance as a newly-out queer newscaster in Apple TV's "The Morning Show"; Alex Borstein earned a richly-deserved nod for Best Supporting Actress in a Comedy for her performance as queer comedy manager Susie Myerson in Amazon's "The Marvelous Mrs. Maisel"; Kaitlyn Dever is nominated as Best Supporting Actress in a Limited Series or Movie for playing a lesbian coal miner in Hulu's "Dopesick"; and heavy-hitters John Turturro and Christopher Walken each got nominations for Best Supporting Actor in a Drama for playing gay men in Apple TV's "Severence."
Looking through a wider scope, it's easy to see that queerness, while it may not always be front-and-center, permeates many of the shows nominated the list, and even if they didn't make the cut in the acting categories, the recognition they receive is still a victory of LGBTQ+ inclusion.
For Best Comedy Series, the unapologetically queer "Hacks" – which won awards at last year's ceremony for writing, directing, and Lead Actress Jean Smart – leads the pack, with "The Marvelous Mrs. Maisel" and ABC's much-buzzed-about "Abbot Elementary" likely running close behind. Other queer-inclusive shows in the category are FX's "What We Do In the Shadows," HBO's "Barry," and "Only Murders in the Building."

For Drama, Showtime's "Yellowjackets," which has numerous queer female characters, might just ride its surprise hit status to victory on Emmy night, though the aforementioned "Euphoria" is likely to be a strong favorite. "Severence" and Netflix's hugely popular "Stranger Things," which also include LGBTQ+ characters, are in the running, too.
In the Best Limited Series Category, "The White Lotus" – likely the favorite to win – and "Dopesick" are both heavily queer-inclusive.
Other LGBTQ+-relevant nominations of note include nods in the Best Reality Competition Show category for Amazon's "Lizzo's Watch Out for the Big Grrrls," Bravo's "Top Chef," Netflix's "Nailed It," and VH1's perennial Emmy favorite "RuPaul's Drag Race," which scored a few additional nods including one for RuPaul himself as Outstanding Host for a Reality or Competition Program; in the latter category, his competition includes all five of the hosts of Netflix's "Queer Eye" (another Emmy favorite), which also picked up nods for its Production Design and Casting; YouTube's "The Randy Rainbow Show" was nominated for Outstanding Short Form Comedy, Drama or Variety Series; and race for Best Variety Sketch Series includes "SNL" and HBO's "A Black Lady Sketch Show."
There are also, of course, the inevitable snubs and disappointments. Omitted this year were Harvey Guillén (the loveable Guillermo of "What We Do in the Shadows") and previous nominee Carl Clemons-Hopkins ("Hacks") as Best Supporting Actor in a Comedy Series, as well as breakout trans actress Hunter Schafer ("Euphoria"); coming up empty-handed were also FX's acclaimed LGTBQ-adjacent "Reservation Dogs" and HBO Max's "Station Eleven" for Best Comedy and Drama Series, respectively.
Still, there will always be fans disappointed that their favorites didn't make the cut, and one of the good things about being on a successful television series is the possibility of getting another chance next year, so our overall assessment of the Academy's choices this year doesn't suffer because of a few oversights.

There is, however, one glaring problem that gives us reservations about Emmy's solidarity with the LGBTQ+ community – the choice to reward Netflix's "The Closer," Dave Chapelle's aggressively transphobic stand-up "comedy" special with not one, but two nominations, for Outstanding Pre-Recorded Variety Special and Outstanding Directing for a Variety Special. Any recognition for a show that is essentially centered on the validation of transphobia sends a deeply troubling message.
For that reason, we can't quite give the Emmys a pass this year on their commitment to acceptance and equality for all, despite the high marks on their scorecard for all the queer content and talent in this year's competition. Instead, we have no choice but strongly object to the Academy's elevation of transphobia through the inclusion of Chapelle's show among all these shining examples of what true LGBTQ+ representation looks like.

That doesn't mean we won't be rooting alongside all our readers for our favorites when the presentation of the Primetime Awards airs on September 12 – but no matter how many queer winners there may be that night, as far as we're concerned, this year's Emmys are already an epic fail.
You can find the full list of nominees on the Emmy website.