Alabama House passes 'bathroom bill' for schools
"Anti-LGBTQ+ elected officials are using this divisive political strategy to harm kids who are simply trying to navigate their adolescence"
MONTGOMERY, Al. – Lawmakers in Alabama's House of Representatives Tuesday passed a bill that would ban Trans students from using bathrooms and other gendered facilities that align with their gender identity.
H.B. 322, also referred to as a "bathroom bill," would require public K-12 schools in the state to designate all gendered facilities, including bathrooms and locker rooms, based on "biological sex."
The legislation passed the House by a vote of 74-24 on party lines after a heated floor debate that lasted two hours. Republicans argued the bill would address a public school problem, while Democrats called it an attack on Trans youth.
The bill now heads to the GOP-majority state Senate. If passed and signed by the governor, the legislation will likely face legal challenges as similar bills and policies in the U.S. have faced lawsuits.
"Right now, you've got males who are dressing up as females, who are identifying themselves as females, and wanting to use the female bathrooms," said state Rep. Scott Stadthagen (R-9), the prime sponsor of the bill, adding that the legislation's main goal is to protect the privacy of girls in Alabama schools.
But opponents to the bill said it was "demonizing an already vulnerable population."
"It's all under the guise of protecting children just to win cheap political points. That's all it is," said state Rep. Neil Rafferty (D-54).
Rafferty also noted that "without targeting vulnerable youth that are already having issues with suicide, mental illness, bullying."
Stadthagen charged that sexual assaults have happened in school bathrooms, but he could not answer a question asking how many of those attackers were Trans.
The Human Rights Campaign (HRC), the nation's largest LGBTQ+ organization, condemned the bill's passage, saying it would "further discriminate against students who already feel unsafe in school, suffer academically, and have a higher likelihood of dropping out of school."
"Anti-LGBTQ+ elected officials across Alabama are using this divisive political strategy to harm kids who are simply trying to navigate their adolescence — kids who already face relentless targeting and increased levels of discrimination in their community, as evidenced by the record incidents of fatal violence against transgender and gender non-binary people in 2021," said Carmarion D. Anderson-Harvey, Alabama state director for the HRC, in a statement.
She added: "Study after study has shown that these bills make transgender kids afraid of using the bathroom and negatively impact their education and livelihood."
On Tuesday, the same day the Alabama House passed its "bathroom bill," a federal appeals court heard arguments in a case involving a Trans student who is suing his former Florida school for its bathroom policy that he argues violated his civil rights and federal nondiscrimination law.
Last year, the U.S. Supreme Court rejected a Virginia school board's appeal to reinstate its Trans bathroom ban, leaving in place a lower court's decision that found the rule was unconstitutional.
Only North Carolina and Tennessee have passed "bathroom bills," both of which immediately faced challenges in court — North Carolina's was partially repealed, according to the HRC.
In 2017, the Associated Press projected the law could have cost North Carolina $3.76 billion over 10 years from the loss of business opportunities after widespread condemnation of the bill.
LGBTQ-affirming charter school targeted by GOP candidate hires security
"The faculty put on a drag show for children. That's not education, it's exploitation. It's got to stop. It's time to fight back"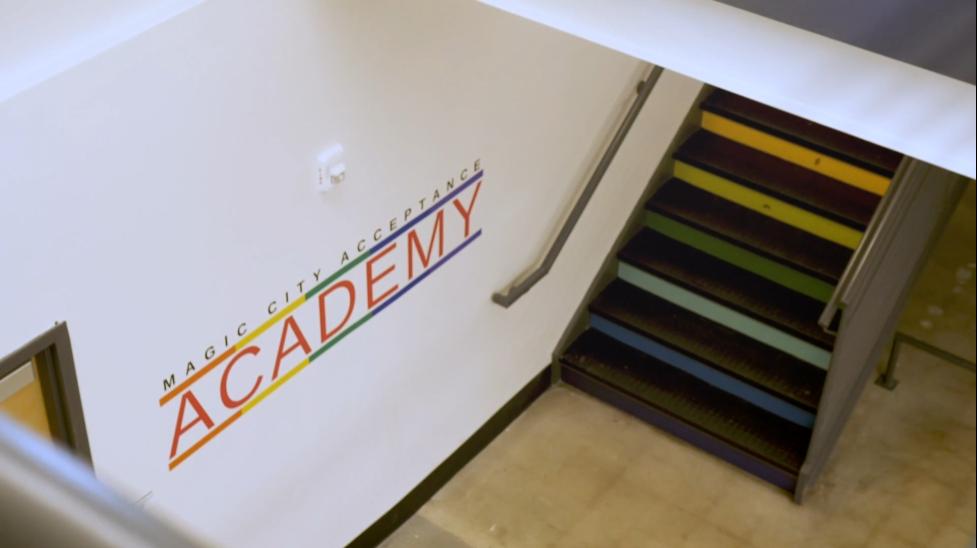 HOMEWOOD, Al. – A rarity in a state whose Governor just signed a slate of anti-LGBTQ+ bills including a law that will make treating Trans minors a felony, an LGBTQ-affirming charter school in suburban Birmingham is the focus of anti-LGBTQ attack adverts by a Republican gubernatorial candidate.
Michael Wilson, principal of the Magic City Acceptance Academy, told Alabama news outlet AL.com on Wednesday that a TV ad running in support of Republican governor hopeful Tim James is "scaring the hell out of our kids," and he's calling for it be removed. In the meantime, security has been added at the school that opened last fall he told AL.com.
James, who is campaigning to replace incumbent Governor Kay Ivey, targeted the school due to its billing itself as a one-of-its-kind charter school that, while open to all students, is "LGBTQ-affirming," according to AL.com.
In his television campaign ad, James called this "exploitation" of children and "not education."
James also blasted the school on Twitter: "For a public school like Magic City Acceptance Academy to use $2 million of our state tax dollars to host drag queen shows for kids should anger every parent, grandparent and taxpayer in Alabama." In another post James went after principal Wilson and the school's faculty and staff:
A public school using $2M of our state tax dollars to host drag shows for children should anger every parent, grandparent, & taxpayer in the state of AL. MCAA needs to have its charter revoked and be shut down – not because of the children but because of the faculty. #alpolitics https://t.co/YS1qfedJnz

— Tim James (@TimJamesGov) April 12, 2022
"The Tim James ad is nothing short of an adult bullying children," said Wilson, 69, who oversees a school of approximately 240 students in grades 6-12. "It's causing more anxiety. You are talking about kids who are four times more likely than their straight counterparts with suicide ideation."
The ad is also angering LGBTQ+ supporters in Alabama, whose concerns about safety for the state's LGBTQ+ youth is growing after last week's legislative actions. These include the governor's signing of House Bill 322 which bans K-12 students from using bathrooms and school facilities consistent with their gender identity and enacts a bill similar to one recently enacted in Florida with "Don't Say Gay or Trans" provisions for classroom instruction in grades K-5.
Governor Ivey also signed SB 184 – a bill that would criminalize doctors for providing best-practice, gender-affirming care to transgender and nonbinary youth.
The campaign ad is a 30-second spot that starts off with James claiming, "there is a war going on between common sense and crazy." He then criticizes transgender athletes and Ketanji Brown Jackson's response during her Senate confirmation hearings after being asked to define a "woman."
The ad continues with James saying, "Now here in Alabama, we chartered the first transgender school in the South using millions of your tax dollars. The faculty put on a drag show for children. That's not education, it's exploitation. It's got to stop. It's time to fight back."
The school responded in a statement on Facebook:
AL.com is reporting that James, during a radio appearance on Thursday, continued to use the charter school to underscore his platform that "our education system is crumbling," citing the state's low rankings in math. He said he plans to "deconstruct" the state's educational system "as it stands today."
He's currently trailing incumbent Gov. Kay Ivey by a considerable distance in polling ahead of the May 24 primary