Alabama Senate committee oks bill to criminalize Docs treating Trans kids
The language is clearly targeting Trans female youth. The bill will now head to the full Senate for consideration
MONTGOMERY – In a unanimous vote Wednesday the Alabama Senate Health Committee passed a bill that would make treating Trans kids by a healthcare provider in the state a felony.
Senate Bill 184 would make it a Class C felony, which carries a sentence of up to 10 years in prison, for anyone to provide gender-affirming medical treatments to children under the age of 19.
The bill would also ban operations that would alter a child's sex, medical procedures that Alabama's physicians who treat transgender youth say aren't currently being done.
The bill's sponsor, state Senator Shay Shelnutt also inserted language into the legislation requiring that public and others school staff not "withhold from a minor's parent or legal guardian information related to a minor's perception that his or her gender or sex is inconsistent with his or her sex."
The language is clearly targeting Trans female youth. The bill will now head to the full Senate for consideration. 
"A growing body of evidence, healthcare professionals, and every major medical and mental health across the country agree: gender-affirming health care is consistently associated with lower suicide risk among transgender and nonbinary youth," said Sam Ames, Director of Advocacy and Government Affairs at The Trevor Project. "It's clear that this ban is not about those trans and nonbinary youth; it's about political gain. Lawmakers genuinely concerned about the lives of young Alabamians should be listening to the experts — doctors, families, and trans youth themselves — and put a stop to this bill."
"If passed and signed into law, this bill would be a gross overreach of government power," said Dillon Nettles, policy and advocacy director for the ACLU of Alabama in a statement after the vote. "The Legislature is not elected to be the definitive medical authority in the state. Let parents and kids decide what is best for themselves, in consultation with their doctor and current medical best practices."
LGBTQ-affirming charter school targeted by GOP candidate hires security
"The faculty put on a drag show for children. That's not education, it's exploitation. It's got to stop. It's time to fight back"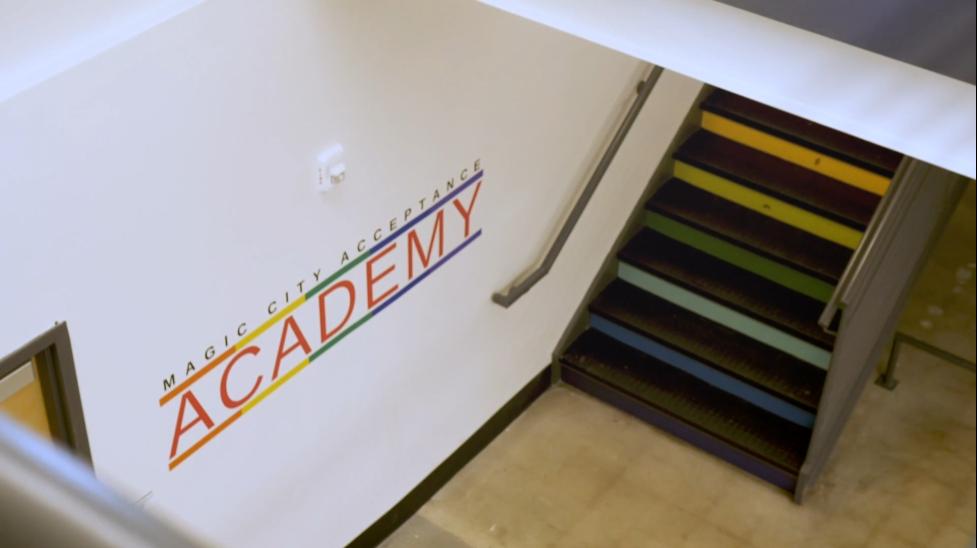 HOMEWOOD, Al. – A rarity in a state whose Governor just signed a slate of anti-LGBTQ+ bills including a law that will make treating Trans minors a felony, an LGBTQ-affirming charter school in suburban Birmingham is the focus of anti-LGBTQ attack adverts by a Republican gubernatorial candidate.
Michael Wilson, principal of the Magic City Acceptance Academy, told Alabama news outlet AL.com on Wednesday that a TV ad running in support of Republican governor hopeful Tim James is "scaring the hell out of our kids," and he's calling for it be removed. In the meantime, security has been added at the school that opened last fall he told AL.com.
James, who is campaigning to replace incumbent Governor Kay Ivey, targeted the school due to its billing itself as a one-of-its-kind charter school that, while open to all students, is "LGBTQ-affirming," according to AL.com.
In his television campaign ad, James called this "exploitation" of children and "not education."
James also blasted the school on Twitter: "For a public school like Magic City Acceptance Academy to use $2 million of our state tax dollars to host drag queen shows for kids should anger every parent, grandparent and taxpayer in Alabama." In another post James went after principal Wilson and the school's faculty and staff:
A public school using $2M of our state tax dollars to host drag shows for children should anger every parent, grandparent, & taxpayer in the state of AL. MCAA needs to have its charter revoked and be shut down – not because of the children but because of the faculty. #alpolitics https://t.co/YS1qfedJnz

— Tim James (@TimJamesGov) April 12, 2022
"The Tim James ad is nothing short of an adult bullying children," said Wilson, 69, who oversees a school of approximately 240 students in grades 6-12. "It's causing more anxiety. You are talking about kids who are four times more likely than their straight counterparts with suicide ideation."
The ad is also angering LGBTQ+ supporters in Alabama, whose concerns about safety for the state's LGBTQ+ youth is growing after last week's legislative actions. These include the governor's signing of House Bill 322 which bans K-12 students from using bathrooms and school facilities consistent with their gender identity and enacts a bill similar to one recently enacted in Florida with "Don't Say Gay or Trans" provisions for classroom instruction in grades K-5.
Governor Ivey also signed SB 184 – a bill that would criminalize doctors for providing best-practice, gender-affirming care to transgender and nonbinary youth.
The campaign ad is a 30-second spot that starts off with James claiming, "there is a war going on between common sense and crazy." He then criticizes transgender athletes and Ketanji Brown Jackson's response during her Senate confirmation hearings after being asked to define a "woman."
The ad continues with James saying, "Now here in Alabama, we chartered the first transgender school in the South using millions of your tax dollars. The faculty put on a drag show for children. That's not education, it's exploitation. It's got to stop. It's time to fight back."
The school responded in a statement on Facebook:
AL.com is reporting that James, during a radio appearance on Thursday, continued to use the charter school to underscore his platform that "our education system is crumbling," citing the state's low rankings in math. He said he plans to "deconstruct" the state's educational system "as it stands today."
He's currently trailing incumbent Gov. Kay Ivey by a considerable distance in polling ahead of the May 24 primary