Blaze TV host "jokes" about murdering Trans kids
"How many trans kids did you kill today?" Schaffer replied. "Uh — Six, they come with a toll tag," Landau said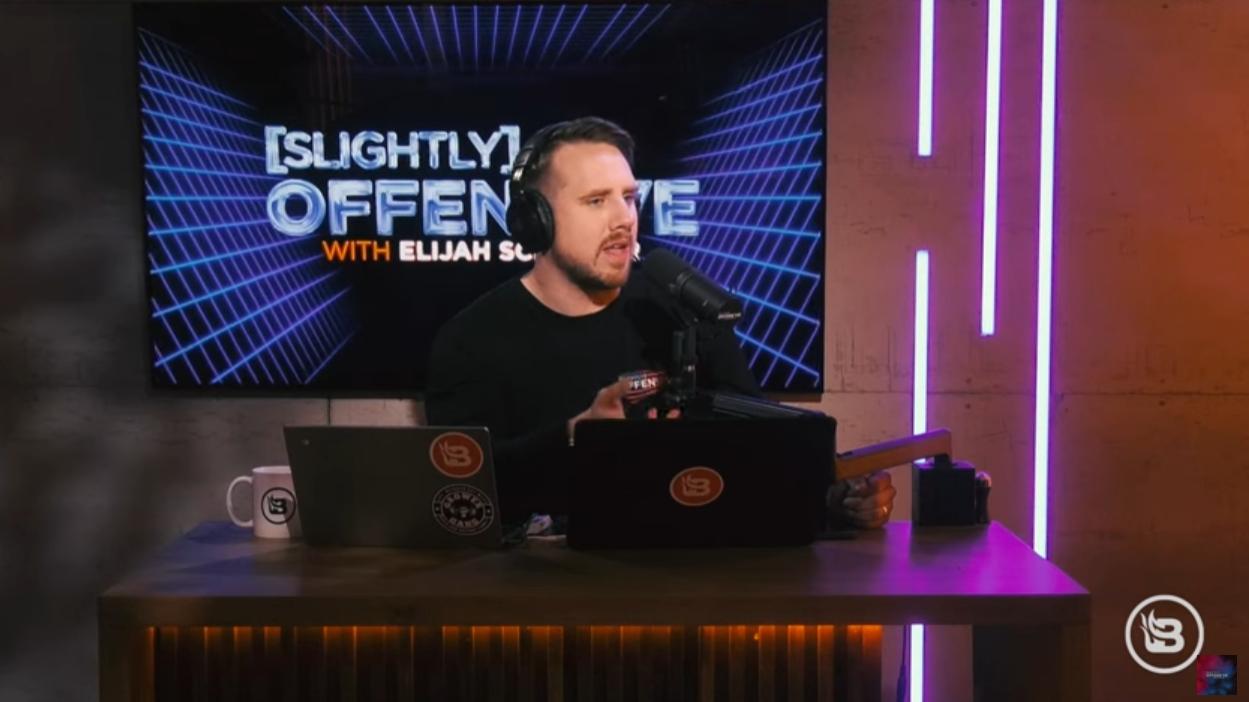 IRVING, Tx. – In a conversation that was so graphic that the segment was edited out of the videos posted to YouTube, Apple, and Spotify, Blaze TV host Elijah Schaffer with guest-host Dave Landau joked about murdering Trans kids and described Trans kids and their families in extremely offensive transphobic terms.
First reported by Mediaite, a news website focusing on politics and the media, journalist Candace Ortiz reported; In a disclaimer added to the podcast after it was recorded, Schaffer says, "This is the part of the show where Elijah talks about things he shouldn't have — it can't be on the main internet but you can find it on Blaze TV dot com for the full uncensored video."
On the 'Slightly Offensive' show segment, which aired Thursday, Shaffer and Landau were discussing Republican Texas Governor Greg Abbott's new directive for the Texas Department of Family and Protective Services to investigate parents who provide their kids with gender-affirming care as child abusers.
Shaffer said that he spoke to someone about the directive, who told him "there's this mass genocide happening to trans kids by fascists" in Texas.
Mediaite also noted:
Schaffer, who lives in Texas, was joined by co-host of Louder with Crowder and fellow Texas resident Dave Landau, who laughed and said "Yeah, we all have to put a trans kid and drag them behind a truck."
"They come in a tackle box, it's like a half dozen. And you kill them any way you want, it's pretty good. Only in Texas though," Landau continued. "I didn't know that cause I've been killing them everywhere so I better stop."
In an emailed statement, Los Angeles Blade columnist, DAME magazine writer and longtime Trans activist Brynn Tannehill said:
"Joking about murdering children, who are already being targeted by the state for removal from loving, supportive homes, goes beyond the pale. It highlights the belief that transgender people, and children, are objects for ridicule and scorn, rather than victims of a hostile ideology. Attempting to destroy a community or culture by separating families meets the UN defined definition of genocide."
Blaze TV Host Mocks Idea of 'Trans Genocide' By Joking About Killing Trans Kids https://t.co/I4JJKXeIFl

— Mediaite (@Mediaite) April 15, 2022
ROASTING the SH*T Out of GROOMERS with Comedian Dave Landau | Ep 243:
Anti-trans activist Kellie-Jay Keen spreads hate across America
Violence mars speaking tour by the UK's "Standing for Women" leader whose next stops include Florida, Washington, D.C. and New York City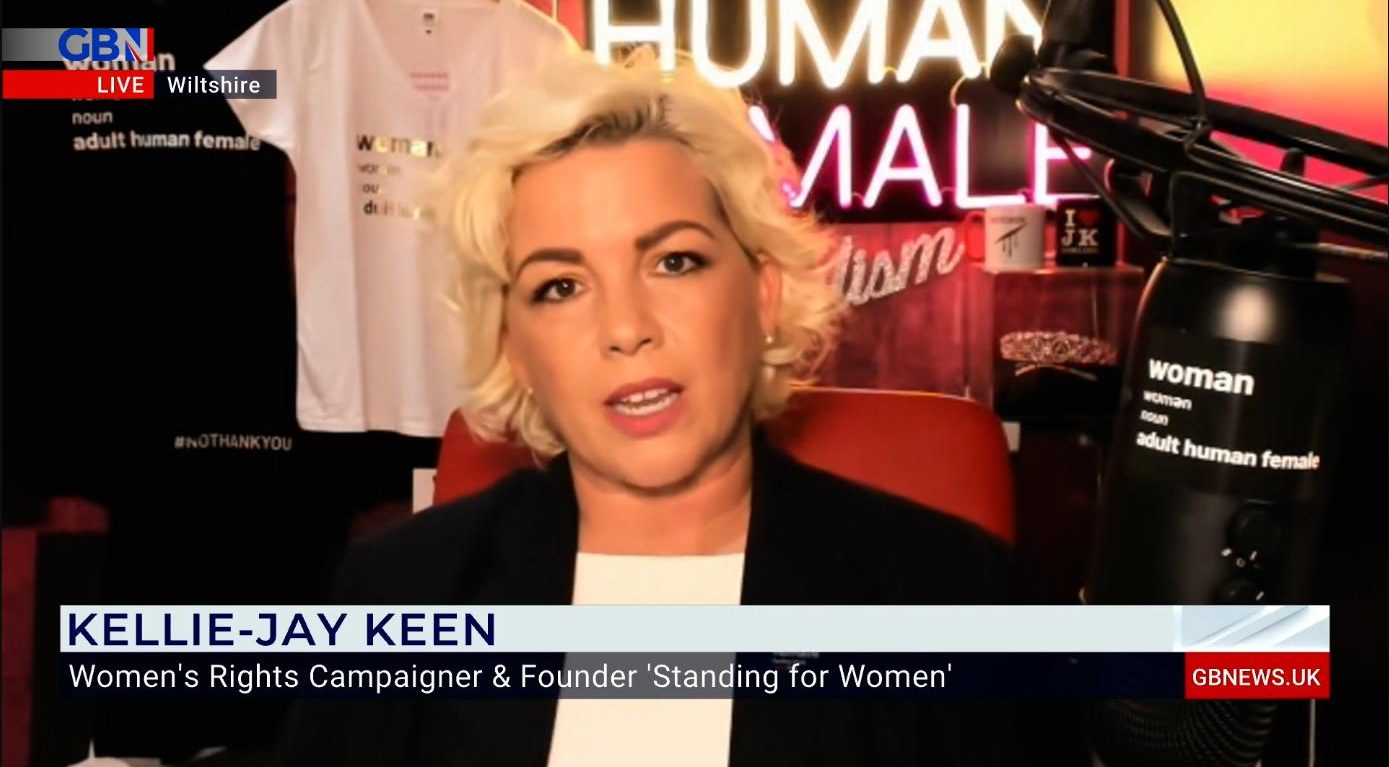 CHICAGO – Outspoken British TERF Kellie-Jay Keen, who goes by the pseudonym "Posie Parker," is in Chicago Sunday for the sixth stop in her 11-city "Standing for Women" speaking tour, which she launched in Los Angeles Oct. 16.
Her mission, she said when she announced the tour on Twitter earlier this month, is to "let women speak" and to "change the world."
"Women," according to Keen and her supporters, only means cisgender people presumed to be female at birth and does not include transgender women. "No woman has a penis," Keen said in Austin, Texas Saturday. "No man has a vagina." GC activists and TERFs like Keen are campaigning for laws discriminating against trans rights on both sides of the Atlantic.
Keen streamed the event on YouTube and posted photos on social media, showing what Keen claimed were Chicago police officers escorting her through crowds due to incidents of violence that had erupted on that tour. As of press time, Chicago police could neither confirm or deny whether on-duty officers provided security or whether off-duty uniformed officers were present.
@Chicago_Police stepping up. #LetWomenSpeak #Chicago#LetWomenSpeakUSA pic.twitter.com/dTuvHnMJFA

— SFW Kellie-Jay Keen #AdultHumanFemale (@StandingforXX) October 30, 2022
In Tacoma on Wednesday, police made one arrest for assault and The News Tribune reported at least six counter-protesters were treated for being hit with pepper-spray. The woman wielding the can of bear spray, similar to that used in the Jan. 6 insurrection at the U.S. Capitol, was identified in that report and via YouTube as Jenna Hoch of Denver, an anti-trans activist. She can be seen in the video, backing away from counter-protesters, screaming "Don't touch me."
A 14-year-old girl claims to have been targeted by Hoch in a video posted to YouTube.
"I was prepared for the violence," Hoch told The News Tribune, following what she described as an assault in Portland, Ore. One protester's hand was injured and required medical treatment, Hoch said. Keen, however, canceled the Portland event due to threats she claimed were made by Antifa. Video of a pie attack at that canceled event has since gone viral.
Despite canceling the stop in Portland, Keen did show up in Tacoma. A video posted by Keen shows a counter-protester storming the area of Tollefson Plaza where Keen and a dozen fellow speakers were holding their rally; One of Keen's supporters swiftly intercepted the counter-protester. According to The News Tribune, about 30 people showed up at the plaza in support of Keen. However, within minutes, the crowd of 20 counter-protesters grew to about 200 and made their way into the plaza. By that time, Keen had already fled, according to the report.
Keen is the U.K. activist who earlier this year advocated for gun-carrying, cisgender dads here in the U.S. to "use women's toilets… to combat the insanity" of allowing transgender girls and women to use bathrooms matching their gender identity. Keen represents cisgender women who call themselves "Gender Critical," and oppose laws and policies here and in the U.K. that allow transgender women to identify as women, compete as women and use public facilities dedicated to females. Keen also confronted this reporter covering the NCAA Women's Swimming Championships in Atlanta in March about use of public bathrooms.
When Keen launched her speaking tour on Oct. 16 on Hollywood Blvd., she was joined by a handful of supporters and fellow speakers and no opposition. And police presence was non-existent.
Kellie-Jay Live from Los Angeles #LetWomenSpeak#LetWomenSpeakUSAhttps://t.co/YFhJOQx6Zs

— SFW Kellie-Jay Keen #AdultHumanFemale (@StandingforXX) October 16, 2022
The same was true in San Francisco, her second stop. But when protesters started showing up at Keen's events, she asked for but did not receive police protection, including in Tacoma. That visibly changed when she arrived in Austin, Texas on Saturday, as ex-detransitoner and former radical feminist Ky Schevers tweeted, with a screenshot of armed security guards flanking Keen.
Kyle KD Sims & his team did security for Kellie-Jay Keen's anti-trans rally in Austin. Sims is a right-winger who's previously done security for former Senator Don Huffines & Kelly Neidert/Young Conservatives of TX. TERFs are increasingly turning to right-wing men to do security. pic.twitter.com/Qnv93fUIIK

— Ky Schevers (@reclaimingtrans) October 30, 2022
According to Schevers, "Jeannette Cooper of PEC [anti-trans group Partners for Ethical Care] hired private security for Chicago & K. Yang aka the Deprogrammer is paying for security for the NYC rally."
Also on hand on Sunday in Chicago's Pioneer Court: Counter-demonstrators brandishing signs declaring, "TERFs MACE KIDS."
#TerfsMaceKids https://t.co/T8KnyvbCMq

— Katy Montgomerie 🦗 (@KatyMontgomerie) October 30, 2022
The counter-demonstrators staged their own rally in Chicago's Cityfront Plaza, attended by at least one man identified by Twitter users as a member of the Proud Boys.
Keen's next stops include Florida, Washington, D.C. and New York City, and she announced she plans to make a documentary from video of her events.