Cities all over California are preparing to celebrate Pride
Hit the highway to experience festivities all over California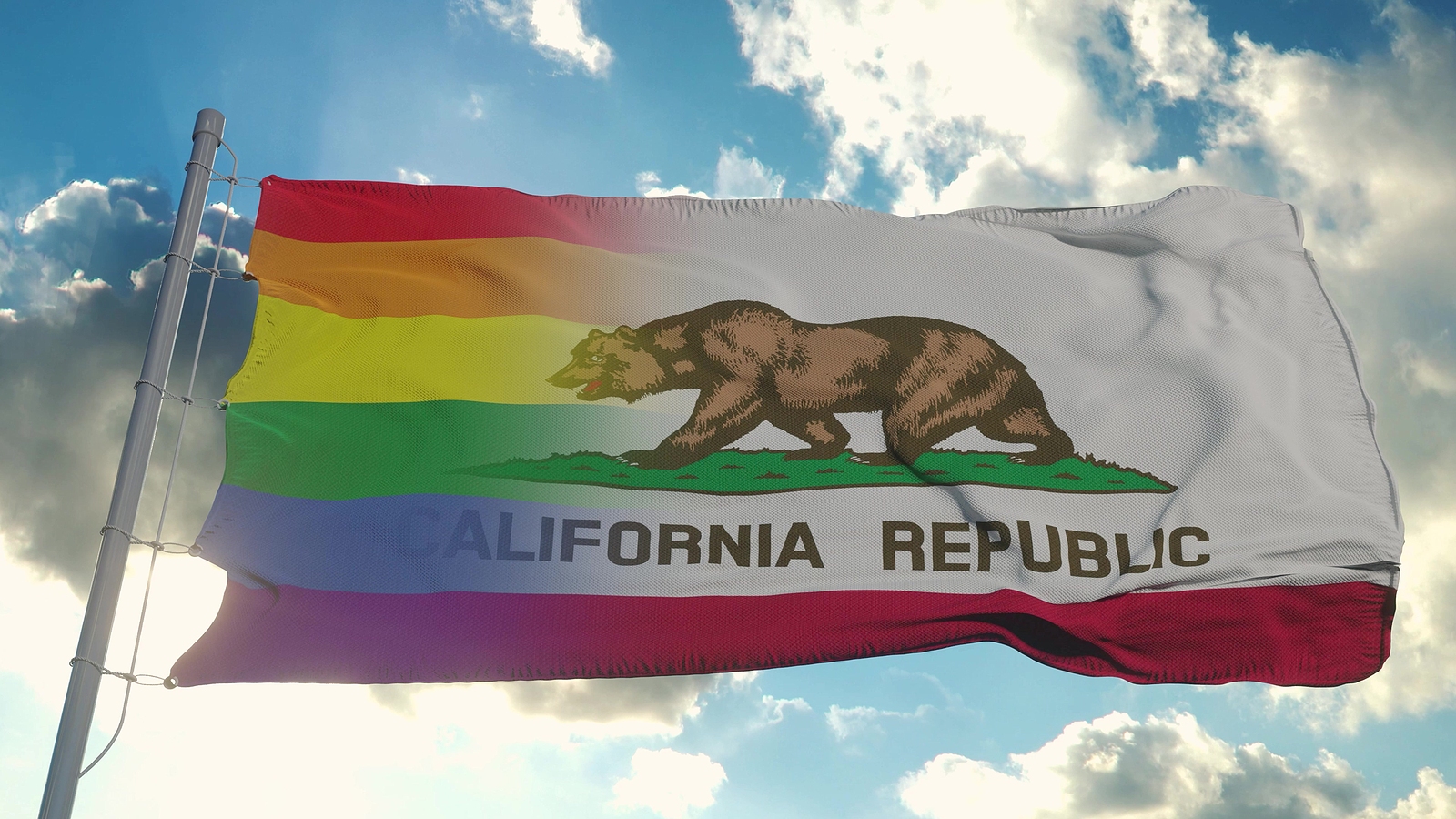 WEST HOLLYWOOD – It's been a very long two years since many people in the LGBTQ communities have been able to casually mingle, which adds not just poignancy but a sense of joy to Pride 2022 season. Eat, drink, march, and be merry or Marys (your choice) when the festival nearest you kicks off. We've got your comprehensive guide to every Pride fest in the Golden State.
Plan your summer around attending these Pride festivals throughout California.
June 1-12
Beverly Hills
If you need to party ahead of the official Pride celebration, check out the most coveted zip code in the country as it will host its inaugural Pride celebration at spectacular Wallis Annenberg Center for the Performing Arts. Kick off Pride Month with a special outdoor event featuring live entertainment and more at the Wallis Annenberg Center for the Performing Arts. More celebrations will take place throughout the month including a party at the fabled Greystone Mansion.
June 3-5
WeHo Pride
In its inaugural celebration, Weho Pride will lead California Pride Month celebrations with the 3-day OUTLOUD LGBTQ Music Festival produced by JJLA, a free weekend Street Fair, and the Sunday, June 5, 2022 WeHo Pride Parade.
June 2-5
Sonoma County Pride
Considered the country's second gayest metropolitan area, revelers can enjoy a June 3 concerts by Spencer Day and Melissa Levi, a set from DJ Rotten Robbie, and a multitude of Pride-related events. Most of the events will take place in downtown Santa Rosa so check the site for specifics.
June 3
Women's Freedom Festival
Don't go home after the Dyke March, All your favorite LGBTQ+ and non-binary musicians, comedians, poets, and activists will be at the Pride stage. Entertainers include BOI Band, Native Latina, and Vixen Noir.
June 4
Fresno Pride
The theme of the 30th annual celebration is "In Pride," will honor the memory of late Pride director and community leader Jeffery Robinson.
June 4-5
Venice Pride
This might be the only pride weekend where you can witness speedo-clad lifeguards perfecting their tans and saving lives, plus this festival will take place at the Venice Beach Recreation Center and will offer performances from an array of entertainers and sets from hot-and-heavy DJs.
June 11-12
L.A. Pride in the Park
The festival of festivals will offer performances by music giants such as Christina Aguilera, South American superstar Anitta, and Pose's Emmy-nominated groundbreaker Michaela Jae. Expect an entire day of activities, music, vendors, and exhibitor booths, sponsor activations, food and beverages, and 21-and-over beer gardens. There will also be activations for the kink and sober communities. Come prepared to have fun.
Sacramento Pride
The Sacramento LGBT Community Center brings more than 20,000 visitors to Downtown Sacramento to celebrate Sacramento Pride, the most prominent LGBTQ+ event in the Sacramento region
June 18
Catalina Island Pride
Those famously warn Santa Ana winds won't be the only thing blowingThe main event will take place from 10:00 am until 7:00 pm at Wrigley Stage in the center of Avalon and will include live entertainment as well as a pride march in support of the LGBTQ+ community. After parties on Avalon will begin around sunset.
June 25
O.C. Pride
Those famously warn Santa Ana winds won't be the only thing blowing during this festival.
Clayton Pride
The Clayton Pride Parade Team and Rainbow Community Center are pleased to announce the first Pride Parade in Downtown Clayton, CA. Saturday, June 25, 2022 at 10:00.
June 25-26
San Francisco Pride
Celebrations begin on a Saturday in Civic Center Plaza in downtown San Francisco the last full weekend of June each year. The Parade, which takes place the Sunday morning of the event, kicks off from Beale Street along Market and ends at Market and 8th St. in the heart of downtown San Francisco.
June 25-26
San Francisco Pride
Celebrations begin on a Saturday in Civic Center Plaza in downtown San Francisco the last full weekend of June each year. The Parade, which takes place the Sunday morning of the event, kicks off from Beale Street along Market and ends at Market and 8th St. in the heart of downtown San Francisco.
June 30-July 4
LA Black Pride
LA BLACK PRIDE returns to Los Angeles for an intentional and impactful 4th of July weekend. This year BBE Group, founded and lead by CEO and Executive Producer, Brandon Anthony, is highly anticipating the celebration of the arts, entertainment, and mental health within the Black LGBTQ+ community.
July 9-17
San Diego Pride
It's your time to be OUT and PROUD! The Pride Festival is San Diego's largest 2-day event highlighting the best in LGBTQ entertainment, interactive exhibits, cultural presentations, and community resources.
July 23
Monterey Peninsula Pride
The annual Monterey Peninsula Pride parade and celebration will be held in-person on Saturday, July 23, 2022 at the Custom House Plaza, part of Monterey State Historic Park.
August 5-7
DTLA Proud
DTLA PROUD Festival celebrates the culture, history, and diversity of the growing LGBTQ+ community in Downtown Los Angeles and beyond.
August 20
South Bay Pride
South Bay Pride returns to Chula Vista with an all new location!
August 27
Pacific Pride Festival
Pacific Pride Festival is a free event that celebrates and reunites LGBTQ community in Santa Barbara.
September 3-4
Riverside Pride
The first full Pride festival and parade in downtown Riverside will be Labor Day weekend.
September 16-18
Gay Days Anaheim
Gay Days Anaheim brings LGBTQ+ revelers to Southern California's noted Disneyland resort and theme park. Gay Days at Anaheim is not an official Disney event – the park remains open to all throughout the weekend, and GLBT attendees typically wear red shirts to indicate their participation.
November 4-6
Palm Springs Pride
Palm Springs Pride is a unique pride festival and the largest LGBTQ gathering in the Coachella Valley. The festival includes a big parade, music stages, DJs, food vendors, and plenty of other entertainment options catered to all tastes.
LA Pride Parade and Village Details
Pride Village is the place to be after the parade with festivities taking place from 12:00 p.m. to 8:00 p.m., just steps from the parade route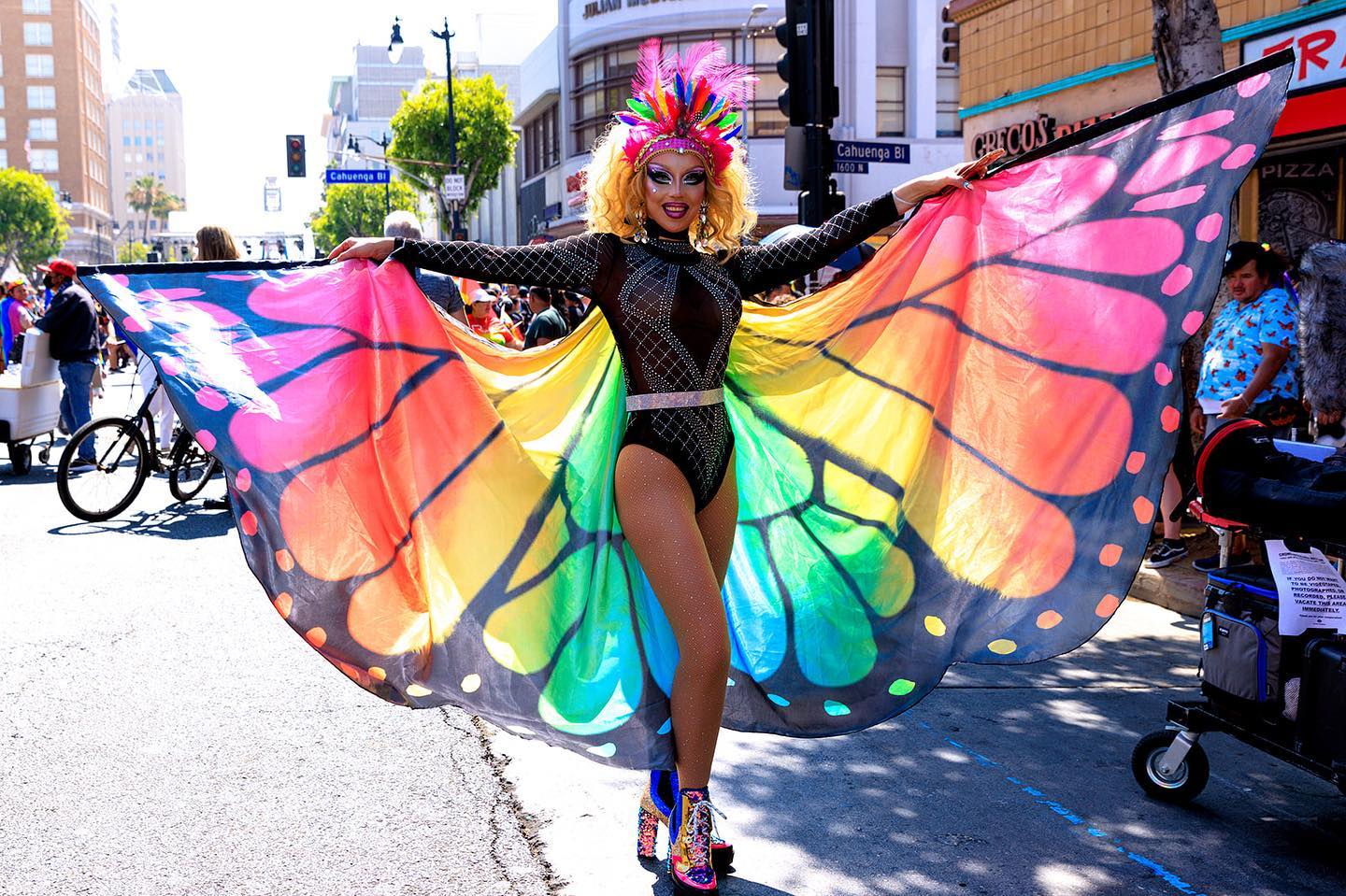 HOLLYWOOD – The second annual LA Pride Village on Hollywood Boulevard will bring the free, all-day street festival to a new location between Vine Street and Gower Street just steps away from the official LA Pride Parade route on June 11.
At 9:00 AM on June 11, The Hollywood Partnership CEO & President Kathleen Rawson will deliver a welcome note in front of Pantages Theatre, and at 2:00 PM elected officials – including Senator Ben Allen, Senator Maria Elena Durazo, Board Supervisor Lindsey Horvath, Council Member Hugo Soto-Martinez and Assemblymember Rick Chavez Zbur – will welcome festival goers at the Celebration Stage on Gower St. and Hollywood Blvd.
Christopher Street West Association (CSW) announced its trio of grand marshals to be celebrated at the LA Pride Parade on Sunday, June 11 taking place at its original historic location in Hollywood.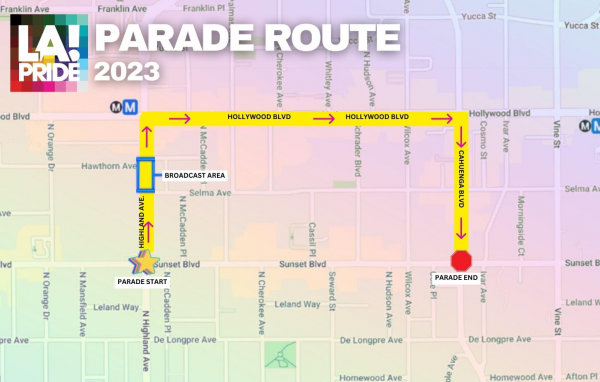 The parade, which will feature a special drag performance presented by the ACLU SoCal and staged by Morgan McMichaels to music by 14-time Oscar nominee Diane Warren, will air LIVE on long-time LA Pride broadcasting partner KABC/ABC7 on Sunday, June 11 beginning at 11:00 a.m. PDT.
This year's LA Pride Parade grand marshals include comedian, actor and activist Margaret Cho as the Icon Grand Marshal, an individual who needs no introduction and achieved major milestones within their career and industry; a posthumous tribute to Emmy-winner Leslie Jordan as the Legacy Grand Marshal, a new title this year in honor of Jordan for his everlasting impact on the community; and the ACLU of Southern California, that helped CSW obtain the permit for the first LA Pride parade, as the Community Grand Marshal, which celebrates a group or individual who has had a powerful influence through their work and dedication to and for the LGBTQ community.
"I'm thrilled and incredibly honored to be the Icon Grand Marshal," said Cho. "We need this Pride more than ever. I have been attending Pride celebrations since 1978 and this time around the need to celebrate as well as unite is more urgent than it has ever been. Our love is greater than their hate.
"On behalf of Leslie Jordan, we are overjoyed by Christopher Street West's heartfelt recognition to name Leslie as LA Pride's Legacy Grand Marshal," said Jana "Cricket" Jordan. "This honor further solidifies the positive impact he made in the world, but more importantly for the LGBTQ+ community. His spirit continues to bring love and light."
"For a century, we've been on the front lines fighting for people to be their true, authentic selves," said Hector Villagra, executive director of the ACLU SoCal. "We're honored to be the Community Grand Marshal and proud to love, live among, and protect LGBTQ Californians."
"Christopher Street West is honored and humbled by this year's three grand marshals," said Gerald Garth, president of CSW. "Each have contributed to the LGBTQ+ community in their own unique ways, furthering our fight for acceptance, equality, and justice."
It will also air nationally on ABC News Live and Hulu, and wherever viewers stream ABC7 including abc7.com and the ABC7LA mobile app.
Anchor Ellen Leyva and reporter Christiane Cordero from ABC7 Eyewitness News will co-host the ABC7 broadcast. The parade route will begin at Sunset Blvd and Highland Ave heading north, then east onto Hollywood Blvd, then south onto Cahuenga Blvd, ending at Sunset Blvd and Cahuenga Blvd.
Additionally, The Hollywood Partnership, the non-profit organization that oversees the public realm in the Hollywood Business Improvement District (BID), has once again partnered with LA Pride to bring the LA Pride Village back to Hollywood Blvd.
LA Pride Village is the official place to be after the LA Pride Parade, with festivities taking place from 12:00 p.m. to 8:00 p.m., just steps from the official parade route.
When the iconic LA Pride Parade returned home to Hollywood Blvd last year after more than four decades, it prompted the start of new traditions and celebrations in Hollywood, including LA Pride Village, a free and open to the public street festival.
The second annual LA Pride Village celebration promises to be even bigger and better, with a new location on Hollywood Blvd, between Vine St. and Gower St., to make room for more booths featuring local vendors and non-profits, an expanded beer garden, delicious food trucks, two performance stages for twice the entertainment, and more comfortable crowd space for dancing.
All details can be found here: https://lapridevillage.com/do/la-pride-2023.
Sponsors of LA Pride Village include Princess Cruises and Royal-bud.com.
Public transit and ride share services to LA Pride Parade and Village are strongly encouraged. For the Parade, connect to the L.A. Metro B (Red) Line and exit Hollywood/Highland or Hollywood/Vine Station. Metro has many Park & Ride lots servicing the county – parking is just $3.00 per day, payable onsite.
If self-driving to LA Pride Parade and Village, vehicles can access parking and the event site via Vine Street or Gower Street.
WHAT:
LA Pride Village is the ultimate free community street festival happening on Sunday, June 11, in honor of the LGBTQIA+ community. Hosted by The Hollywood Partnership and LA Pride, it's the perfect complement to the LA Pride Parade, as it is located just steps away from the iconic procession on Hollywood Boulevard, between Vine Street and Gower Street. Festivities include:
90 local vendor booths
Two entertainment stages featuring 14 performances
An expanded bar garden
11 Food trucks
1 LGBTQ+ Cinema Film Festival by NewFilmmakers LA @ The Montalbán Theatre
More comfortable crowd space for dancing and celebrating Pride on Hollywood Boulevard
WHEN:
Sunday, June 11, 2023
12 PM to 8 PM (all day)

KEY TIMES: 
12 PM: LA Pride Village OPENS

12-8 PM: 14 Performances across two stages by Pride notables like Mariachi Arcoiris, Bob Baker Marionette Theatre, the Gay Freedom Band LA, Secret Circus, Dance Church, and LA's favorite queer AAPI drag party, Send Noodz

2 PM: Elected officials welcome Pride festival goers to LA Pride Village

Senator Ben Allen, Senator Maria Elena Durazo, Assemblymember Rick Zbur, LA County Supervisor Lindsey Horvath, LA City Councilmember Hugo Soto-Martinez

2:15 PM-2:45 PM: Interviews available with elected officials
3:00 PM-10:30 PM: NewFilmmakers LA Presents LGBTQ+ Cinema with The Montalbán @ 2023 LA PRIDE: This special event at Hollywood's famed Montalbán Theatre features LGBTQ+ films spotlighting emerging filmmakers telling stories from across the spectrum of queer identities by artists from diverse backgrounds, including a strong representation of BIPOC storytellers. The event also hosts a full bar with reception space for mingling throughout the day, and Q&A sessions with filmmakers from each program.
8 PM: LA Pride Village CLOSES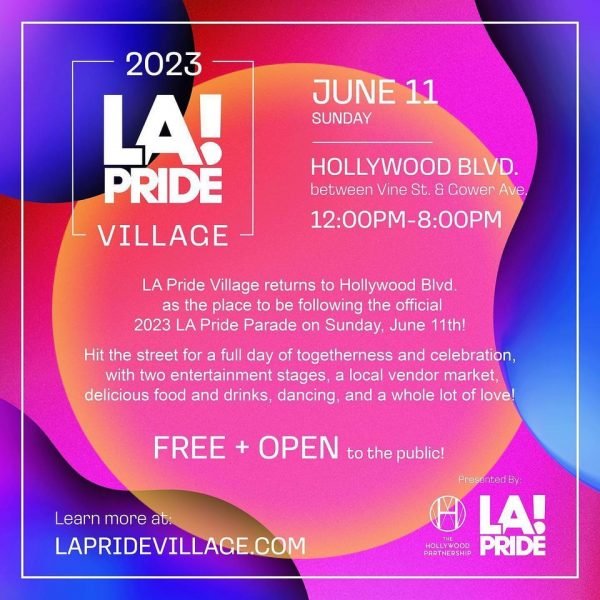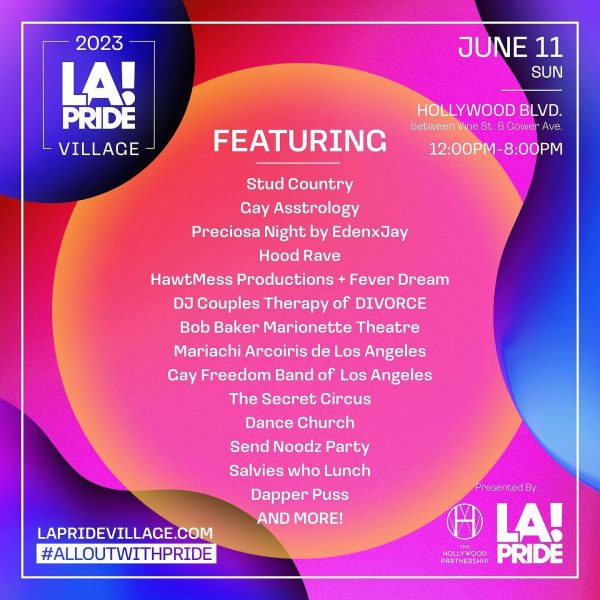 LA Pride in the Park: 6/9-6/10
It's going down with Mariah Carey + Megan Thee Stallion! Don't miss out — tickets at lapride.org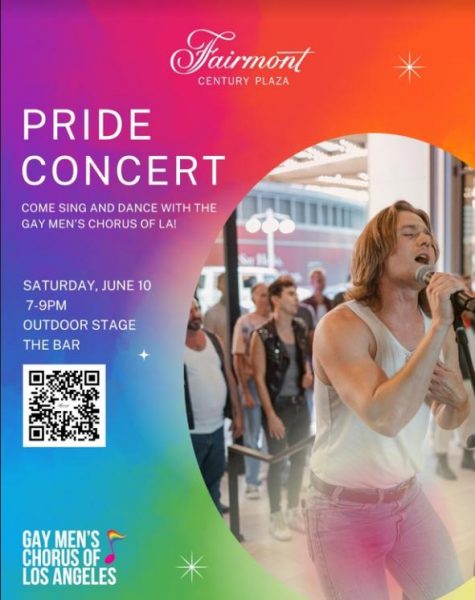 This June in honor of PRIDE, Century City's Fairmont Century Plaza invites guests to an extraordinary two-hour live concert performance from the Gay Men's Chorus of Los Angeles. Returning this year, the non-profit organization will be performing at the hotel with a mission to change hearts and minds through the power of music.
The event will feature a vibrant approach to an array of iconic songs from Queen, Motown, Sondheim, and more, taking place at the hotel on Saturday June 10th from 7:00 pm to 9:00 pm. This will be their main West Los Angeles PRIDE performance. VIP tickets will be $55 and will include two cocktails. Free General Admission is also available and the performance will be open to the public.
Live music has been a prominent component of the Fairmont Century Plaza experience since its beginning and the hotel is looking forward to honoring PRIDE this year with this monumental performance.