Official Guide to WeHo Pride Pride 2022
The Los Angeles Blade is the Official Guide to WeHo Pride- its inaugural celebration of Pride!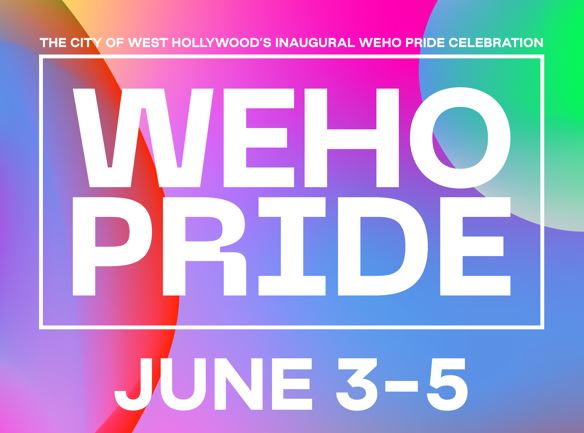 WEST HOLLYWOOD – Pride Month is here and with this year's celebrations and with the return to in-person events there is more than ever to celebrate.
The Los Angeles Blade is the Official Guide to WeHo Pride- its inaugural celebration of Pride! Be sure to check out Blade articles marked "Pride Special" online for more special features. Happy Pride folks!
June 3
OUTLOUD RAISING VOICES MUSIC FESTIVAL (June 3 through 5)
West Hollywood Park
Entrance at Santa Monica Boulevard and San Vicente
4:00 PM – 12:00 AM PST
$139 for weekend passes, $59 for Friday or Saturday or Sunday only
OUTLOUD Raising Voices Music Festival is a 3-Day, award-winning LGBTQ+ Music Festival, profiling and celebrating Queer artistry as a kick-off concert to PRIDE Month. This high-energy concert features show-stopping performances from the Raising Voices Main Stage, engaging artist interviews in the OUTLOUD Twitch Lounge, and an exciting outdoor Dance Arena. Guests can enjoy tasty food and beverage areas, craft cocktails and beer gardens, photo opps, surprise appearances, and world-class stage production. OUTLOUD Raising Voices is proud to be hosted by the City of West Hollywood as part of the inaugural WEHO PRIDE Celebration. OUTLOUD celebrates the artistry, identity, and inclusivity of up-and-coming and established talent within the LGBTQIA+ community throughout the entire year, including and extending beyond Pride Month.
9TH ANNUAL LGBTQ+ PRIDE NIGHT AT DODGER STADIUM
7:10 PM – 10:00 PM PST
$68 to $206
https://www.mlb.com/dodgers/tickets/specials/lgbt-night
The Los Angeles Dodgers are teaming up with L.A. Pride for "Pride Night at the Stadium" as they square off against the New York Mets. A special pre-game ceremony will recognize frontline workers and feature surprise guests. A post-game celebration will include fireworks and music from DJ Bowie J.
Dyke March
Friday, June 3rd, 5:00 PM – 7:00 PM
PRIDE on Robertson Stage
Robertson and Santa Monica Boulevards
5:00 PM – 7:00 PM
The Dyke March will feature the presentation of the Melissa Etheridge and Community Activist awards, a poetry reading, sign-making and supplies, speakers, a DJ, and the Dykes on Bikes contingent. The Dyke March will step off and return to the corner of Robertson and Santa Monica Boulevards. The Women's Freedom Festival will take place immediately following the Dyke March at the #WeHoPride Street Fair stage and will feature emerging LGBTQ and BIPOC women and non-binary musicians, comedians, poets, and activists, along with a featured performance from Milck, singing her latest protest song, We Won't Go Back.
WOMEN'S FREEDOM FESTIVAL
Robertson and Santa Monica Boulevard
7:00 PM – 10:00 PM
Free
Thelproject.org
After the Dyke March, check out this femme-friendly festival filled with LGBTQ+ and musicians, comedians, poets, and activists, including BOI Band, Native Latina, Vixen Noir. Free Admission.
June 4
Venice Pride
Venice Beach Recreation Center, 1800 Ocean Front Walk, Venice, CA, 90291
From 12:00 PM Saturday June 4 to 11:00 PM Sunday June 5
$15
Be who you are at the Venice Pride Festival! LA's beloved grassroots LGBTQ+ celebration grows to two days and moves to a brand new beachside location: Venice Beach Recreation Center on Saturday and Sunday, June 4-5, 2022. Celebrate PRIDE by the beach with a diverse array of stage performances produced by Queer Moment; Abhorra / Aiden Ramos / Ah-Mer-Au-Su / Audra Isadora / Bears In Space / Betty Bathhouse / Boy Untitled / C-Love / Charles Galin / Colored Craig / Dj Kerry / Fab The Duo / Gess / Glenice / Homer Marrs / Jay Long / Jegasie / Luna Lovebad / Marqui Jordan / Mez / Polartropica / Posse / Salina Estitties / Stacy Christine / Stewart Taylor / Zee Machine / Heidi Lawden / Lovefingers. Enjoy DJs, community booths, art installations, LGBTQ+ vendors, food trucks and everyone's favorite queer dance party, Gaywatch (21+ only).
Rainbow Family Day Picnic
Plummer Park, 7377 Santa Monica Blvd, West Hollywood, CA 90046
12:00 PM – 4:00 PM
Stop by West Hollywood's Plummer Park with your entire LGBTQ+ family (and even your pets) on Saturday, June 4 between 12-4 p.m. and enjoy a free family-friendly day that will offer music, games, food, vendors, art, and more activities. The afternoon event is a co-presentation between the L-Project, Black Lesbians United, and The City of West Hollywood.
June 5
THE WEHO PRIDE PARADE
Santa Monica Blvd, West Hollywood, CA
12:00 PM – 4:00 PM
Just like old times! Get ready to get festive and roll down Santa Monica Boulevard from Crescent Heights Boulevard into the heart of the Rainbow District for the inaugural WeHo Pride Parade on Sunday, June 5, 2022, starting at noon. Community members, businesses, community partners, LGBTQ groups, and allies of all kinds will get creative as we celebrate WeHo Pride in the City of West Hollywood with a parade! Together as a community, we will bring entertainment, excitement, and a whole lot of fun to WeHo Pride weekend with floats, bands, drill teams, dance teams, march contingents, and more! Spectators and parade participants will be entertained during a unique, fun, colorful, and entertaining day!
CHERRY BOMB WEHO PRIDE TAKEOVER (June 4 and 5)
Hotel Ziggy
8462 Sunset Boulevard, West Hollywood, CA 90069
Various events and times
Cherry Bomb, a social group for queer women and gender expansive folks, is colonizing the entire hotel for a weekend of female-friendly dinners, pool parties, comedy performances, and VIP open bars.

OFF SUNSET FESTIVAL
Hoover Street and Santa Monica Boulevard
12:00 PM – 7:00 PM
$20
Call it Silver Lake Pride for Daddy's and the men who love them. Off Sunset Festival is for folks who live, work, and play in Silver Lake and support beautification, art and youth programs with an emphasis on the LGBT community. Not only is this street fair an exciting day of music, culture, art, food and fun, but it also brings a way for us to offer our support for the place and people we love.
June 9
POP TILL YOU DROP
Catch One 4067 W. Pico Blvd, Los Angeles, CA 90019
9:15 – wee hours
$15
Go underground when Catch One, perhaps L.A.'s most legendary queer club that's still in existence, will curate a fantastic evening of entertainment that highlights the crossroads between the queer community and the hyperpop movement. Performers include Babelord, PeaNut, and Saem with drag shows by Meta World Piss, Die Anna, and Guide.
MASTERBEAT UNITED IN PRIDE
Andaz West Hollywood Rooftop, Avalon Hollywood and Academy Hollywood
Various hours
[Insert pic 4]
Masterbeat's four-day Pride fest will begin with a lively Saturday afternoon pool party on the rooftop of the Andaz Hotel. Among the other highlights are a Saturday night dance party with tunes from DJs Deanne and Tom Stephan at the Avalon nightclub and a Sunday evening Pride tea dance at Academy L.A. June 11 through 14.
Masterbeat.com.
June 11
Glamcocks Present: BeDAZZLED
Catch One 4067 W. Pico Blvd.
10pm- 4am
$55
When it comes to sparkle, SIZE MATTERS! And at 24 karats of glitz and GLAM, Glamcocks will take over ALL of Catch One for their BIGGEST.PARTY.YET. — a dazzling lineup of DJ's, lustrously luxe interactive installations, pearlescent performances, and sickeningly shiny surprises all night long. Onyx-ly, it's going to be a spectacular party with three packed floors of our family jewels. Bring out your most glamtastic, authentic selves! Be free, Be daring, and BeDazzled.
June 12
FUTURE LOVERS BLOCK PARTY
1749 Vine Street, between Hollywood Blvd & Yucca
12:00 PM – 10:00 PM
$80
The inaugural LA Pride Hollywood block party will shut down a section of Hollywood and Vine with three stages in the Capitol Records and Avalon parking lot, in addition to performances taking place inside of Avalon. Kiesza will headline the event with additional performances by Felix Da Housecat, and numerous RuPaul's Drag Race vets.
June 16
TRANS PRIDE (June 16 – 18)
LA LGBT Center Village at Ed Gould Plaza and Anita May Rosenstein Campus
1125 N McCadden Pl, Los Angeles, CA 90038
Various times
Free
Lalgbtcenter.org/transpride
Returning after two years of taking place virtually, Trans Pride returns to the LALGBT Center's Village at Ed Gould Plaza and Anita May Rosenstein Campus with an array of events including an art exhibition, job fair, and the Trans Pride VarieTy Show. Trans Pride Los Angeles is hosted by the Trans* Lounge program, the Los Angeles LGBT Center's groundbreaking education & empowerment program dedicated to serving Los Angeles' trans and gender expansive community.
The pleasures of Palm Springs Pride are many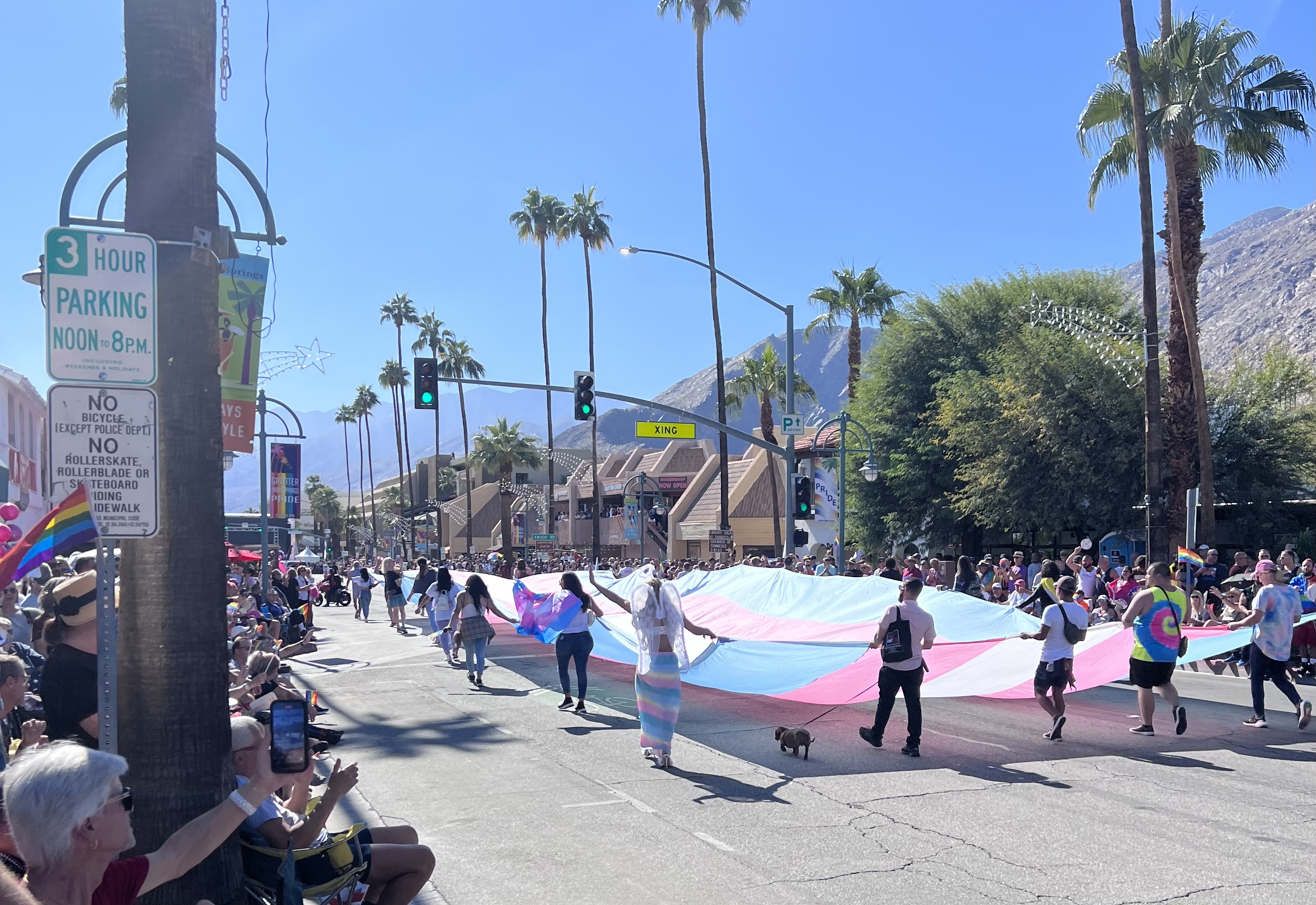 PALM SPRINGS – There is, of course, the obvious element – a strong sense of shared community with hundreds of fellow LGBTQ+ people, living our lives and taking a moment to celebrate all the things that make us both unique and essential within the totality of American culture – that marks any Pride event across the globe; but there's something special, dare we even say "magical", about the vibe in this desert city's timelessly elegant approach to the occasion.
It's difficult, in fact, to describe the blend of progressive modern sensibility and aspirational small-town idealism that defines the experience. Though Palm Springs is a long-established oasis for Angelenos seeking an escape from the big-city intensity that governs their daily lives, it's also a comparatively modest municipality in which queer culture interacts with quotidian practicality on a regular basis. That means, for the purposes of Pride, that the city comes together as a unified voice to assert not only the validity of queer experience, but the inextricable part it plays in the daily life of the community – a welcome and valued part of the diverse and inclusive environment in one of Southern California's most iconic destinations.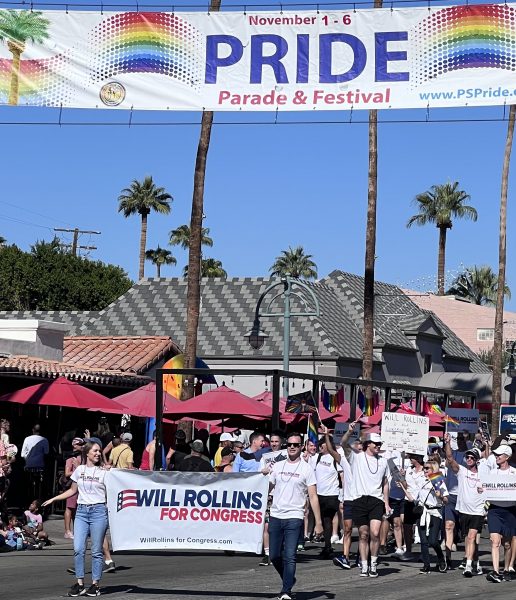 This year's festivities were no exception. Whether it's because, coming on the cusp of a crucial midterm election, Palm Springs Pride represents an eleventh-hour throw-down against the Trump-ist forces that threaten to undermine most of the hard-won freedoms we've come to take for granted, or because it reminds us of the deep well of allied support that exists around our struggle to break free of the stigma and repression of the past, the vibe at this year's 36th annual festival was a heartening dose of positivism – an unequivocally welcome counterpoint to the worst-case scenarios and doom-laden prognostications dominating our current cultural discourse.
The sense of enthusiastic solidarity that permeated the event can be attributed, at least in part, to the heavy participation of local merchants and organizations – something that is part of any Pride celebration, perhaps, but here taken to a level which made a smalltown festival feel as if it were happening in a major metropolitan hub.
With over 150 exhibitors, there was much to do, see, and sample from the vendors, artists and craftspeople, non-profits, and food and beverage providers on hand; deployed in booths, outdoor lounges, and food trucks across several blocks of the city's classic downtown corridor on Palm Canyon Drive, these representatives of the community ensured there was no shortage of activity to keep visitors entertained between the weekend's plethora of musical performances and other scheduled events.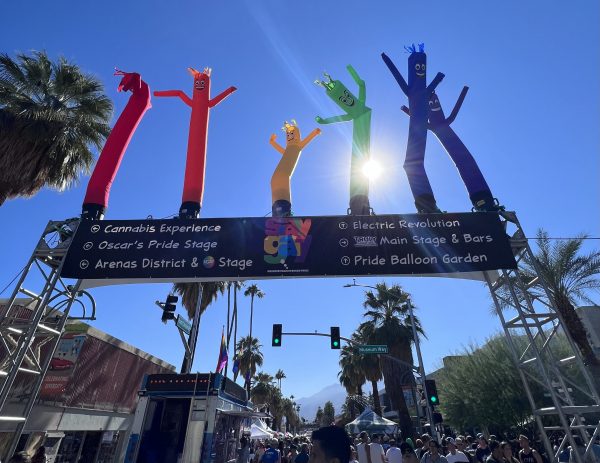 Pride flags, buttons, gear, and other queer-affirming merchandise were available everywhere; opportunities to interact with local organizations – from nudist recreation clubs to live theatre companies to anti-bullying advocacy and support groups – were plentiful; if you were in search of a monkeypox or flu vaccination, those services were available, too, along with plentiful information and resources around other LGBTQ+ health and wellness concerns.
In addition, the location allowed for numerous stores and restaurants lining the streets of the Pride venue – many of them on the Palm Springs "must do" list for tourists and locals alike – to remain open for business, offering full access without even having to leave the festival's "Event Zone."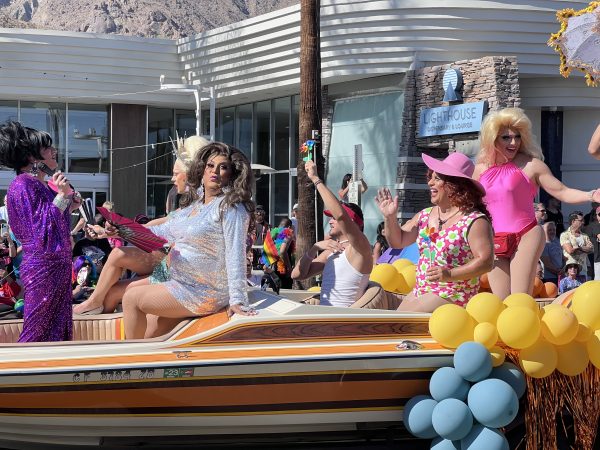 All of this helped to create a vibrant, diverse, and welcoming atmosphere in which all the colors, sights, and sounds of Pride were on full and constant display – an environment where everyone could feel seen, supported, and appreciated, from out and proud members of the LGBTQ+ community to allies and family, or anywhere in between.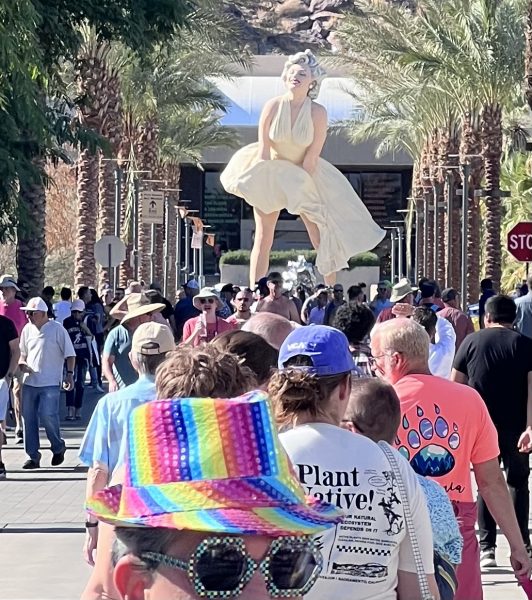 That's not to say there wasn't a keen awareness at Palm Springs Pride of the precarious edge on which our queer future teeters. Though the atmosphere within the festival was focused on celebration, there was an aura of grim-but-determined battle-readiness that became most evident, perhaps, in the cheers of support bestowed on openly gay US Congressional candidate Will Rollins by the tightly-packed crowd of spectators as he marched in Sunday morning's parade.
Alan Uphold, a relative newcomer to Palm Springs who relocated from Los Angeles with husband Jeff Olde just before the pandemic, told the Blade he believed the sense of political urgency was sparked by the recent redistricting process that made the city part of a very "red" political region. "Because of redistricting," he observed, "Palm Springs was lumped in with the more conservative areas to the west of us that are currently represented by one of the most corrupt, anti-LGBTQ, anti-reproductive freedom, January 6th-denying members in Congress. There's a real sense of stress here, mixed with cautious optimism that Palm Springs voters could help Will Rollins win, because we CAN NOT be represented by a radical MAGA extremist like Calvert."
Eva L, a festival attendee from Coachella who told the Blade she came to march with Rollins, also expressed frustration over the redistricting. "I can't believe residents and politicians in Palm Springs just rolled over and didn't object to it. Being represented by Calvert is a setback to the peaceful haven that is our community. I think we should demand to be reincorporated. So, I'm here in part just to support Will and hope for the best on Tuesday."
There were voices in the crowd, too, that served as reminders that – even at Pride – not everyone is on board with progressive ideas about LGBTQ+ acceptance. Roberta C, who was wearing a Bianco for Sheriff campaign badge, told us she doesn't understand why people need Pride in Palm Springs. "You guys have it easy now – and I realize that can change – but I'm here to be with my nephew who thinks he might be transgender. I'm confused because he's going to become a woman and says he's a lesbian. He insists on being called 'they'." The Blade offered to provide contact information for Trevor Project as she walked away, wiping a tear from her face as she said with cracking voice, "It's all too much for me."
Still, the overall mood of the crowd was festive throughout the weekend, with many people overheard saying it was the best Pride they've seen in recent memory. One attendee, Carlos Hernandez, who was visiting Palm Springs and happened upon the event by accident, told us "I can't believe my luck! Be always wanted to attend Pride in the states and it's just hard to believe how joyous this day has been so far."
"Joyous" is, in fact, the word we would also use to describe the occasion, which was ultimately a triumphant declaration of how far we've come as a queer community coupled with a fierce recognition of how far we have still to go. It's that heady mix of emotions that made Palm Springs Pride less remarkable, perhaps, for its party atmosphere and high-voltage entertainment – though those were undeniably part of the event's success – than for the thousands of little moments, powerful and personal, experienced by those who were there.
Uphold perhaps encapsulated the resonant magic of this phenomenon.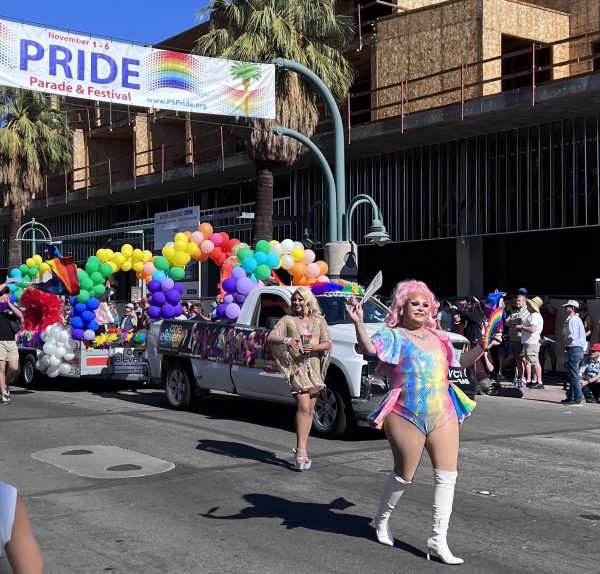 "The thing that Jeff and I love about Palm Springs Pride is that even though the event attracts more than 125,000, it still feels like a smalltown festival," he told us. "I especially like that the parade features local high school bands and students from local high school students all across the Coachella Valley."
"When we attended Pride celebrations 25 years ago in WeHo, it was practically an act of subversion and defiance just to show up. That's why, every year, I get really emotional just seeing these high school kids marching in a Pride parade," he added.