Karen Ocamb: A Proud Eyewitness to LA AIDS/LGBTQ History
"Nobody can say we aren't brave. We do courage with a proud, colorful flare! Happy Pride!"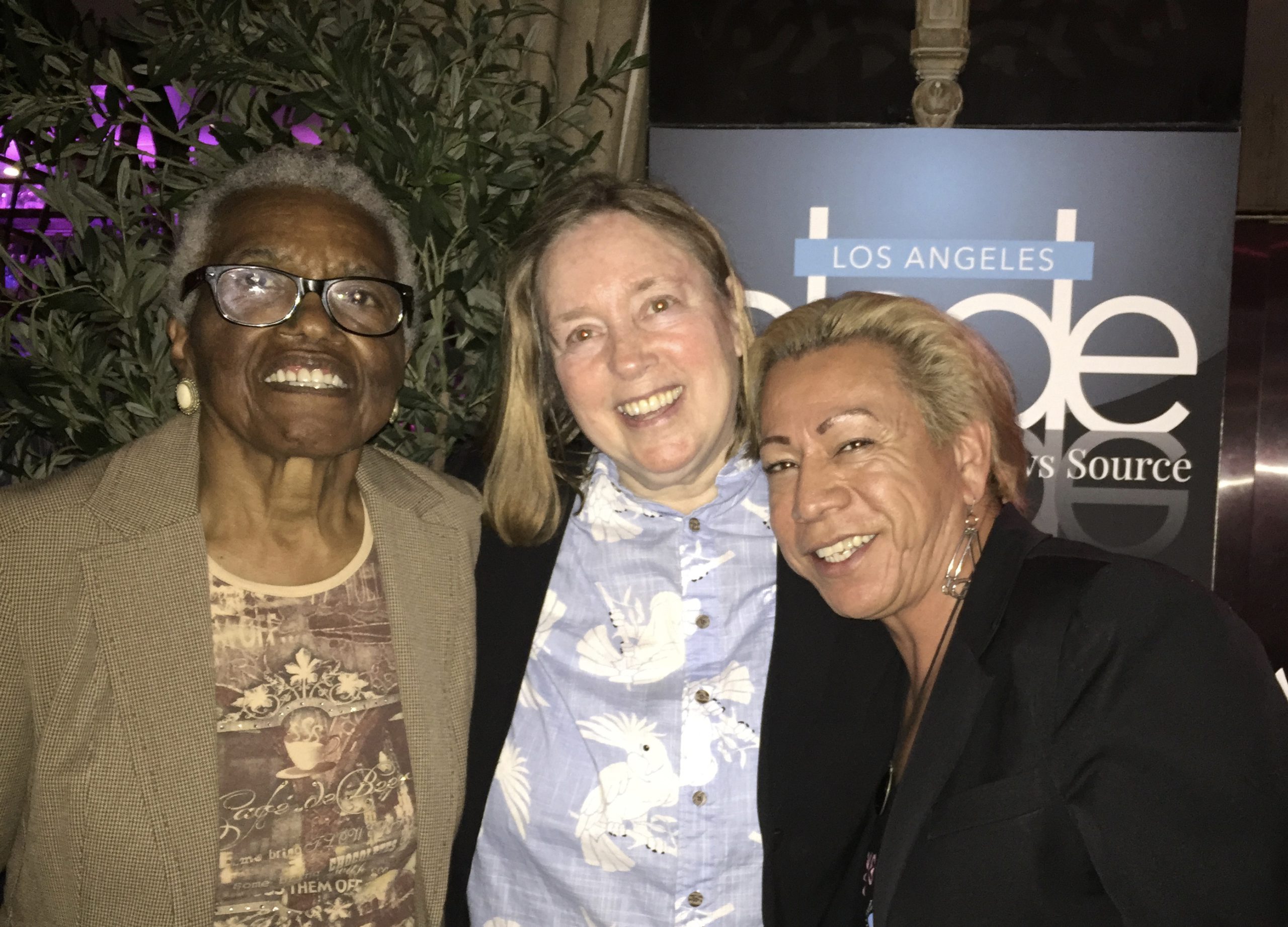 WEST HOLLYWOOD – Karen Ocamb has been an eyewitness to AIDS and LGBTQ history since the late 1980s. Born Jan. 24, 1950, her father was one of the first Americans to join the Royal Air Force before the U.S. joined World War II. He met her mother in Egypt where she worked for British Intelligence, defeating the Nazis at El Alamein.
After the war, her father became a "lifer" in the U.S. Air Force. Karen was born at Maxwell Air Force base in Montgomery, Alabama; her brother was born four years later at Wright-Patterson AFB in Ohio. The family moved around until her father retired and went to work for the Avco-Lycoming, settling in Westport, Connecticut where her mother became a real estate broker.
During the 1960s, Karen embraced the counterculture movement, protesting the war in Vietnam and fighting for civil rights and women's liberation.
She attended Skidmore College in 1968, enjoyed "sex, drugs and rock 'n roll," dropped out for a year, landed in a mental hospital after a failed suicide attempt, experimented with the occult, lived on a commune and a Maoist collective.
After finally graduating from college, she joined CBS News in New York as a desk assistant, clerking for Walter Cronkite, Dan Rather, and Bob Schieffer, among others. In 1980, CBS got her clean and sober under the Employee Assistance Program.
In late 1983, she left CBS for Los Angeles to become an equity waiver playwright. In 1984, she produced the Olympic coverage for CBS News affiliates, after which she took acting classes with Salome Jens and volunteered for the West Hollywood cityhood movement.
She became a volunteer caregiver after her friends started dying from AIDS and in 1988, joined the gay press to "do more." Karen still lives in West Hollywood where she works remotely for Public Justice, a national nonprofit legal advocacy organization. She is also working on a project to share her memories online to counter the erasure of AIDS/LGBTQ history.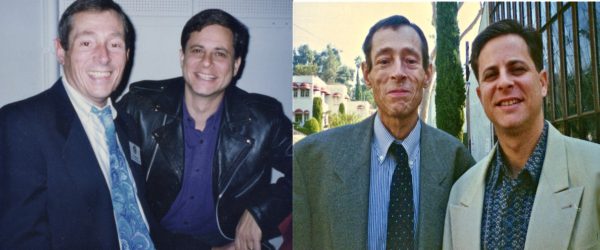 LA Blade: Lesbians were the first really dedicated caregivers to gay man dying of AIDS, right?
Ocamb: I don't know — but certainly we stepped up. A good part of my world were the 12 Step meetings where we all learned to be compassionate. People would come in with KS lesions on their face and big strapping vain guys were withering away. And they'd suddenly throw up or lose control of their bowels. There was such shame and self-loathing — but we all forgave each other everything to be there for each other. It was just incredibly moving. I joke that I saw more penises and balls at that time than when I pretended to be straight.
LA Blade: Tell me about your experience of Pride celebrations.
Ocamb: The first Pride celebration I saw was in New York City in the 1970s. I ran alongside during my lunch hour from CBS News. I was not out. I called myself 'androgynous' and the practice of androgyny was bisexuality. I was gawking. It was kind of like, 'Oh my God! Look at all these gay people.' Everybody seemed so happy — like they didn't want to kill themselves. During the anti-war movement, I met some gay people. But it was more of an intellectual thing. So, Pride didn't actually happen for me until I started covering it in WeHo in the late 1980s.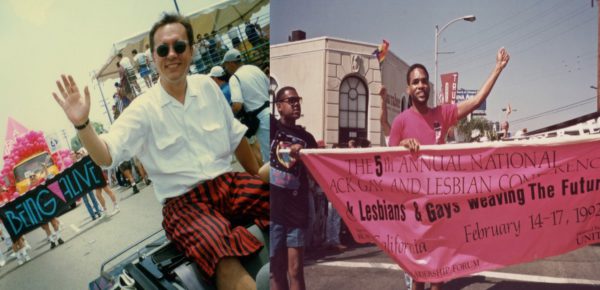 LA Blade: Have you seen Pride evolve? Do you see it as more corporate now?
Ocamb: In the beginning, it was considered a good thing to have corporate representation. It's like, 'They like us. They're saying our name.' Because it was just us, dying. Some of us wanted to be recognized as 'good gays,' just like the straights. There was a huge fight to allow gay and lesbian LAPD officers to recruit in uniform while Transgender Menace Shirley Bushnell marched for visibility and dignity. Others protested, which was controversial during the Pride parade. Organizers held their breath when ACT UP/LA stopped the parade with a die-in. For some, Pride was bigger than them. For others, it was just a big party. There were people handing out condoms and other people with kids. I remember the Pop Luck Club – co-founded by Daniel Brandhorst and Ronald Gamboa. They died with their young son David when their United Flight 175 flew into the second tower of the World Trade Center in New York City on Sept. 11, 2001.
LA Blade: Why do you think it's still necessary to celebrate Pride?
Ocamb: Because we're still hated — and because we're still hated, we internalize that hatred and that shame. There needs to be a way to be in a diverse community of people where you can just be yourself. That's a starting point. From there, you can start talking to other people, make new friends, form a support group and hug a lot. And then you say, 'Wait a second. What they say about me is not true. I have pride in who I am. Who I am is a wonderful person. And that I am LGBTQ is a remarkable characteristic about me. And I'm proud of that.'
LA Blade: Are there any memories of Pride that stand out to you?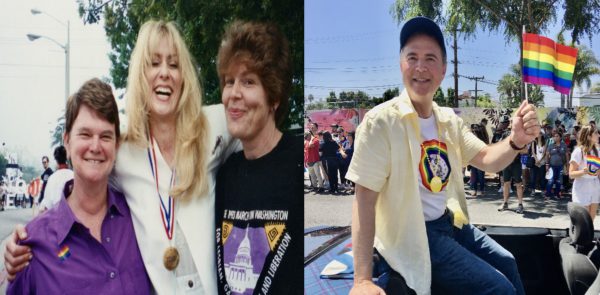 Ocamb: Several. I was honored in 2004 so I'm appreciative of that. But one I think we should remember — especially given these times, was the June 12, 2016 Pride that happened the day after the gay Pulse nightclub massacre in Orlando, Florida. People started gathering at Crescent Heights and Santa Monica Boulevard – I live just up the street. It was a usual dreary June morning. But this was heavy. A pall hung over everything. People were asking, 'Should we call this off? Is it disrespectful to the dead? Will there be copycats? Will the same thing happen here, in the gay Camelot?' Rep. Adam Schiff's staff begged him to leave. And it turned out there was a guy who drove from Indiana with a cache of weapons and bomb-making materials in his car who'd been arrested in Santa Monica. He said he was headed for the Pride parade in West Hollywood. Given Orlando, we didn't know whether the guy was a solo actor or whether it was a terrorist thing or a white supremacist thing or a religious evangelical thing since they've had it out for us for so long. CSW decided we're not going to run in fear in the face of these threats against us. And Adam decided to march, too. I mean, here's a guy who knowingly is putting his life on the line to march with us, as a straight ally, in a Pride parade where everybody's scared shitless of a sniper or a surprise assault. But nonetheless, we needed to do this. And we did — with joy!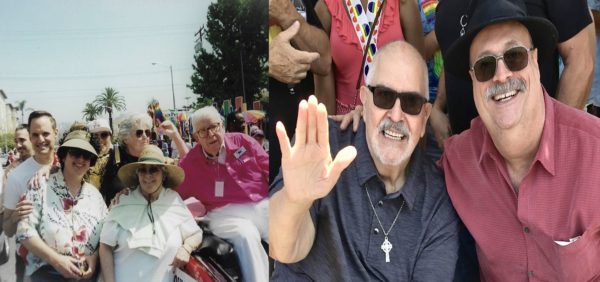 Nobody can say we aren't brave. We do courage with a proud, colorful flare! Happy Pride!
The pleasures of Palm Springs Pride are many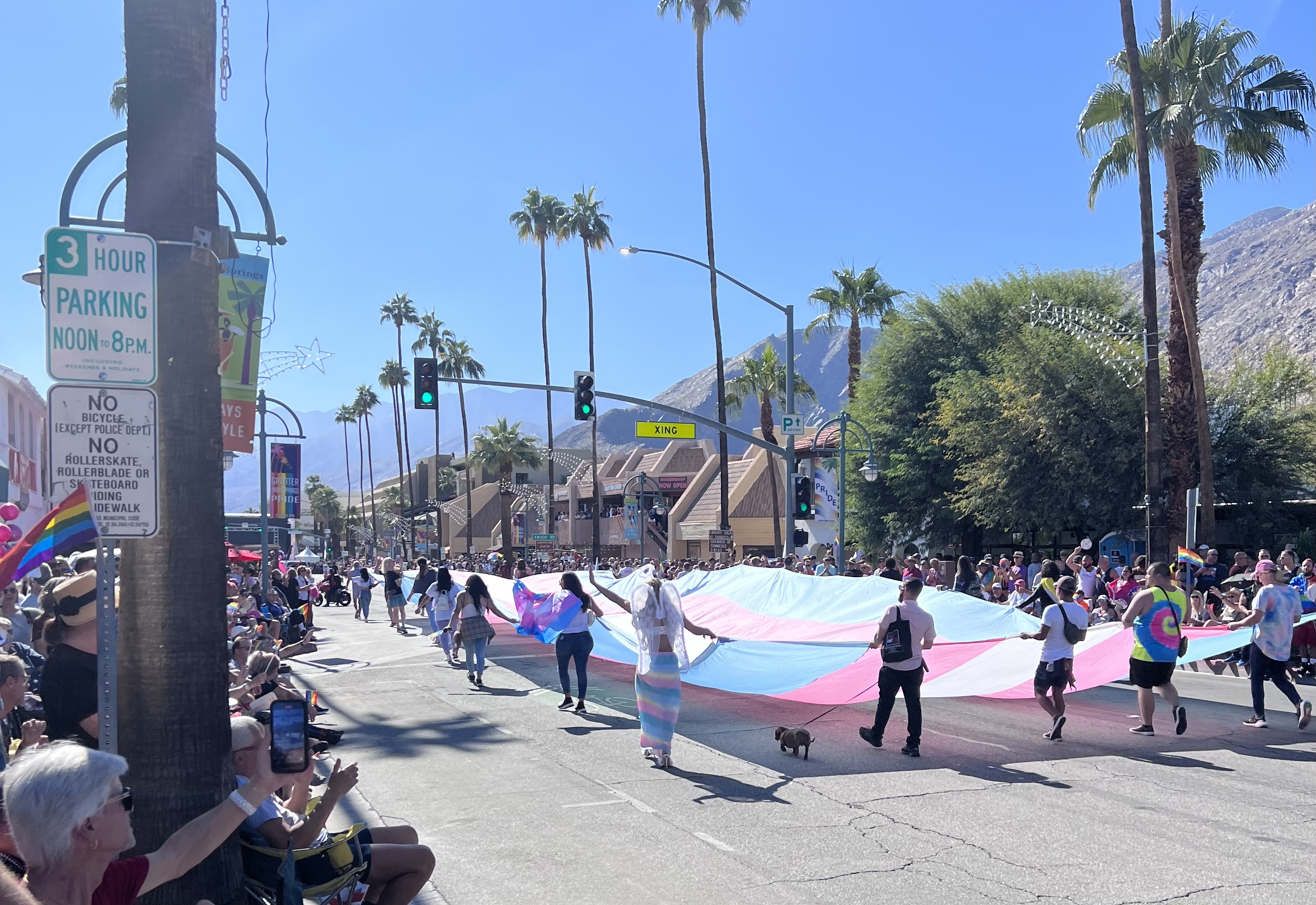 PALM SPRINGS – There is, of course, the obvious element – a strong sense of shared community with hundreds of fellow LGBTQ+ people, living our lives and taking a moment to celebrate all the things that make us both unique and essential within the totality of American culture – that marks any Pride event across the globe; but there's something special, dare we even say "magical", about the vibe in this desert city's timelessly elegant approach to the occasion.
It's difficult, in fact, to describe the blend of progressive modern sensibility and aspirational small-town idealism that defines the experience. Though Palm Springs is a long-established oasis for Angelenos seeking an escape from the big-city intensity that governs their daily lives, it's also a comparatively modest municipality in which queer culture interacts with quotidian practicality on a regular basis. That means, for the purposes of Pride, that the city comes together as a unified voice to assert not only the validity of queer experience, but the inextricable part it plays in the daily life of the community – a welcome and valued part of the diverse and inclusive environment in one of Southern California's most iconic destinations.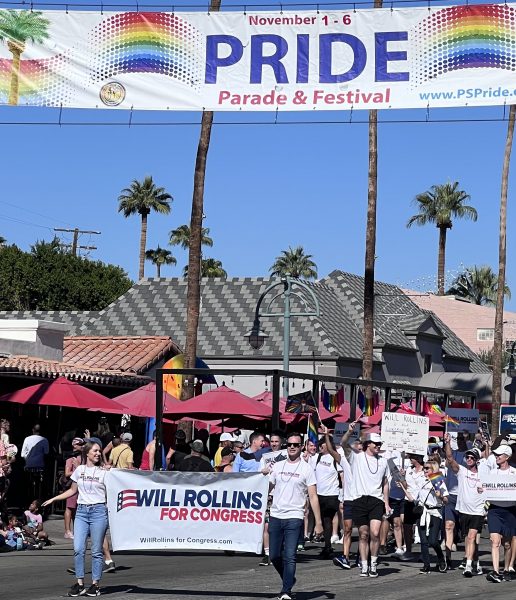 This year's festivities were no exception. Whether it's because, coming on the cusp of a crucial midterm election, Palm Springs Pride represents an eleventh-hour throw-down against the Trump-ist forces that threaten to undermine most of the hard-won freedoms we've come to take for granted, or because it reminds us of the deep well of allied support that exists around our struggle to break free of the stigma and repression of the past, the vibe at this year's 36th annual festival was a heartening dose of positivism – an unequivocally welcome counterpoint to the worst-case scenarios and doom-laden prognostications dominating our current cultural discourse.
The sense of enthusiastic solidarity that permeated the event can be attributed, at least in part, to the heavy participation of local merchants and organizations – something that is part of any Pride celebration, perhaps, but here taken to a level which made a smalltown festival feel as if it were happening in a major metropolitan hub.
With over 150 exhibitors, there was much to do, see, and sample from the vendors, artists and craftspeople, non-profits, and food and beverage providers on hand; deployed in booths, outdoor lounges, and food trucks across several blocks of the city's classic downtown corridor on Palm Canyon Drive, these representatives of the community ensured there was no shortage of activity to keep visitors entertained between the weekend's plethora of musical performances and other scheduled events.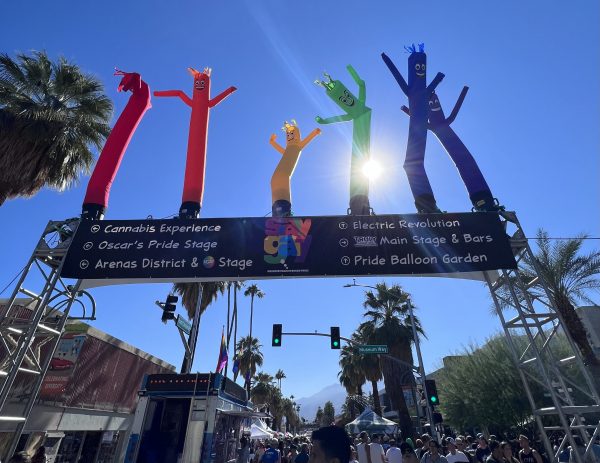 Pride flags, buttons, gear, and other queer-affirming merchandise were available everywhere; opportunities to interact with local organizations – from nudist recreation clubs to live theatre companies to anti-bullying advocacy and support groups – were plentiful; if you were in search of a monkeypox or flu vaccination, those services were available, too, along with plentiful information and resources around other LGBTQ+ health and wellness concerns.
In addition, the location allowed for numerous stores and restaurants lining the streets of the Pride venue – many of them on the Palm Springs "must do" list for tourists and locals alike – to remain open for business, offering full access without even having to leave the festival's "Event Zone."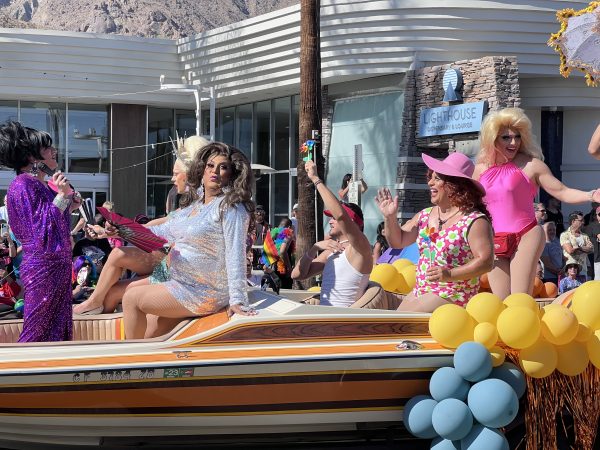 All of this helped to create a vibrant, diverse, and welcoming atmosphere in which all the colors, sights, and sounds of Pride were on full and constant display – an environment where everyone could feel seen, supported, and appreciated, from out and proud members of the LGBTQ+ community to allies and family, or anywhere in between.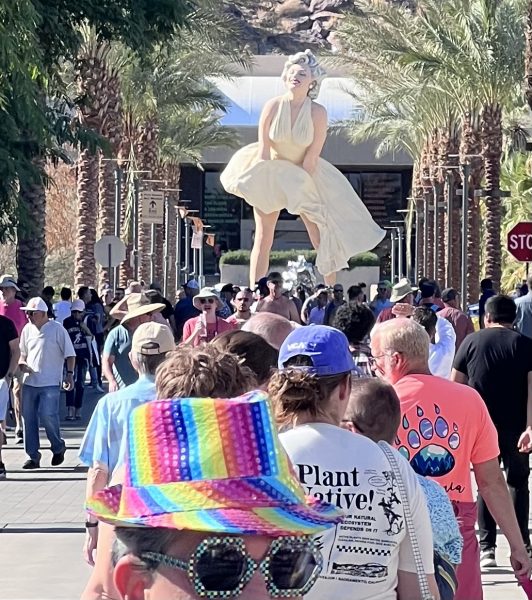 That's not to say there wasn't a keen awareness at Palm Springs Pride of the precarious edge on which our queer future teeters. Though the atmosphere within the festival was focused on celebration, there was an aura of grim-but-determined battle-readiness that became most evident, perhaps, in the cheers of support bestowed on openly gay US Congressional candidate Will Rollins by the tightly-packed crowd of spectators as he marched in Sunday morning's parade.
Alan Uphold, a relative newcomer to Palm Springs who relocated from Los Angeles with husband Jeff Olde just before the pandemic, told the Blade he believed the sense of political urgency was sparked by the recent redistricting process that made the city part of a very "red" political region. "Because of redistricting," he observed, "Palm Springs was lumped in with the more conservative areas to the west of us that are currently represented by one of the most corrupt, anti-LGBTQ, anti-reproductive freedom, January 6th-denying members in Congress. There's a real sense of stress here, mixed with cautious optimism that Palm Springs voters could help Will Rollins win, because we CAN NOT be represented by a radical MAGA extremist like Calvert."
Eva L, a festival attendee from Coachella who told the Blade she came to march with Rollins, also expressed frustration over the redistricting. "I can't believe residents and politicians in Palm Springs just rolled over and didn't object to it. Being represented by Calvert is a setback to the peaceful haven that is our community. I think we should demand to be reincorporated. So, I'm here in part just to support Will and hope for the best on Tuesday."
There were voices in the crowd, too, that served as reminders that – even at Pride – not everyone is on board with progressive ideas about LGBTQ+ acceptance. Roberta C, who was wearing a Bianco for Sheriff campaign badge, told us she doesn't understand why people need Pride in Palm Springs. "You guys have it easy now – and I realize that can change – but I'm here to be with my nephew who thinks he might be transgender. I'm confused because he's going to become a woman and says he's a lesbian. He insists on being called 'they'." The Blade offered to provide contact information for Trevor Project as she walked away, wiping a tear from her face as she said with cracking voice, "It's all too much for me."
Still, the overall mood of the crowd was festive throughout the weekend, with many people overheard saying it was the best Pride they've seen in recent memory. One attendee, Carlos Hernandez, who was visiting Palm Springs and happened upon the event by accident, told us "I can't believe my luck! Be always wanted to attend Pride in the states and it's just hard to believe how joyous this day has been so far."
"Joyous" is, in fact, the word we would also use to describe the occasion, which was ultimately a triumphant declaration of how far we've come as a queer community coupled with a fierce recognition of how far we have still to go. It's that heady mix of emotions that made Palm Springs Pride less remarkable, perhaps, for its party atmosphere and high-voltage entertainment – though those were undeniably part of the event's success – than for the thousands of little moments, powerful and personal, experienced by those who were there.
Uphold perhaps encapsulated the resonant magic of this phenomenon.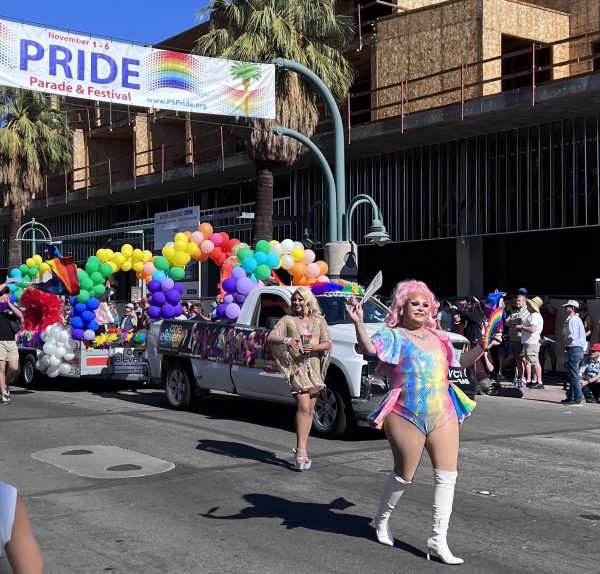 "The thing that Jeff and I love about Palm Springs Pride is that even though the event attracts more than 125,000, it still feels like a smalltown festival," he told us. "I especially like that the parade features local high school bands and students from local high school students all across the Coachella Valley."
"When we attended Pride celebrations 25 years ago in WeHo, it was practically an act of subversion and defiance just to show up. That's why, every year, I get really emotional just seeing these high school kids marching in a Pride parade," he added.