Inside the battle over the fate & future of Los Angeles Pride
Wealth, the whiteness of West Hollywood is out of step with most LGBTQ+ Angelenos and their allies, activist says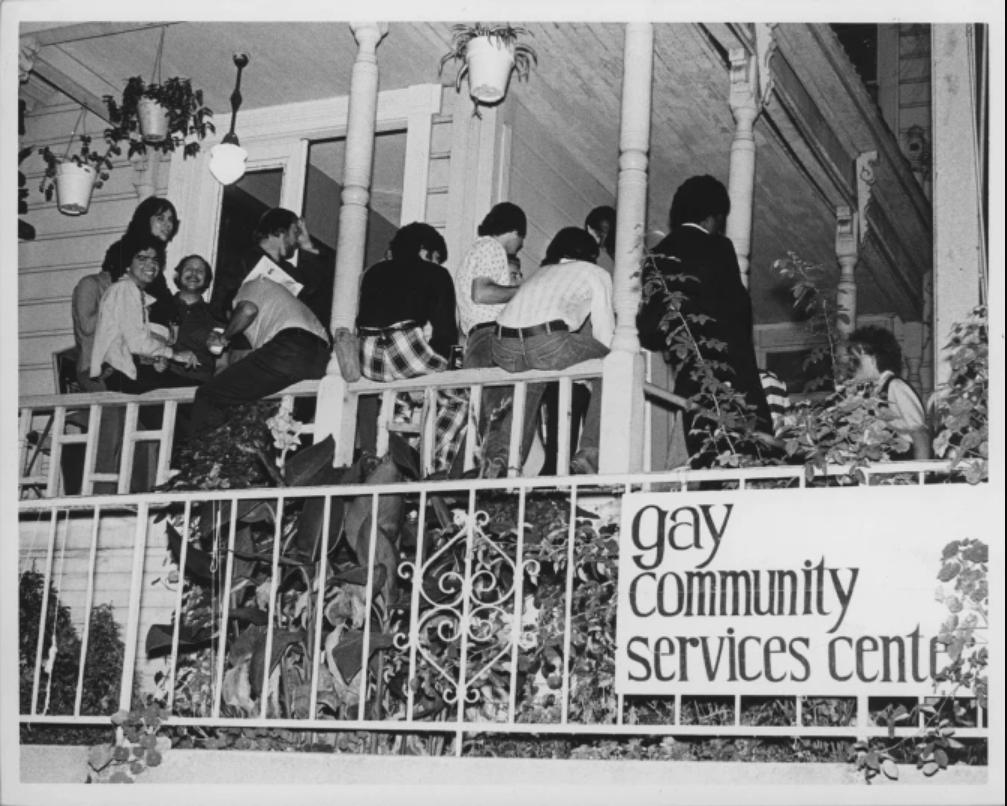 WEST HOLLYWOOD – Don Kilhefner is many things: pioneering activist, Jungian psychologist and co-founder of the LA LGBT Center in Hollywood, which is now the largest facility in the world providing multiple services for LGBTQ+ people.
When speaking by phone with The Los Angeles Blade on Friday from his bungalow in the strip between Western Hollywood and the city of West Hollywood, Kilhefner was most firmly in touch with his roots as a community organizer.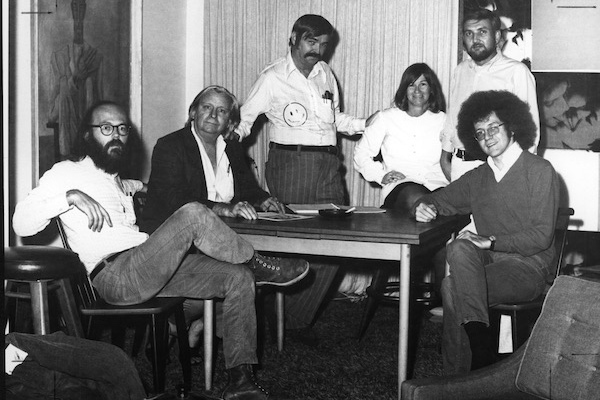 "It feels as if something is happening in the heart and soul of the LA LGBTQ community," he said. "I'm smelling something larger going on."
That something might be recognizable and familiar to those like Kilhefner who survived through the early days of gay liberation, during which time the movement was perhaps at its most political. "Stonewall was a riot," the refrain goes. (The subtext: as you're dancing in your harness and downing vodka sodas next to the Merrill Lynch float, flanked by members of law enforcement who are there to celebrate with you, remember the LGBTQ+ rights movement was born of a riot. An uprising, a rebellion.)
This year in Los Angeles, to use the parlance of Gen. Z, Pride celebrations; 'hit different.' For one thing, last Sunday's parade in West Hollywood was the first after a two-year hiatus that began with Coronavirus pandemic lockdowns in 2020. For another, next Sunday's parade on Hollywood Boulevard will be LA Pride's first march since it split from West Hollywood after 50 years.
The June 5 WeHo inaugural Pride parade down Santa Monica Boulevard had a star-studded lineup. Janelle Monáe was grand marshal. Cardi B sprayed whipped cream into parade goers' mouths. YouTuber Jojo Siwa, clad in a rainbow-covered vest, danced on a float with girlfriend Kylie Prew. Attendees might have thought it similar to 2018's celebration, which was headlined by Kehlani and Tove Lo and featured other artists such as Eve, Keri Hilson, Kim Petras and Icona Pop.
Kilhefner noted one departure, though, from years past. The City of West Hollywood and its powerful Chamber of Commerce enlisted an event coordinator for Pride 2022 – JJLA, a live event and digital production agency, in a move that he stressed was intended to maximize the amount of money attendees would throw down in West Hollywood's bars, restaurants, hotels and shops.
WeHo, said the self-described gay tribal elder, "doesn't look or feel like LA. It doesn't have the racial or class makeup." And over the years, Pride has "changed from a vibrant community-based celebration to a celebration that is now based on the wealth of West Hollywood's residents and powerful business community." The effect of hosting Pride in the city, as was done for decades, is analogous to an anti-poverty march through Beverly Hills, Kilhefner said.
The parade's return to Hollywood Boulevard is not just a symbolic rejection of the idea that a community comprised predominantly of wealthy and white gay men should be the nexus of Pride celebrations, Kilhefner said.
It is also – regardless of what might have been behind the schism from West Hollywood – an acknowledgment of the very specific socio-political-cultural moment in which we find ourselves, the activist told the Blade. As the country grapples with another reckoning on polarizing issues concerning race and class, younger generations are leading the charge to make Pride more inclusive and more political as well as less moneyed and less corporatized, he explained.
As Kilhefner writes in a forthcoming essay;
"L.A. Pride must also keep the other eye on moving our history forward by creating a PRIDE celebration in Los Angeles that looks like the LGBTQ community here—with all its international flair and exquisite racial and cultural features on display; with all its socioeconomic classes welcomed and feeling like it's their PRIDE too; with L.A.'s gay north meeting gay south and L.A.'s gay east meeting gay west; a L.A. PRIDE that says something powerful about our political/cultural awareness and who we are becoming that we can genuinely take pride in—not an anachronistic bubble defined by white entitlement and extreme wealth."
"It's important to point out we're entering very perilous territory," Kilhefner said. With the leaked draft of the U.S. Supreme Court opinion presaging the reversal of women's reproductive freedoms established in Roe v. Wade, it is becoming clearer that even the most hard-won rights are not irrevocable, he noted.
It's a lesson "that Harry Hay used to tell me," Kilhefner said, referring to the late activist who co-founded America's first gay rights group, the Mattachine Society, as well as the Radical Faeries movement, of which Kilhefner is also a co-founder. It is intersectional; this idea that progress can backslide, that the fight for justice and equality is ongoing in perpetuity. Black people worked at all levels of the federal government until President Woodrow Wilson came to power and imposed a form of Jim Crow segregation, eroding much of the progress toward racial justice that had been made in the decades prior, Kilhefner noted.
Looking backward to move forward
It is important to acknowledge the historical significance of LA's first Pride celebration in 1970 to fully understand the importance of its return to Hollywood Boulevard this year.
"The 1970 parade was largely created through Gay Liberation Front in LA," Kilhefner explained. "We were contacted by leaders in the New York Gay Liberation Movement who said, 'we think it's important that first anniversary of Stonewall be commemorated.'" Stonewall, of course, refers to the series of riots that took place over three days in New York City's West Greenwich Village around the mafia-owned bar, the Stonewall Inn in June of 1969 that are widely credited with inaugurating the modern LGBTQ+ rights movement.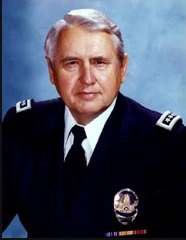 "We needed a permit from the Los Angeles Police Department to hold this march on Hollywood Boulevard," Kilhefner said. Then LAPD Chief of Police Edward M. Davis refused, arguing that to do so would set a precedent obliging him to award permits to prostitutes and thieves and others engaged in lawless conduct. Kilhefner explained, "We took it to the ACLU, and eventually the judge forced the LAPD to give us a permit."
Reporting in the Los Angeles Times turned what would have been a sparsely attended march into an mega-event with 30,000 spectators and marchers, Kilhefner chuckled. "It provided momentum to us pioneers," allowing activists to push the gay liberation agenda from the closets to the streets – attaining a degree of visibility that was critically important for building momentum to fight for LGBTQ+ civil rights.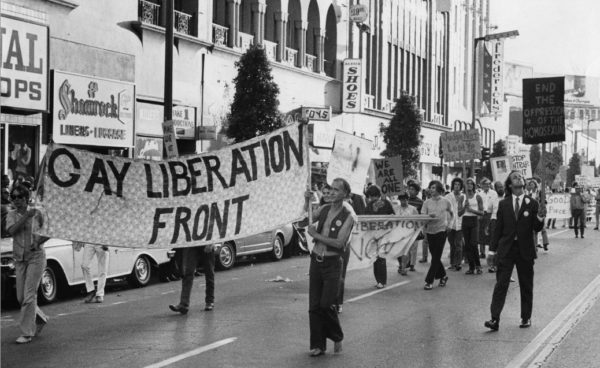 Nearly five years after that first march, Davis was Invited to the 1975 celebrations. He declined in a letter in which he wrote, "I would much rather celebrate 'GAY CONVERSION WEEK' which I will gladly sponsor when the medical practitioners in this country find a way to convert gays to heterosexuals."
Young people push for a different direction for Pride
Rainbow capitalism, as it is often derisively called, has long been associated with Pride celebrations, in cities from LA to Key West and across the globe including cities like Tokyo. It is now, as evidenced by these tweets and others highlighted in this story in The New York Times, fertile ground for jokes – a possible harbinger that young people want something different and more substantive from Pride than a show of solidarity from Exxon Mobil.
Kilhefner has seen the emergence, and then the saturation, of corporate actors in Pride celebrations, which he considers tantamount to the co-opting of gay liberation for capitalist gains by members of the ruling class. "There were some people who felt it was progress" to see parade floats from multinational companies. "By and large, this has changed," Kilhefner said.
"I spend a lot of time listening to young people and I'm impressed by their understanding of race and class issues in this country," he said. "There's been a radical shift in consciousness. The younger generation has become more militant as well as sharper about race and class."
"We are beginning to see pushback," he said. When employees at the Walt Disney Company flagged their objections to the company's contributions to legislators and others responsible for Florida's "Don't Say Gay" bill, "it smelled like gay liberation."
Likewise, in Los Angeles, young people fighting for justice "see themselves as being engaged in guerrilla warfare," Kilhefner said. "It's David versus Goliath."
LA Pride Parade and Village Details
Pride Village is the place to be after the parade with festivities taking place from 12:00 p.m. to 8:00 p.m., just steps from the parade route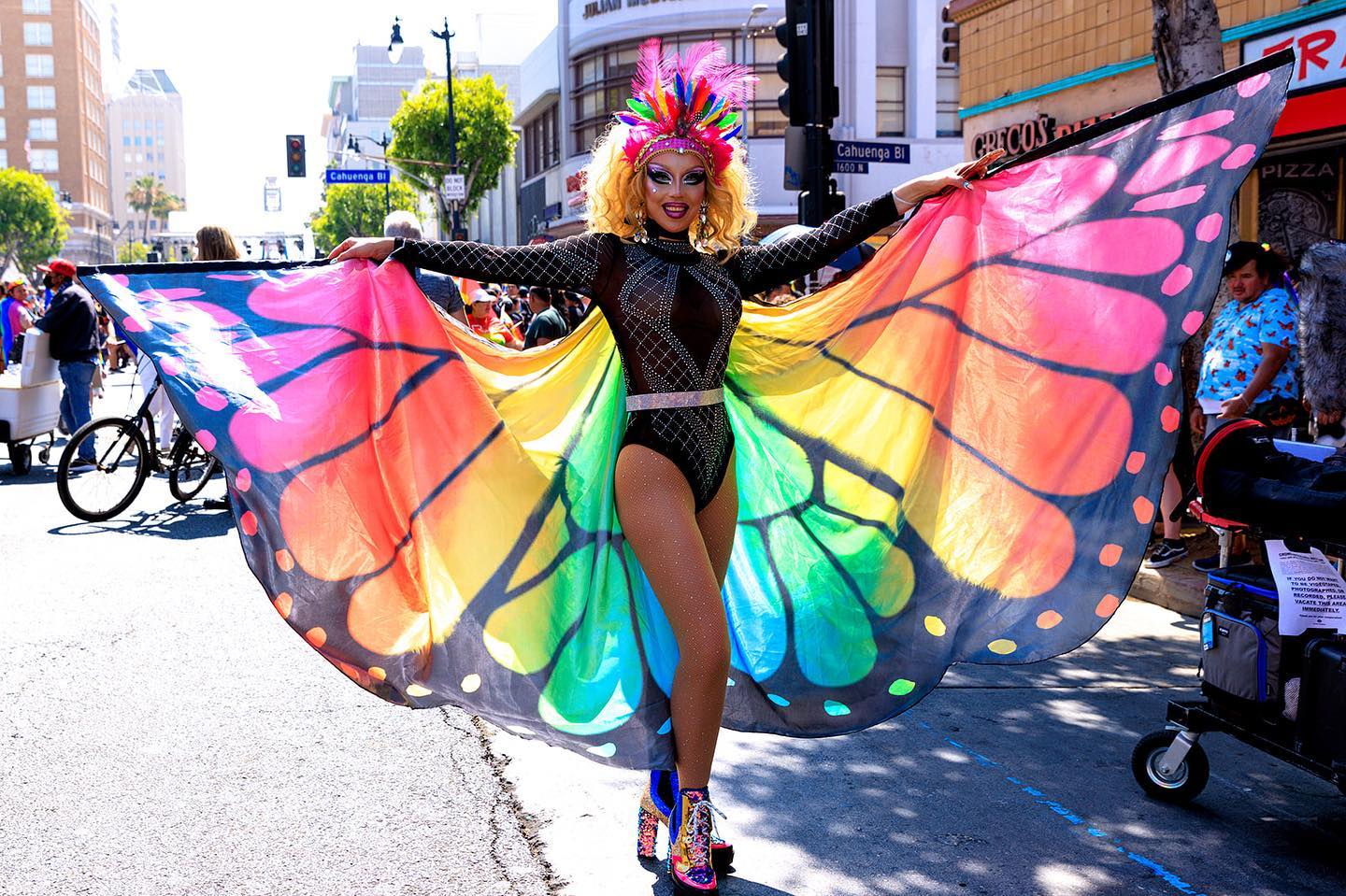 HOLLYWOOD – The second annual LA Pride Village on Hollywood Boulevard will bring the free, all-day street festival to a new location between Vine Street and Gower Street just steps away from the official LA Pride Parade route on June 11.
At 9:00 AM on June 11, The Hollywood Partnership CEO & President Kathleen Rawson will deliver a welcome note in front of Pantages Theatre, and at 2:00 PM elected officials – including Senator Ben Allen, Senator Maria Elena Durazo, Board Supervisor Lindsey Horvath, Council Member Hugo Soto-Martinez and Assemblymember Rick Chavez Zbur – will welcome festival goers at the Celebration Stage on Gower St. and Hollywood Blvd.
Christopher Street West Association (CSW) announced its trio of grand marshals to be celebrated at the LA Pride Parade on Sunday, June 11 taking place at its original historic location in Hollywood.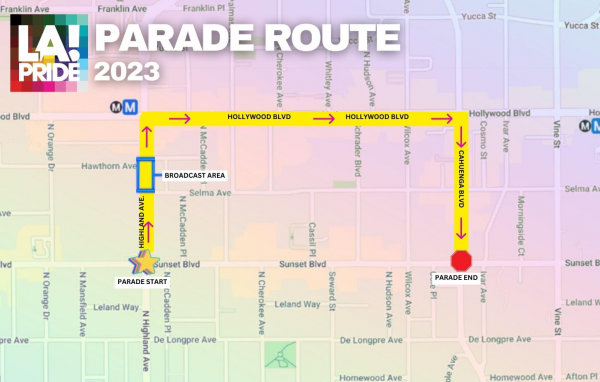 The parade, which will feature a special drag performance presented by the ACLU SoCal and staged by Morgan McMichaels to music by 14-time Oscar nominee Diane Warren, will air LIVE on long-time LA Pride broadcasting partner KABC/ABC7 on Sunday, June 11 beginning at 11:00 a.m. PDT.
This year's LA Pride Parade grand marshals include comedian, actor and activist Margaret Cho as the Icon Grand Marshal, an individual who needs no introduction and achieved major milestones within their career and industry; a posthumous tribute to Emmy-winner Leslie Jordan as the Legacy Grand Marshal, a new title this year in honor of Jordan for his everlasting impact on the community; and the ACLU of Southern California, that helped CSW obtain the permit for the first LA Pride parade, as the Community Grand Marshal, which celebrates a group or individual who has had a powerful influence through their work and dedication to and for the LGBTQ community.
"I'm thrilled and incredibly honored to be the Icon Grand Marshal," said Cho. "We need this Pride more than ever. I have been attending Pride celebrations since 1978 and this time around the need to celebrate as well as unite is more urgent than it has ever been. Our love is greater than their hate.
"On behalf of Leslie Jordan, we are overjoyed by Christopher Street West's heartfelt recognition to name Leslie as LA Pride's Legacy Grand Marshal," said Jana "Cricket" Jordan. "This honor further solidifies the positive impact he made in the world, but more importantly for the LGBTQ+ community. His spirit continues to bring love and light."
"For a century, we've been on the front lines fighting for people to be their true, authentic selves," said Hector Villagra, executive director of the ACLU SoCal. "We're honored to be the Community Grand Marshal and proud to love, live among, and protect LGBTQ Californians."
"Christopher Street West is honored and humbled by this year's three grand marshals," said Gerald Garth, president of CSW. "Each have contributed to the LGBTQ+ community in their own unique ways, furthering our fight for acceptance, equality, and justice."
It will also air nationally on ABC News Live and Hulu, and wherever viewers stream ABC7 including abc7.com and the ABC7LA mobile app.
Anchor Ellen Leyva and reporter Christiane Cordero from ABC7 Eyewitness News will co-host the ABC7 broadcast. The parade route will begin at Sunset Blvd and Highland Ave heading north, then east onto Hollywood Blvd, then south onto Cahuenga Blvd, ending at Sunset Blvd and Cahuenga Blvd.
Additionally, The Hollywood Partnership, the non-profit organization that oversees the public realm in the Hollywood Business Improvement District (BID), has once again partnered with LA Pride to bring the LA Pride Village back to Hollywood Blvd.
LA Pride Village is the official place to be after the LA Pride Parade, with festivities taking place from 12:00 p.m. to 8:00 p.m., just steps from the official parade route.
When the iconic LA Pride Parade returned home to Hollywood Blvd last year after more than four decades, it prompted the start of new traditions and celebrations in Hollywood, including LA Pride Village, a free and open to the public street festival.
The second annual LA Pride Village celebration promises to be even bigger and better, with a new location on Hollywood Blvd, between Vine St. and Gower St., to make room for more booths featuring local vendors and non-profits, an expanded beer garden, delicious food trucks, two performance stages for twice the entertainment, and more comfortable crowd space for dancing.
All details can be found here: https://lapridevillage.com/do/la-pride-2023.
Sponsors of LA Pride Village include Princess Cruises and Royal-bud.com.
Public transit and ride share services to LA Pride Parade and Village are strongly encouraged. For the Parade, connect to the L.A. Metro B (Red) Line and exit Hollywood/Highland or Hollywood/Vine Station. Metro has many Park & Ride lots servicing the county – parking is just $3.00 per day, payable onsite.
If self-driving to LA Pride Parade and Village, vehicles can access parking and the event site via Vine Street or Gower Street.
WHAT:
LA Pride Village is the ultimate free community street festival happening on Sunday, June 11, in honor of the LGBTQIA+ community. Hosted by The Hollywood Partnership and LA Pride, it's the perfect complement to the LA Pride Parade, as it is located just steps away from the iconic procession on Hollywood Boulevard, between Vine Street and Gower Street. Festivities include:
90 local vendor booths
Two entertainment stages featuring 14 performances
An expanded bar garden
11 Food trucks
1 LGBTQ+ Cinema Film Festival by NewFilmmakers LA @ The Montalbán Theatre
More comfortable crowd space for dancing and celebrating Pride on Hollywood Boulevard
WHEN:
Sunday, June 11, 2023
12 PM to 8 PM (all day)

KEY TIMES: 
12 PM: LA Pride Village OPENS

12-8 PM: 14 Performances across two stages by Pride notables like Mariachi Arcoiris, Bob Baker Marionette Theatre, the Gay Freedom Band LA, Secret Circus, Dance Church, and LA's favorite queer AAPI drag party, Send Noodz

2 PM: Elected officials welcome Pride festival goers to LA Pride Village

Senator Ben Allen, Senator Maria Elena Durazo, Assemblymember Rick Zbur, LA County Supervisor Lindsey Horvath, LA City Councilmember Hugo Soto-Martinez

2:15 PM-2:45 PM: Interviews available with elected officials
3:00 PM-10:30 PM: NewFilmmakers LA Presents LGBTQ+ Cinema with The Montalbán @ 2023 LA PRIDE: This special event at Hollywood's famed Montalbán Theatre features LGBTQ+ films spotlighting emerging filmmakers telling stories from across the spectrum of queer identities by artists from diverse backgrounds, including a strong representation of BIPOC storytellers. The event also hosts a full bar with reception space for mingling throughout the day, and Q&A sessions with filmmakers from each program.
8 PM: LA Pride Village CLOSES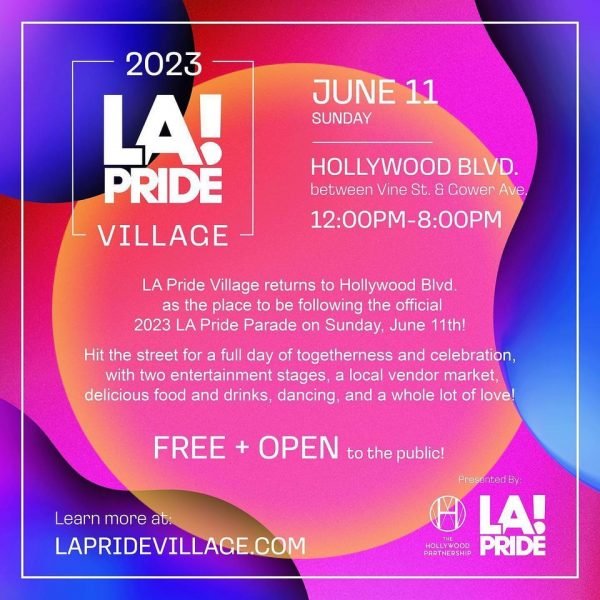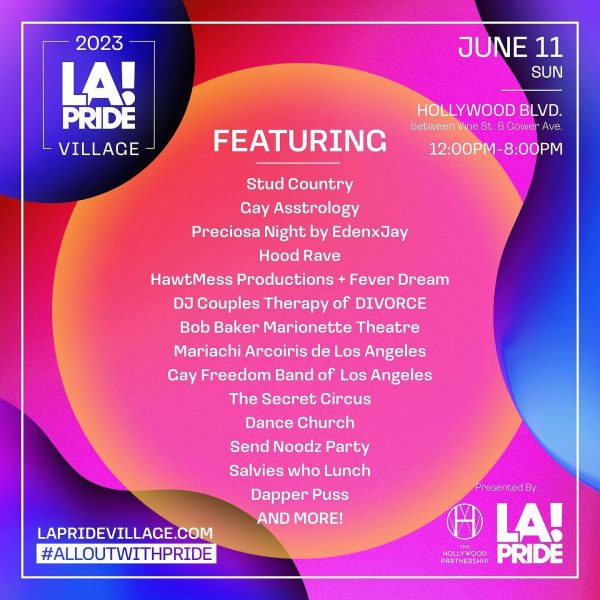 LA Pride in the Park: 6/9-6/10
It's going down with Mariah Carey + Megan Thee Stallion! Don't miss out — tickets at lapride.org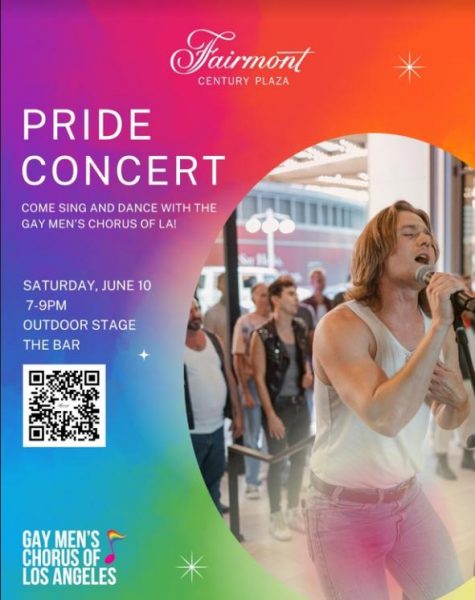 This June in honor of PRIDE, Century City's Fairmont Century Plaza invites guests to an extraordinary two-hour live concert performance from the Gay Men's Chorus of Los Angeles. Returning this year, the non-profit organization will be performing at the hotel with a mission to change hearts and minds through the power of music.
The event will feature a vibrant approach to an array of iconic songs from Queen, Motown, Sondheim, and more, taking place at the hotel on Saturday June 10th from 7:00 pm to 9:00 pm. This will be their main West Los Angeles PRIDE performance. VIP tickets will be $55 and will include two cocktails. Free General Admission is also available and the performance will be open to the public.
Live music has been a prominent component of the Fairmont Century Plaza experience since its beginning and the hotel is looking forward to honoring PRIDE this year with this monumental performance.