Sharon-Franklin Brown: Trans woman leads LA Pride making history
Under her leadership as the first trans woman of color to head CSW, she's taking the annual parade back to its historic roots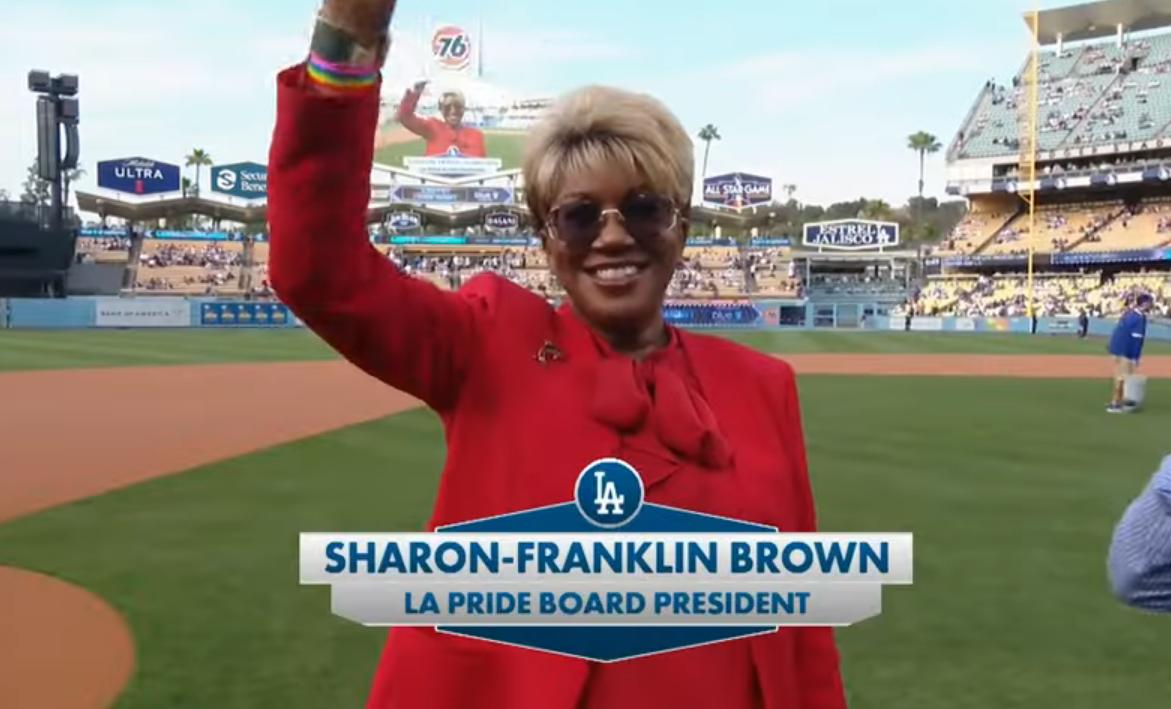 By Alex Benedict | LOS ANGELES—This year's L.A. Pride parade is historic on many levels. First, the event is being coordinated by Sharon-Franklin Brown, the first Black transgender woman to be appointed board president of Christopher Street West (CSW), the organization that produces the parade and festival.
In addition to planning L.A. Pride, one of the board's main missions is to increase both diversity and community engagement in the Greater Los Angeles area.
Prior to this appointment, Brown was a member of the CSW board where she was recognized for her leadership skills. Her appointment comes at a crucial time for LGBTQ rights. On the LA Pride website, Brown says "It's never been a more important moment for the LGBTQ+ community and its allies to continue fighting for all of us."
Brown brings to the position a diverse background, having been a US Navy sailor and LGBTQ+ activist. Her leadership style reflects this diversity, which she describes as, "inclusive, relatable, intentional and transformative."
She began her journey in Louisiana in a "small one stop light town," and subsequently joined the United States Navy Reserves while attending the University of Louisiana Monroe. While there, she began a "journey of self-discovery freely expressing her true gender identity." A key part of this journey was embracing her role in community leadership.
In 1997, she ran for political office—City Council candidate for Myrtle Beach, South Carolina, making her the first openly transgender candidate to run for public office in the state. Part of her motivation was the discrimination she endured as a trans-woman having been terminated from Fayetteville State University for her gender identity.
Her subsequent activism included speaking engagements at colleges and universities, as well as co-writing recommendations for "Model Protocols-Police Interactions with Transgender Individuals. " These recommendations were later adopted by the Los Angeles Police Department.
Currently she is the Chief Impact Officer at the LA LGBT Center; previous to that she was Chief Human Resources Officer. Her role there included training various organizations, especially in the healthcare field, to provide appropriate services to LGBTQ+ clients.
Brown's appointment as Board President of Christopher Street West/ LA Pride reflects the organization's recognition of the evolving LGBTQ+ community. As Brown says, (LA PRIDE Website) "As a robust community across Los Angeles, we value inclusiveness and diversity. I'm so humbled to have been appointed by the board to this position as the first black trans woman to lead CSW/Los Angeles Pride..beyond the pandemic and into the future."
At CSW, she leads a board which is the most diverse ever with "75 percent …people of color, and we have trans leaders as well." The Pride Board under Brown has recommitted to its advocacy roots "to create safe and inclusive spaces of self-expression."
L.A. Pride, organized by CSW, is one of the largest events in the world and began in 1970—the first permitted parade in the United States. Its original purpose was to commemorate the Stonewall Riots which took place on Christopher Street in New York.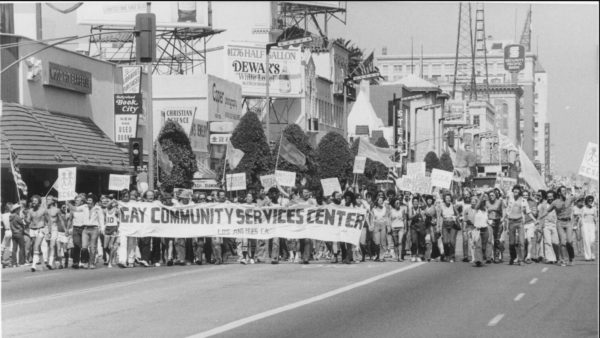 A major change this year is the new location of the parade as it moves from Santa Monica Boulevard in West Hollywood where it had been since 1979, back to Hollywood Boulevard, its original location.
This location had proved inhospitable; in 1970 the LA City Police Commission put extraordinary conditions on the parade such as a bond for a million dollars and a minimum of 5000 marchers. These conditions were eventually overturned by the California Supreme Court and the parade continued.
In 1979, the parade moved to West Hollywood where it remained until this year. By the early 2000's the attendance was estimated to be 400,000 to 500,000 making it the second largest Pride event in the world.
Despite its success, the CSW board decided to relocate the parade and festival. Brown explains the board's reasoning for this historic decision. "We wanted to honor our roots with the 50th parade. With COVID pausing our ability to actually celebrate out 50th anniversary, we're lucky that we can do it safely this year at the historic location where things began for us decades ago."
Gerald Garth, CSW's Vice President of Program and Initiatives clarified the board's reasoning in a recent statement on LAPride.org "CSW recognizes that LGBTQ+ experiences of Los Angeles are broader than just one neighborhood. Considering feedback gathered since the pandemic began, we are committed to creating experiences and access to our entire community, including many of those who have been most underserved and underrepresented."
Board President Brown also points to the community partnerships that are attracted to the new venue: "We are also emphasizing why our incredible partners celebrate the different meanings of why Pride is so important to so many diverse people." For examples she cites: "the LA Public Library will have book cart performances to tie into our celebration. Tik Tok…is elevating LGBT+ content creators and generating massive solidarity with their first float in a Pride Parade ever." The event has attracted major celebrities such as Christina Aguilera, who will be the headliner of L.A. Pride in the Park.
In response to the change in location, the West Hollywood community organized their own Pride Parade and Festival called WeHo Pride. As it is the first Pride event in two years because of the pandemic, Organizers are expecting a huge turnout which will provide a much-needed boost to local businesses which have been suffering due to COVID. Brown had no comment on the WeHo festivities.
COVID has made safety a paramount concern, as last year's parade, the 50th anniversary, was canceled. This year, the CSW is following all CDC and public health guidelines. Recent tragedies have further complicated public events. According to Brown, CSW is "listening to… local …officials on best practices…We want to create safe spaces for people to come together."
Brown has high hopes for L.A. Pride. "I truly believe that our parade will result in unity, inclusivity and a celebration of all the hard-fought victories of all those leaders who have come before us. We stand on their shoulders."
Long Beach Pride parade & festival July 8th-10th
The theme is 'Many voices-one spirit, marking three decades of the annual third largest Pride in California celebrating the LGBTQ+ community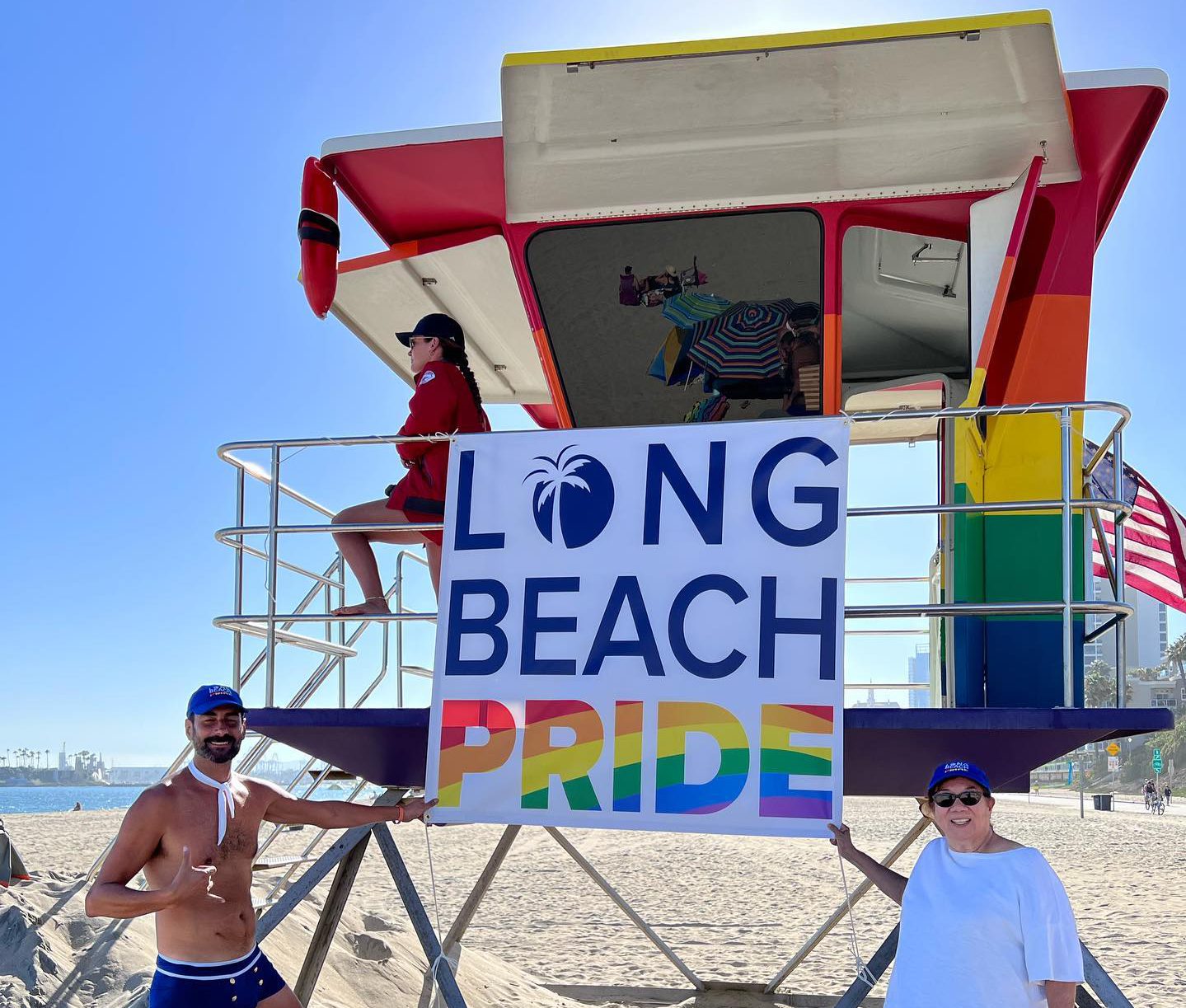 LONG BEACH – This weekend marks the in-person return of Long Beach Pride after the coronavirus pandemic had halted previous celebrations. The celebration's theme this year is "Many voices-one spirit," marking three decades that the annual three-day festival, parade and teen pride- the third largest Pride festival and parade in California, celebrates the LGBTQ+ community.
This year, in addition to the stages and musical entertainment, organizers will be creating multiple activations and attractions encompassing the diversity and interests of Long Beach's LGBTQ+ community.
Elsa Martinez, the president of the Board of Long Beach Pride was a guest on KTLA's Morning News Thursday to discuss the upcoming weekend festival which kicks off Friday.
For more information visit https://longbeachpride.com/
Hundreds attend 4th annual South LA Pride celebration
Hosted by Los Angeles City Councilmembers Marqueece Harris-Dawson & Herb Wesson, this year's family-friendly celebration was a "Pride Picnic"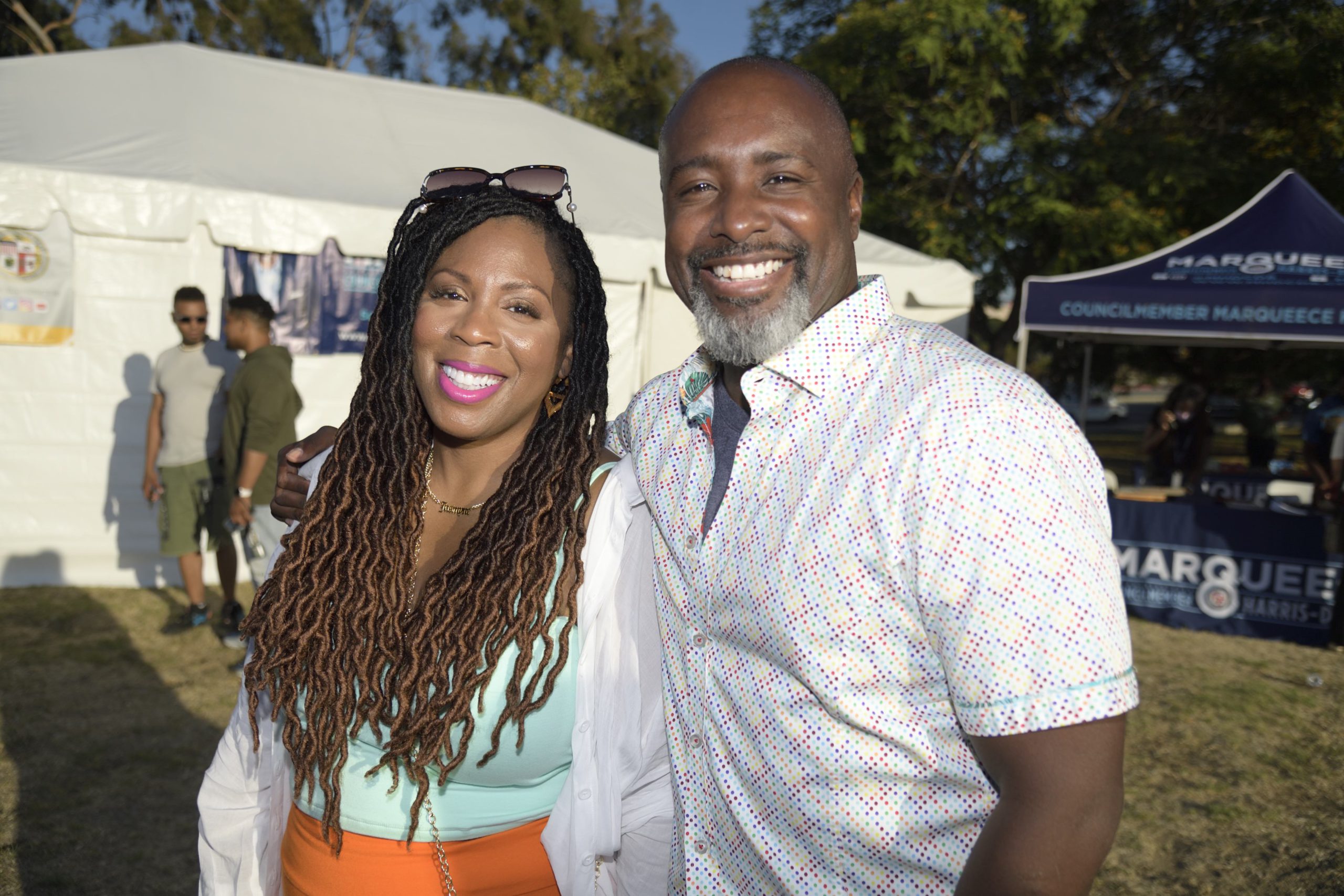 LOS ANGELES – Hundreds attended the 4th annual South LA Pride celebration on Jul. 1 at Norman O. Houston Park in Baldwin Hills.  Hosted by Los Angeles City Councilmembers Marqueece Harris-Dawson and Herb Wesson, this year's family-friendly celebration was a "Pride Picnic" meant to bring together South LA's LGBTQ community and their allies for a culturally relevant pride celebration.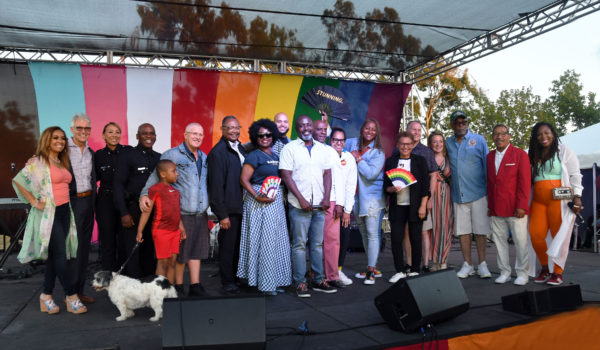 In addition to Harris-Dawson and Wesson, this year saw the most Black elected officials ever at a pride celebration in Los Angeles including Congresswoman Karen Bass, Supervisor Holly Mitchell, Senator Sydney Kamlager, and more.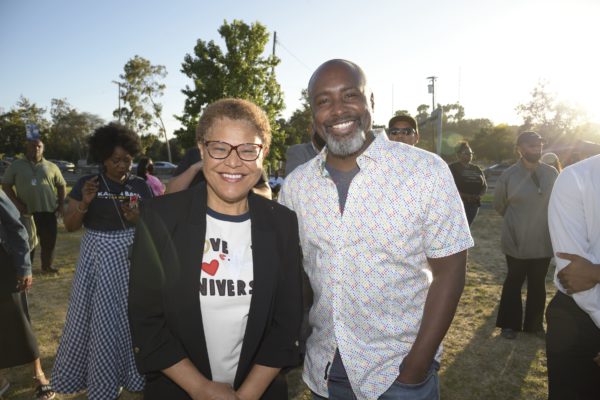 Journalist and advocate Jasmyne Cannick chaired the planning committee which included a host of community organizations.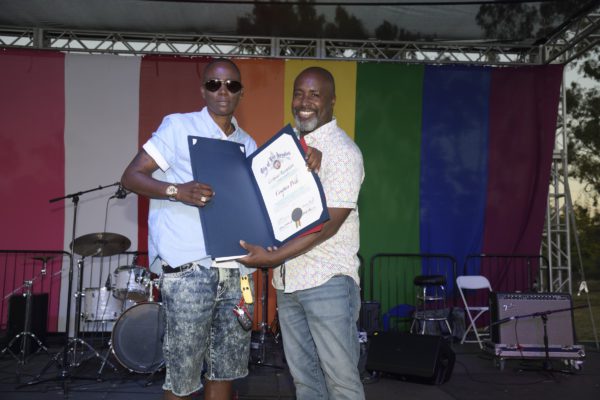 The 2022 South LA Pride Community Picnic was sponsored in part by Community Coalition, Providence, FOX, AEG, and the LA Civil + Human Rights and Equity Department.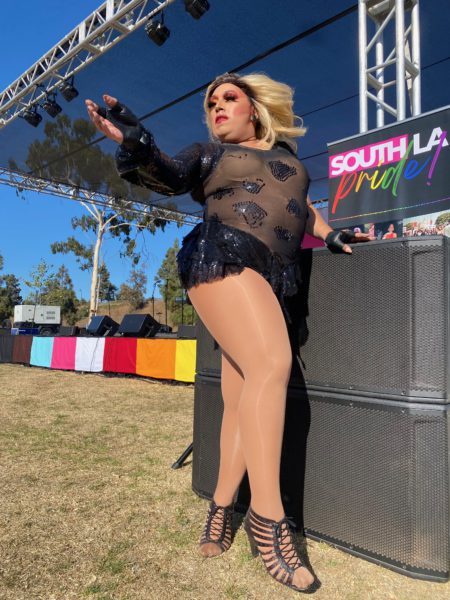 For more information, please visit southlapride.com.
EN VIDEO: Marchas del orgullo LGBTQ+ en Colombia
Se realizaron celebraciones en Bogotá, Medellín y Pereira