The NFL's first Trans cheerleader: Black, bald & beautiful Justine Lindsay
She hopes to 'inspire other young girls who may be insecure rocking their bald look' & sending a bold message to all her haters: "Thank you…"
CHARLOTTE – When the 2022 football preseason kicks off in about nine weeks, Justine Lindsay will make history as the first out transgender cheerleader for an NFL team, the Carolina Panthers.
The 29-year-old broke the news herself on Instagram, way back in March:
"Cats Out the Bag," Lindsay wrote in her post. "You are looking at the newest member of the Carolina Panthers TopCats Cheerleader's @topcats as the first Transgender female." Calling it a "dream come true," she added, "This is a moment I will never forget and I cannot wait to show you all what this girl has to bring."
And just in time for Pride, Lindsay has granted her first interview about her historic hire.
"I was so scared," Lindsay told BuzzFeed News about that first post on March 30. "There's just some things you can't post." Lindsay told the Panthers in her application that she is trans, but revealed she's kept her identity a secret from everyone, even her best friend, except for her family.
"I just felt like when I posted it, whatever reaction I get from everyone, it does not matter," Lindsay told reporter Paige Skinner. "And then my phone started blowing up."
Not all the reaction has been positive. Rapper 50 Cent posted on Instagram, "I hope this is not just for press," then deleted it.
Lindsay posted a screenshot of the BuzzFeed article on her Instagram on Monday with a message that started with, "Thank you to all my haters who think I'm bringing the organization down."
"Clearly I don't," she wrote. "The Carolina Panthers Organization is an excellent one, one that supports all people white, Black , yellow trans, straight etc." Lindsay's message to those criticizing her hiring is "so what?" and vowed to keep on being a trailblazer. "I will continue to be that pioneer I will continue to inspire and help my African American beautiful trans sisters until my last breath. So please mind your manners and understand that if you can't say anything nice please keep it to yourself."
As BuzzFeed reported, Black women remain a minority among NFL cheerleaders; far fewer wear their hair natural. So, when the Topcats coach told Lindsay she wouldn't have to cover her bald head, she told the site she was relieved. Her goal is to "inspire other young girls who may be insecure rocking their bald look."
The job of cheerleading, of course, isn't over when the game ends. The Topcats represent the team at community events, fundraisers, business conferences and more.
"This is big," said Lindsay, aware she is serving as both a role model and as a symbol. "I think more people need to see this. It's not because I want recognition. It's just to shed light on what's going on in the world."
In a DM on Instagram, Lindsay told the Blade that the key formula for her personal success and happiness is: "Love yourself and continue to always be a pioneer when others feel like you're not worth it."
What's going on in the NFL is that the league is providing a bigger platform for LGBTQ acceptance. For example, the biggest game of the year featured the Super Bowl Champion L.A. Rams' five out gay male cheerleaders. Last summer, Carl Nassib came out as gay, the first active NFL player to do so, and the NFL celebrated Pride with a video that declared, "Football is Gay." But the Panthers cheerleaders coach says it wasn't Lindsay's trans identity that landed her the job.
"My goal is to create a team of individuals that are absolute fire on the field but are incredible human beings in the locker room, good friends, good people, and at the end of the day, you have to walk through the door first to get to that spot," Topcats director Chandalae Lanouette told BuzzFeed.
The Panthers preseason starts on August 8 with a game against the newly-renamed Washington Commanders. The official NFL season starts Sept. 8 with a Super Bowl rematch, and when the Panthers host the Browns on Sept. 11, Lindsay will be on the sidelines, cheering them on.
Follow Justine Lindsay on Instagram by clicking here. Find out more about supporting and understanding transgender and nonbinary identity, or find help, by going to The Trevor Project at this link.
The Los Angeles Blade interview: Iszak Henig
LA Blade Sports Editor Dawn Ennis interviews Yale trans swimmer Iszac Henig in his first interview since the NCAA championship last March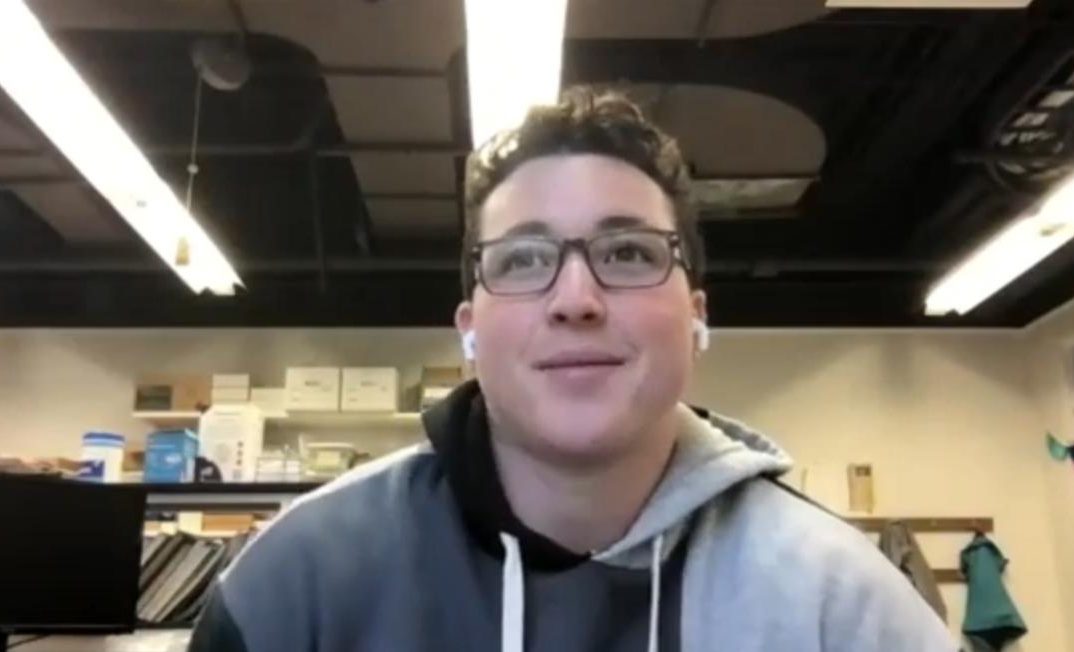 NEW HAVEN, Ct. – Ten months have passed since the first historic matchup of two out, NCAA transgender student-athletes, competing against one another for a national championship: trans man Iszac Henig vs. trans woman Lia Thomas.
Although Henig represented Yale's women's swim team in that contest, he made it clear in a March 2022 interview with the Los Angeles Blade: I'm not a woman," Henig said. "I am just a guy trying to go as fast as I can."
Now, in his first interview since that championship, and after sharing his story with the world in The New York Times, the Yale University senior from Menlo Park, Calif. sat down with the Blade to talk about switching to swim with the men's team, his plans after graduating, the trolls on social media and anti-trans politics. Also, he revealed: he has a girlfriend.
"I wonder, politically, do you align with progressive politics, or is politics something that doesn't interest you?" the Blade asked. "Are you conservative?"
"I was having the conversation with my girlfriend last night," said Henig, 21. Earlier in the conversation, he deflected when asked if he had someone he'd consider a partner. Then he let it slip he was dating a classmate at Yale, and we shared a laugh. "I will admit to it, yes," he said with a smile.
"So, I started talking about political identity. She's a politics major, so this is sort of her jam," said Henig. "Politics does interest me in that it is incredibly relevant to my life, incredibly relevant to the lives of people that I care deeply about. Policy has widespread impacts. And so, I think from that level, it is interesting to me. I'm a citizen who votes. It's interesting to me in terms of political identity, generally progressive, sort of left leaning. That follows naturally from how I was raised and how I was taught to view the world and how I choose to view the world."
How Henig views the world is with compassion, something that came up repeatedly in the conversation on Zoom last week. He said he learned that at home, growing up in Menlo Park.
"My parents always have sort of instilled a level of kindness, compassion, thoughtfulness," he said.
A competitive swimmer since he was four, Henig was one of the top 20 high school swimmers in California at 18, and one of the top 100 swimmers in the country. As he explains in his Times essay, Henig also excelled in the pool at Yale, but floundered in his identity in the company of women, especially in the locker room. He told the Blade that gap year he took during the pandemic provided an opportunity for him to explore who he was, who he wanted to be, and after working with a therapist, finally come out as the man he'd known himself to be since he was a teen.
"The first time I verbalized it was at 14, to my mom," said the college senior, who realizes, in hindsight, he needed more time. "The climate was different. I was young. I was a teenager and I was not ready to advocate for myself in that way that I would have needed to."
But to those who believe children, even teens, cannot possibly know they are trans, Henig says:
"I was certain. There was no doubt in my mind. You know, people are like, 'Oh, kids are too young to know.' No," said Henig, "We're sure. We're certain."
What's it like swimming with the other guys at Yale? "It's been great. It's been awesome," he said. "I love the guys on the team. It's been a really cool experience for me, just spending time with them."
He shrugs off the negative reports by anti-trans reporters at Fox News and the National Review, who have focused on his top surgery and his performance since starting on testosterone eight months ago. Although he wrote in his op-ed that his times are "about the same as they were at the end of last season," Henig is bashed for finishing 79th out of 83.
"A lot of the articles are like, 'This guy stinks at swimming, he got 79th out of 83.' And I'm like, 'Yes, I could have told you that myself! You don't need to remind me, you know?' I knew I was coming in bottom of the pack," he said. "A lot of the comments have been like, 'Oh, you know, a real man would want to win, or a real man would want to care.' And I'm like, 'You need to meet more men!' I'm sorry, not every man is the same. There are so many good reasons to be an athlete, and winning is one of them, but it's not the only reason. I love my sport and I get to race and I get better because the people around me are better than me."
Trolls will also comment on his posts that feature his flat chest, saying awful things like this: "So sad to see you cutting your own body parts. It is the same as cutting your arms or legs so sad. You would regret this once your brain has finish developing and stop taking hormones."
"There's no sort of nice way to put it: It sucks, right? It's never going to be a positive experience," he said. "I had someone comment on my Instagram posts, literally like, 'Oh, I wonder if you were molested as a child?' And I was like, first of all, that is so disrespectful to survivors, you know? And that is a completely unrelated thing. And second, I'm so sorry that you think that that's okay to say to someone, that people have treated you in a way that you're like, 'Yeah, that's a normal thing to say.' And you block."
Henig said he never responds to hate but does offer kindness, and stays on-brand with compassion.
"What I try and remember, what I try and live by, is you can't respond to hate. That is never going to be productive. What I try and do is find compassion," he said. "I say, 'Okay, you are saying this to me for a reason, and I am so sorry that whatever has happened in your life that has led you to this point, where you think that it's okay to say something like that to someone.'"
Henig credits his friend and supporter, trans trailblazer Schuyler Bailar, with providing advice to handle the haters with the same energy that comes from being a fellow competitive swimmer: "I think, in an ideal world, that derives naturally from sport, from teamwork. You learn how to say, 'We fundamentally disagree, but let's get something done together. Let's find common ground.'"
Bailar has also showed him the power of advocacy. "But I probably wouldn't self-identify as an activist," he said. "I think I think I'd opt for advocate athlete."
Once he graduates in May, he's hoping to work in renewable energy, calling climate change his passion. But he said he won't be swimming competitively after this season and has ruled out the Olympics. Henig hopes to become, in his words, a NARP: "A Non Athletic Regular Person." Or, as he also put it: "Just some guy." And maybe, someday, just some dad.
"The idea of motherhood, fundamentally, was uncomfortable to me, and I'm actually quite excited about the idea of fatherhood," he told the Blade. "I was pretty sure that I'm going to be dead by 30. I'm really glad to say that I absolutely don't feel that way anymore, because transition has been so life affirming. I do want kids. I do want a family."
To the trans kids living in states of hate, where laws and policies may prevent them from competing in sports as their authentic selves or receiving gender-affirming healthcare, Henig has this message: "Do what you need to do to keep yourself alive, to keep yourself safe as long as you can, until you have the opportunity to do something else. Know that we're fighting. There are so many people on the ground trying to make changes, trying to prevent bills from getting passed, trying to get resources to places that don't have them. It's something that I want to continue to support."
By writing his essay and talking to reporters, Henig hopes he can also reach those who aren't supportive of inclusion and trans healthcare. "I would really like to call people in, and ask, 'If you can, set aside a belief that you currently have, and open your mind to trying something new.' See if you can say, 'Okay, you know what? What could I learn today? What can I open my mind to?' That would be my ask, because I think the world just needs more empathy, more compassion in general."
This is Iszac's first interview following his moving essay in The New York Times: