Pride events held globally as activists demand rights, protest inequalities
An opportunity for the LGBTIQ+ community around the world to come together to celebrate diversity & equality during these challenging times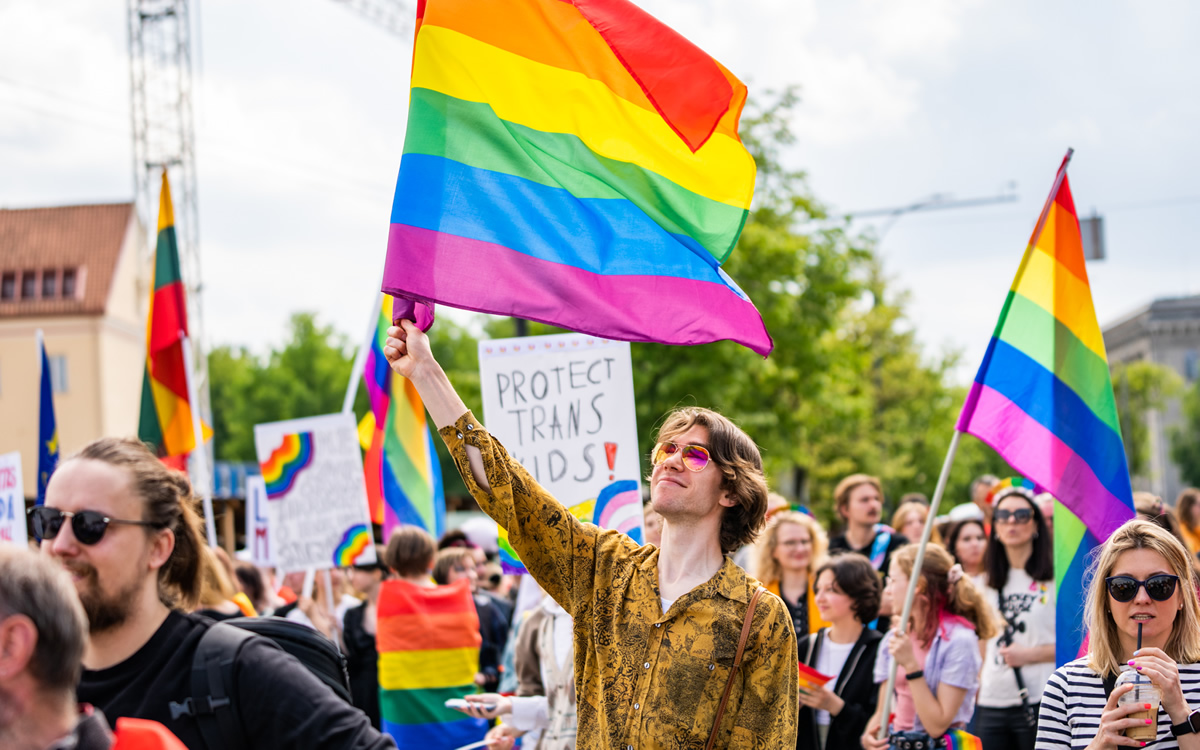 WASHINGTON – Pride events are in full swing around the world.
Thousands of people on June 5 attended Bangkok's first official Pride parade in 16 years.
Openly gay Lithuanian MP Tomas Vytautas Raskevičius and U.S. Ambassador to Lithuania Bob Gilchrist are among those who participated in Baltic Pride 2022 that took place in Vilnius, the Lithuanian capital, on June 4. Jerusalem's annual Pride parade occurred two days earlier against the backdrop of the arrest of a man in connection with death threats made against its organizers.
Canadian Prime Minister Justin Trudeau on June 1 helped raise the Progress Pride flag over his country's Parliament. "This is a time to celebrate our differences and support one another and to make sure that ever day we are building a Canada where everyone is free to be who they are and love who they love," he said in a video he posted to his Twitter page.
Today, we raised the Pride flag on Parliament Hill. The flag is a symbol of hope, solidarity, and diversity – and raising it is a symbol of our ongoing commitment to building a country where everyone can be who they are and love whom they love. Happy Pride season, everyone! 🏳️‍🌈 pic.twitter.com/lCjonmxw31

— Justin Trudeau (@JustinTrudeau) June 2, 2022
Olena Shevchenko, chair of Insight, a Ukrainian LGBTQ rights group, told the Washington Blade that she and other activists from her war-torn country plan to attend Warsaw Pride in Poland on June 25.
This year marks London Pride's 50th anniversary.
The British government was to have hosted a global LGBTQ rights conference in London from June 29-July 1, but it cancelled it in April after advocacy groups announced a boycott in response to Prime Minister Boris Johnson's decision to support a bill to ban so-called conversion therapy without gender identity. The London Pride parade is scheduled to take place on July 2.
The Cayman LGBTQ Foundation in the Cayman Islands will hold its annual Pride parade on July 30. The event will take place less than five months after the Privy Council's Judicial Committee in London ruled same-sex couples in the British territory don't have a constitutional right to marry.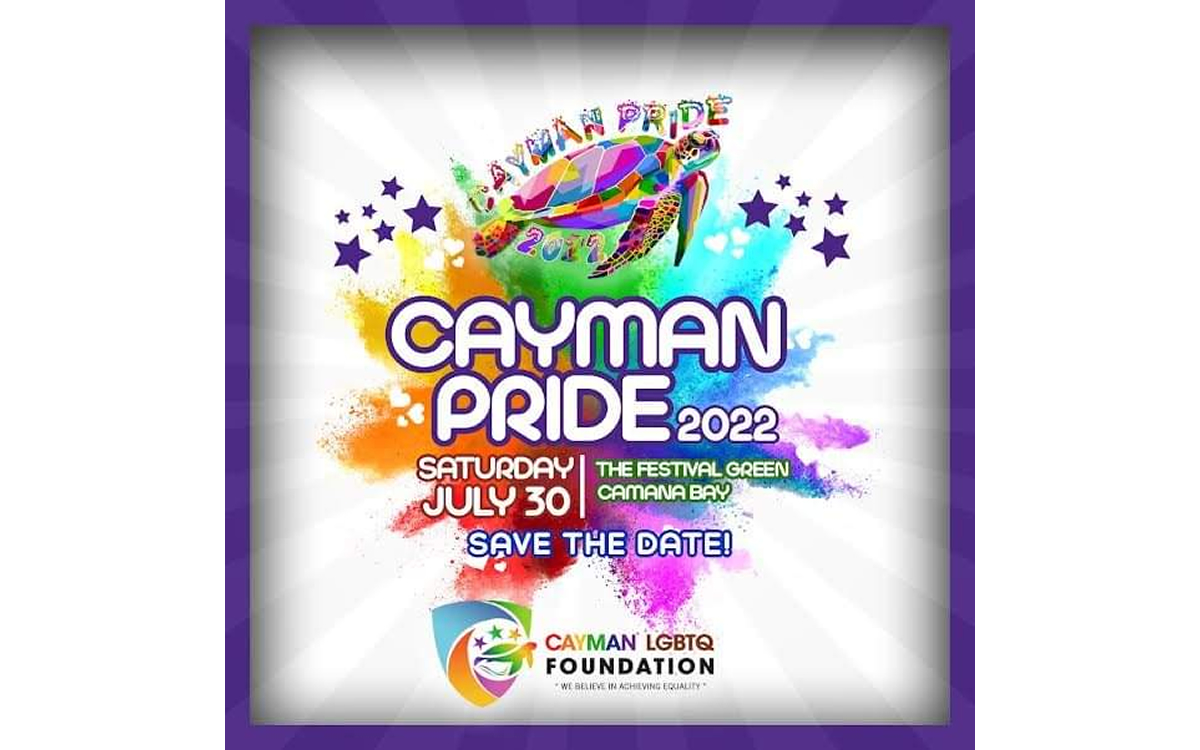 Jamaica is among the upwards of 70 countries in which consensual same-sex sexual relations remain criminalized. J-FLAG and other Jamaican LGBTQ rights groups will hold a series of Pride events during the first week of August, which coincides with the country's Emancipation and Independence Days.
"It's always been incident free," J-FLAG Associate Director of Marketing and Communications and Engagement Elton Johnson told the Washington Blade on Tuesday from Kingston, the Jamaican capital. "We get support from the police. We get support from many organizations, schools."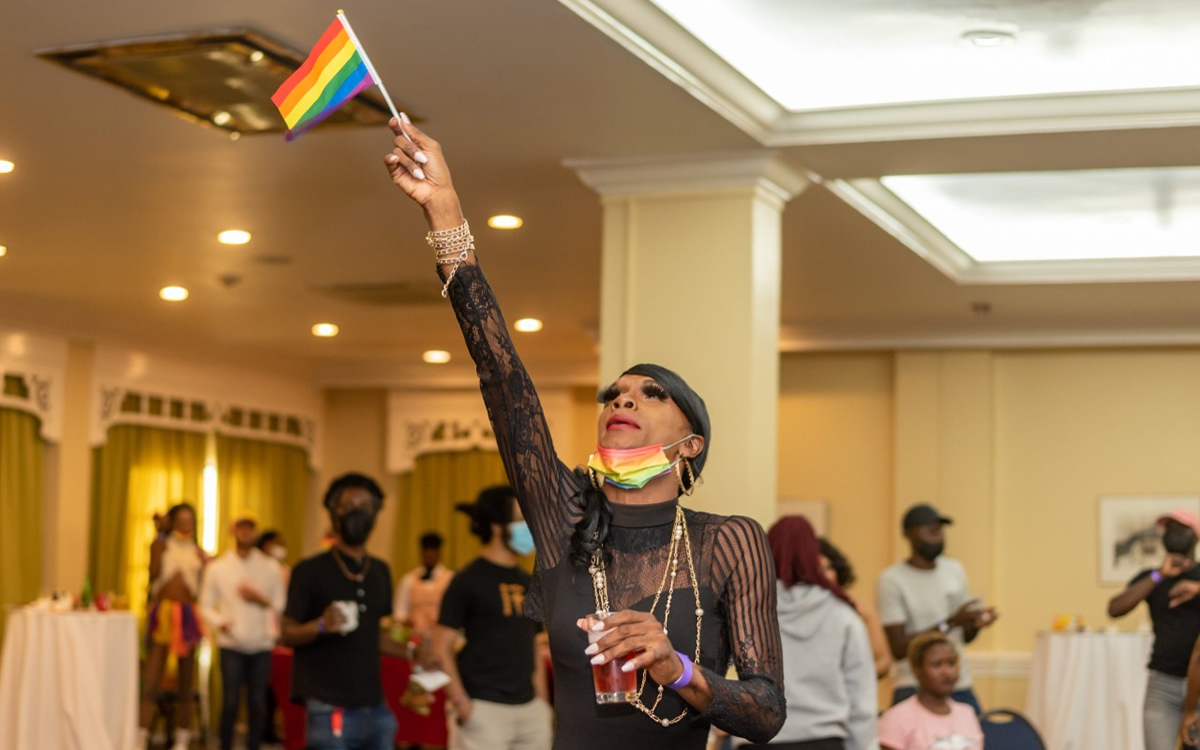 African LGBTQ groups to continue decriminalization push
LGBTQ activists in Africa are also planning to commemorate Pride.
The government of Botswana in January said it will abide by a ruling that decriminalized homosexuality in the country. A plethora of other African countries still outlaw same-sex relations and those found guilty of homosexuality in places where Sharia law exists face the death penalty. Advocacy groups on the continent plan to use Pride to further push for decriminalization.
"The 2SLGBTQIA+ community has made dramatic strides in recent decades that absolutely should be celebrated, [but] there is still much more work to do to ensure intersectional equality and justice for all but as we prepare to commemorate the 2SLGBTQIA+ Pride, let us be cognizant that the discrimination of 2SLGBTQIA+ persons in the country is still rife," said the Rock of Hope, an LGBTQ rights group in Eswatini. "These events or awareness activities should bring meaning and strengthen the movement such that one day we can reside in a country free of hate, stigmatization and discrimination of individuals based on their sexual orientation and gender identity expression."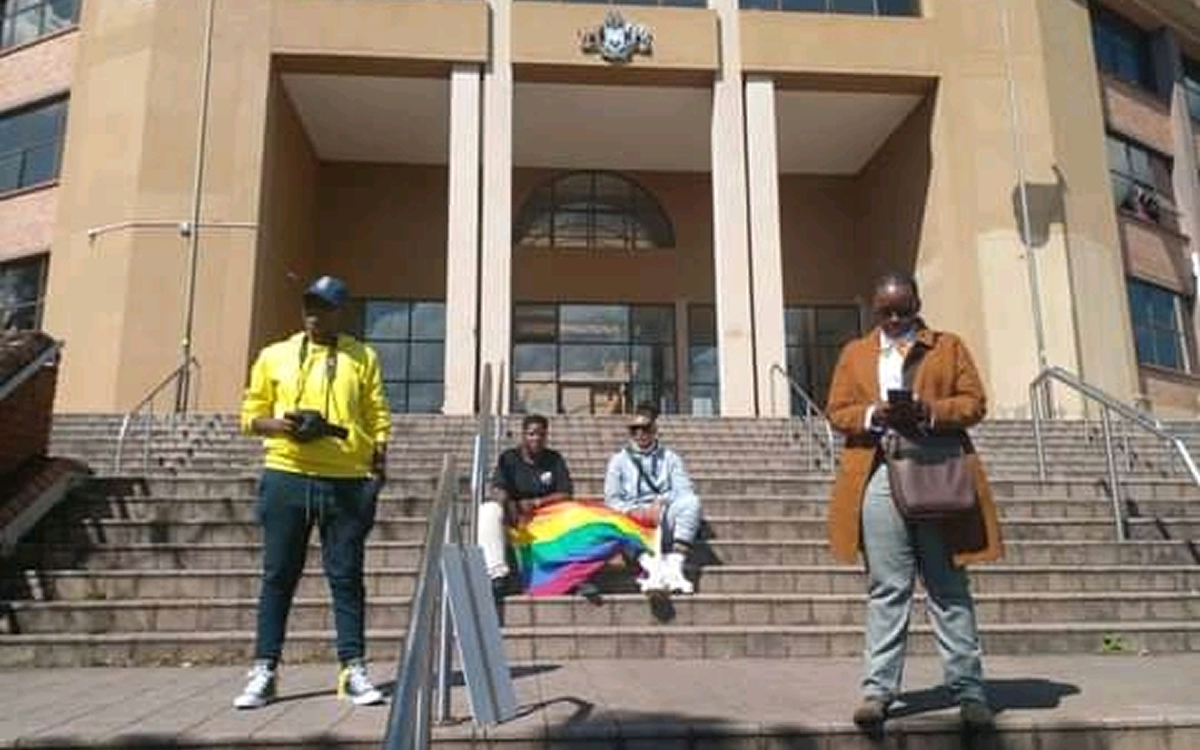 Beit el-Meem, an Egyptian LGBTQ rights group, echoed the Rock of Hope.
"The road is not easy, but not impossible, and what distinguishes us is that each individual of us excels with the power of love and acceptance, and with this energy we will give to everyone around us," said Beit el-Meem.
LGBT+ Rights Ghana has been at the forefront of the campaign against a bill that would criminalize LGBTQ identity and allyship in the country.
The U.S. Embassy in Ghana on Tuesday tweeted a picture of President Biden speaking in support of LGBTQ rights. The tweet also said the U.S. "reaffirms that LGBTQI+ rights are human rights and that no group should be excluded from those protections, regardless of race, ethnicity, sex, gender identity, sexual orientation, sex characteristics, disability status, age, religion or belief.
The U.S. reaffirms that LGBTQI+ rights are human rights and that no group should be excluded from those protections, regardless of race, ethnicity, sex, gender identity, sexual orientation, sex characteristics, disability status, age, religion or belief. #Pride2022 pic.twitter.com/UTdh9cFWYE

— U.S. Embassy Ghana (@USEmbassyGhana) June 7, 2022
LGBT+ Rights Ghana said it plans to mark Pride with its virtual Color Dialogue conversations it holds every year.
"This year promises to be fun, hopeful and filled with lots of love," said the group. "Join us everyday at 6 p.m. GMT on our Instagram page as we discuss the struggles, hopes and joy of the Ghanaian Queer community."
Brazil presidential election overshadows São Paulo Pride
São Paulo's annual Pride parade, which is one of the largest in the world, will take place on June 19.
Brazilian activists will mark Pride against the backdrop of their country's presidential election campaign. HIV/AIDS service providers and LGBTQ activists with whom the Washington Blade spoke while on assignment in Brazil in March said they are afraid of what may happen in their country is President Jair Bolsonaro wins a second term later this year.
"He represents a danger to the environment," Mariah Rafaela Silva, a transgender woman of indigenous descent who works with the Washington-based International Institute on Race, Equality and Human Rights, told the Blade on March 21 during an interview at a Rio de Janeiro restaurant. "He represents a danger to diversity. He represents a danger to Black people. He represents a danger to indigenous people."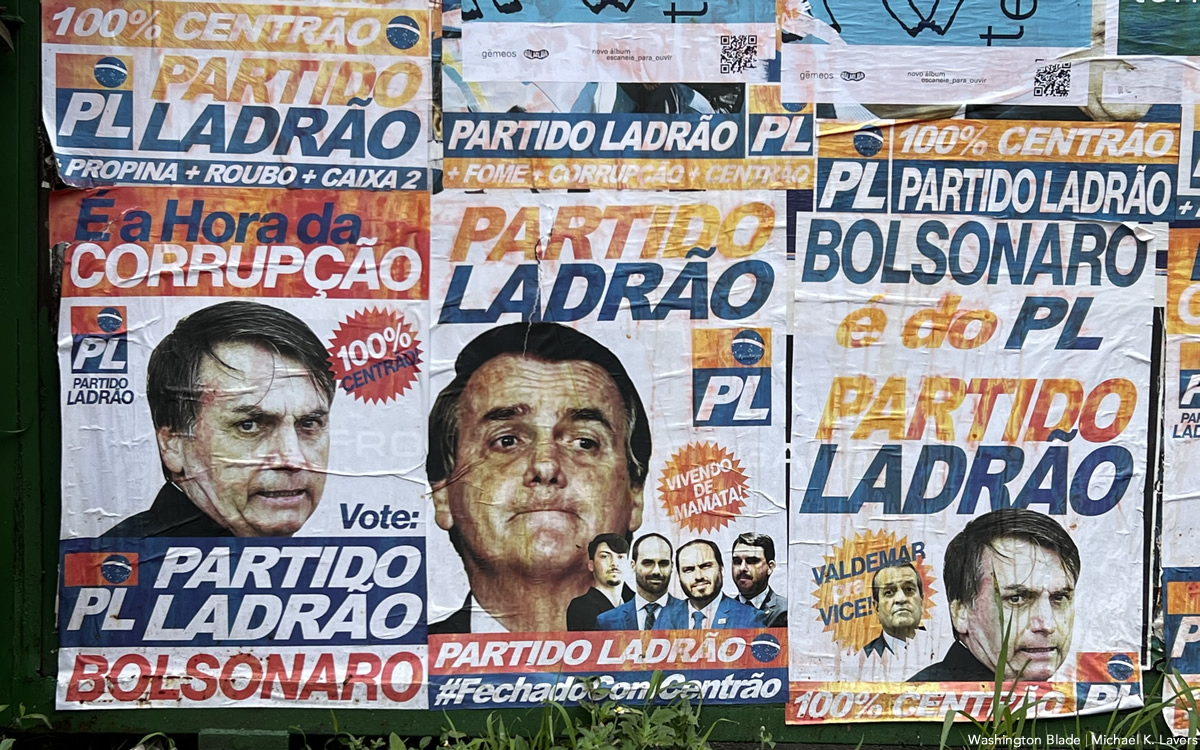 Activists in other South American countries plan to use Pride events to demand further rights.
Organizers of the annual Pride parade that will take place in Santiago, Chile, on June 25 plan to call for additional reforms to the country's Penal Code and anti-discrimination law and demand an end of violence based on sexual orientation and gender identity. The event will take place less than a month after a trans woman, Yuridia Pizarro, was killed in Iquique, a city in northern Chile.
Pride parades are also scheduled to take place in the capitals of Peru, Ecuador and Bolivia respectively on June 25.
Somosgay, an LGBTQ rights group in Paraguay, is planning to hold a Pride march in Asunción, the country's capital, on July 2. A Pride march dedicated to León Zuleta and Manuel Velandia, the founders of Colombia's LGBTQ rights movement, will take place in Bogotá, the country's capital, on the same day.
A Pride march is scheduled to take place in the Venezuelan capital of Caracas on July 3. Activists in Argentina and Uruguay will hold Pride marches later this year.
Roe ruling outrage marks NYC Pride
Tens of thousands protested Roe ruling on Friday night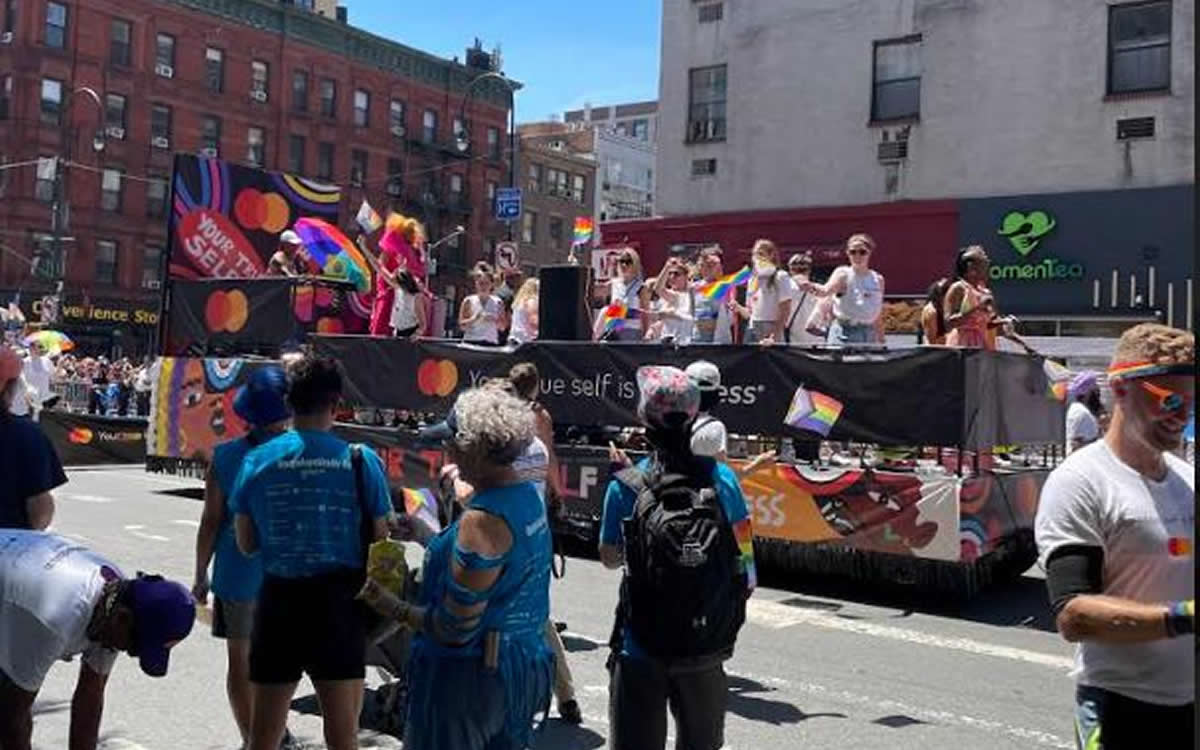 NEW YORK — New York City Pride, one of the largest Pride celebrations in the world, rang in the weekend with equal parts celebration and protest. 
Although the annual Pride march was on Sunday, the entire weekend was filled with an outpouring of public anger in the wake of the U.S. Supreme Court's decision to overturn Roe v. Wade.
Protesters took to the streets of Manhattan on Friday with an estimated 17,000 people gathering to protest the ruling, which made abortion imminently illegal in roughly half of states. At least 25 people were arrested at the Friday night protests, which spread from Washington Square Park through Midtown to Bryant Park.
In light of the Supreme Court's landmark decision — which advocates say will harm members of the LGBTQ+ community — NYC Pride announced that Planned Parenthood would kick off Sunday's Pride march as the first group to walk. In their statement, NYC Pride said that "[The Supreme Court's] dangerous decision puts millions in harm's way, gives government control over our individual freedom to choose, and sets a disturbing precedent that puts many other constitutional rights and freedoms in jeopardy." 
"As millions gather for LGBTQIA+ Pride this weekend in New York City and cities across the country, our voices will be heard — for the LGBTQ people impacted and the millions with whom we stand in solidarity," read the statement. "Pride was born of protest and will always be a space to fight injustice and discrimination. Join us as we advocate for bodily autonomy at this year's NYC Pride March."
In addition to the march; NYC Pride had a full slate of Pride programming during the week leading up to it, including Pride Island at Governor's Island, Youth Pride and a human rights conference. Queer clubs and bars throughout the city hosted various Pride-themed events throughout the weekend.
NYC Pride was not the only organization mobilizing this weekend.
Reclaim Pride NYC hosted a "Queer Liberation March for Trans and BIPOC Freedom, Reproductive Justice, and Bodily Autonomy," in partnership with pro-choice groups and community organizations.
"The [Queer Liberation March] is the annual people's protest march without corporate funding; corporate floats; politicians' grandstanding; or police control or involvement," said the Reclaim Pride Coalition.
Although Pride originated from a moment of violent tension between police and LGBTQ+ people at the Stonewall Inn, officers on Sunday carefully patrolled the entire NYC Pride march route. When the apparent sound of gunshots nearly sparked a stampede in Washington Square Park during the parade, the New York Police Department said there were "no shots fired," later confirming that the sounds were due to fireworks being set off at the park. 
The Washington Post noted fears of violence against the queer community circulated at Pride celebrations across the country.
Police also responded to reports of a shooting at San Francisco Pride, although no suspects or witnesses were found. In light of the epidemic of gun violence — from last month's elementary school shooting in Uvalde, Texas, to the massacre at the Pulse nightclub in Orlando, Fla., in 2016 that left 49 people dead — a fear of active shooters and widespread public anger at the prospect of less rights characterized Pride's usually jubilant atmosphere.
UN's High Commissioner for Refugees to deliver SF Pride message
"Pride month is a time for awareness, outreach, celebration, protest & opportunity to highlight issues that impact LGBTQI+ people globally"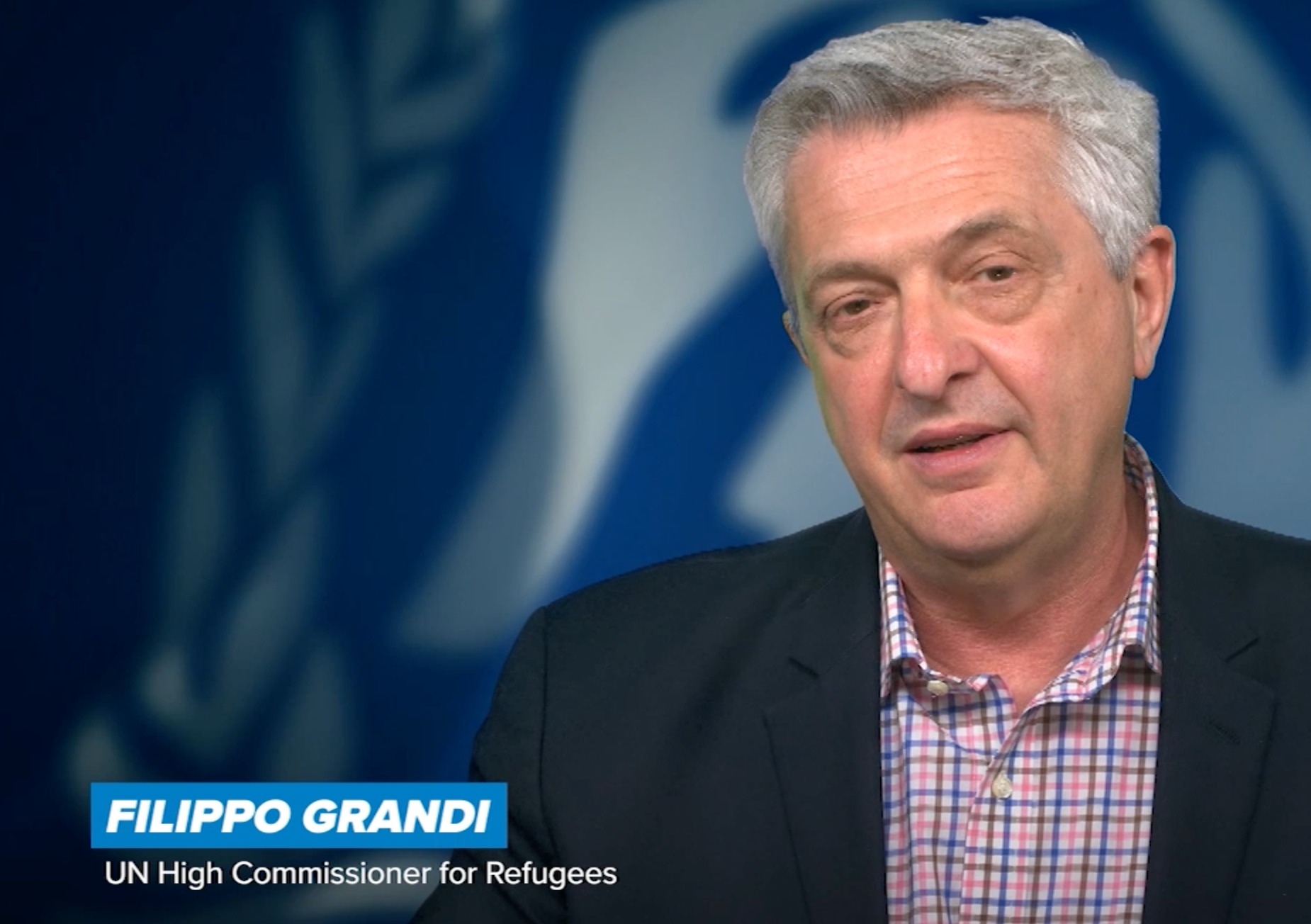 SAN FRANCISCO – In a historic appearance at San Francisco Pride on Sunday June 26, Dr. Felippo Grandi, the United Nations High Commissioner for Refugees (UNHCR) will deliver a four-minute Video Pride greeting and message, on main stage, during the San Francisco Pride Celebration, 2022, together with voices of several LGBTQI+ refugees and asylum seekers from African and Central American countries.
Melanie Nathan, Executive Director of the African Human Rights Coalition, will be speaking and presenting the video in a 15-minute segment dedicated by San Francisco Pride to LGBTQI+ Refugees and Asylum Seekers.
The messages, in keeping with SF PRIDE's theme, LOVE WILL KEEP US TOGETHER, is particularly significant, not only because of the attention it brings to the plight of LGBTQI+ refugees fleeing criminalization and brutal violence, globally, but also because it is at a time when the world has reached the catastrophic milestone of more than 100 million people in forced displacement.
"Pride month is a time for awareness, outreach, celebration, protest and an opportunity to highlight the issues that impact LGBTQI+ people, in their local areas, countries and globally. It is filled with speaking engagements, performances, events and opportunities to make it whatever individuals choose. At the same time, while it may mean different things to each person, it is a time that creates platforms and forums, where we are able to embrace our global interconnectedness, unify and bind as one," Nathan said in a statement released by SF Pride Monday.
"I am so grateful to all who have made this important platform possible. For over 50 years, San Francisco Pride continues to be the beacon of hope for so many LGBTQI+ people who are criminalized and demonized around the world. A special thanks to those courageous refugees and asylum seekers, who despite ongoing protection and survival issues, have put their faces and voices to what amounts to an imperative ecology of visibility. I also thank UN High Commissioner Dr. Grandi for the kind greetings that express the support for LGBTQI+ PRIDE and the reality of the situation facing LGBTQI+ people forcibly displaced."
Watch live: KABC7's exclusive coverage of LA Pride Parade 2022
After a long two-year hiatus, the LA Pride Parade is back! KABC7 will exclusively air its parade coverage live starting at 11 a.m.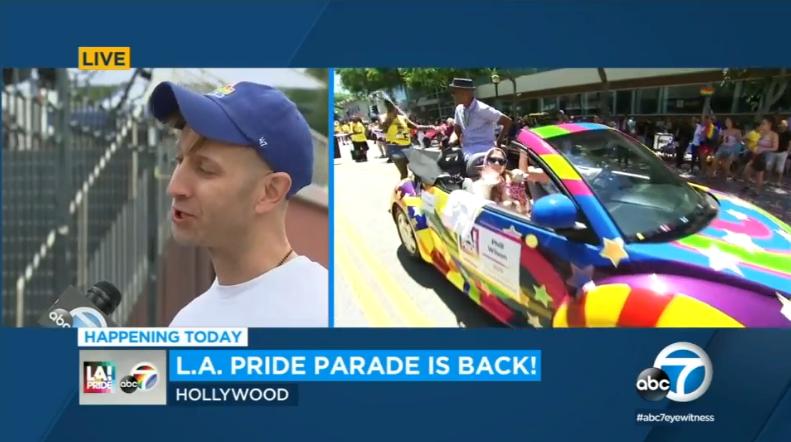 LOS ANGELES (KABC) — After a long two-year hiatus, the LA Pride Parade is back.
This year's theme is #LoveYourPride, and the event is not only celebrating the LGBTQIA+ community of Los Angeles and its allies, but it also celebrates the parade's 50th anniversary, a historical moment that was postponed due to the COVID-19 pandemic.
ABC7 will exclusively air LA PRIDE 2022 today starting at 11 a.m.
Watch the parade live in the video player above or on your favorite streaming devices, like Roku, FireTV, AppleTV and GoogleTV. Just search "ABC7 Los Angeles." The event will also be livestreamed on ABC News Live and Hulu.
Three Pride grand marshals will herald the event, including legendary activist and trailblazer Sir Lady Java as the Community Grand Marshal, actor Mark Indelicato as the Celebrity Grand Marshal, and Paula Abdul as the newly-created Icon Grand Marshal.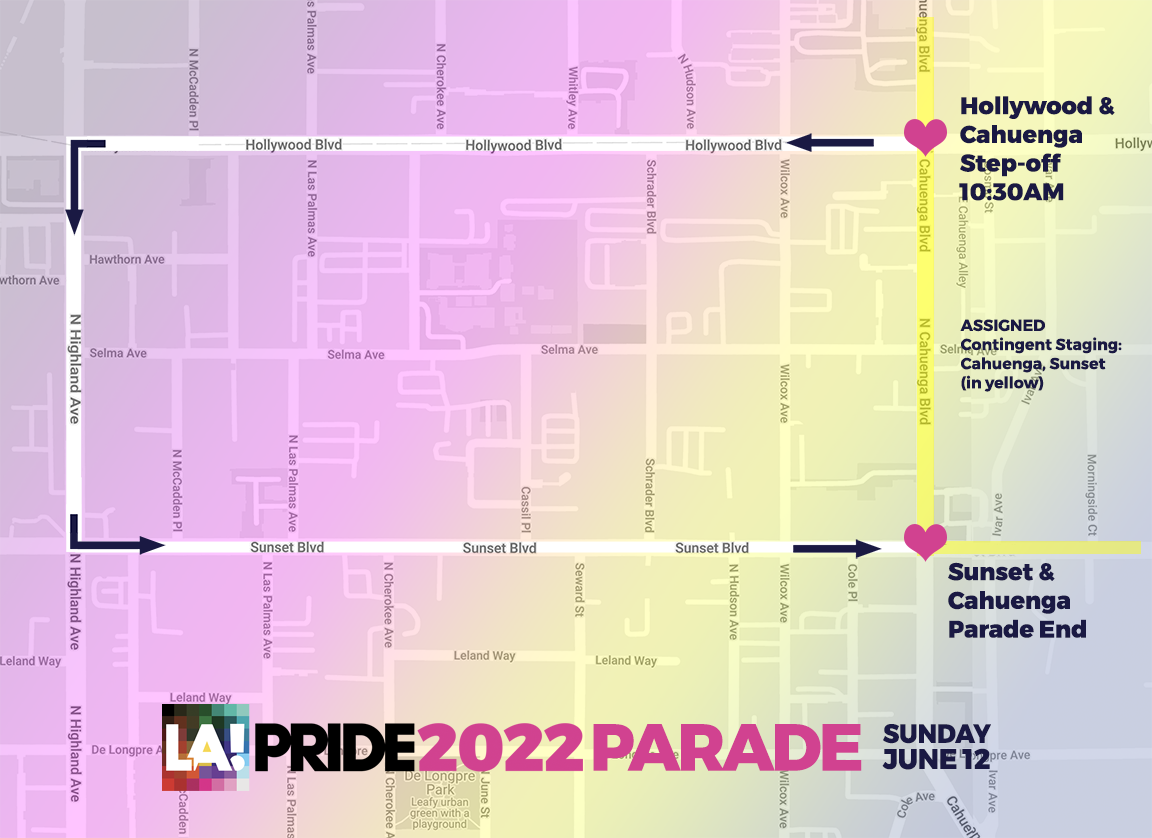 There is also a free Pride Village street fair between Cahuenga and Vine from 11:00 a.m. to 10:00 p.m. The fair includes music, art, booths, food, drinks, and a Ferris wheel.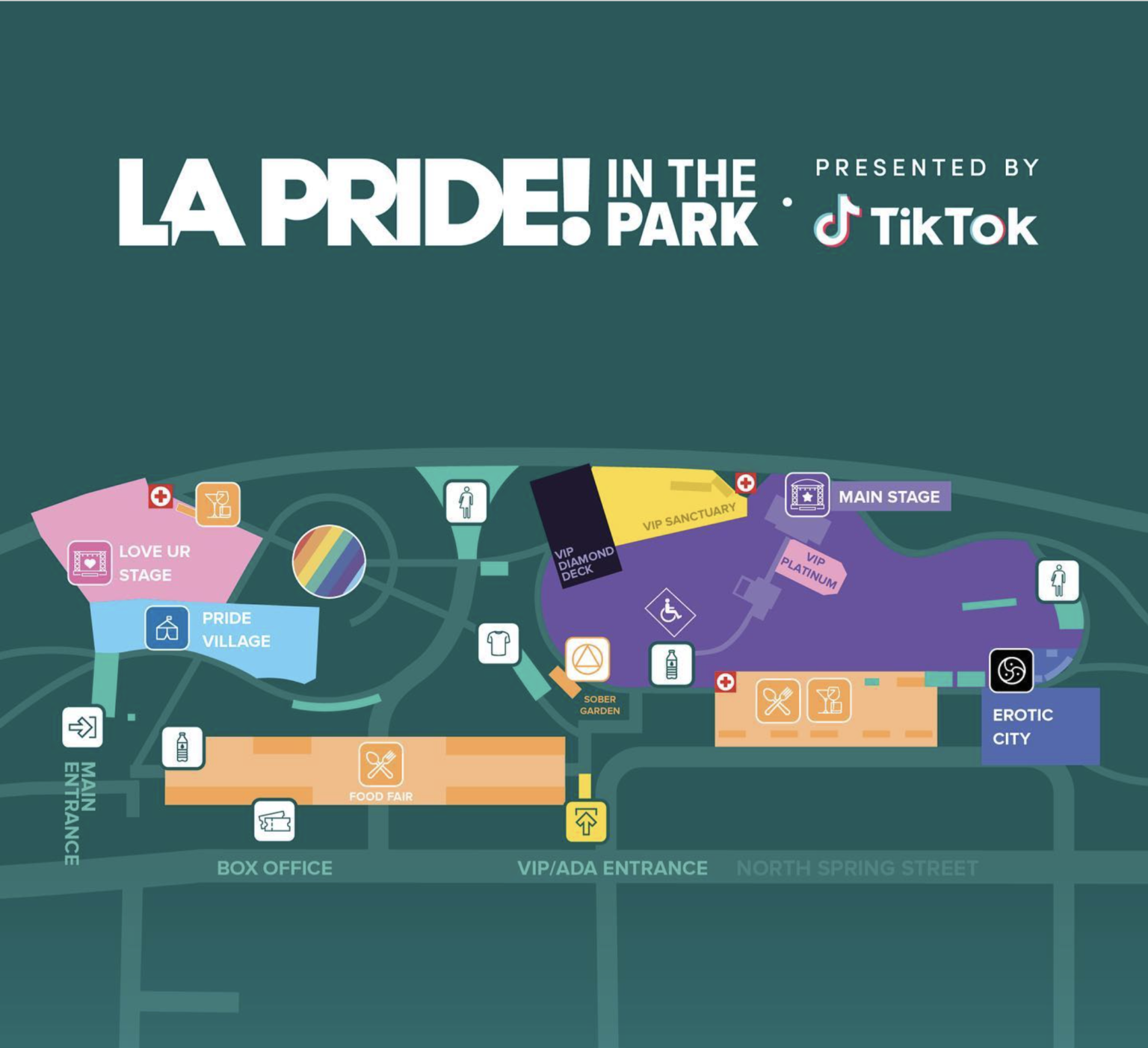 A beverage garden will be hosted on Cosmo Street between Hollywood Blvd. & Selma Avenue. Sponsor tents will be on the section of Hollywood Blvd. between Ivar Avenue and Vine Street.
Details:
Transportation:
Parking in the Hollywood area is extremely limited. It's recommended to either use ride-sharing or public transportation. For those opting for the second choice, the Metro B Line (Red) is the most convenient choice as it has stops at Hollywood/Highland and Hollywood/Vine.
Accommodations:
L.A. Tourism has special hotel packages in the Hollywood area exclusively for LA Pride. Book your stay here.
Tickets:
Sunday's LA Pride Parade and Pride Village are free and open to all ages.
Safety:
LA Pride intends to follow L.A. County's current COVID-19 guidelines.