Pride events held globally as activists demand rights, protest inequalities
An opportunity for the LGBTIQ+ community around the world to come together to celebrate diversity & equality during these challenging times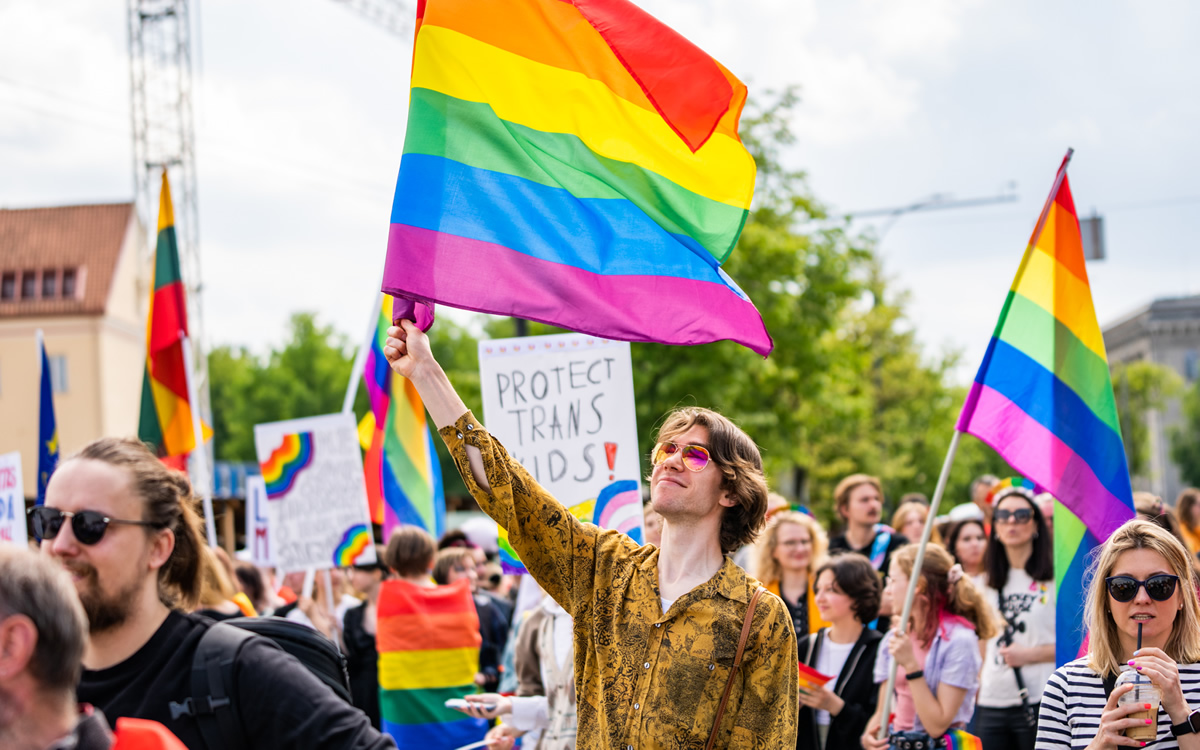 WASHINGTON – Pride events are in full swing around the world.
Thousands of people on June 5 attended Bangkok's first official Pride parade in 16 years.
Openly gay Lithuanian MP Tomas Vytautas Raskevičius and U.S. Ambassador to Lithuania Bob Gilchrist are among those who participated in Baltic Pride 2022 that took place in Vilnius, the Lithuanian capital, on June 4. Jerusalem's annual Pride parade occurred two days earlier against the backdrop of the arrest of a man in connection with death threats made against its organizers.
Canadian Prime Minister Justin Trudeau on June 1 helped raise the Progress Pride flag over his country's Parliament. "This is a time to celebrate our differences and support one another and to make sure that ever day we are building a Canada where everyone is free to be who they are and love who they love," he said in a video he posted to his Twitter page.
Today, we raised the Pride flag on Parliament Hill. The flag is a symbol of hope, solidarity, and diversity – and raising it is a symbol of our ongoing commitment to building a country where everyone can be who they are and love whom they love. Happy Pride season, everyone! 🏳️‍🌈 pic.twitter.com/lCjonmxw31

— Justin Trudeau (@JustinTrudeau) June 2, 2022
Olena Shevchenko, chair of Insight, a Ukrainian LGBTQ rights group, told the Washington Blade that she and other activists from her war-torn country plan to attend Warsaw Pride in Poland on June 25.
This year marks London Pride's 50th anniversary.
The British government was to have hosted a global LGBTQ rights conference in London from June 29-July 1, but it cancelled it in April after advocacy groups announced a boycott in response to Prime Minister Boris Johnson's decision to support a bill to ban so-called conversion therapy without gender identity. The London Pride parade is scheduled to take place on July 2.
The Cayman LGBTQ Foundation in the Cayman Islands will hold its annual Pride parade on July 30. The event will take place less than five months after the Privy Council's Judicial Committee in London ruled same-sex couples in the British territory don't have a constitutional right to marry.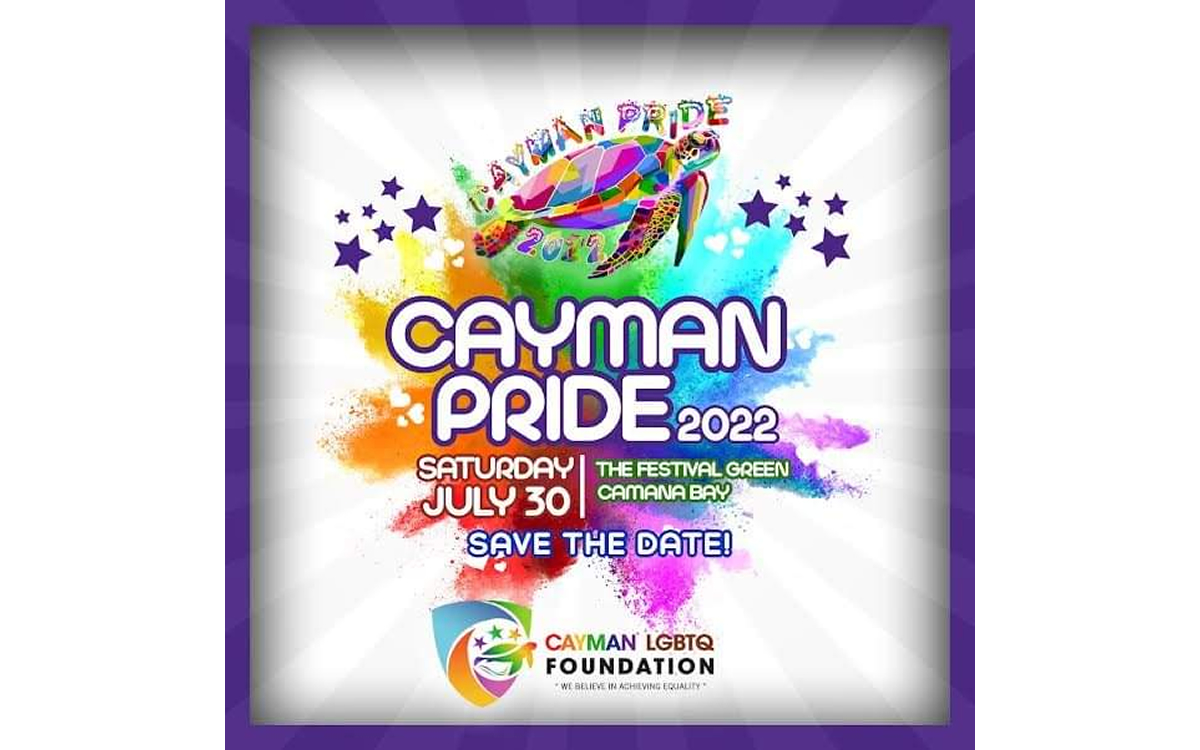 Jamaica is among the upwards of 70 countries in which consensual same-sex sexual relations remain criminalized. J-FLAG and other Jamaican LGBTQ rights groups will hold a series of Pride events during the first week of August, which coincides with the country's Emancipation and Independence Days.
"It's always been incident free," J-FLAG Associate Director of Marketing and Communications and Engagement Elton Johnson told the Washington Blade on Tuesday from Kingston, the Jamaican capital. "We get support from the police. We get support from many organizations, schools."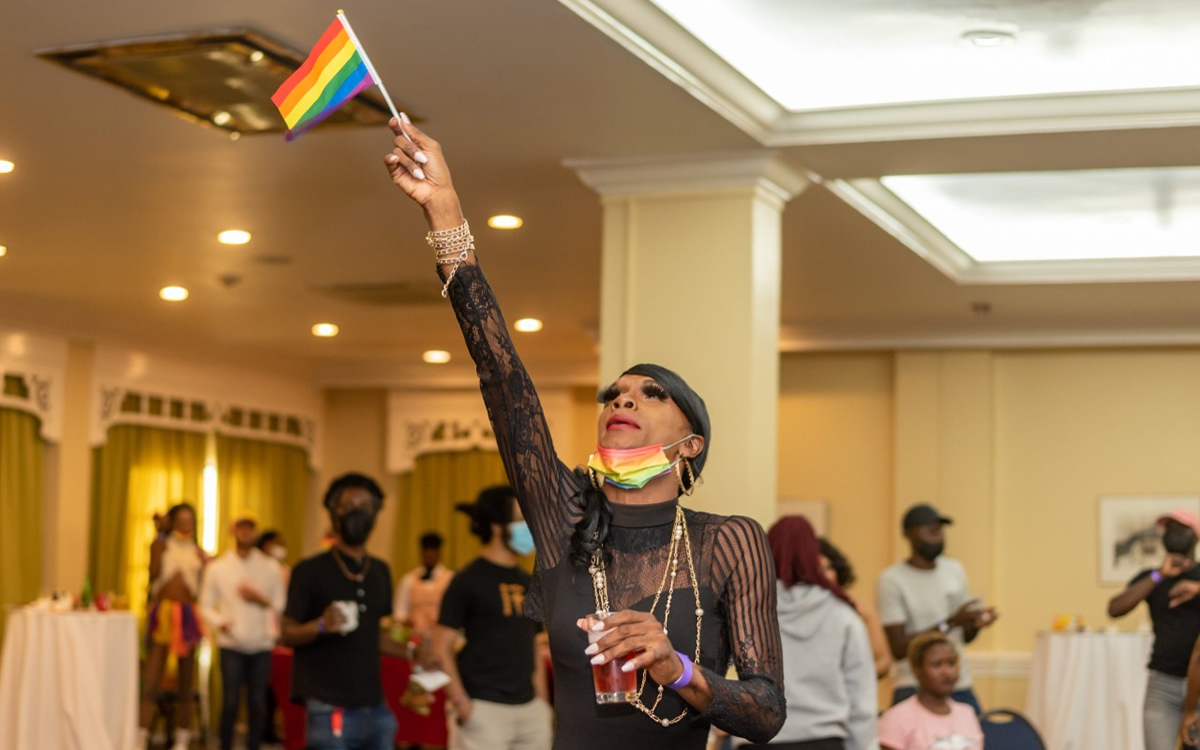 African LGBTQ groups to continue decriminalization push
LGBTQ activists in Africa are also planning to commemorate Pride.
The government of Botswana in January said it will abide by a ruling that decriminalized homosexuality in the country. A plethora of other African countries still outlaw same-sex relations and those found guilty of homosexuality in places where Sharia law exists face the death penalty. Advocacy groups on the continent plan to use Pride to further push for decriminalization.
"The 2SLGBTQIA+ community has made dramatic strides in recent decades that absolutely should be celebrated, [but] there is still much more work to do to ensure intersectional equality and justice for all but as we prepare to commemorate the 2SLGBTQIA+ Pride, let us be cognizant that the discrimination of 2SLGBTQIA+ persons in the country is still rife," said the Rock of Hope, an LGBTQ rights group in Eswatini. "These events or awareness activities should bring meaning and strengthen the movement such that one day we can reside in a country free of hate, stigmatization and discrimination of individuals based on their sexual orientation and gender identity expression."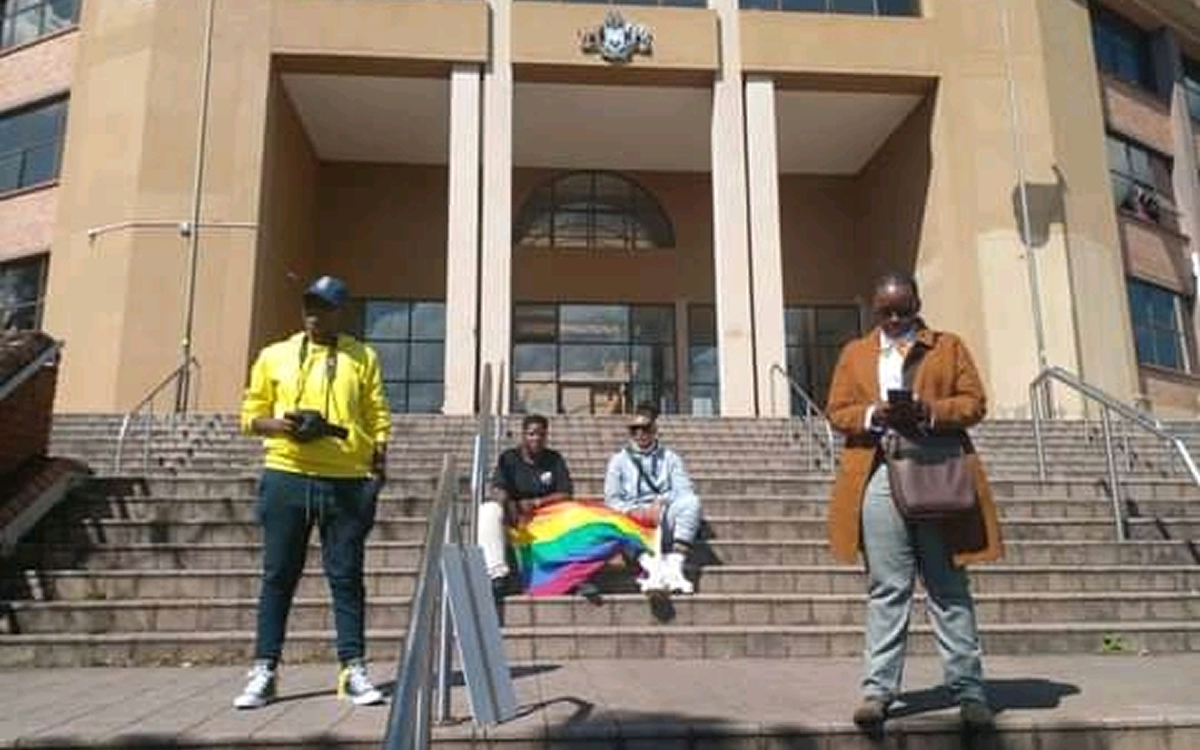 Beit el-Meem, an Egyptian LGBTQ rights group, echoed the Rock of Hope.
"The road is not easy, but not impossible, and what distinguishes us is that each individual of us excels with the power of love and acceptance, and with this energy we will give to everyone around us," said Beit el-Meem.
LGBT+ Rights Ghana has been at the forefront of the campaign against a bill that would criminalize LGBTQ identity and allyship in the country.
The U.S. Embassy in Ghana on Tuesday tweeted a picture of President Biden speaking in support of LGBTQ rights. The tweet also said the U.S. "reaffirms that LGBTQI+ rights are human rights and that no group should be excluded from those protections, regardless of race, ethnicity, sex, gender identity, sexual orientation, sex characteristics, disability status, age, religion or belief.
The U.S. reaffirms that LGBTQI+ rights are human rights and that no group should be excluded from those protections, regardless of race, ethnicity, sex, gender identity, sexual orientation, sex characteristics, disability status, age, religion or belief. #Pride2022 pic.twitter.com/UTdh9cFWYE

— U.S. Embassy Ghana (@USEmbassyGhana) June 7, 2022
LGBT+ Rights Ghana said it plans to mark Pride with its virtual Color Dialogue conversations it holds every year.
"This year promises to be fun, hopeful and filled with lots of love," said the group. "Join us everyday at 6 p.m. GMT on our Instagram page as we discuss the struggles, hopes and joy of the Ghanaian Queer community."
Brazil presidential election overshadows São Paulo Pride
São Paulo's annual Pride parade, which is one of the largest in the world, will take place on June 19.
Brazilian activists will mark Pride against the backdrop of their country's presidential election campaign. HIV/AIDS service providers and LGBTQ activists with whom the Washington Blade spoke while on assignment in Brazil in March said they are afraid of what may happen in their country is President Jair Bolsonaro wins a second term later this year.
"He represents a danger to the environment," Mariah Rafaela Silva, a transgender woman of indigenous descent who works with the Washington-based International Institute on Race, Equality and Human Rights, told the Blade on March 21 during an interview at a Rio de Janeiro restaurant. "He represents a danger to diversity. He represents a danger to Black people. He represents a danger to indigenous people."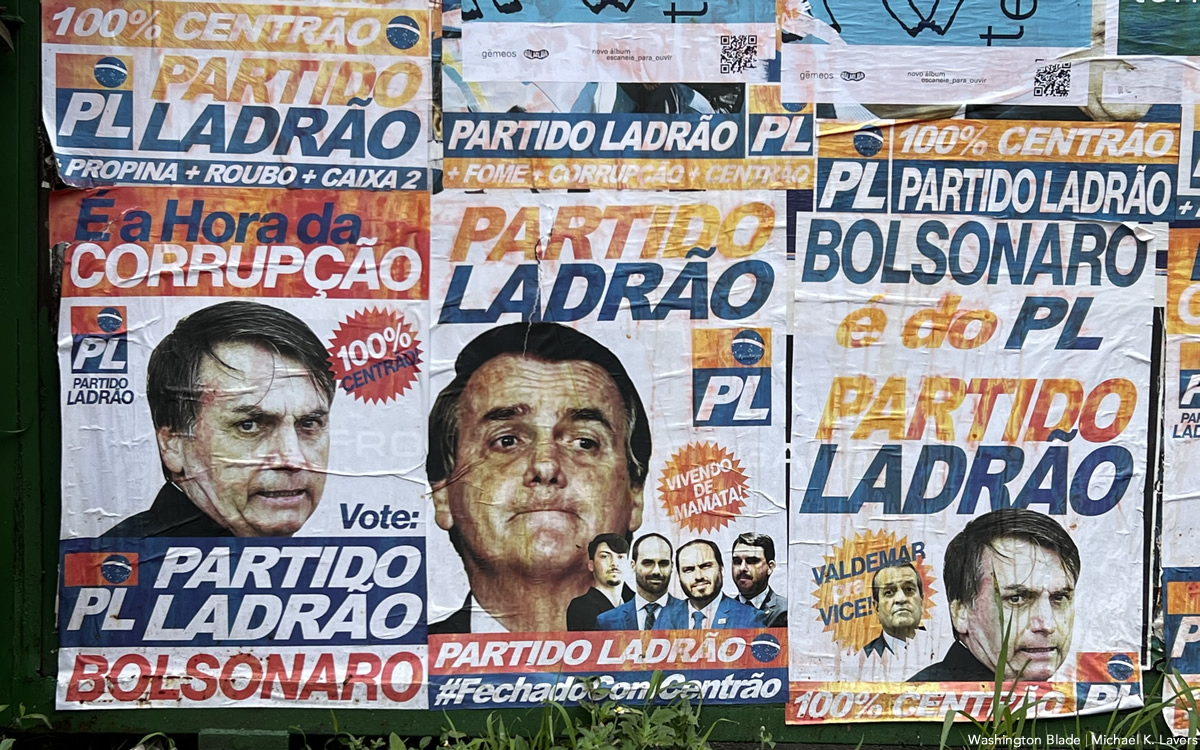 Activists in other South American countries plan to use Pride events to demand further rights.
Organizers of the annual Pride parade that will take place in Santiago, Chile, on June 25 plan to call for additional reforms to the country's Penal Code and anti-discrimination law and demand an end of violence based on sexual orientation and gender identity. The event will take place less than a month after a trans woman, Yuridia Pizarro, was killed in Iquique, a city in northern Chile.
Pride parades are also scheduled to take place in the capitals of Peru, Ecuador and Bolivia respectively on June 25.
Somosgay, an LGBTQ rights group in Paraguay, is planning to hold a Pride march in Asunción, the country's capital, on July 2. A Pride march dedicated to León Zuleta and Manuel Velandia, the founders of Colombia's LGBTQ rights movement, will take place in Bogotá, the country's capital, on the same day.
A Pride march is scheduled to take place in the Venezuelan capital of Caracas on July 3. Activists in Argentina and Uruguay will hold Pride marches later this year.
The pleasures of Palm Springs Pride are many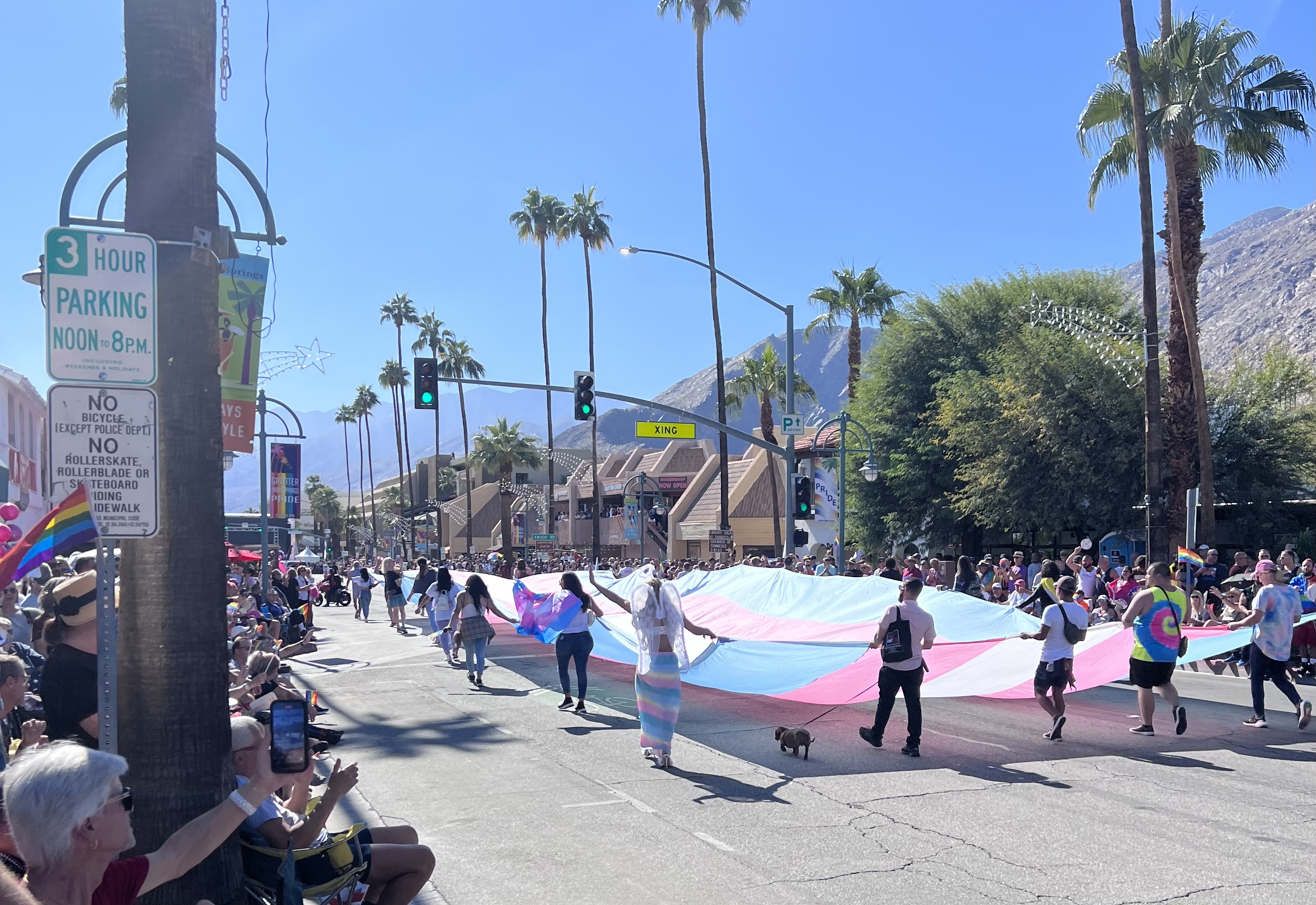 PALM SPRINGS – There is, of course, the obvious element – a strong sense of shared community with hundreds of fellow LGBTQ+ people, living our lives and taking a moment to celebrate all the things that make us both unique and essential within the totality of American culture – that marks any Pride event across the globe; but there's something special, dare we even say "magical", about the vibe in this desert city's timelessly elegant approach to the occasion.
It's difficult, in fact, to describe the blend of progressive modern sensibility and aspirational small-town idealism that defines the experience. Though Palm Springs is a long-established oasis for Angelenos seeking an escape from the big-city intensity that governs their daily lives, it's also a comparatively modest municipality in which queer culture interacts with quotidian practicality on a regular basis. That means, for the purposes of Pride, that the city comes together as a unified voice to assert not only the validity of queer experience, but the inextricable part it plays in the daily life of the community – a welcome and valued part of the diverse and inclusive environment in one of Southern California's most iconic destinations.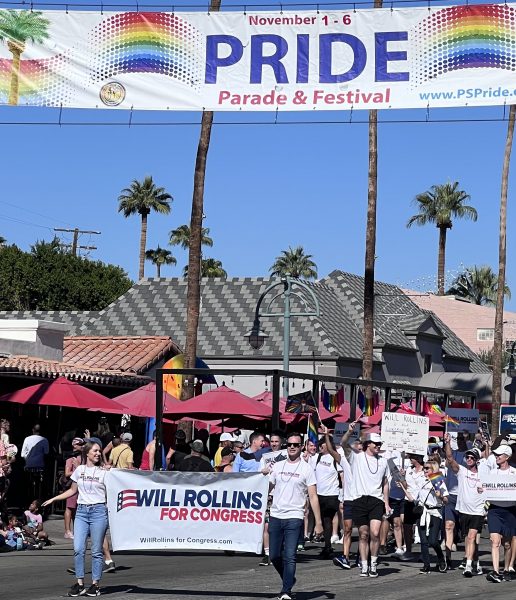 This year's festivities were no exception. Whether it's because, coming on the cusp of a crucial midterm election, Palm Springs Pride represents an eleventh-hour throw-down against the Trump-ist forces that threaten to undermine most of the hard-won freedoms we've come to take for granted, or because it reminds us of the deep well of allied support that exists around our struggle to break free of the stigma and repression of the past, the vibe at this year's 36th annual festival was a heartening dose of positivism – an unequivocally welcome counterpoint to the worst-case scenarios and doom-laden prognostications dominating our current cultural discourse.
The sense of enthusiastic solidarity that permeated the event can be attributed, at least in part, to the heavy participation of local merchants and organizations – something that is part of any Pride celebration, perhaps, but here taken to a level which made a smalltown festival feel as if it were happening in a major metropolitan hub.
With over 150 exhibitors, there was much to do, see, and sample from the vendors, artists and craftspeople, non-profits, and food and beverage providers on hand; deployed in booths, outdoor lounges, and food trucks across several blocks of the city's classic downtown corridor on Palm Canyon Drive, these representatives of the community ensured there was no shortage of activity to keep visitors entertained between the weekend's plethora of musical performances and other scheduled events.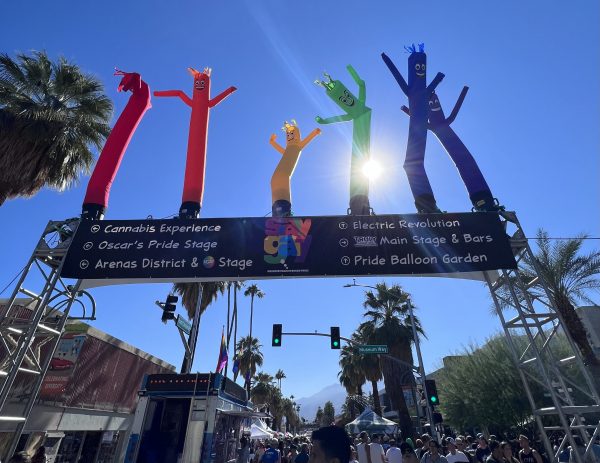 Pride flags, buttons, gear, and other queer-affirming merchandise were available everywhere; opportunities to interact with local organizations – from nudist recreation clubs to live theatre companies to anti-bullying advocacy and support groups – were plentiful; if you were in search of a monkeypox or flu vaccination, those services were available, too, along with plentiful information and resources around other LGBTQ+ health and wellness concerns.
In addition, the location allowed for numerous stores and restaurants lining the streets of the Pride venue – many of them on the Palm Springs "must do" list for tourists and locals alike – to remain open for business, offering full access without even having to leave the festival's "Event Zone."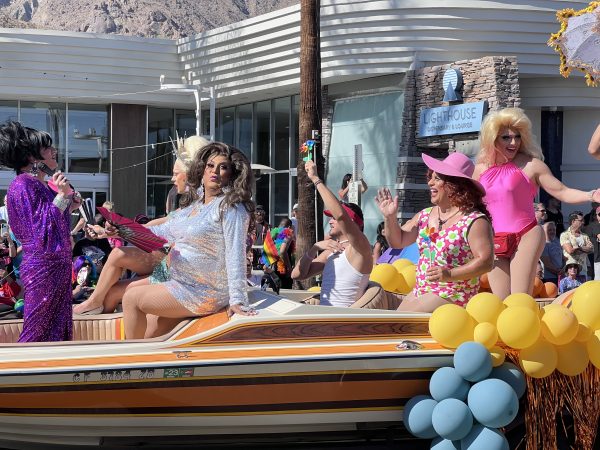 All of this helped to create a vibrant, diverse, and welcoming atmosphere in which all the colors, sights, and sounds of Pride were on full and constant display – an environment where everyone could feel seen, supported, and appreciated, from out and proud members of the LGBTQ+ community to allies and family, or anywhere in between.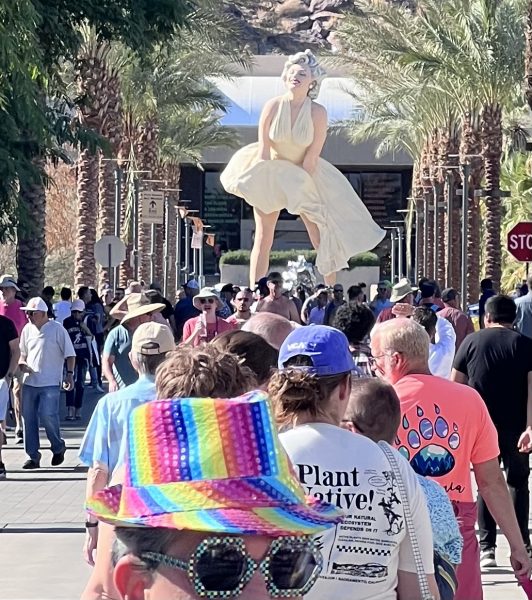 That's not to say there wasn't a keen awareness at Palm Springs Pride of the precarious edge on which our queer future teeters. Though the atmosphere within the festival was focused on celebration, there was an aura of grim-but-determined battle-readiness that became most evident, perhaps, in the cheers of support bestowed on openly gay US Congressional candidate Will Rollins by the tightly-packed crowd of spectators as he marched in Sunday morning's parade.
Alan Uphold, a relative newcomer to Palm Springs who relocated from Los Angeles with husband Jeff Olde just before the pandemic, told the Blade he believed the sense of political urgency was sparked by the recent redistricting process that made the city part of a very "red" political region. "Because of redistricting," he observed, "Palm Springs was lumped in with the more conservative areas to the west of us that are currently represented by one of the most corrupt, anti-LGBTQ, anti-reproductive freedom, January 6th-denying members in Congress. There's a real sense of stress here, mixed with cautious optimism that Palm Springs voters could help Will Rollins win, because we CAN NOT be represented by a radical MAGA extremist like Calvert."
Eva L, a festival attendee from Coachella who told the Blade she came to march with Rollins, also expressed frustration over the redistricting. "I can't believe residents and politicians in Palm Springs just rolled over and didn't object to it. Being represented by Calvert is a setback to the peaceful haven that is our community. I think we should demand to be reincorporated. So, I'm here in part just to support Will and hope for the best on Tuesday."
There were voices in the crowd, too, that served as reminders that – even at Pride – not everyone is on board with progressive ideas about LGBTQ+ acceptance. Roberta C, who was wearing a Bianco for Sheriff campaign badge, told us she doesn't understand why people need Pride in Palm Springs. "You guys have it easy now – and I realize that can change – but I'm here to be with my nephew who thinks he might be transgender. I'm confused because he's going to become a woman and says he's a lesbian. He insists on being called 'they'." The Blade offered to provide contact information for Trevor Project as she walked away, wiping a tear from her face as she said with cracking voice, "It's all too much for me."
Still, the overall mood of the crowd was festive throughout the weekend, with many people overheard saying it was the best Pride they've seen in recent memory. One attendee, Carlos Hernandez, who was visiting Palm Springs and happened upon the event by accident, told us "I can't believe my luck! Be always wanted to attend Pride in the states and it's just hard to believe how joyous this day has been so far."
"Joyous" is, in fact, the word we would also use to describe the occasion, which was ultimately a triumphant declaration of how far we've come as a queer community coupled with a fierce recognition of how far we have still to go. It's that heady mix of emotions that made Palm Springs Pride less remarkable, perhaps, for its party atmosphere and high-voltage entertainment – though those were undeniably part of the event's success – than for the thousands of little moments, powerful and personal, experienced by those who were there.
Uphold perhaps encapsulated the resonant magic of this phenomenon.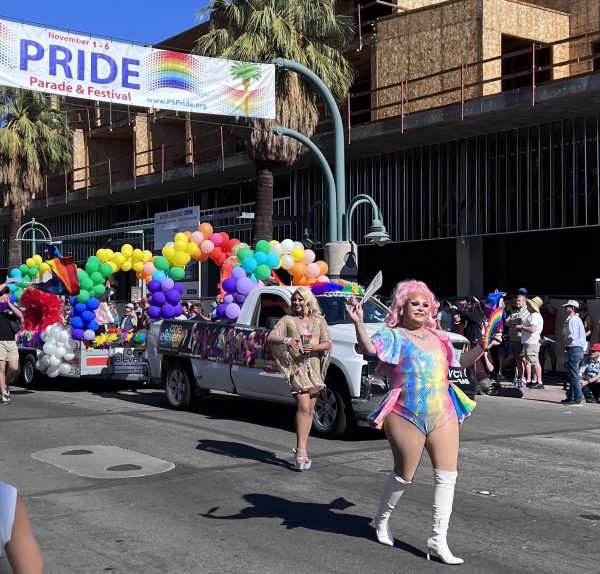 "The thing that Jeff and I love about Palm Springs Pride is that even though the event attracts more than 125,000, it still feels like a smalltown festival," he told us. "I especially like that the parade features local high school bands and students from local high school students all across the Coachella Valley."
"When we attended Pride celebrations 25 years ago in WeHo, it was practically an act of subversion and defiance just to show up. That's why, every year, I get really emotional just seeing these high school kids marching in a Pride parade," he added.