Idaho police receiving death threats over arrests of anti-LGBTQ extremists
"50 percent of calls, completely anonymous, who want nothing more than to scream and yell at us and offer death threats"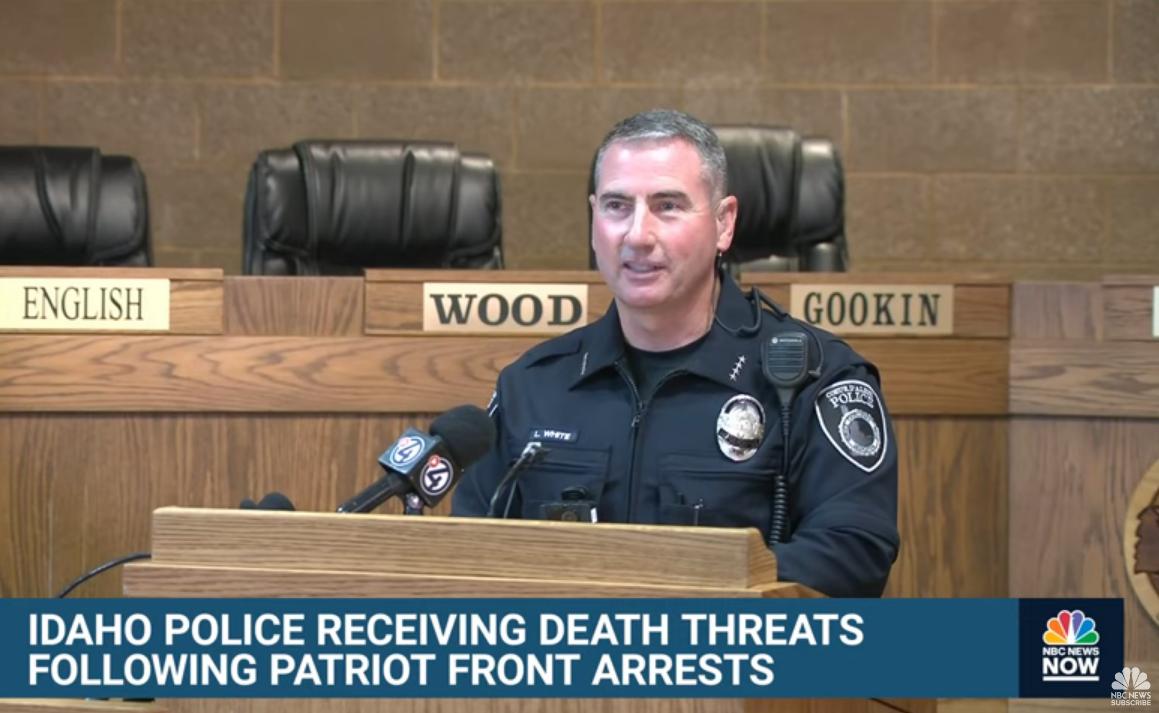 COEUR d' ALENE, Id. – During a press conference on Monday, Coeur d'Alene Police Chief Lee White said that his department has received death threats after arresting thirty-one members of the Patriot Front, listed by the Southern Poverty Law Center as an anti-LGBTQ+ white nationalist "hate" group.
White indicated that his department has fielded about 149 calls in the aftermath of the arrests. He said about 50 percent of the calls have been praise from the community, who offer their names and express pride in the department.
"And the other 50 percent — who are completely anonymous, who want nothing more than to scream and yell at us and use some really choice words — offer death threats against myself and other members of the police department merely for doing our jobs," White said. "Those people obviously remain anonymous."
Chief White told reporters that his officers and Kootenai County Sheriff's deputies arrested the Patriot Front members along with the group's founder Dallas-based Thomas Ryan Rousseau in traveling in a U-Haul box truck wearing face coverings, white-supremacist insignia, carrying riot shields and had an "operations plan" to riot near at the LGBTQ "Pride in the Park" in Coeur d'Alene City Park Saturday afternoon.
Chief White said he observed documents in which the group allegedly planned to create a confrontation, including the use of smoke grenades, before retreating down Sherman Avenue.
"It didn't delineate which group exactly, whether it was police officers or the Pride people, that they were planning to confront," White said. "It was more vague than that."
The Kootenai County Sheriff's Office released the identities of all 31 who were arrested, all of them charged with one count each of criminal conspiracy and bonded out of custody. It's unclear if they have all retained attorneys.
Of the entire group, only two were listed as residents of Idaho in the sheriff's booking report.
The rest of the group included seven individuals from Texas, six from Utah, five from Washington, three from Colorado, two from South Dakota, one from Alabama, one from Wyoming, one from Oregon, one from Illinois, one from Arkansas, and one from Missouri.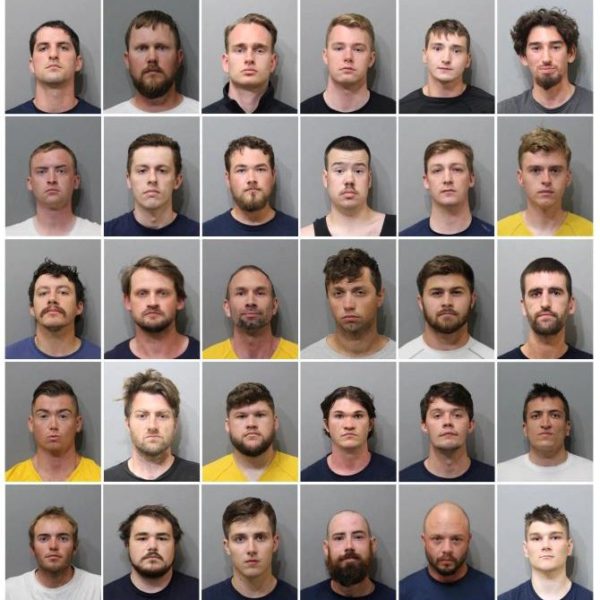 Patriot Front was once known as Vanguard America (VA), one of the main organizers of the "Unite the Right" rally in Charlottesville in 2017, which rebranded after one of its members plowed his car into a crowd of people protesting the white-supremacist rally in Charlottesville, killing Heather Heyer and injuring dozens.
Authorities received a tip about a "little army" loading into a U-Haul truck at a hotel Saturday afternoon. Local and state law enforcement pulled over the truck about 10 minutes later, White said.
"This one concerned citizen rather than pulling out their phone and recording this for their 15 minutes on YouTube — or Snapchatting it or something like that — took the time to call 911 to report some suspicious activity," White said.
"And as a result, we likely stopped a riot from happening downtown."
According to the Kootenai County, Idaho Sheriff's Office, by Sunday afternoon all 31 men had bonded out of the Kootenai County Jail.  Their names are as follows: 
Jared Michael Boyce – 27 from Soringville, UT
Nathan David Brenner – 26 from Lewisville, CO
Colton Michael Brown – 23 from Rovendale, WA
Josiah Daniel Buster – 24 from Watauga, TX
Mishael Joshua Buster – 22 from Spokane, WA
Devin Wayne Center – 22 from FayetteVille, AR
Dylan Carter Corio – 21 from Cheyenne, WY
Winston North Durham – 21 from Genesse, ID
Joseph Garret Garland – 23 from Freeburg, IL
Branden Mitchel Haney – 35 from Kaysville, UT
Richard Jacob Jessop – 21 from Idaho Falls, ID
James Michael Johnson – 36 from Concrete, WA
James Julius Johnson – 40 from Sioux Falls, SD
Connor Patrick Moran – 23 from Watauga, TX
Kieran Padraig Morris – 27 from Haslet, TX
Lawrence Alexander Norman – 32 from Prospect, OR
Justin Michael Oleary – 27 from Des Moines, WA
Cameron Kathan Pruitt – 23 from Midway, UT
Forrest Clark Rankin – 28 from Wheat Ridge, CO
Thomas Ryan Rousseau – 23 from Grape Vine, TX
Conor James Ryan – 23 – from Thornton, CO
Spencer Thomas Simpson – 20 from Ellensburg, WA
Alexander Nicholai Sisenstein – 27 from Midvale, UT
 Derek Joseph Smith – 24 from Sioux Falls, SD
Dakota Ray Tabler – 29 from West Valley City, UT
Steven Derrick Tucker  – 30 from Haslet, TX
Wesley Evan Van Horn – 34 from Lexington, AL 
Mitchell Frederick Wagner – 24 from Florissant, MO
Nathaniel Taylor Whitfield – 24 from Elk Ridge, UT
Graham Jones Whitsom – 31 from Haslet, TX
Robert Benjamin Whitted – 22 from Conroe, TX
Idaho Police Receiving Death Threats Following Patriot Front Arrests Near Pride Event:
Idaho bill prohibiting public drag performances to be introduced 
Idaho Family Policy Center helped draft legislation asking state lawmakers to prohibit drag performances from public places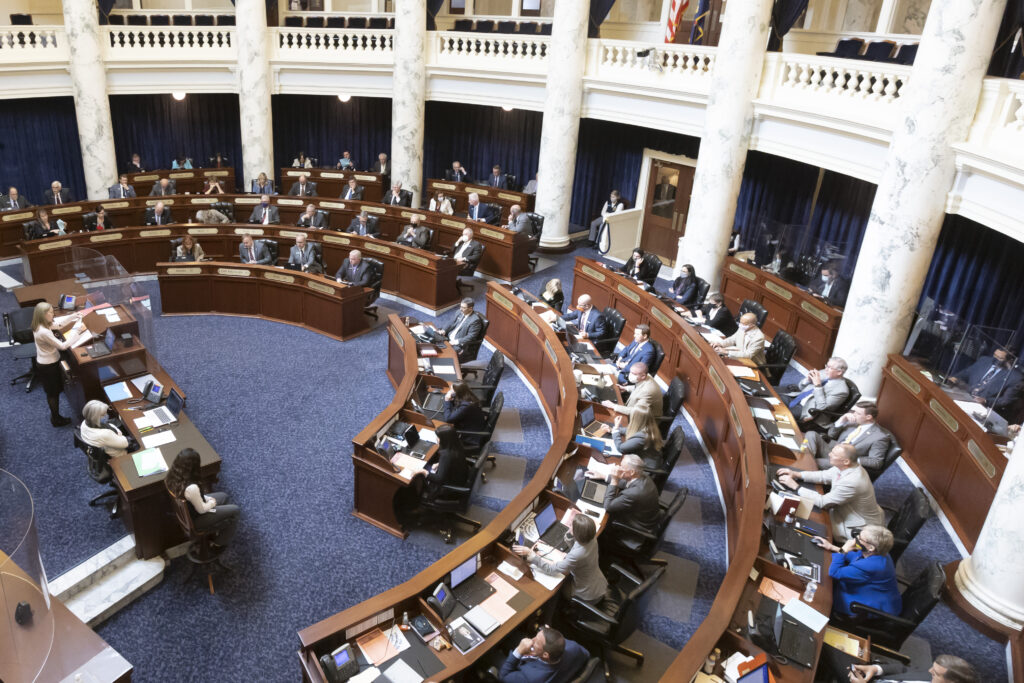 By Kelcie Moseley-Morris | BOISE – A bill that would ban drag performances in all public venues will be introduced in the first days of the next session of the Idaho Legislature in January, Idaho Family Policy Center President Blaine Conzatti told the Idaho Capital Sun.
Conzatti and other conservative activists around Idaho and across the country have protested against events in public spaces that feature drag queens, including drag queen story hour events at public libraries. In September, Idaho Republican Party Chairwoman Dorothy Moon called for people to pressure corporate sponsors of Boise Pride to pull their names from sponsorship at the event over a scheduled "Drag Kids" performance for ages 11 to 18, which was ultimately postponed over safety concerns.
Conzatti said the draft bill is ready to be introduced as soon as the session gets underway but declined to share the text of the bill with the Sun and wouldn't name the legislators who worked on it with him.
"No child should ever be exposed to sexual exhibitions like drag shows in public places, whether that's at a public library or a public park," he said.
Conzatti also cites a drag performance in Coeur d'Alene in June as another example of public indecency, when a performer was accused of exposing himself during a Pride in the Park event. After complaints, the local prosecutor's office determined the video was edited to look like the performer had exposed himself when he had not. The performer has since filed a defamation lawsuit against North Idaho blogger Summer Bushnell over the incident, according to reporting from the Coeur d'Alene Press.
Group cites section of Idaho Constitution as basis for law
The Idaho Family Policy Center circulated a petition leading up to Boise Pride asking state lawmakers to prohibit drag performances from public places, citing a section of the Idaho Constitution that states the first concern of all good government is the virtue and sobriety of the people and the purity of the home. It says the Legislature should "further all wise and well-directed efforts for the promotion of temperance and morality."
"There were many Supreme Court decisions from the 19th century dealing with public virtue and how sexual practices should not take place in public because it degraded public virtue," Conzatti said.
In Conzatti's opinion, drag is inherently a sexualized caricature of gender, which he compared to racist blackface practices that were a common practice in theater up until the last 50 years. He recognized that might be an offensive comparison to some.
"You overemphasize certain natural characteristics so much that it becomes a caricature of itself," he said.
More than 3,500 people signed the petition, according to a newsletter from the Idaho Family Policy Center, and more than 26,000 emails were sent to corporate sponsors of Boise Pride over the course of a day and a half.
Longtime drag performer says sexualized characterizations are insulting
Boise resident Crispin Gravatt has performed drag for more than a decade under the stage name Penelope Windsor in all types of venues, including drag story time at libraries and at Boise Pride in September.
"At its core, drag is art, and art can be powerful," Gravatt said. "For a lot of us it's a way to be part of a community and do something fun and creative. For me and for my friends, it's kind of like art therapy, the same kind of thing we see with veterans or abuse survivors. It's a way we can find joy and work through some of the challenges in a world that can be challenging at times for people like me."
To Gravatt, drag is no different from original Shakespearean theater performances when men played women on stage and women played men, or the way a clown entertains a crowd. The misinformation about drag that is spreading is harmful, they said, because many people don't know what drag actually is and end up believing something that isn't true.
"It's a little insulting that these folks think people like me don't know how to act appropriately for where we're at," they said. "In my experience being in this community performing, producing, going to shows, and just celebrating who I am and who my community is, it's weird to see that such a small group of people has made it so far in what they are trying to do, because 99% of people I meet all over the state – they think it's a either a fun creative outlet or something that may not be for them, but isn't a threat." 
Boise Pride director hopes to see pushback if bill is introduced
Boise Pride Executive Director Donald Williamson also received thousands of protesting emails in the days leading up to the event. He said he is aware of the draft bill and thinks it would be a violation of free speech to ban a certain type of performance, despite Conzatti's assertions that it will be legally defensible if it passes the Legislature and is subsequently challenged in court.
"It's just wrong on so many levels," Williamson said. "If you don't agree with the performances, then you don't go. It's just like any other venue. It's why I don't go to country music concerts; it's not my cup of tea."
Williamson spent several years as a bartender at a drag club in Oregon, and said drag was not built on a sexualized foundation.
"It was meant as a means of expressing your identity that maybe you didn't have the ability to do in your public life, as a form of expression and empowerment," he said. "Obviously like any other form of entertainment, there's going to be some sexualizing in one way or another. … There's a difference between a drag show that you and I might see if we decided to go see a drag show on a Friday or Saturday night with a cover charge, versus a drag show on a Sunday afternoon at a park in front of the public."
Williamson said Boise Pride is planning an alternative kids' drag show at a private venue for a later date so that the performers' family and friends can attend and the work the performers put in doesn't go to waste.
If the bill is introduced as planned, Williamson said he expects a lot of pushback, and he hopes those who showed up for Boise Pride will show up to the statehouse or contact their representatives.
"Show up and show out huge, not only when we see this legislation, but any legislation that's targeting anybody that's hateful or hurtful and is going to affect vast swaths of the population in a negative way."
*********************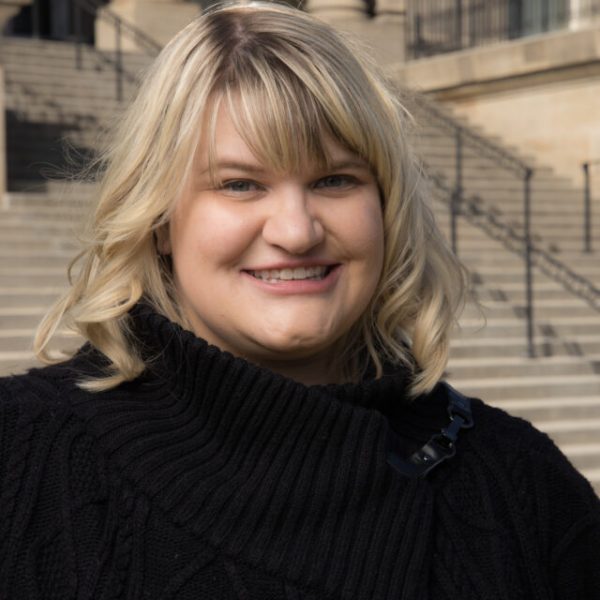 Kelcie Moseley-Morris is an award-winning journalist who has covered many topics across Idaho since 2011. She has a bachelor's degree in journalism from the University of Idaho and a master's degree in public administration from Boise State University. Moseley-Morris started her journalism career at the Moscow-Pullman Daily News, followed by the Lewiston Tribune and the Idaho Press.
*********************
The preceding article was previously published by the Idaho Capital Sun and is republished with permission.
The Idaho Capital Sun is the Gem State's newest nonprofit news organization delivering accountability journalism on state politics, health care, tax policy, the environment and more.