'A League of Their Own' series proves there is crying in baseball
Amazon reboot of beloved film an engrossing dramedy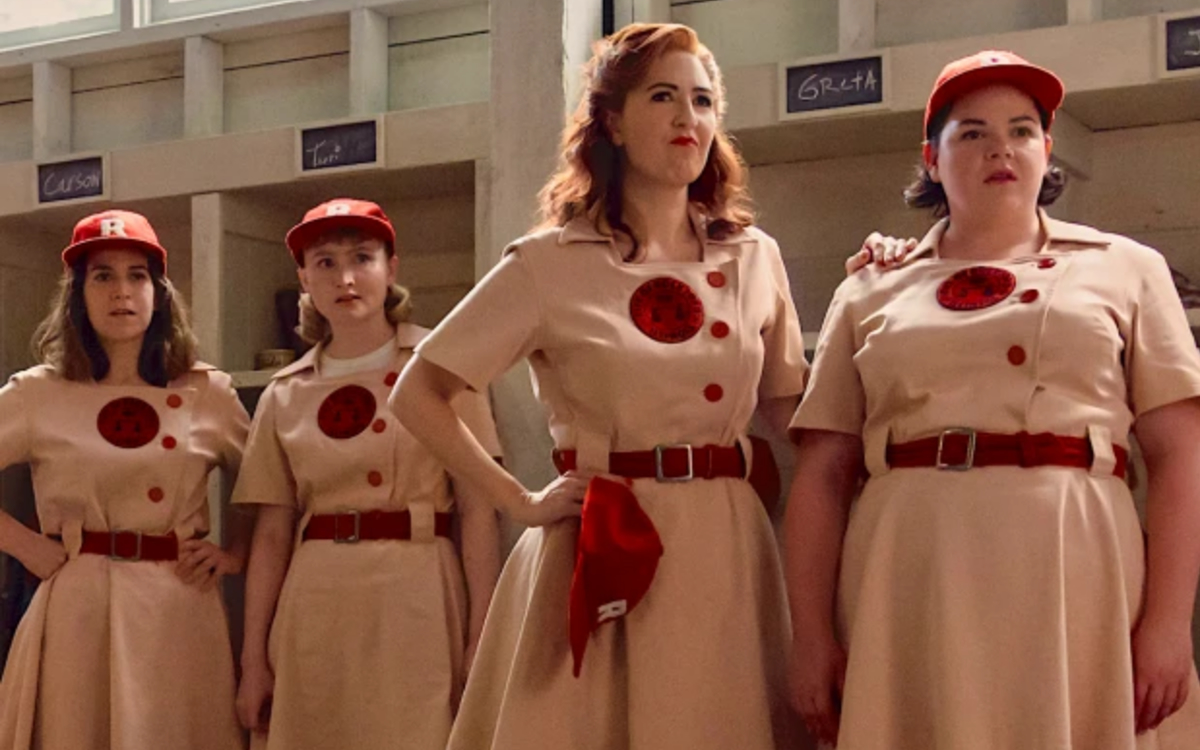 Guess what? There is crying in baseball.
"A League of Their Own," an entertaining, queered-up eight-episode series adaptation of the 1992 movie (of the same name) has dropped on Amazon Prime.
Like the movie, the series is the story of what life was like in 1943 for the players of the Rockford Peaches, one of the 10 teams that made up the All-American Girls Professional Baseball League (AAGPBL). Women got to play because many of the male major leaguers were away fighting World War II.
As in the film, the characters in the reboot are fictional, but the Rockford Peaches and the league were real. From 1943 to 1954, more than 600 women played for the AAGPBL.
The 1992 film was loved by many. But back then, mainstream movies didn't have much of a queer quotient, and racial injustice was, largely, off the radar.
Thankfully, Amazon's reboot of "League" expands the narrative to include characters that are lesbian, queer, questioning, trans and/or Latina and Black as well as hetero and white.
The series, created by Abbi Jacobson ("Broad City") and Will Graham ("Mozart in the Jungle"), deals with racism, homophobia, transphobia, gender and sexism against the life-changing foreground of World War II.
Through Jacobson's and Graham's (who are queer) creative sleight-of-hand, "League" is an engrossing dramedy rather than a didactic snooze.
As with any self-respecting baseball story, a voice in "League" is heard saying "there's no crying in baseball."
But if you don't, while watching this series, shed at least a few tears of exhilaration, wistfulness or sadness, you, like the Tin Man in Oz, may not have a heart.
In the reboot, Jacobson plays the Peaches's catcher Carson. (Geena Davis played the catcher Dottie in the movie).
Carson's husband Charlie is off fighting in the war. Carson, stuck in a small midwestern town, leaps onto a train. So she can try out for the Peaches.
Carson, once she's on the team, quickly becomes infatuated with her glam teammate Greta (played wonderfully by D'Arcy Carden). When Dove (Nick Offerman), the Peaches's coach splits, Carson is called upon to lead the team.
Carson doubts that she has what it takes to step into Dove's shoes. Like many of the characters, Carson discovers her sexuality and questions what she wants to do with her life. Will she stay with Charlie after the war? How could she live with Greta (or any woman) when polite "ladies" didn't even say the word "lesbian" in public?
An equally compelling narrative of the series is the story of Max (Chanté Adams). Max is a fabulous pitcher. But there's no way she could play for the Peaches because the AAGPBL is segregated and no Black women can be in the league.
Max, like Carson, is discovering her sexuality. She's trying to suss out not only how she can fulfill her dream of playing baseball (given the racism of the sport and society), but how to be queer in a homophobic world.
One of the most intriguing things about "League" is its attentiveness to women's friendships. Max's BFF is Chance. Chance creates fab comic books. But she knows she's playing against racist, sexist odds.
Carson and Max bond over their love of baseball and queerness. They know they'll likely never see each other after the season ends or overcome the barrier of racial discrimination. But their friendship feels real.
In an homage to the movie, O'Donnell (Doris on Third Base in the film) appears in a lovely scene as Vi, the owner of a gay bar.
"How is any of this possible? How is this allowed?" Carson asks Vi.
"It's really not," Vi says.
Yet, though same-sex marriage is clearly illegal, Vi refers to her partner as her wife. They have lived together for six years in a nice home, she tells Carson.
An annoying thing about the series is its anachronisms. Janis Joplin belts out "Piece of My Heart" in the soundtrack of one episode. Joplin in 1943? Fortunately, such misplaced cultural references are infrequent.
The pace of the series is a bit slow in the first two or three episodes. But by the halfway point, you'll be caught up in the game. "A League of Their Own" hits it out of the park!
Trans trailblazer helps queer the sci-fi genre in 'The Peripheral'
Alexandra Billings on increasing representation in Hollywood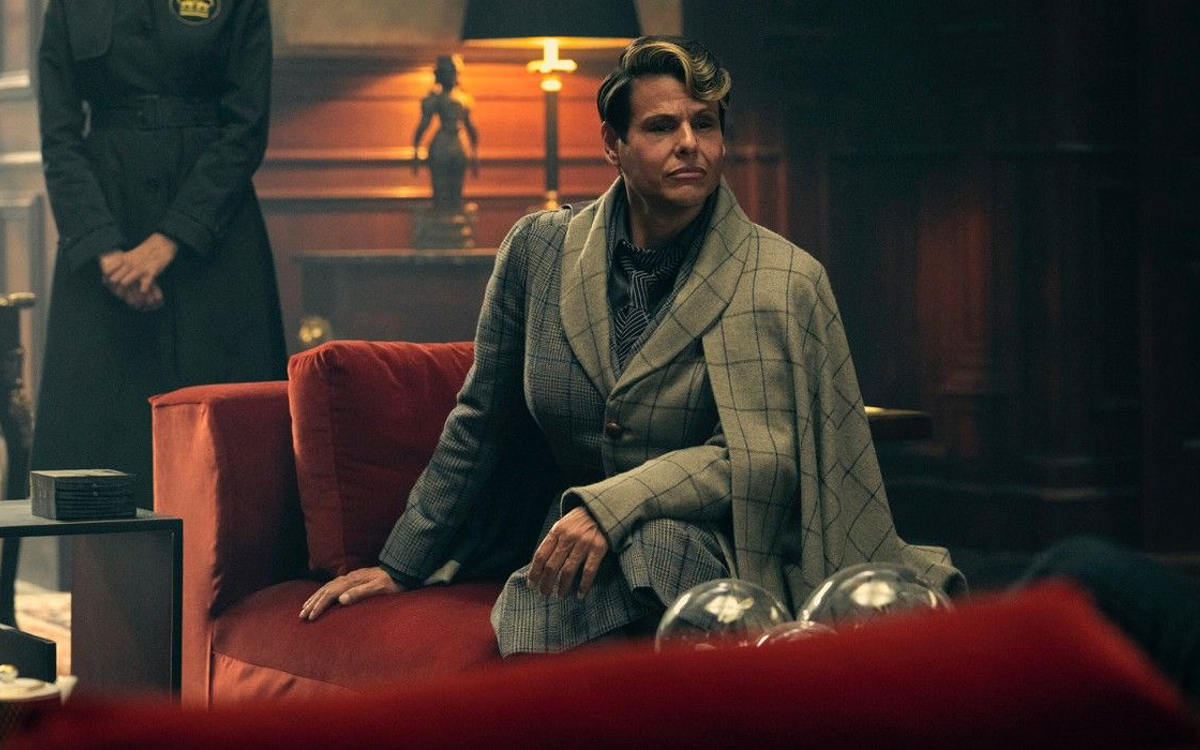 Alexandra Billings has been a pioneering trans performer several times over, but she tells us that her recurring role as Inspector Ainsley Lowbeer in "The Peripheral" – Amazon Prime's series adaptation of William Gibson's 2014 book of the same name – is a more personal first for her.
"I love science fiction! This is really my bag, and I've never done anything like it before!"
Created by Scott B. Smith, who co-executive produced the show alongside "Westworld" creators Jonathan Nolan and Lisa Joy, the show is a mystery-thriller set not just in one future but in two. Beyond the depressingly prescient dystopian one inhabited by protagonist Flynne Fisher (Chloë Grace Moretz) lies another, from which the surviving remnants of humanity employ advanced computer technology to reach back and alter the past. The stakes are high – there's an apocalypse involved — and a complicated, "Black Ops"-style secret war going on between factions struggling for control makes them even higher. Even for someone who doesn't look for these things, the allegorical comparison with our own world is impossible to miss; but then science fiction, done right, has always been a prime genre for making social, cultural, and political commentary – and author Gibson, widely credited with creating the whole "cyber-punk" sub-genre, knows how to do it right.
Billings recently spoke with the Blade about the show, among other things. Our conversation is below:
BLADE: It's refreshing to see you in something like this. We're not used to seeing such strong representation in these kinds of stories.
ALEXANDRA BILLINGS: Usually, if trans characters were in sci-fi in the past, we were plugged in – they were cisgender characters that trans people played and then they turned trans. But Lowbeer is written as a trans woman. That was extraordinary, and it was thrilling to me.
BLADE: She's a very strong presence.
BILLINGS: She's kind of a guide, and she also has great power – not mystical power, or magical, but intellectual. And that's one of the wonderful things about this show that I want to stress – it's very female-centric, very female-heavy. There's gender identity that is addressed, there are women of color that have great power and great strength and intellect. These are smart, witty, competent, capable women. No female depends on any other power except their own to be able to survive in the world of this story, and I think that matters, too.
BLADE: Did you ever imagine you would be playing a part like this in a mainstream Hollywood project?
BILLINGS: Oh no, God, no. When I first came to Hollywood, there were five of us, basically, me and Candis and Laverne and Trace Lisette, and a couple of other people, and that was it. Every time there would be an audition for a trans person – which was usually one of us in the hospital, or going to the hospital, or getting ready to go to the hospital, or something that had to do with the hospital – we would always meet each other. We finally just formed a little brunch club, we were like, 'Let's just get together after the next audition and go out. We might as well have food.'
Back then, there was just no concept of the transgender experience, because trans people were not writing any of these shows. You can't have someone who's never been through a lived experience pretend that they've lived that experience, it doesn't make any sense. Now, with more trans writers, more trans producers and showrunners in Hollywood, things are starting to change. But this was a shock. I was shocked when I heard about this character, and really shocked when I read the script. It really is brilliant.
BLADE: That's just one aspect of the show that feels forward-thinking. Don't you think the whole concept of a future world influencing our present day really strikes a chord with the rise of a younger generation that is primed and ready to take the wheel?
BILLINGS: I think what this show does is that it shines a light. It's a reflection of a human experience that is happening politically, globally, which is the takeover of righteousness, of our idea of what is helpful to the community – and what isn't.
We have a whole shift that is happening in the United States right now, which is a younger generation – the Gen Zs – saying 'I don't like the way a lot of the country talks about female empowerment, I don't like what you've done to take away autonomy for female bodies or choices, I don't like the way you talk about gender. There's a whole bunch of stuff that I don't like, so I want you out." It's why this 'blue wave' happened – because of them. There was this whole conservative movement before the midterms that was supposed to, like, take over, and it just fizzled out and died. I think this is just the tip of the iceberg.
BLADE: Let's all hope you're right. There's such a disheartening backlash in some pockets of our country over queer rights in general. We still even have fight to preserve marriage equality.
BILLINGS: We have this whole group of people out there talking about 'traditional marriage.' That means nothing. I want to tell them, 'Nothing exists inside that container – how far back do you want to go when you say 'traditional', do you still want to be able to vote? Stop being an idiot.'
BLADE: As someone on the battle lines, what would you like to see for the future of trans representation?
BILLINGS: We need to begin to have conversations that are so normalized about the transgender experience that we no longer talk about the transgender experience. We need to have an over-abundance of trans and nonbinary stories, of trans and nonbinary writers, producers, directors, creators, innovators, telling their own stories – so many of them that the cis-white-heteronormative patriarchy finally needs to step aside. That's what needs to happen.
BLADE: That seems like a hard sell to the people still holding onto the reins of power.
BILLINGS: When I say things like that, all of Hollywood takes a huge intake of breath. They think it's impossible. They can't conceive of that to be true because they think, 'What about MY stories? What about me?' As if there was a shortage of those.
Look at Candace Cameron, who quit Hallmark and just came out and said, 'I'm going to honor traditional marriage on my new channel, and those are the stories I'm going to tell.' What she's saying is, 'These two heteronormative cisgender people are the norm, that's what we're going to draw a circle around. Those are the only people that are going to be represented, that's what we're telling every single queer youth on the planet is the thing to be.' That's the message? So everybody else needs to move aside? That doesn't make you a trailblazer, it makes you a coward.
BLADE: There's another "C word" that comes to mind.
BILLINGS: (Laughing) That too.
You can watch "The Peripheral" on Amazon Prime.