Kane's Cuisine: potato salad doesn't have to be boring
LA Blade staff writer Christopher Kane shares his love and passion of cooking writing in his weekly Sunday column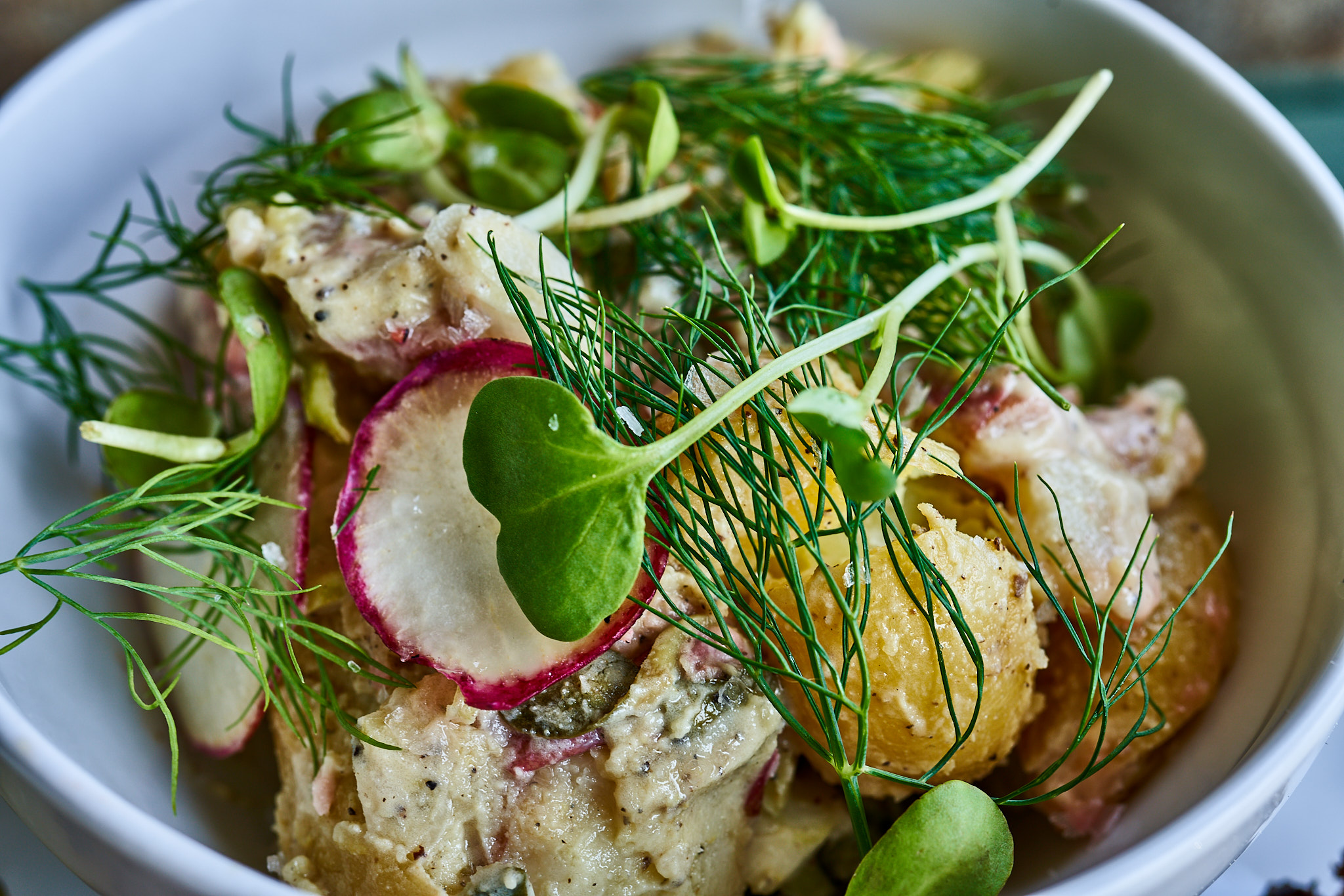 The LA Blade's intrepid Washington D.C.-based political reporter snarks his way through another delicious weekly recipe while dishing tea on other subjects…
WASHINGTON – Is anyone ever that jazzed about potato salad? Always the side dish but never the bride, it's somehow simultaneously the most omnipresent but least memorable food brought to a barbecue or potluck situation. Friends, I'm here to tell you there's a better way. 
To make my point, I should have done just the potato salad and not distracted you with the fried chicken pictured therewith. If you would like to make the fried chicken, I used the same recipe from my August 14 column.
What makes this potato salad so special? Everything. It's so much more than mayonnaise and boiled spuds. It's got tangy citrus, salty umami-rich anchovies, fresh dill. Your German immigrant ancestors could never. Sorry.
Oh, another thing: For those of us who are not infants and still have use of our teeth, I do not understand the appeal of any food that doesn't have some texture. Another issue I have with other potato salads but not this one, which has a delightful crunch.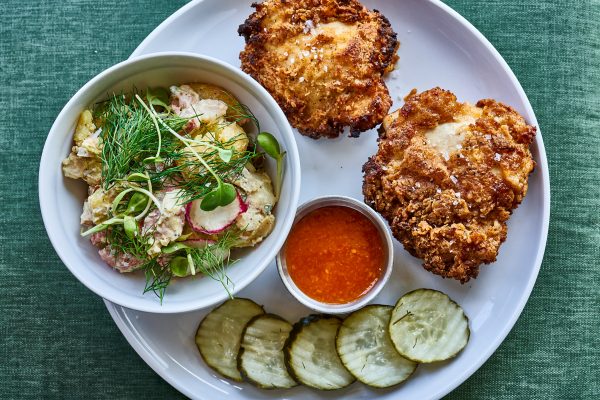 Bring this to a potluck and it will be gone faster than the Queen's spirit traveled to Trisha Paytas's baby. I need to get off Twitter because it's rotting my brain. Also, when looking up the spelling of Paytas's name, I discovered she named the baby Malibu Barbie. Don't really have further comment on that matter but I thought you should know, too.
Boil two pounds baby potatoes in three quarts of water with one cup of salt cup (yes, you read that right) until they can be easily pierced with a fork, or about eight to ten minutes. Strain out and discard the water 
Smash and peel a few garlic cloves, adding a pinch of salt as you mash them into a paste. Chop a few anchovy filets and mash them into a paste, too. Combine your pastes and mash them together until their color and texture is uniform
Add paste to a large bowl with a third cup mayonnaise, a tablespoon Dijon mustard, and a teaspoon black pepper, whisking to combine. Continue whisking as you slowly add two tablespoons olive oil and the juice from one lemon. Season with salt
When the potatoes are cool enough to handle, smash them lightly into a cutting board with your palm so they split open but aren't totally mashed (does that make sense?) Add them to the dressing mixture, tossing evenly to coat
Add six to eight thinly sliced radishes, a few scallions, or chives, radish and sunflower microgreens, and an ungodly amount of fresh dill. Some of the ingredients in this step are optional. The dill is not. Season again with salt and black pepper
Kane's Cuisine: Chicken congree (A.K.A. Chinese rice porridge)
LA Blade White House correspondent Christopher Kane shares his love and passion of cooking writing in his weekly Sunday column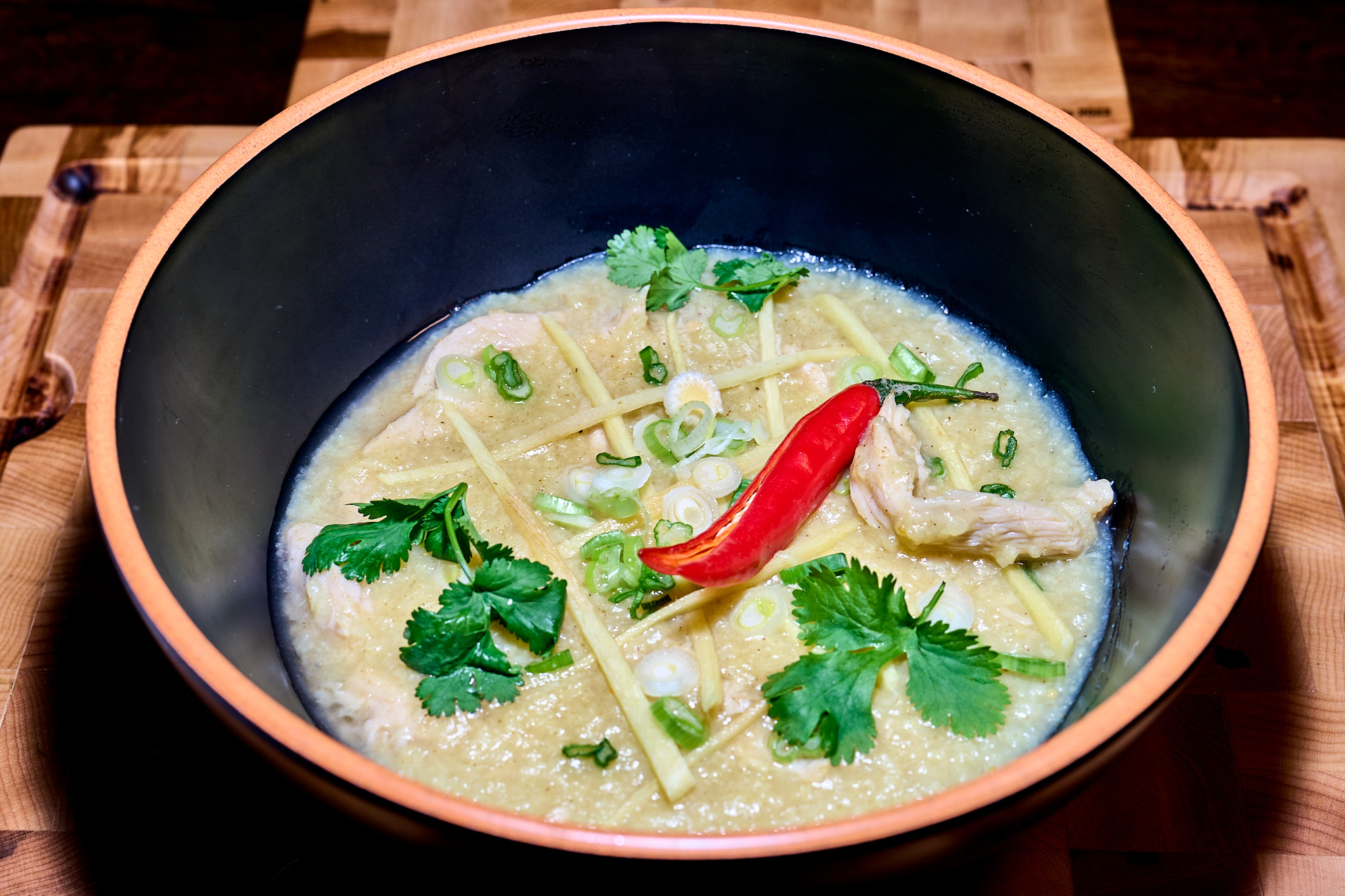 The LA Blade's intrepid Washington D.C.-based White House correspondent snarks his way through another delicious weekly recipe while dishing tea on other subjects…
WASHINGTON – My compulsive habit of buying new cookbooks continues apace, this time with an especially exciting addition to my burgeoning collection: "The Woks of Life: Recipes to know from a Chinese-American family."
As a longtime devotee of the Leung family's blog by the same name, I knew it would be safe to decide what to make for dinner on Saturday by cracking open the book to a random page and starting there.
Chicken congee (A.K.A. The best soup for winter colds) (p.134). 
Like a chicken and rice soup but richer – brightened with julienned ginger root, fresh scallion, and cilantro – is there anything better when you're suffering through a head cold or would like to warm yourself from the inside out?
No, no there is not.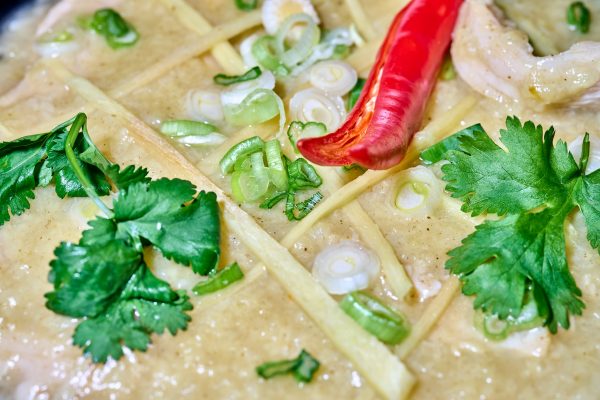 Prep the rice and chicken broth
Rinse 1 cup jasmine rice and freeze overnight or for at least 8 hours
In a large stockpot with 1 tablespoon neutral oil, cook one yellow onion, halved, 2 heads garlic, halved, and 4 two-inch pieces ginger root, peeled and halved, all cut-side down, for 4 minutes on medium without stirring until everything is lightly charred and very fragrant
Add 6 stalks chopped celery, 5 large chopped carrots, 1 bulb fennel, chopped, and a small handful of whole star anise and black peppercorns, cooking for a further 5 minutes while stirring vigorously until vegetables are softened
Add 1 whole chicken, giblets removed and discarded, along with 12 cups water
Bring to a boil and quickly reduce heat to medium-low, simmering gently for about 30 minutes or until chicken is cooked through
Carefully remove bird from stockpot and, when cool enough to handle, remove and reserve meat before returning the carcass to the pot
Continue cooking on low for about 2 hours, seasoning to taste as you go with salt. Strain and reserve broth, discarding everything else.
Make the congee
Slice 6-9 ounces partially frozen uncooked chicken breast into thin strips measuring about 1/4″ thick (Do not use the reserved chicken meat that you cooked for your broth. Use that for something else.).Combine it with 2 tablespoon water, 1 teaspoon cornstarch, 1 teaspoon neutral oil, 1.5 teaspoons oyster sauce, ½ teaspoon sesame oil, 1/4 teaspoon salt, and 1/4 teaspoon white pepper. Allow chicken to marinate for 15-20 minutes
In a deep pot, combine 5 cups homemade chicken stock with 2 cups water and 1 cup frozen rice, bringing everything to a rolling boil. Cover, reducing heat to medium-low, and simmer for 20-25 minutes without stirring
Uncover the pot, raise heat to medium-high, and stir continuously for 5 minutes or until the soup reaches your desired consistency, adding more water or stock if you wish to thin out the mixture
Stir in peeled and julienned ginger root, chopped scallions, cilantro, and a Thai red chili pepper, halved crosswise with the stem left intact