Far-right influencers are creating new barriers to trans health care
Right-wing media's campaign against children's hospitals is making it harder for trans people to access lifesaving medical care


By Ari Drennen | WASHINGTON – Just days after the FBI arrested a suspect in the bomb threat against Boston Children's Hospital, Libs of Tik Tok and The Daily Wire's Matt Walsh resumed their campaign against children's hospitals that provide lifesaving care to trans people, directing followers' attention this time to Akron Children's Hospital and Vanderbilt Children's Hospital.
Right-wing media have established a playbook for inundating hospitals with harassment and forcing them to delete information intended for trans patients from their websites — thus creating yet another barrier for trans people seeking medical care. 
Libs of TikTok first targeted Boston Children's Hospital on August 11, sharing a video about gender-affirming hysterectomies with an incendiary caption claiming that the procedure was available to "young girls." The hospital was forced to quickly delete the video, but the narrative had been set in right-wing media, and criticism of the hospital intensified.
On August 15, Walsh made the false and incendiary claim that children's hospitals across the country were "butchering, mutilating, and sterilizing their young patients." These attacks were followed by violent threats including threats to "execute" doctors and at least one bomb threat against Boston Children's Hospital.
FBI's Joseph Bonavolonta: BCH "has received dozens of hoax threats, including harassing phone calls and emails, individual threats, and threats of mass-casualty attacks. This behavior is nothing short of reprehensible, and it needs to stop now." pic.twitter.com/kSBqHpUYNB

— Ari Drennen (@AriDrennen) September 15, 2022
Members of the right-wing media initially dismissed the threats, with Infowars' Owen Shroyer calling it a "false flag," Chaya Raichik, who runs Libs of TikTok, asserting it was "probably a left-wing person trying to get me suspended," and Walsh suggesting that it could be a left-wing hoax. It apparently was not. On September 15, the FBI announced the arrest of a suspect who allegedly called hospital operators from her personal cell phone, calling them "sickos," saying that a bomb was on the way, and demanding that everyone evacuate.
By September 18, Libs of TikTok had returned to the campaign against children's hospitals that provide gender-affirming care, posting a tweet disclosing that Akron Children's provides puberty blockers and cross-sex hormones before misleadingly noting that the hospital treats patients as young as 7.
On September 20, Walsh made similar claims about Vanderbilt Children's Hospital, saying it makes "lots of 'services' available to children, including chemical castration."
Misinformation about treatments is rife on social media and in the right wing media, but 7-year-olds do not receive cross-sex hormones and are given puberty blockers only if another underlying disorder is causing precocious puberty. Cross-sex hormones are safe, studied, and effective treatments for gender dysphoria that dramatically reduce symptoms of depression and anxiety in trans people.
Information about where to seek out medical care is vital for trans people. Nearly half of all trans people report experiencing mistreatment from medical providers, including verbal or physical abuse. According to a 2016 study, the biggest obstacle to obtaining safe and effective health care for trans people is a lack of knowledge by medical providers.
The removal of public information intended for patients in the face of a vicious hate campaign creates a new barrier. In addition to Boston Children's and Akron Children's, Children's National in Washington, D.C., and Vanderbilt Children's in Nashville, Tennessee, have recently been forced to remove information for trans patients. Lurie Children's hospital in Chicago canceled in-person meetings of a support group for trans youth because of security risks.
It's not just Boston Children's Hospital. In August, Libs of Tiktok and Matt Walsh went after Lurie Children's Hospital in Chicago. Today, families were notified that a support group for trans youth cancelled due to threats and harassment. pic.twitter.com/RbXG9wKSms

— Alejandra Caraballo (@Esqueer_) September 15, 2022
Without resistance, the barriers to effective care for trans people could grow further. According to freelance journalist Sydney Bauer, multiple medical providers have said that their worry is that these tactics will lead hospitals to drop gender-affirming care, shifting coverage to private clinics with less resources that could then be endlessly picketed and threatened — exactly the tactic that the right has used against abortion providers. Despite this, or perhaps because of it, Raichik has targeted multiple hospitals this year. After earning a weeklong suspension for violating Twitter's policies prohibiting hateful conduct, Raichik only vowed to double down. "We are not just reporting on this," said Walsh in a tweet. "We are going to put a stop to it."
Among the items posted by Libs of Tik Tok about Akron Children's Hospital is an article with a photo of a 13-year-old girl. Her hair is long and blonde and she's posed, smiling, next to a horse. They're sharing a blanket — red, with a white snowflake pattern. The article says that this teenager knew from age 3 that she was transgender, and that with the help of the providers at Akron Children's, she was able to become her true self.
She's a cheerleader. She rides horses. She says that she didn't want to develop facial hair or for her voice to deepen. This is a story familiar to many trans people. A 2022 study from Stanford Medicine showed that trans people who accessed gender-affirming care as teenagers were less likely to experience major mental or substance abuse disorders than those who were denied care or forced to wait until adulthood.
But for Chaya Raichik, this is a horror story, and her 1.3 million followers flooded the article with hate, misgendering the trans girl and calling her "Buffalo Bill in the making," a reference to the serial killer from the 1991 horror film The Silence of the Lambs. The article from Akron Children's closes with a line from that teenager: "If you're transgender, show it. Tell people," she said. "It will help other transgender people feel not so alone." The article has since been deleted.
*******************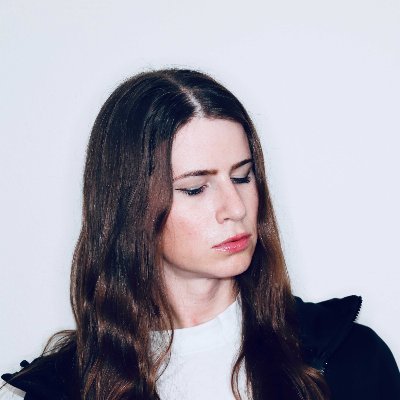 Ari Drennen is the LGBTQ program director for Media Matters, where she has worked since January 2022. She has a bachelors degree in political science and economics from Middlebury College. Previously she worked at the Center for American Progress and the League of Conservation Voters
*******************
The preceding article was previously published by Media Matters for America and is republished by permission.
Transportation Sec. Buttigieg targeted with homophobic tweets
Co-chair of Michigan's Republican party, referred to the first openly gay cabinet secretary as a "weak little girl"
LANSING, Mi – As Pete Buttigieg, secretary of the U.S. Department of Transportation (DoT), continues his push for broader adoption of electric vehicle use, he was again targeted with homophobic attacks online.
Meshawn Maddock, co-chair of Michigan's Republican party, referred to the first openly gay cabinet secretary as a "weak little girl" on Twitter Sunday, as many were honoring those killed 21 years ago in the worst terrorist attack ever perpetrated on American soil.
We're so blessed this weak little girl moved to Michigan! Looks like he's bringing all his California Dreaming here with him. https://t.co/85MQNcN3f1

— meshawn maddock (@CoChairMeshawn) September 11, 2022
Buttigieg is a decorated war veteran, having served in the U.S. Navy Reserve from 2009 to 2017, including in a deployment to Afghanistan in 2014. A DOT spokesperson and the Michigan Republican Party did not immediately return a request for comment on Maddock's tweet.
Meanwhile, on September 10, U.S. Customs and Border Protection Commissioner Chris Magnus condemned the use of the agency's official Twitter account for the West Texas region for offensive retweets and likes, including of homophobic posts targeting Buttigieg.
These included a tweet in which the Transportation Secretary was called "Pete Buttplug" as well as content from former President Trump's far-right senior advisor Stephen Miller.
Reached for comment, a spokesperson from a regional press office shared a statement excerpted from that which was tweeted by Magnus, who announced that @CBPWestTexas was deactivated and the offending content was removed.
Totally unacceptable and disappointing that any CBP Twitter account was used to R/T offensive, unauthorized content. We've removed the content and will deactivate the account. The Office of Professional Responsibility will investigate. This must not happen again. pic.twitter.com/O0Vwr3K7nI

— CBP Commissioner Chris Magnus (@CBPChrisMagnus) September 11, 2022
Bigoted attacks against Buttigieg by conservatives are not new. Last year, when the Secretary took a leave of absence to care for his and his husband Chasten's newborn twins, Fox News host Tucker Carlson said he was "trying to figure out how to breastfeed."
Bizarrely, at a rally in March, extremist Republican Rep. Marjorie Taylor Greene (GA) said the couple should "stay out of our girls' bathrooms," which appeared to be an attempt to suggest they are sexual predators.
Right-wing media exploit monkeypox- retread anti-vax misinformation
These anti-vax talking points are intended to stigmatize LGBTQ people by framing promiscuity as the primary driver of the disease


By Mia Gingerich | WASHINGTON – As monkeypox presents an ever-increasing threat to Americans, predominantly gay and bisexual men, conservative media figures are exploiting the global health emergency to stoke fears of the COVID-19 vaccine and related health measures and to attack queer men.
These anti-vax talking points are often invoked alongside AIDS-era rhetoric intended to stigmatize LGBTQ people by framing promiscuity as the primary driver of the disease and gay and bisexual men as culprits in — rather than victims of — the growing outbreak. This stigmatization has already reportedly resulted in violence against gay men.
During the last week of July, the U.S. reported both the fastest rise in and highest number of monkeypox cases worldwide, leading the Biden administration to declare a public health emergency on August 4. The virus, which is endemic in certain African countries, is usually rare in Europe and the U.S. However, the virus recently found its way to men who have sex with men (MSM), where it has proliferated primarily through sexual contact. The gay community has emphasized the need to warn about the risk the virus poses to MSM while not feeding into anti-gay rhetoric that depicts gay sexuality as immoral.
Despite this plea from those most affected by the ongoing health crisis, right-wing media quickly responded to the spread of monkeypox with homophobia – recalling the vilification that gay men experienced during the AIDS epidemic. In addition to being impacted by the latest right-wing media smear campaign risking targeted violence against LGBTQ people, queer men are also less likely to seek medical care for monkeypox in countries where their sexuality is stigmatized.
Conservative media figures invoke COVID-19 conspiracy theories and criticism of health measures in coverage of monkeypox
From early on in their coverage of the monkeypox outbreak, right-wing media figures used the story to renew efforts to sow vaccine hesitancy and undermine COVID-19 health measures. Some far-right figures have even spread conspiracy theories that falsely assert the COVID-19 vaccine is directly responsible for the monkeypox outbreak.
On May 24, The Daily Wire's Candace Owens said on her show that "the first person who lines up to get a monkeypox vaccine, I'm going to laugh in your face." Owens then suggested the World Health Organization, Bill Gates, and Dr. Anthony Fauci were involved in the spread of both diseases as part of "attempts at authoritarianism" and "globalism." This claim coincides with the recent conservative conspiracy theory claiming the U.S. was ceding power to the WHO.
From the May 24, 2022, edition of Daily Wire's Candace
Fox News' Sean Hannity brought anti-vax conspiracy theorist Dr. George Fareed onto the August 8 edition of his radio show, where Fareed falsely claimed "the mass vaccination with these gene therapies, COVID vaccines, have the ability to weaken the immune system and make people more vulnerable to viral infection," suggesting the vaccine could precipitate the spread of monkeypox.
Far-right blog American Greatness posted an article on August 3 promoting the work of Shmuel Shapira, an Israeli scientist pushing similar claims as Fareed. The article claimed "Twitter censored Shapira" after the platform flagged a tweet of his as misinformation. Shapira's tweet read, "It is well established the mRNA vaccines affect the natural immune system. A monkey pox outbreak following massive covid vaccination: Is not a coincidence."
Right-wing media figures have also taken advantage of the recent health crisis to reignite their crusade against public health measures implemented during the COVID-19 pandemic. Conservative commentators claim that a double standard exists between government reactions to monkeypox and COVID-19, ignoring differences in how the two diseases spread.
Podcaster Steven Crowder, amid a longer homophobic rant suggesting gay men were engaging in bestiality, claimed on August 2 that COVID-19 health measures were "politically motivated" and that masking and social distancing "didn't make any difference whatsoever." Crowder then contrasted those measures with the fact that Pride events still took place this year despite the spread of monkeypox, saying, "They won't even cancel their gay San Francisco fuckfest."
From the August 2, 2022, edition of Louder with Crowder, streamed on YouTube
An article for The Federalist titled "Americans Lost Fundamental Freedoms During Covid — But Halting Gay Orgies To Stop Monkeypox Is Too Far?" bemoaned COVID lockdowns and claimed, "We shut down the world for a virus that had no traceable transmission, it was entirely random. It really isn't too much to ask for gay men to stop engaging in orgies and public sex events for their 'mental health,' their 'self-esteem,' and to continue 'having fun.'"
On Twitter, right-wing personalities expressed a similar sentiment.
Alt-right troll Mike Cernovich tweeted his criticism of public health advocate Dr. Gregg Gonsalves: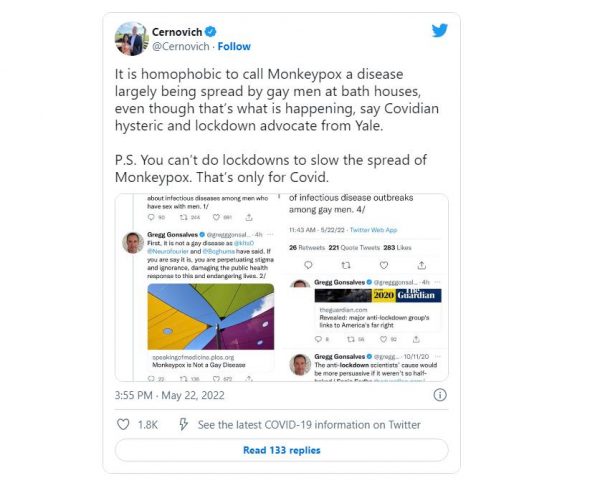 Far-right YouTuber Ian Miles Cheong continued his online anti-gay tirade on monkeypox:
They forced everyone to be apart from their dying parents and grandparents in hospitals, banned travel, and forced kids out of school and into Zoom calls, but "men who have sex with men" can't cool it for two weeks?

— Ian Miles Cheong (@stillgray) August 4, 2022
Right-wing radio host Dan O'Donnell similarly tweeted:
They shut down the entire country for COVID-19 but won't shut down the gay orgies for Monkeypox because science. https://t.co/4E2cO7chok

— Dan O'Donnell (@DanODonnellShow) August 5, 2022
Gay men are targeted with violence while right-wing media continues to depict them as threats
After the first cases of monkeypox were found among children in the U.S., LGBTQ advocates reported right-wing figures were using the news to falsely claim that gay men were guilty of abuse. This was a part of a larger attempt by right-wing media to use the monkeypox outbreak to depict LGBTQ people as a threat to society. By attempting to evoke the sort of stigmatizing rhetoric pushed during the AIDS epidemic that frames the MSM community as vectors of disease, right-wing media is feeding a culture of prejudice that has already resulted in violence against gay men.
The above-mentioned article from The Federalist fearmongered that "as gay men spread the virus within their population at startling rates, the chances of it escaping into the mundane world through close contact in stores, crowded streets, or buses increases," claiming that gay and bisexual men were spreading the disease through "truly selfish behavior [that] is endangering the rest of us."
Right-wing talk show host Erick Erickson tweeted, "'My orgy doesn't affect you,' said the man who spread monkeypox to the lady who worked at the gas station. Two weeks of no orgies to stop the spread is just too much to ask."
"My orgy doesn't affect you," said the man who spread monkeypox to the lady who worked at the gas station. Two weeks of no orgies to stop the spread is just too much to ask. But don't y'all go to church or see your grandparents. COVID is on the rise again.

— Erick Erickson (@EWErickson) August 4, 2022
On Hannity's August 8 radio show, guest Dr. Brian Tyson said the virus would "spread to the heterosexual community if we don't get a handle on the gay community to stop the transmission," and claimed "the CDC and the NIH, they're afraid to come out and tell the gay community to stop having intercourse until this pandemic goes away."
On the August 5 edition of his show, Turning Point USA's Charlie Kirk characterized the government response to monkeypox as an attempt to avoid offending "the alphabet mafia" of the LGBTQ community, saying, "You can't go after the gay community for maybe doing something they shouldn't be doing," before declaring he would "not live through another lockdown or an erosion of our civil liberties by a corrupt or usurpatious government because we're afraid to offend people. Don't care, and you shouldn't either."
From the August 5, 2022, edition of The Charlie Kirk Show, streamed on YouTube
The effects of right-wing media's misinformation about the COVID-19 vaccine put their audience at serious risk. However, these conservative figures are now jeopardizing the health of millions of LGBTQ Americans as well by seeking to stigmatize their sexuality during a public health crisis.
**********************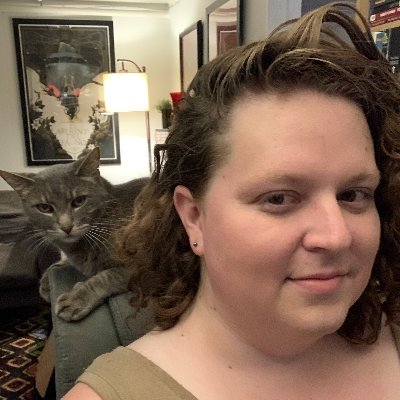 Mia Gingerich is a researcher at Media Matters. She has a bachelor's degree in politics and government from Northern Arizona University and has previously worked in rural organizing and local media.
********************
The preceding article was previously published by Media Matters for America and is republished by permission.
YouTube's failure to moderate anti-LGTBQ hate speech
False accusations of LGBTQ people abusing children remain on YouTube, one of the few major platforms refusing to address the problem


By Mia Gingerich | WASHINGTON – In a brazen violation of YouTube's policy against hate speech, right-wing influencer Tim Pool spuriously claimed in a video released last Friday that "the LGBTQ community is now dominated by pedophiles" and levied the same slander against a Daily Dot journalist.
The fact that this video remains up nearly a week later, accumulating more than a quarter of a million views, is emblematic of YouTube's systemic failure to crack down on even the most egregiously hateful content. 
Last week, following mounting pressure, Twitter told the Daily Dot it would ban targeted use of the term "groomer" to spread unfounded accusations of child abuse against LGBTQ people. Use of the word "groomer" as a way to disparage LGBTQ people is a part of a larger strategy by right-wing figures to co-opt language about child abuse to malign gay and trans people — a tactic that has led to harassment and violent threats against the LGBTQ community.
In response to the Twitter news, Pool took to his YouTube channel (which has well over 1 million subscribers) on July 22 to disparage Claire Goforth, the Daily Dot journalist who has covered the issue, calling her a pedophile while also admitting he lacked any evidence to support his claims. Pool also falsely claimed that the LGBTQ community had been "taken over" by pedophiles.
From the July 22, 2022, edition of Timcast, streamed on YouTube
Despite the fact that YouTube's hate speech policy bans content "promoting violence or hatred against individuals or groups" based on protected characteristics, including gender identity and sexual orientation, the video remained up as of publishing.
Meanwhile, YouTube continues to reap financial benefits from Pool's presence on the platform. Pool, who previously admitted he believes YouTube is more concerned with retaining advertisers than combatting disinformation, recognizes this incentive and is clearly exploiting it.
YouTube's refusal to crackdown on Pool's extremism reveals deeper problem with permitting anti-LGBTQ rhetoric
Baselessly accusing LGBTQ people of being "groomers" and "pedophiles" has been a consistent problem on numerous social media platforms. However, in response to the recent push for platforms to more closely monitor this smear, TikTok, Reddit, and Meta (parent company of Facebook and Instagram) all took the step of clarifying that such rhetoric violates their hate speech policies. According to Goforth's article from July 20, the only company that did not respond when asked by the Daily Dot about this rhetoric was Google, which owns YouTube.
By allowing its rules against hate speech to remain nebulous, YouTube is refusing to take responsibility for a problem that goes well beyond this latest example from Pool. As previously reported by Media Matters, YouTube is rife with false accusations of LGBTQ people grooming children, with a particular focus on drag performers and those discussing LGBTQ topics in school.
James Lindsay, a far-right author who has been instrumental in perpetuating this false claim, said that his use of the term started in October 2021 with his series titled "Groomer Schools," which he streams on YouTube. Lindsay belongs to YouTube's partner program, which allows him to directly financially benefit from his presence and following on the platform.
Pool is not the only content creator with a large YouTube following who has recently maligned the LGBTQ community with false accusations of wide-spread pedophilia — Daily Wire's Candace Owens, whose channel has more than 750,000 subscribers, falsely claimed in April that "pedophilia is around the corner" during her discussion of Disney's commitment to LGBTQ inclusion. This plays into the slippery slope conspiracy theory pushed for years by extremists on 4chan, which falsely claims that the fight for LGBTQ rights will lead to more pedophilia.
Owens went on to call a teacher who lamented having to hide her marriage due to Florida's "Don't Say Gay" law a "mentally unstable adult predator who has access to children, our children," and ended the segment by saying, "We must not give these freaks and predators so much as one inch." Owens' video remained up as of publishing.
From the April 5, 2022, edition of The Daily Wire's Candace, streamed on YouTube
YouTube fosters extremism by failing to acknowledge prevalent and escalating anti-LGBTQ rhetoric
By not only failing to enforce its current policy on hate speech, but also refusing to even state that its policy covers prevailing hateful rhetoric, YouTube is signaling to increasingly extreme users that its platform will host their hate.
In previous instances, YouTube has shown that it is perfectly capable of confronting this rhetoric when it decides to do so. After Media Matters revealed last year that YouTube was hosting multiple channels belonging to adherents of QAnon — a conspiracy theory that similarly seeks to wield false accusations of pedophilia for political ends — the platform responded by removing at least 18 of the flagged channels.
Failing to address the problem of falsely accusing LGBTQ people and their allies of child abuse not only increases the risk of violence against LGBTQ people, it also hinders the efforts of those genuinely seeking to protect children from exploitation.
By letting the dangerous and inflammatory claims of Pool and others go unchecked, YouTube is directly profiting from the sort of rhetoric that is inciting violent acts in real life — a far cry from the "ongoing commitment to the community" it espoused just last month.
**********************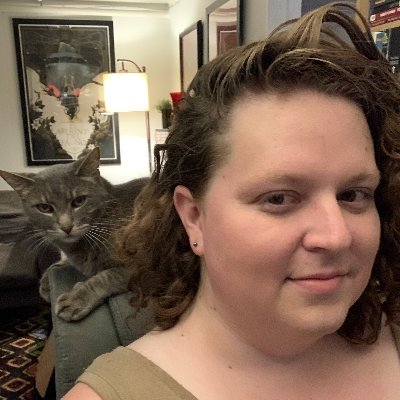 Mia Gingerich is a researcher at Media Matters. She has a bachelor's degree in politics and government from Northern Arizona University and has previously worked in rural organizing and local media.
********************
The preceding article was previously published by Media Matters for America and is republished by permission.