Race to the Midterms, Schiff: LGBTQ+ voters will sway the vote
Please check out the full interview on Sunday night with more about the LGBTQ community and expanding the Supreme Court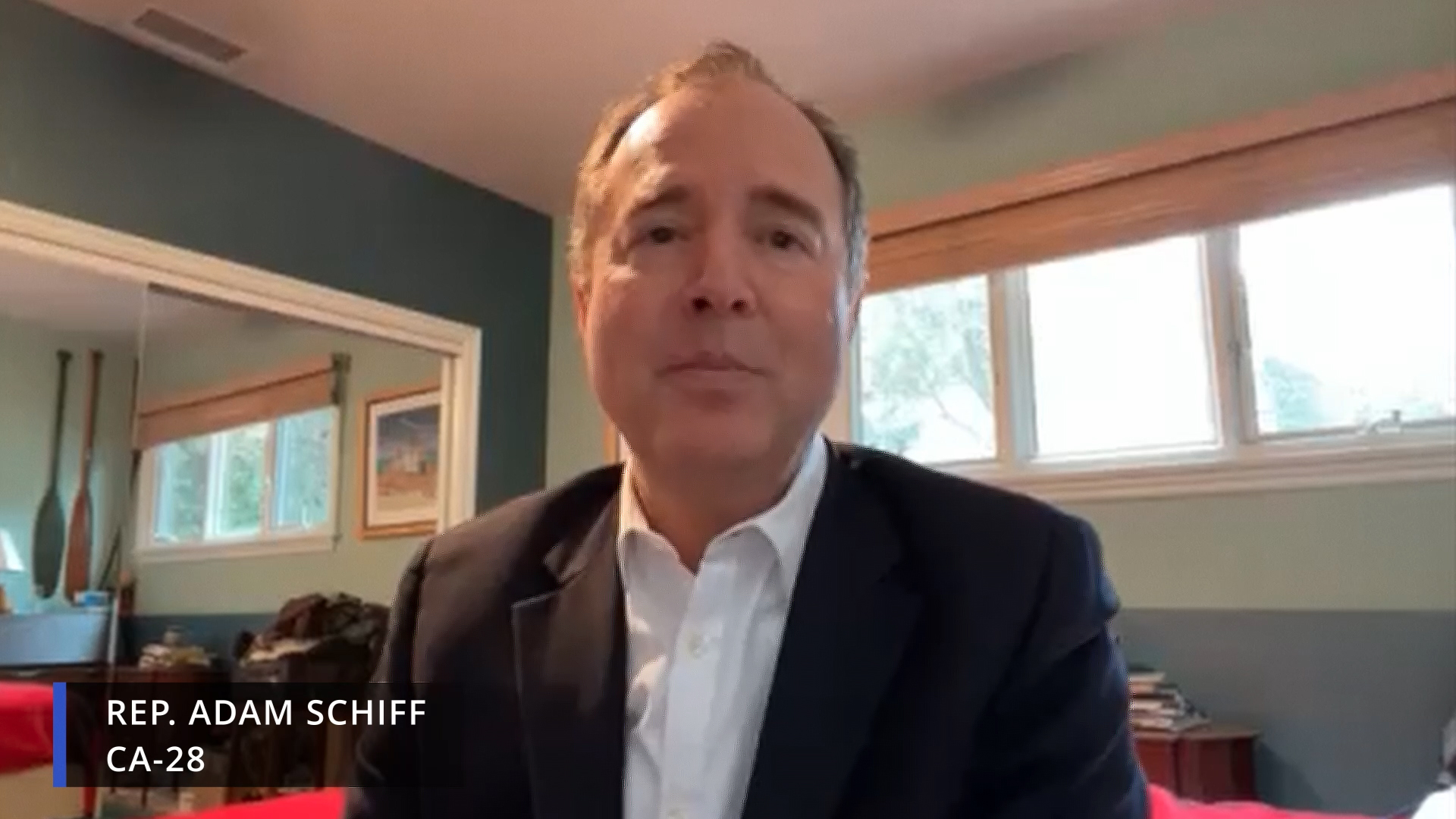 By Karen Ocamb | WEST HOLLYWOOD – The race to the Nov. 8 midterms is now a sprint. Democrats are frantically trying to keep control over the US House and Senate lest the Trump/QAnon cult wins enough seats to install autocrat-wanna be Donald Trump to the presidency in 2024 and destroys democracy in the process.
Even after the jaw-dropping revelations during the January 6 Committee hearings that Trump knew he lost his re-election but nonetheless intentionally inspired violent insurrections to stage a coup to prevent the peaceful transfer of power to Joe Biden — the number of Republicans who still believe Trump's "Big Lie" is around 60%.
Critical races around the country are extremely close, despite the otherwise laughable qualifications of hypocritical GOP candidates such as ex-football star Herschel Walker in Georgia.
But Democrats have a problem. Lesbian, gay, bisexual and transgender+ people have been under constant attack with at least 31 trans people either fatally shot or violently killed since the beginning of 2022, according to the Human Rights Campaign. Last year, HRC tracked a record 51 deaths for trans and nonbinary people from January to November, 9, 2021.
"State lawmakers across the US have introduced at least 162 bills targeting LGBTQ Americans this year through July 1, according to a CNN analysis of data compiled by the American Civil Liberties Union, already marking a record-breaking year for such legislation," CNN reported July 17. "The slew of bills is spread across 35 states, 27 of which have legislatures controlled by Republicans."
But now — when the midterm elections could determine whether this grand experiment called American democracy continues to progress towards a more perfect union or is impaled by mocking MAGA GOPs on a slow-melting iceberg — the once sought-after LGBTQ donation, volunteer engagement and precious vote has been ignored as the latest minority to be taken for granted.
Worse yet — the leaked year old audio tape of three Los Angeles City Councilmembers and a prominent labor leader — exposed the inner thoughts and inculcated racist, homophobic and anti-Semitic biases shared when they believed no one was listening.
The hurtful remarks from Nury Martinez, Kevin de León and Councilmember Gilbert Cedillo — long believed to be "friends" of the LGBTQ community – were about gay colleague Mike Bonin's 2-year-old Black son.
"This is about more than just shared values," publisher Troy Masters and editor Brody Levesque wrote in an editorial calling for their resignations,
"It is also about trust and commitment to constituents that crosses party and ideological lines. Attacking a child is simply unacceptable and inexcusable — period. But when you couple that with implied homophobic slurring of that Black child's parents, questioning their ability to be parents because their child is simply being a child?" Masters and Levesque wrote.
It's stunning to discover from a secret leaked recording that this is what our supposed "friends" really thought of us when we weren't looking.
Who can we trust if our progressive "friends" secretly believe the way MAGA Republicans act?
Well, actually, we do have honorable allies who stand up for us even when not asked or when nobody's listening or watching. Friends like Rep. Adam Schiff.
I've known Adam Schiff since 2012 when his district was redistricted to include West Hollywood, Silver Lake, Echo Park, Los Feliz and other LGBTQ cities and neighborhoods.
Schiff seemed to quickly grasp that we are a real minority. And most importantly, he did a lot for and with our community without being asked or having to issue a press release to alert the media. He's the only member of Congress, for instance, who has ridden the complete 7 day/545-mile AIDS Life Cycle fundraiser for the LA LGBT Center.
And on a trip to the Baltics for a speech on NATO expansion before the Seimas of the Republic of Lithuania in 2014 (in which he talks about Russian provocation against Ukraine). I only discovered this during a March 2017 interview when we discussed attempts by the American religious right to create alliances with conservative foreign governments based on anti-LGBT sentiment.
"I think this is really part of a propaganda campaign that has many centers of gravity," Schiff said at the time. "But one of the most prominent is coming out of Moscow and this is a line that the Kremlin is pushing as part of its nativist agenda—that the West is decadent, that it doesn't observe family or conservative values. This is something the Russians are trying to use in Eastern Europe and in the Baltics as a way of developing support for pro-Russian parties. When I was in the Baltics a year or two ago, this was an issue I raised with some parliamentarians who were pursuing legislation modeled after bills in the Russian Duma to discriminate against the LGBT community."
Schiff also remembers that dark night in 2016 when Trump won, despite Hillary Clinton receiving nearly 3 million in the popular vote. Schiff headed over to the LA Gay & Lesbian Center. No one asked him; he issued no press release. He just wanted to be with people he knew were "despondent and fearful of what this meant for the future." And in so many ways, he said later, "the reality of the next two years proved every bit as bad, in some ways worse, than what we feared. It really takes your breath away….The administration's efforts to define the transgender community out of existence is among its most pernicious acts. It's just appalling."
Schiff has had a target on his back since Trump discovered his name. But Schiff has not relented nor cowered in the face of real danger. And again, he proved his solidarity as a strong ally when, on June 12, 2016, the morning just hours after the massacre of 49 killed and 53 more wounded at the gay Pulse Nightclub in Orlando, Florida, LA Pride organizers in West Hollywood decided not to cancel the parade. Then "came word that a man from Indiana had just been arrested in Santa Monica with a cache of weapons, ammunition and explosive-making materials in his car, on his way to LA Pride West Hollywood. Was he alone? Was there a plot to take out LGBT people at their most unguarded and vulnerable—when they were happy celebrating pride in who they are? It was an existential choice for everyone. But in a moment of prideful defiance, the organizers said the show, the Pride parade, must go on. And in a show of exquisite solidarity, powerful allies" such as Schiff stayed to march. Schiff's staff tried to get him to leave – but he stayed. No one asked him to and he put out no press release touting his bravery.
This is the man, the LGBTQ ally, I asked to interview for Racing to the Midterms, hoping he'll inspire us to get engaged, to donate, to vote like our lives really are on the line.
Please check out the full interview on Sunday night with more about the LGBTQ community and expanding the Supreme Court. But for now — here's Rep. Adam Schiff encouraging us to participate.
"So we all have a role to play right now. And the LGBTQ community, which is growing all the time and strength as a part of the voting population, could be the decisive influence in the midterms, both in terms of whether we hold the House and grow the Senate. But also in repudiating Donald Trump," Schiff says.
"The Republican Party will not part company with him because he's a liar," he continues. "They're okay with that. They will part company with him because he's unethical. They're OK with that, too. They won't even part company with him because he's a danger to the country, as he so obviously is. They can live with all of that. They will only decide to part company with him when they decide that he's a loser. And more importantly, he is a loser. For them. And so, if we can upset the expectations and win these midterms, they will cast blame where it lies — which is with Trump and all he stands for. And it will be the beginning or the continuation of the repudiation of Trump and Trumpism, which is so important for our country to move forward."
Watch the preview clip:
Antonio Villaraigosa Leadership Award to San Diego's Mayor Gloria
The award is presented to a mayor who has exhibited an outstanding commitment to bringing diverse communities together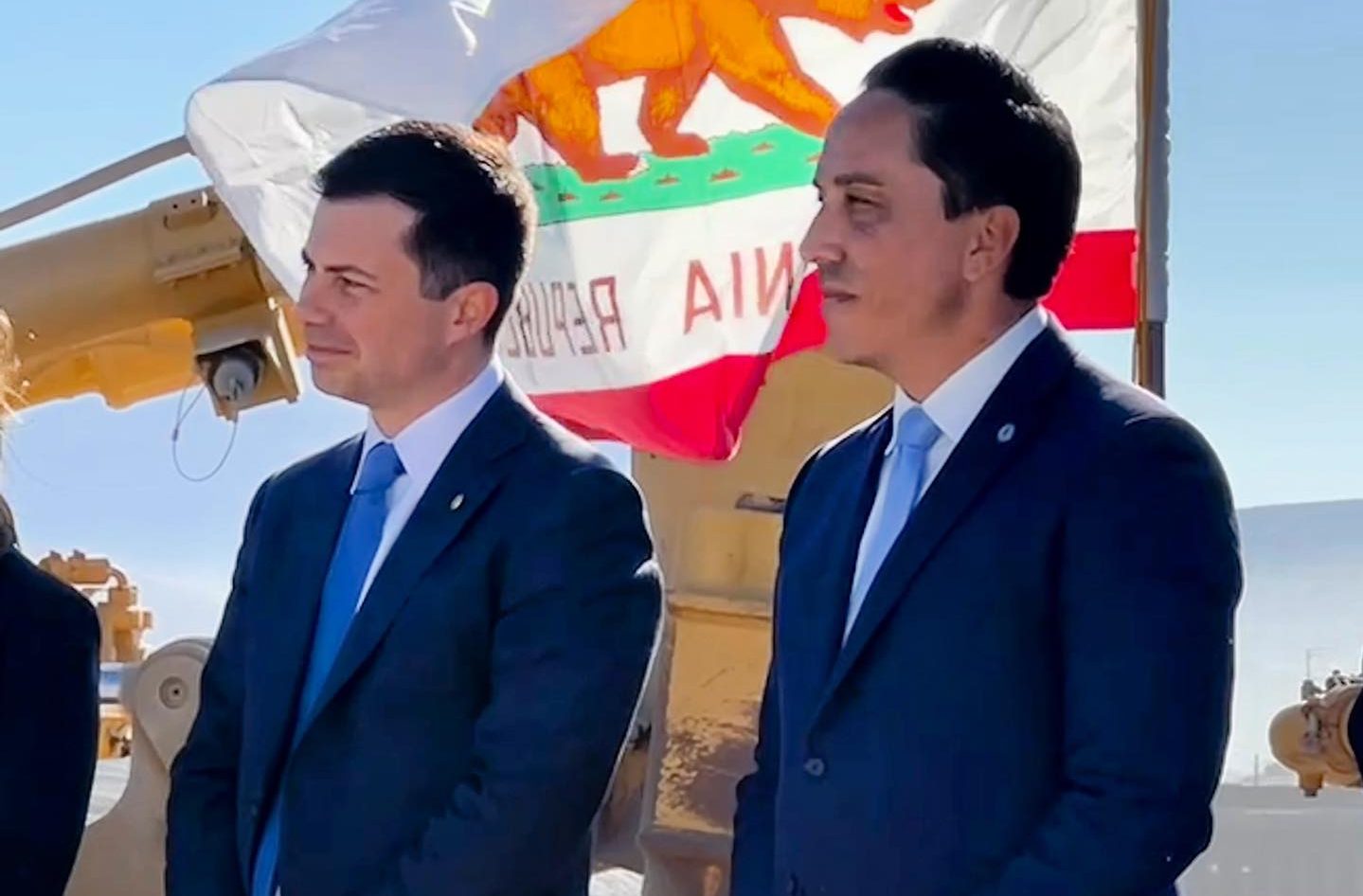 WASHINGTON — On January 18th Mayor Todd Gloria of San Diego will be presented with the Antonio Villaraigosa Leadership Award at the 37th Tribute to Mayors Signature Event. 
The Tribute to Mayors is an annual event put on by the Latino Leaders Network, which was founded by former Clinton administration Assistant to the President and Director of Intergovernmental Affairs at the White House, Mickey Ibarra, as a unique platform for prominent Latino leaders to share their personal stories of overcoming obstacles to achieve success. 
The Antonio Villaraigosa Leadership Award is presented to a mayor from a city with a significant Latino population who has exhibited an outstanding commitment to bringing diverse communities together.
Antonio Ramón Villaraigosa served as the 41st Mayor of Los Angeles from 2005 to 2013. Before becoming mayor, he was a member of the California State Assembly (1994–2000), where he served as the Democratic Majority Leader (1996–98), and the Speaker of the California State Assembly (1998–2000).
Gloria began his career at San Diego County's Health and Human Services Agency. He then went on to serve as District Director for United States Congresswoman Susan A. Davis. In 2008, Gloria was elected to the San Diego City Council. In 2016, he ran and was elected to the California State Assembly to represent the 78th Assembly District.
While serving in the Assembly Gloria went on to become the Assistant Majority Whip and eventually Majority Whip. Then in 2020 he was elected Mayor of San Diego, making history across a spectrum of significant firsts as in addition to being the first openly gay person to lead the city, Gloria, "the son of a hotel maid and a gardener"  became the first person of color to occupy the Mayor's chair. He is a third-generation San Diegan of Filipino, Native American, Puerto Rican, and Dutch descent.
In a coronavirus pandemic affected zoom-style virtual inauguration ceremony, presided over by the President pro Tempore of the California State Senate Toni Gayle Atkins, Gloria was sworn in as the 37th mayor of the City of San Diego on Thursday, December 10, 2020 before the San Diego City Council.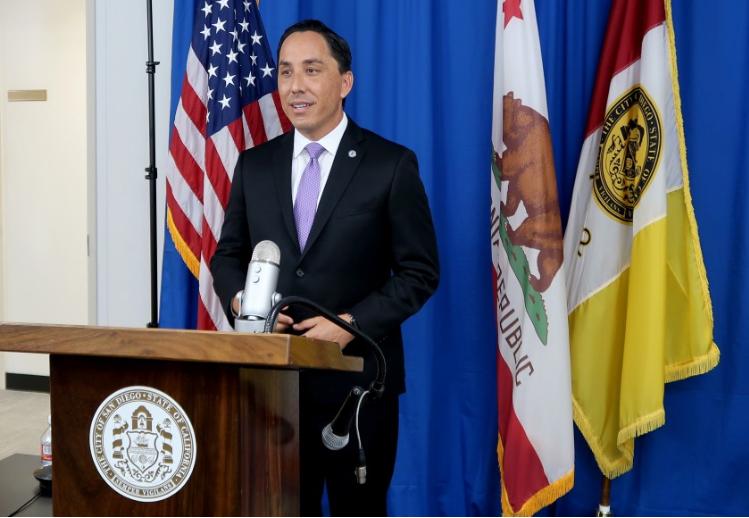 "Getting an award in Mayor Villaraigosa's name is really meaningful to me," Gloria told the Blade. "I was the nerdy kid who would watch C-SPAN and read the newspaper when I was young. I was very aware of Mayor Villaraigosa and his service leading his city that is just a few hundred miles north from where I grew up here in San Diego. There is a saying that if you haven't seen it you can't be it. The fact that I had this charismatic and energetic leader of a city not too far away meant that I could identify with him. He and others like him created that opportunity for me to see what I was interested in trying to become in terms of a public servant, and so it feels in someway poetic to receive this award."
Receiving an award that celebrates diversity and inclusion is particularly poignant for the Mayor, as he feels that while San Diego has an incredibly diverse population, inclusion in its political sphere is only just starting to turn a corner for the better. 
"I hold a sanction to being the first person of color elected mayor of my city," said Gloria. "I was elected in 2020 I think that's somewhat remarkable when you consider that San Diego is a very diverse city we are a border city we literally lie on the US Mexican border. We are on the pacific rim, and yet no one has broken this barrier until I was given the opportunity to do so just two years ago."
Much as he was inspired by LA's Mayor Villaraigosa in his youth, Gloria hopes that that he can serve as an inspiration to the next generation of diverse leaders. 
"People like myself who are given this opportunity have to stay strong. you have to remember you are not there on your own behalf. You are there on behalf of a whole community. Some may look up to me the way I looked up to Mayor Villaraigosa if I am able to show people what a person of color can do leading the 8th largest city in the country. It is a challenge, but it is also an opportunity. My friend and mentor, Vice President Harris, always says that you may be the first to do some thing, but you should not be the last. That is my goal."
"I love San Diego," said Gloria. "I was born and raised here. I am a third generation San Diegan. I love this town, and I was taught that it was my responsibility to leave it better than I found it, and so I've chosen to spend my entire career serving this community in the county of San Diego, as congressional aide as a council member, as a state legislator, and, now, as a mayor."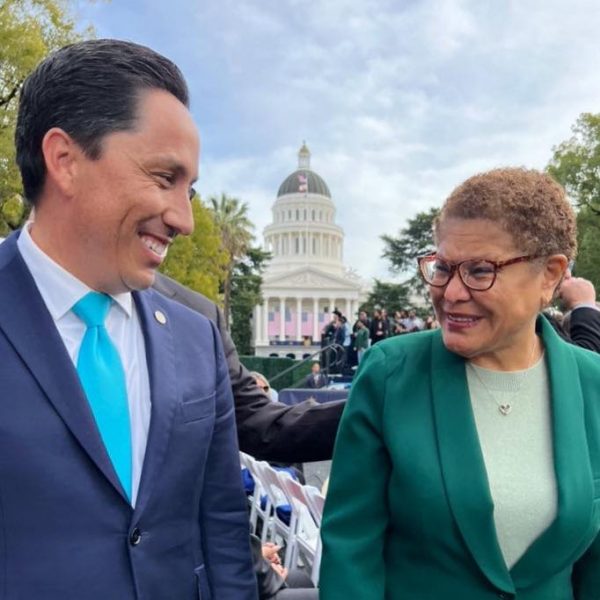 The lesson of leaving something behind better than you found it comes from the teachings of Gloria's parents he tells the Blade.
"My parents were blue-collar folks," recalled the Mayor. "When I was growing up, my mom was a hotel maid and my dad was a landscaper. These two hard-working, modest people didn't have generational wealth or the financial ease to help us. They just had good humble values that they tried to instill in me and my brother."
Gloria recounted a story from his childhood where his parents' moral compass inadvertently lead him to his political career.
"Growing up, we often didn't have a car. We had to borrow other people's cars. Obviously, we didn't have enough money, and I can remember vividly having to wash those cars and fill them with gas and having to get the buckets and sponges and soap and water. That all has expense attached to it, and so I said, 'If we are borrowing cars because we don't have money, then why are we spending money on washing them and filling the tanks up with gas?' The answer that my parents gave us was, 'This is what we have to do. We are borrowing these cars and we can't return them dirty or with an empty tank.' This left an impression on me. I don't think my parents intended it this way, but it really was this admonition to get into public service.'
"Some people have to wake up every day and punch a time clock. I just have to wake up and make the city a better place. I think that's a wonderful mission and I feel grateful for this opportunity. That is why I do this work."