Rabbi & 11-year-old son testify against anti-trans legislation
Daniel Bogard and his family are part of an interfaith movement led by Missouri clergy aimed at stopping bills targeting the LGBTQ community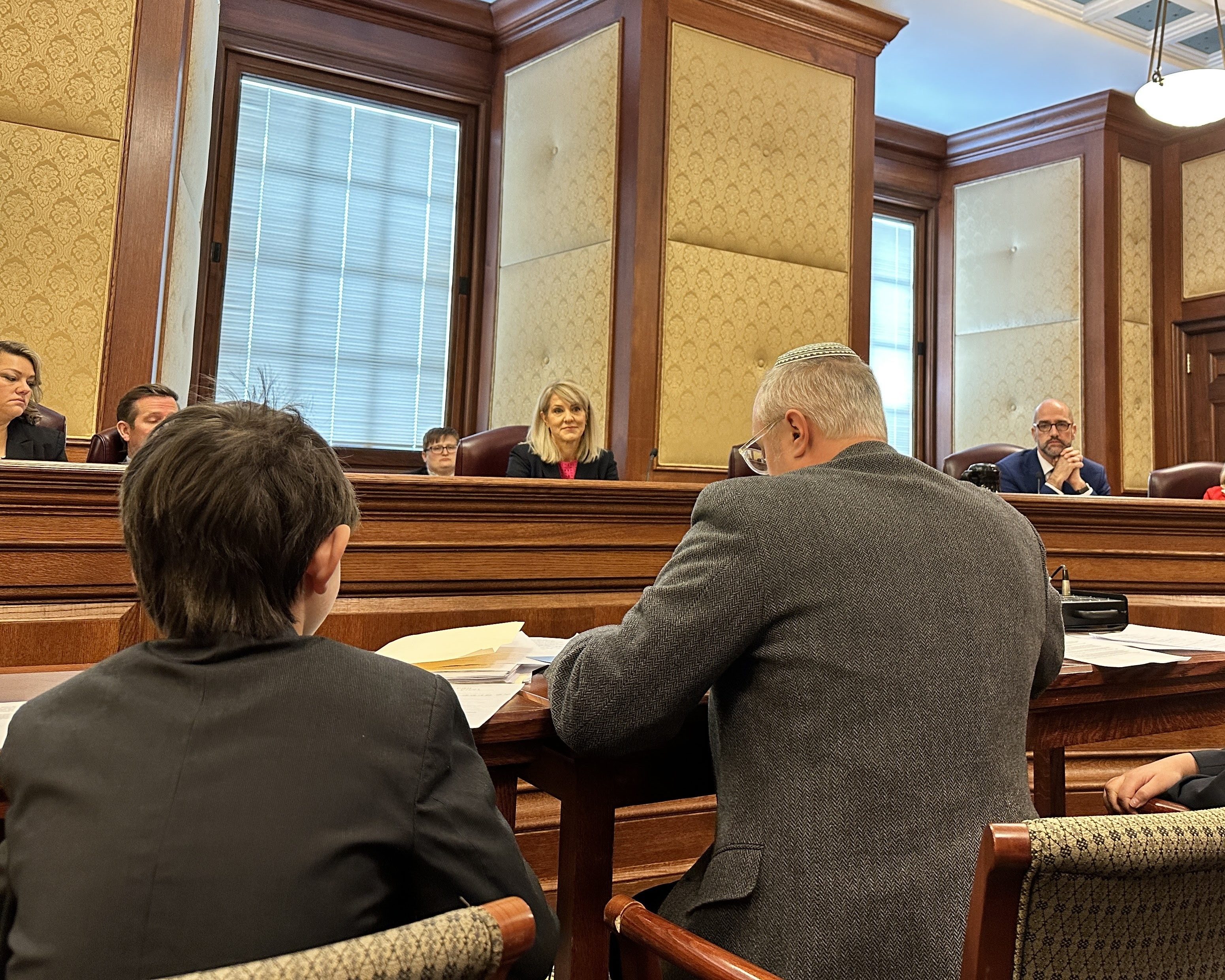 ST. LOUIS, MO. — Rabbi Daniel Bogard should be spending this Shabbat preparing for tonight's service at the synagogue he leads in St. Louis, Central Reform Congregation. Instead, he's defending his family from death threats and planning his next trip to the state capitol, two hours away in Jefferson City, where Republicans hold a super majority in the state legislature and the governorship.
That's also where the state GOP is pushing forward six bills: Three that would ban gender-affirming healthcare for transgender children and three more that would prohibit them from competing in school sports according to their authentic gender identity. Every year for the past few years, Bogard said he has testified against bills like these.
"Every year, again and again and again," he said. "And it's dehumanizing and degrading and genuinely traumatic."
In fact, Missouri lawmakers have filed the most anti-LGBTQ+ bills of any state, according to a database from the American Civil Liberties Union that tracks anti-LGBTQ+ legislation nationwide. The ACLU called this the "most dangerous" session of the Missouri Legislature for the LGBTQ+ community it's seen in years.
"The Republicans said that targeting trans kids is the single most important agenda on their list, especially targeting trans because it is their top priority this session. And I think, 'What the fuck?'" said the rabbi. "We had, I don't know, 50, 60 Jews who showed up in the state capitol with 25 hours' notice to protest these bills last Tuesday."
That day, Bogard was one of a half dozen fellow Jewish as well as Christian clergy who spoke out against the legislation, many of them testifying at a marathon, nine-hour hearing focused on student-athletes.
Bogard's 11-year-old eldest son testified, and boy's grandmother was there in support. The young man told lawmakers he was there to represent his nine-year-old brother and a friend, who are both transgender.
"I have to be here because you, the Missouri government, keeps trying to take away what they have a passion for. Why do you keep trying to take things from these kids? Kids just want to have fun, playing sports, not being stressed having to come here to tell you to let them play," he said. "This has affected my brother, because now he is scared he will not get to do what he loves."
The Blade agreed to not disclose either boy's name or their faces for their protection. "I've had a half dozen death threats in the last year," Bogard said. "It's taken a huge toll. It colors everything about how I see the world at this point. I find hope really hard, which is tough as a rabbi."
And this week wasn't the first time the rabbi's oldest son testified, he said. But he draws the line at putting his youngest child in the hot seat.
"My 11-year old, he's been testifying for years now," Bogard told the Blade. "We don't allow our child who's trans to testify because, first of all, he's only nine. But they are so cruel in that testimony room. They're cruel, and they say awful things. I mean, they call you groomers in the testimony room. They tell you you're mutilating your child. They ask children if they'd like to be taken away from their parents, and why their parents are forcing them to believe these things. They ask children what their genitals look like."
"So, we don't, we don't let our nine-year old go there," he said, noting his child does have plenty of support, and not just from him and his wife, Rabbi Karen Bogard and their oldest son.
"My kid lives the life that every trans kid deserves. He is embraced and supported by every single one of his relatives, our friends, and the school and his teacher. They threw him a party on the one-year anniversary of his transition. The rabbi made him a kippah in the colors of the trans flag," the pink, white and blue banner which was designed by Navy veteran and trans activist Monica Helms.
Bogard's nine-year-old attends a school which is greatly supportive of the effort to win hearts and minds at the capitol. "The school sends a senior level person to testify against every single one of these bills," he said. "That's the world my kid lives in." 
To give other children like his a chance to live in a better world, even briefly, Bogard teamed-up with PROMO senior director of public policy and advocacy Shira Berkowitz last year, to start Camp Indigo Point, a summer camp for trans youth, at a secret location in Missouri.
"We thought we were going to get 20 kids from this area," Bogard said. "And we ended up filling every one of the 97 bunks that we had for kids at the facility we had rented out, and had 60 kids on the waitlist. Those kids come from 27 states. It was the most magical thing, the best thing I've ever been a part of."
Bogard said the entire staff at the camp, except for him, is trans and nonbinary. It's efforts like this and the work he and other cisgender parents do at the capitol that has won him admiration and allies, including one woman who describes herself as an Orthodox feminist.
"The efforts to take away trans rights in Missouri — and attack and erase all LGBTQ+ people in our state — have felt like repeated gut punches as we see more and more bills proposed and work to build up the energy to travel to the capitol week after week to testify. It often feels like more than enough to break a person," Rori Picker Neiss, Maharat and executive director of the JCRC in St. Louis, told the Blade. "And yet what continues to inspire me each day are these brave kids and their resilience, the parents who fight for them to the ends of the earth, and the faith leaders who refuse to allow religious language to be coopted for harm."
Bogard and others making this effort do more than testify, they lobby the lawmakers. "Many of these Republicans will tell you in private how much they don't like these bills and don't want to be a part of them, but they feel like they have to."
And what about those who are pushing the bills forward, such as Senate President Pro Tem Caleb Rowden? Bogard calls them "disgusting" and "enablers of fascism."
"They are the people who are torturing my family, because it's good politics for them," he said. "I think it's fascism that's rising here. I think that's what this is and that's what we're facing. It's white Christian nationalism, certainly, and it's taking over red states."
As the Blade has reported, families from Texas, Florida and other states of hate are fleeing to sanctuary states like California, Connecticut and Massachusetts because of the kinds of bills being considered in Missouri. Even though Bogard has deep roots in St. Louis, he confessed moving away is something his family may have to consider.
"I don't know a loving parent of a trans kid in a red state who isn't up at night, terrified that they're going to need to flee," he said. "I live in the house that my grandpa built, that my dad grew up in, that I grew up in, that my kids are growing up in. My folks are here at home, very close to us and who love their grandkids. My mom came down to testify with us. My brother's here, his family, my niece.
"I'm terrified we're going to need to flee the state, because if they give me the choice between doing what is right for my child, and staying, that's not a choice. The great fear is, government goons showing up at your door to take your child away."
Missouri Attorney General restricts trans youth healthcare
"Gender transitions are experimental, they are covered by existing law governing unfair, deceptive, & unconscionable business practices"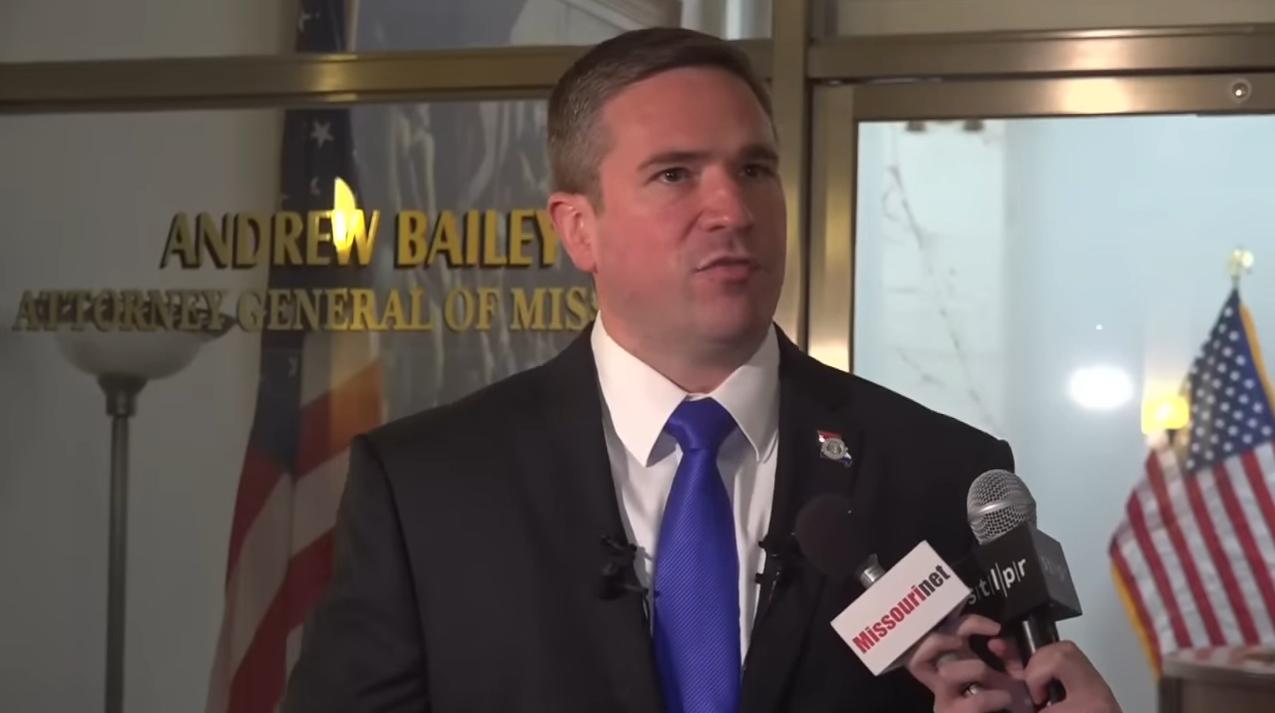 JEFFERSON CITY – Missouri Attorney General Andrew Bailey announced Monday that he has ordered implementation of a set of emergency rules that severely places restrictions on how healthcare providers in the state render gender-affirming care to minors.
In a statement released by his office Bailey wrote: "[my] office is issuing an emergency regulation clarifying that, because gender transition interventions are experimental, they are covered by existing Missouri law governing unfair, deceptive, and unconscionable business practices, including in administering healthcare services. The regulation is necessary due to the skyrocketing number of gender transition interventions, despite rising concerns in the medical community that these procedures are experimental and lack clinical evidence of safety or success.
"As Attorney General, I will protect children and enforce the laws as written, which includes upholding state law on experimental gender transition interventions. Even Europe recognizes that mutilating children for the sake of a woke, leftist agenda has irreversible consequences, and countries like Sweden, Norway, and the United Kingdom have all sharply curtailed these procedures. I am dedicated to using every legal tool at my disposal to stand in the gap and protect children from being subject to inhumane science experiments."
PROMO Missouri, an LGBTQ public policy and advocacy group, said in a statement that the attorney general "does not have the right to politicize healthcare nor use transgender bodies as political pawns."
PROMO also noted that gender-affirming care is not experimental, as the Attorney General suggested, but is a life-saving form of healthcare for trans youth.
The bodies of trans Missourians are not political pawns. @AGAndrewBailey is playing with the lives of trans kids and putting their very existence in danger with his actions. @PROMOMissouri will continue to defend trans youth and their access to vital, lifesaving healthcare. pic.twitter.com/aSSb5Zn92Q

— Robert Fischer (@_imPRessive_) March 20, 2023
St. Louis CBS News affiliate KMOV 4 reported that Dr. Colleen McNicholas, Chief Medical Officer with Planned Parenthood of the St. Louis Region and Southwest Missouri, said in a statement:
"Missouri Attorney General Andrew Bailey's transphobia is an embarrassment to the Show-Me State. The politically driven claims made in the announcement are medically false and harmful. Scientific evidence shows — and the medical community agrees — that gender-affirming care is safe, effective, and life-saving.
"Bailey's lack of medical expertise shows. His personal moral panic is inappropriately and unlawfully setting harmful policies that will hurt young transgender Missourians and their families. We denounce this government interference in the practice of medicine, and we demand politicians leave health care between providers and their patients. Shame on any politician who uses trans youth for political theatrics."
Attorney General Bailey's emergency regulation (see list below) will last 30 legislative days or 180 days, whichever is longer.
Because gender transition interventions are experimental, the regulation clarifies that state law already prohibits performing experimental procedures in the absence of specific guardrails. For gender transition interventions, those guardrails must include at least:
Specific informed-consent disclosures informing patients that, among other things,

The use of puberty blocker drugs or cross-sex hormones to treat gender identity disorder or gender dysphoria is experimental and is not approved by the Food and Drug Administration (FDA)
The FDA has issued a warning that puberty blockers can lead to brain swelling and blindness
Sweden's National Board of Health and Welfare ("NBHW") recently declared that, at least for minors, "the risks of puberty suppressing treatment with GnRH-analogues and gender-affirming hormonal treatment currently outweigh the possible benefits"
One scientific study notes that an individual whose friend identifies as transgender is "more than 70 times" as likely to similarly identify as transgender, suggesting that many individuals "incorrectly believe themselves to be transgender and in need of transition" because of social factors
The Endocrine Society found that "the large majority (about 85%) of prepubertal children with a childhood diagnosis did not remain GD/gender incongruent in adolescence"

Prohibiting gender transition interventions when the provider fails to,

ensure that the patient has received a full psychological or psychiatric assessment, consisting of not fewer than 15 separate, hourly sessions over the course of not fewer than 18 months to determine, among other things, whether the person has any mental health comorbidities
ensure that any existing mental health comorbidities of the patient have been treated and resolved
adopt and follow a procedure to track all adverse effects that arise from any course of covered gender transition intervention for all patients beginning the first day of intervention and continuing for a period of not fewer than 15 years
obtain and keep on file informed written consent
ensure that the patient has received a comprehensive screening to determine whether the patient has autism
ensure (at least annually) that the patient is not experiencing social contagion with respect to the patient's gender identity