OC bans flags except U.S., state, county on county property
Do told his fellow supervisors he wanted to limit the county's exposure to being accused of supporting any particular interest group
SANTA ANA, Calif. – In a narrow 3-2 vote Tuesday, the Orange County Board of Supervisors approved a policy that would limit flying of flags on county property to solely federal, state and county flags.
The new policy was authored by board Vice Chairman Andrew Do, who told his fellow supervisors he wanted to limit the county's exposure to being accused of supporting any particular interest group.
"The flag policy that I proposed today has nothing to do with any particular cause or social issue," Do said. "We have speakers from both sides so both sides can claim they're right and there have been efforts to define my item as one being exclusionary, particularly with respect to sexual orientation and I want to unequivocally refute that point."
There had been debate around the Pride Flag, which is normally flown in acknowledgement of LGBTQ people during the month of June. Do deflected telling the audience and the board:
"Orange County is welcoming to everyone," Do said. "This board has demonstrated that over and over. I recruited Dr. Chau, a member of the LGBTQ community, here during COVID to head of our health care agency."
The issue over the display of flags arose after a failed effort from Supervisors Katrina Foley and Vince Sarmiento backing a proclamation in support of Pride Month to honor the LGBTQ community. The two supervisors also voted no on the Vice Chairman's flag policy.
"We know this is not about (constitutional) law — this is really more of a political decision," Foley argued. "As the sixth-largest economy in America and the fourth-largest economy in California, as the home of Disneyland, as the home of Vans, as the home of so many corporations who are inclusive and express that inclusivity, they're supporting Pride not because it's divisive, but because it's inclusive. It's a representation of diversity."
Supervisor Sarmiento noted the high level of suicide and depression in the LGBTQ community.
"My son, who is queer, says those numbers are totally underestimated," Sarmiento said. "To me, it is personal. We have to have a talk with my son whenever he goes and when he wants to show affection to his partner. Don't hold his hand, don't embrace him, don't have him do all of these things we take for granted, and he cannot because there is still rampant hate in this county, unfortunately."
The Orange County Board's actions comes four months after the Huntington Beach City Council approved an ordinance/policy to restrict display of flags on city-owned property to only flying the city, state and national flags, along with occasionally flying the county flag and flags supporting prisoners of war and each branch of the military.
The council voted 4-3 approving the ordinance/policy along party lines with Democratic council members Dan Kalmick, Natalie Moser and Rhonda Bolton voting against it.
Republican Councilman Pat Burns, a former Long Beach Police Department Lieutenant, and a publicly proclaimed proponent of "family values" said "Special flags or recognition flags of some sort that aren't governmental or representative of the community, as one, I don't believe has a space on our government flag poles."
Related:
OUSD school board passes anti-trans policy after toxic meeting
The majority of the speakers were proponents of the policy some who identified themselves as residents of other jurisdictions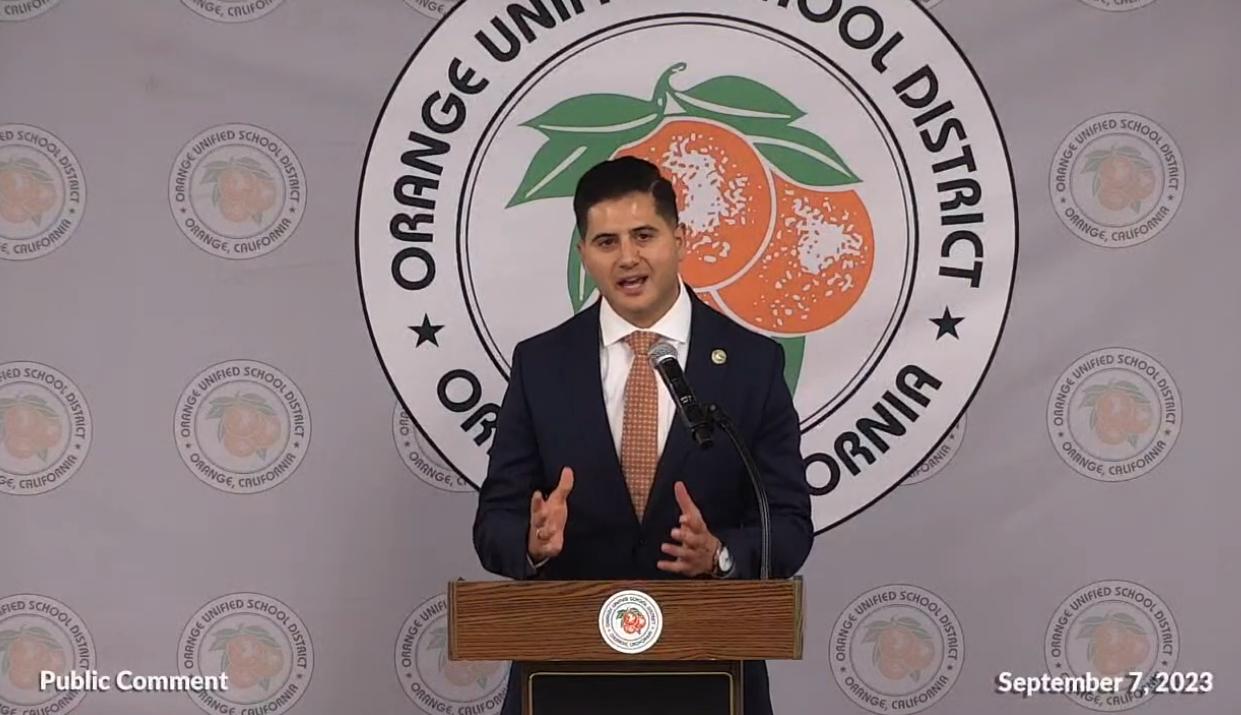 ORANGE, Calif. – The Orange Unified School District Board of Trustees minus three trustees who left after being fearful for their personal safety after a contentious and combative meeting, described as 'extremely toxic' by an attendee who spoke to the Blade, voted just before midnight Thursday to approve an anti-transgender parental notification policy. 
The new policy requires all schools in OUSD to notify parents if their child requests to be identified or treated as a gender other than what's listed on their birth certificate. The policy would include requests to use pronouns that don't align with their biological sex or gender or a name different from their legal name.
Additionally, parents would be notified if a student asks to use a restroom or changing facility of a gender different than the one listed on their official paperwork.
The meeting was interrupted and had delays several times, including at one point by an audience member using a bullhorn shouting against the policy who was then escorted out by security after the room exploded into chaos. The meeting lasted nearly three hours with audience members cheering and booing speakers, and some of the speakers holding props like American flags and some wearing light blue, pink and white transgender flags; A few holding up graphic photos.
The attitudes in the room and outside in the overflow spaces grew more heated and acrimonious with angry vitriolic comments directed at the board, causing three trustees opposed to the policy to abruptly leave.
In an emailed statement to the Los Angeles Blade and other media outlets, OUSD Trustees Kris Erickson, Ari Page, and Andrea Yamasaki, accused Board President Rick Ledesma of allowing the chaos and enabling the pro-policy anti-LGBTQ demonstrators to disrupt the proceedings.
"During the September 7th board meeting, outside extremists from LA to San Diego, who are aligned with Ledesma's majority, filled our boardroom, shoving OUSD parents and teachers out of the process. The rhetoric and vitriol maligning our teachers and others escalated throughout the night. We received reports our security team could not control the physical fights between groups outside the boardroom and, at one point, were advised to shut the meeting down for the safety of us and others. Yet, the meeting continued.
"When the altercation erupted inside the board room, President Ledesma did nothing. The audience, many of whom seek viral video content for social media, turned on us. One videotaping agitator, in a frenzy, started targeting and encouraging the mob to focus on Trustee Erickson. Our staff escorted us to our vehicles as we saw no safe option other than to leave. President Ledesma failed to follow board protocol to stop the meeting and escort the board to a safe room. His lack of leadership or concern for us as his colleagues is appalling."
After the scuffle broke out with the audience member with the bullhorn and the meeting had resumed, Erickson, Page, and Yamasaki had departed the meeting, escorted to their vehicles by school board staff and security.
In their statement the three trustees offered their support for the LGBTQ+ students of the district and placed the blame on the toxic environment on the Board President and his allies.
"By bringing culture wars into Orange Unified, the Ledesma majority has invited the most radical elements into our district, OUR home. We can only imagine how difficult it is for our LGBTQ youth to exist in this toxic and hateful environment where politicians are exploiting their very existence to score political points. The five-day forced outing is arbitrary and cruel and has no basis in good mental health practice. We provide no ongoing support for these students and families that we inject ourselves into – on our timeline, not theirs – to confront a sensitive and nuanced issue they may not be ready to deal with. This will force young people back into the closet to deal with difficult issues alone. It's shameful.
We have put our hearts and souls into OUSD as trustees, parents, longtime volunteers, and former students. We are heartbroken that our board is focused on political antics instead of driving our district forward for our students."
Just prior to the vote at around 11:30 p.m., Trustee Madison Miner told those in the room, "Keeping parents aware of what is happening is the only way we can move forward towards safety in our district."
The majority of the speakers were proponents of the policy some who identified themselves as residents of other jurisdictions. These included Riverside Republican Assemblymember Bill Essayli, one of the co-sponsors of Assembly Bill 1314, which would have required schools across the state to notify parents when a child identifies as transgender. However, the bill died for the 2023 Assembly legislative year after the chair of the Assembly's education committee opted not to schedule it for a hearing.
Essayli framed the issue as parents rights and critiqued the Democratic-majority legislature and took aim at California Attorney General Rob Bonta who sued the Chino Valley Unified school board over a similar policy which a San Bernadino Superior Court Judge blocked on Wednesday. The Republican lawmaker said he had a message for Bonta: "Do your job. Focus on crime. Leave parents alone."
Recently, Attorney General Bonta issued a statement following Anderson Union High School District, and Temecula and Murrieta Valley Unified School District Boards' decisions to implement copy-cat mandatory gender identity disclosure policy targeting transgender and gender-nonconforming students, warning those districts that his office would be vigilant and proactive in defending the civil and human rights of LGBTQ+ students in California.
Related:
Also speaking was Ana A. Gonzalez, the District Director for State Senator Thomas J. Umberg (D-Santa Ana), representing Umberg delivering a message of opposition to the policy.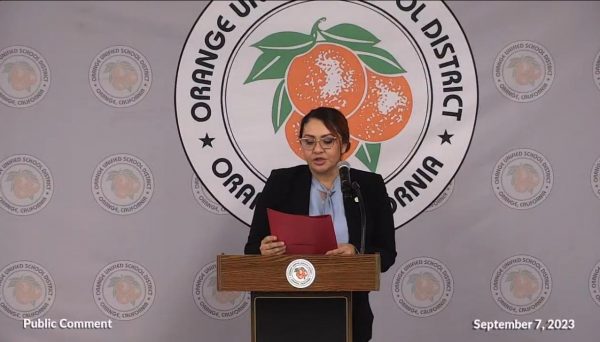 "As a parent and a grandparent, I urge you to reject this proposal. This policy, in search of a problem, would only cause irreparable harm to a minority of students who would be outed and potentially endangered. Students who identify as transgender or gender non-conforming already face extremely difficult lives. In a recent American Academy of Pediatrics study, 73 percent of transgender students reported psychological abuse and 39 percent reported physical abuse.
"Additionally, I worry about the adverse impact this parental notification policy would have on students who have parents who would not be welcoming of such news. Given that according to a 2012 study of service providers, the primary cause of homelessness among LGBTQ youth is family rejection. While this may not reflect the home of every family- forcing administrators to out students benefits neither the schools not the students."
The policy voted on last night was revised from an earlier version which read that parents would be notified by writing within three days if a student requested to use a different name or pronoun or wanted to change sex-segregated programs such as athletic teams or changing facilities that differ from the student's "assigned biological sex at birth."
In interviews with KTLA's John Fenoglio, Rosa Otero, a parent who supports the policy, believes that parents have a right to know.
"All we're asking for is to please just let us know what's happening with our kid," she told KTLA. "I'm for this policy not because I'm against gay or LGBT. I have three LGBT people in my family, and I am very, very religious, but we just want to be notified as parents."
On the opposite side of the issue, Jennie Sloan is a parent who opposes the policy, saying it is deeply flawed.
"It singles out these kids as problems, as one singular issue to be dealt with, and children in our schools are dealing with all kinds of issues," she said. "The fact that it's just one shows that they are targeting a specific group, which is not fair and is illegal."
Equality California released the following statement from Executive Director Tony Hoang in response to the vote by the OUSD Board to implement the policy that will forcibly out transgender, nonbinary, and gender nonconforming students to their parents or guardians without the student's consent:
"Last night's action by the Orange Unified School District Board of Education is yet another example of far-right extremist rhetoric influencing the votes of school boards across the Golden State. With LGBTQ+ youth around the country under attack, these school board members put their most vulnerable students in harm's way with their dangerous vote to forcibly out transgender, nonbinary, and gender non-conforming youth without their consent. The policy they passed is dangerous and in direct opposition to recommendations made by the California Department of Education.
We are also deeply disappointed that some school board members allowed anti-LGBTQ+ extremists from outside of Orange County to threaten and intimidate students, parents, teachers and even board members who did not agree with them – resulting in three board members needing to be escorted out of their own meeting just to remain safe. This pattern of threats and intimidation at public meetings, which also occurred at the Chino Valley Unified when their board adopted a similar policy, is dangerous and has no place in California.
A similar forced outing policy was adopted Wednesday evening by the Rocklin Unified School District. Equality California is furious that anti-LGBTQ+ extremists continue to push forward these harmful policies that are decidedly anti-student.

The policy that began this wildfire, originating in Chino Valley, has been halted by the San Bernardino Superior Court after California Attorney General Rob Bonta filed suit arguing that it infringes on several state protections safeguarding the civil and constitutional rights of students. It is our hope this action gives pause to those who would seek to enforce similar forced outing policies.
Equality California will continue to work with our partners at the local and state levels to ensure that LGBTQ+ students have safe and supportive learning environments, and treated with the dignity and respect they deserve."
OUSD Board Meeting – September 7, 2023:
Related: