June 10, 2017 at 11:11 pm PST | by Rebekah Sager
AIDS/LifeCycle pedals into WeHo after 545 miles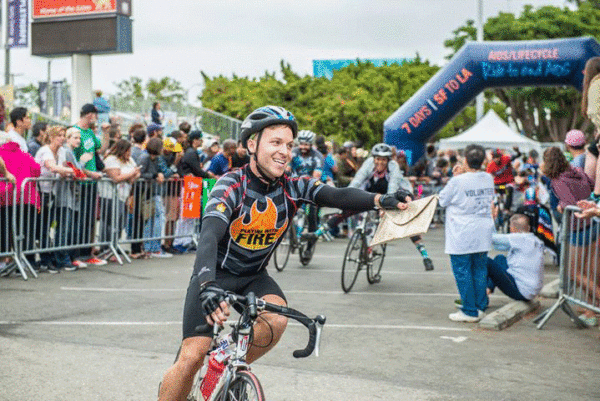 After 545 long miles, riding from San Francisco to Los Angeles, the AIDS/LifeCycle participants road into Fairfax High School, Saturday, to the cheers of family, friends and supporters.
This year the cyclists raised over $15.1 million for the cause, and the mood in Los Angeles was celebratory.
"This day they've hit the 545 mark. They're home in West Hollywood, so it's emotional and there's a sense of accomplishment. Their bodies are out of sorts and out of whack because it's an endurance challenge," LifeCycle staff member and former rider, Jacob Ittycheria, told the LA Blade.
He says the most challenging part of the ride is the mental aspect. You talk to yourself, asking 'can I do it,' and then you do – that's the biggest hurdle to overcome.
"If you break down the 545 [miles] down by rest stops; there's four rest stops every 15 miles, per day, plus lunch, it makes the whole thing less daunting," Ittycheria says.
Over 2,200 cyclists participate in the journey from San Francisco to Los Angeles, and the money raised goes to fund the San Francisco AIDS Foundation and the HIV/AIDS-related services of the Los Angeles LGBT Center. AIDS/LifeCycle has raised more than $236 million since its first ride in 2002, making it the largest fundraiser for HIV and AIDS in the world.

One rider, from Team Fubar, who's been doing the ride for the last 4-years says his team raised over $400,000 and he personally raised over $11,000 – more money than he's raised in previous years.
Carol Hedges has ridden in 23 LifeCycle rides. An elementary school P.E. teacher from the Bay area, Hedges says she rides for Maynard, the man who tread water for what must have been hours waiting for her to jump off the high dive in swimming lessons when she was 7, who died of AIDS in the shadow of his families' shame, and for Georgia, her student with Spina Bifida who died of AIDS — Hedges says she rides because it is the right thing to do, and because she can.
Hedges has her students write letters to her fellow cyclists, on day four, every one of the riders, roadies and supporters gets a letter. This year she raised $10,000.
"This year it couldn't have been more important to ride, and I think that's why I raised more than usual. I met a lot of great people and a lot of new people," Hedges says.
The epic ride can be grueling and dangerous.
Friday, a rider, 37, was airlifted to the hospital for treatment after reportedly receiving a major head injury in a crash at Gaviota, a community in Santa Barbara, according to emergency radio dispatch traffic.
Although first discovered in 1981, the AIDS epidemic is far from over.
In the seven days it took the riders to reach Los Angeles, more than 500 people in the U.S. will become infected with HIV. One out of every eight people living with HIV nationwide is not aware of their status. Currently there are 1.2 million people living with HIV nationwide and an estimated 39,000 will become infected this year.
One rider this year, who served in the Peace Corp in the 90s and saw the ravages of AIDS first-hand says he's done the ride every year since his first.
"Every year people ask me when are I'm going to ask for money for the AIDS ride, and I just say, 'I'm asking you now,'" he says. He raised $7,400.