#ResistMarch founder quits Christopher Street West board
A successful march behind him, Pendleton pivots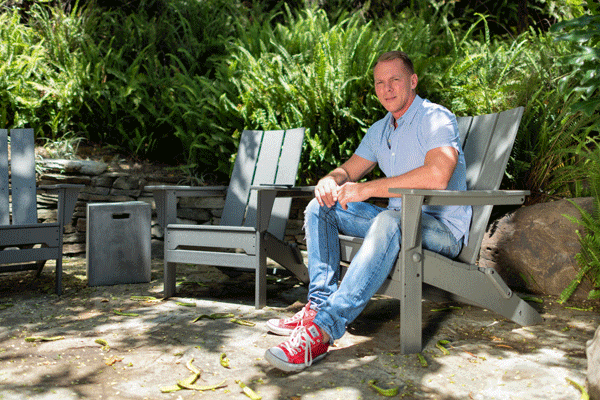 When Brian Pendleton, a local entrepreneur and philanthropist, posted to his social media accounts a community call to transform the annual LA Pride Parade into a protest march, he was shocked by the response.
Within a few days, his post racked up more than 30,000 likes.
Pendleton's post also tapped into lingering concerns about the management of Christopher Street West (the organizing committee of LA Pride and Festival) under the leadership of Christopher Classen and what many saw as his efforts to transform the previous year's event (LA Pride 2016) into a more mainstream music festival. Those efforts outraged many within the local community who told the West Hollywood City Council that Christopher Street West was abandoning LGBT history and dishonoring the founder's legacy.
In 2016, CSW allegedly lost upwards of $300,000, according to local media sources, and depleted Christopher Street West of surplus funds it had banked from previous years.
But the parade and festival plans for 2017 were challenged by much more than the financial losses from the previous year. Construction in the West Hollywood Park, in which the festival is traditionally held, meant that organizers were restricted to less than one-third the space normally available for the event. The result was a conundrum, forcing Christopher Street West to reduce the size of the event and to still determine a way to make it profitable. The effort to plan the footprint of the event was the focus of several City Council meetings and several proposals from Jeff Consolletti, the Festival producer and director.
Pendleton's idea for #ResistMarch, perhaps because it had gone viral, was attractive enough to CSW that he was asked to join the group's board of directors. When he did it solved a host of issues, including another serious public relations problem that threatened the organization after several high-profile board members left. Those board members resigned in protest, largely because they did not feel there had been any lessons learned from the previous year's concerns, including a commitment to transparency.
Upon joining CSW's board, Pendleton was given the go-ahead to organize #ResistMarch — but was offered an insufficient budget from CSW.  CSW's insistence on a three-stage festival left no money to support the march. "They said If I wanted to spend it, I had to raise it on my own," said Pendleton. Additionally, no other board members volunteered to help in the task of organizing the massive undertaking.  CSW effectively turned the parade over to Pendleton but without offering any support.
Pendleton, who has raised nearly one billion dollars for nonprofit organizations, certainly had the experience and the funding network needed to pull it off.
Within a week of LA Pride's adoption of #ResistMarch, Pendleton, operating under CSW's 501(c)3 non-profit status, began raising funds from private donors, organizing a committee that grew to 65 people, inviting a broad base of community, mapping out a March route (Hollywood and Highland to Santa Monica Boulevard and Robertson) and arranging the necessary permits and safety provisions with both the City of Los Angeles and the City of West Hollywood. Pendleton secured a commitment from West Hollywood to double the amount of services the City would provide to what became an expanded, open march. West Hollywood City Councilmember John D'Amico, said of the doubling of the amount of city services (from $500,000 value to $1,000,000 value), "Free speech isn't free."
Pendleton ultimately raised more than $200,000 in cash.
Though the #ResistMarch was deemed a success, attracting upwards of 100,000 marchers, recriminations have set in. A source, who spoke on condition of anonymity, said, "CSW did nothing to support Brian but they have tried to claim credit." The source says no financial accounting was given to Pendleton, though he requested it "repeatedly" in part to gauge registration and status of the funds he solicited.
In a widely distributed and general post-event statement about the financial results, CSW said the two-day festival was a success that drew approximately 60,000 attendees, 10,000 more than the year before. The statement attributes the festival attendance increase to price reductions for entry fees, better weather and no attendance impacting news events like the Pulse shooting. It does not allude to the boost in attendance on Sunday that may have resulted from the large crowds from #ResistMarch that dispersed at the festival entrance.
But the statement seems to contain some veiled barbs at #ResistMarch. CSW says foregoing the Parade in favor of a protest march negatively impacted Christopher Street West's finances since it precluded revenues from corporate sponsors and affinity group fees. #ResistMarch was an unsponsored  "people's march."  CSW's statement also suggests that the costs associated with a much larger parade route, manpower and infrastructure costs required to create and manage two stages and marketing required for an event that was falsely reported to be cancelled put an additional strain on the organization's finances.
The funding of #ResistMarch, however, was completely dependent on Pendleton. "It strains credulity that CSW could imply #ResistMarch infrastructure costs impacted the organization in any way. It was sink or swim for Brian and that was clear. He facilitated organization and implementation of the march, relieving CSW of all direct costs a parade would have incurred otherwise. He raised money for it and he funded the gap…he was given no assistance. CSW simply cannot point to the expenses of #ResistMarch since those were entirely covered by Pendleton," says a former CSW board member who also spoke on condition of anonymity.
Classen, however, says that "during the time of Pendleton's tenure on the board of CSW, no board member resigned and none have resigned since."
Will DeSmit, however, a gay man in his late 20's who was added to CSW's board in 2016 to better reflect the diversity of the community, resigned shortly after Pendleton joined.
CSW has certainly always faced difficulties mounting LA Pride but it seems that no matter what the outcome, critics are prevalent.
A common refrain among  #ResistMarch committee members who were contacted for this story was that they did not want the memory of the march to be tarnished by acrimonious politics.
"My memory of this effort was of so many wonderful, diverse people who came together, busted our butts and made it happen," said one.
One marcher, Kit Winter, a Los Angeles attorney, said #ResistMarch "lifted the cloud of constant post-election anxiety and being with other people who were willing to show up and be heard reassured me."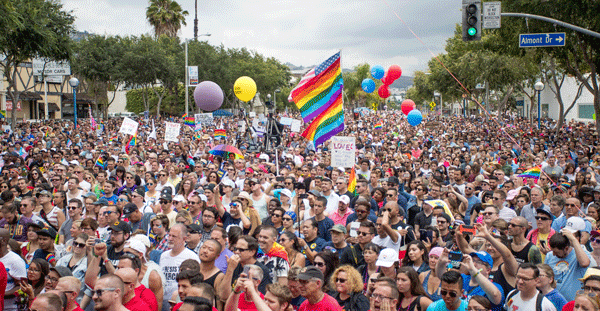 Pendleton recently resigned from the board of Christopher Street West and says he has moved on.  
"#ResistMarch was one of the most empowering things I've ever done and I have nothing but great love for the team of people who worked so hard to make it happen and endless admiration for the people who showed up and marched," he said.
He is now attending the Harvard Kennedy School's Senior Executives in State and Local Government program and is considering a run for public office.
It remains unclear if the West Hollywood City Council will ask CSW for a breakdown and explanation of the discrepancy in financial expenses.
Long Beach Pride parade & festival July 8th-10th
The theme is 'Many voices-one spirit, marking three decades of the annual third largest Pride in California celebrating the LGBTQ+ community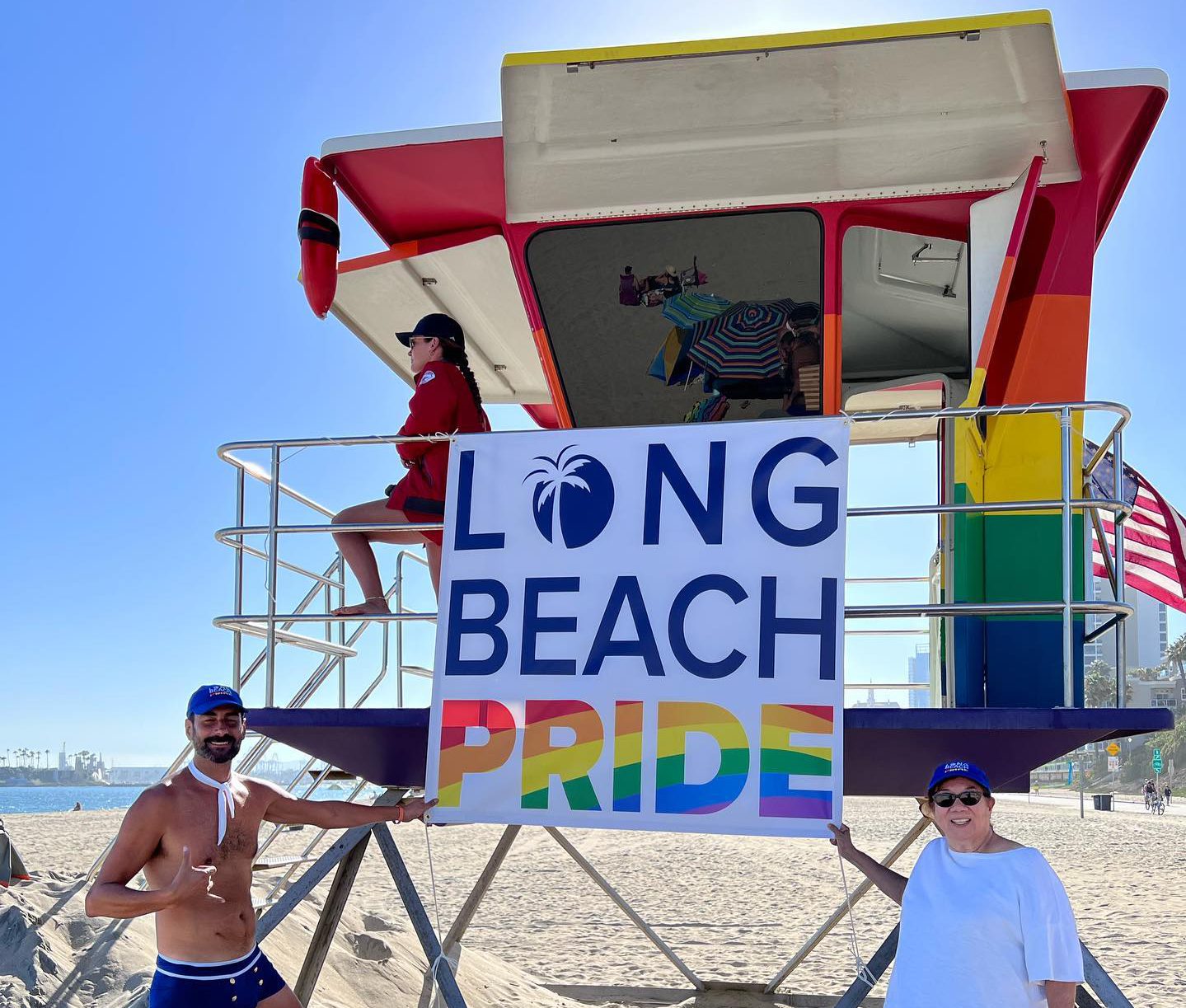 LONG BEACH – This weekend marks the in-person return of Long Beach Pride after the coronavirus pandemic had halted previous celebrations. The celebration's theme this year is "Many voices-one spirit," marking three decades that the annual three-day festival, parade and teen pride- the third largest Pride festival and parade in California, celebrates the LGBTQ+ community.
This year, in addition to the stages and musical entertainment, organizers will be creating multiple activations and attractions encompassing the diversity and interests of Long Beach's LGBTQ+ community.
Elsa Martinez, the president of the Board of Long Beach Pride was a guest on KTLA's Morning News Thursday to discuss the upcoming weekend festival which kicks off Friday.
For more information visit https://longbeachpride.com/
Hundreds attend 4th annual South LA Pride celebration
Hosted by Los Angeles City Councilmembers Marqueece Harris-Dawson & Herb Wesson, this year's family-friendly celebration was a "Pride Picnic"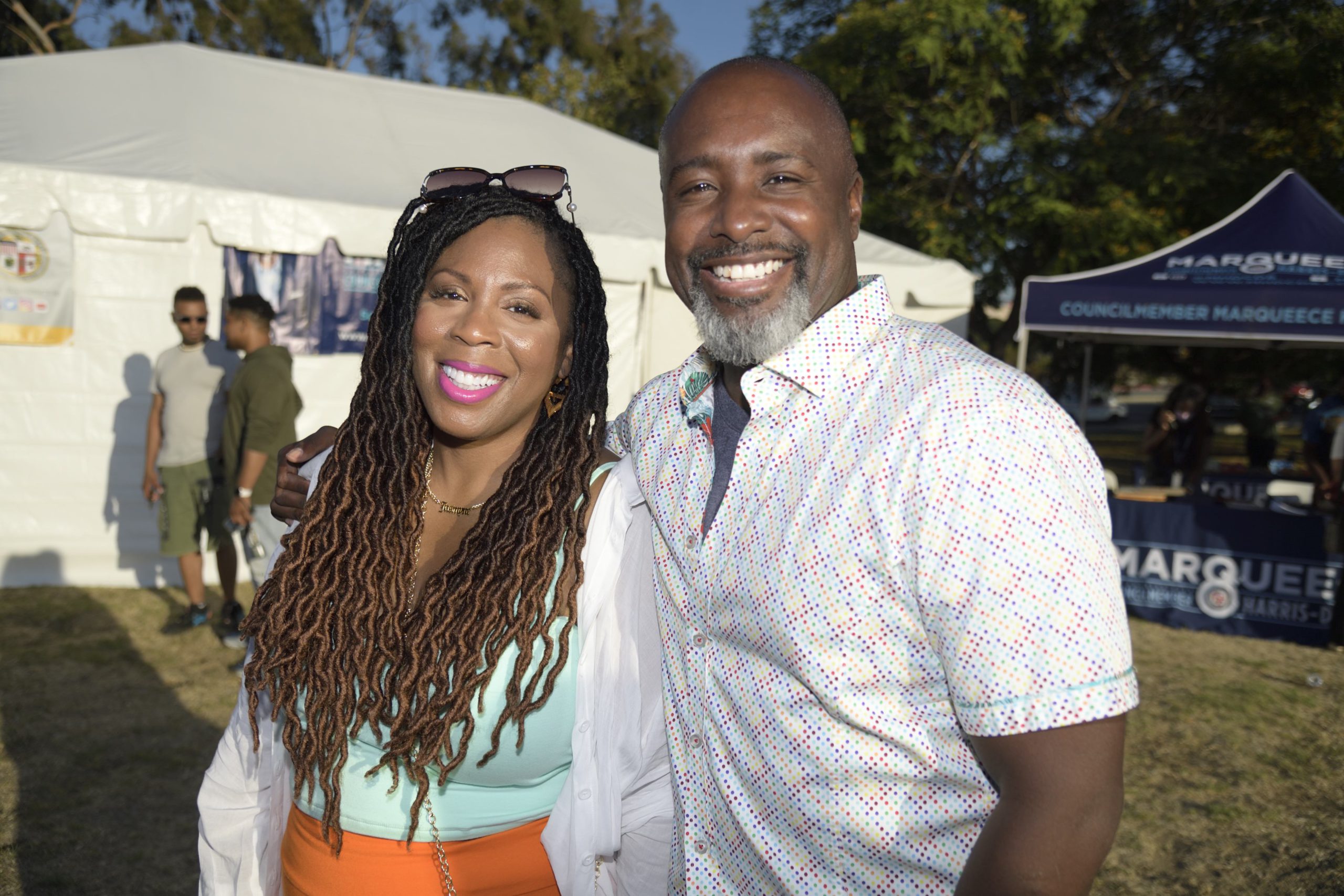 LOS ANGELES – Hundreds attended the 4th annual South LA Pride celebration on Jul. 1 at Norman O. Houston Park in Baldwin Hills.  Hosted by Los Angeles City Councilmembers Marqueece Harris-Dawson and Herb Wesson, this year's family-friendly celebration was a "Pride Picnic" meant to bring together South LA's LGBTQ community and their allies for a culturally relevant pride celebration.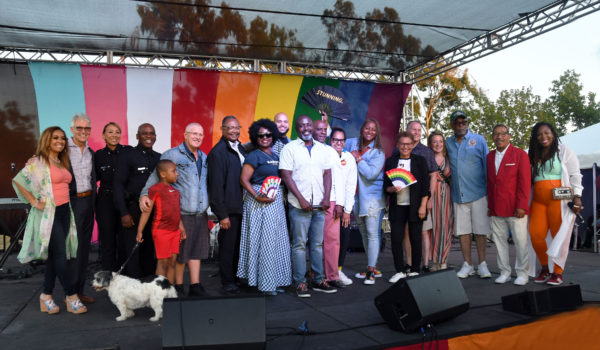 In addition to Harris-Dawson and Wesson, this year saw the most Black elected officials ever at a pride celebration in Los Angeles including Congresswoman Karen Bass, Supervisor Holly Mitchell, Senator Sydney Kamlager, and more.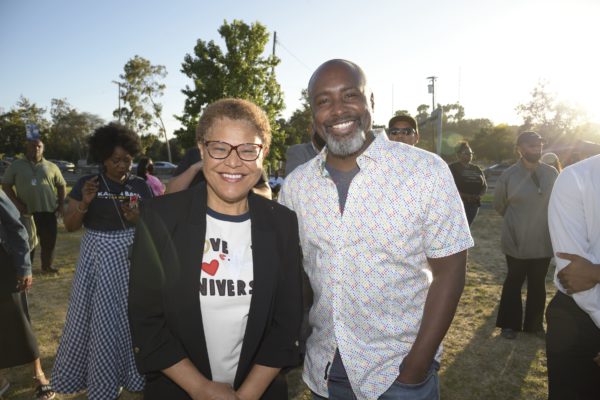 Journalist and advocate Jasmyne Cannick chaired the planning committee which included a host of community organizations.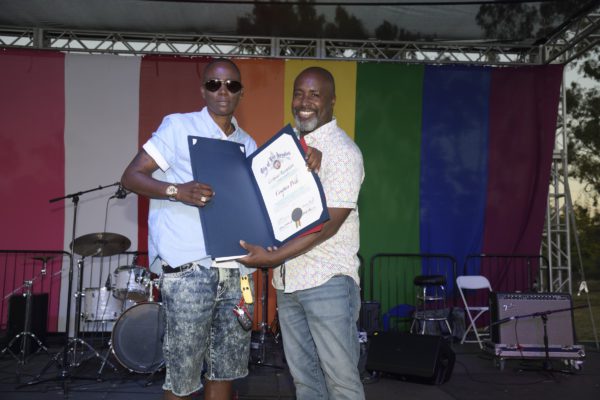 The 2022 South LA Pride Community Picnic was sponsored in part by Community Coalition, Providence, FOX, AEG, and the LA Civil + Human Rights and Equity Department.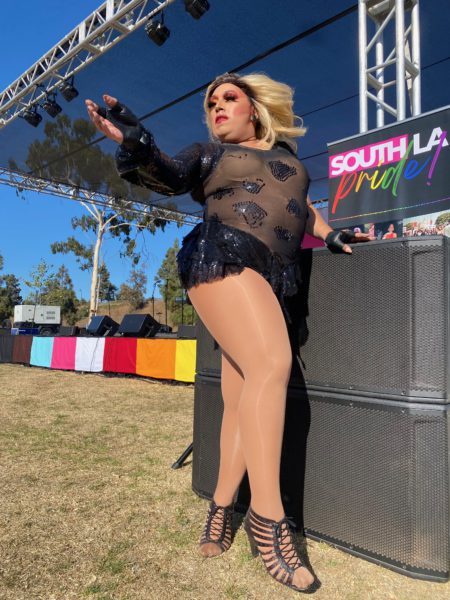 For more information, please visit southlapride.com.
EN VIDEO: Marchas del orgullo LGBTQ+ en Colombia
Se realizaron celebraciones en Bogotá, Medellín y Pereira