VP Pence in California for GOP fundraisers
After an estimated $242,500 political stunt, VP expected to raise $millions for GOP California Victory 2018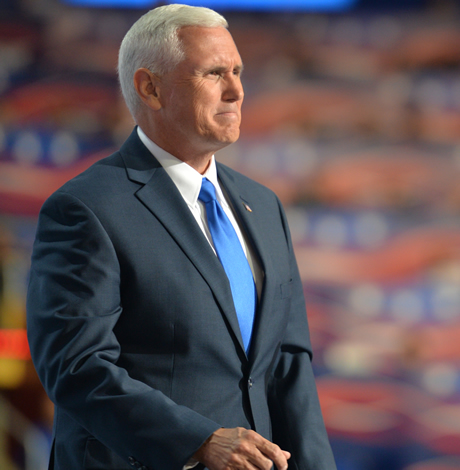 Despite revelations that a slew of Trump administration cabinet members have spent huge sums of taxpayer money on air travel and other expenses—$1 million alone for Health and Human Services Sec. Tom Price before he resigned—Vice President Mike Pence burned up $242,500 of taxpayer money to fly from Las Vegas to Indianapolis and then to Los Angeles on Sunday for three days of Republican fundraisers.
Pence ostensibly flew to Indianapolis to watch a ceremony retiring the jersey of former Indianapolis Colts quarterback Peyton Manning. But the former Indiana governor missed—and overshadowed—that grand occasion, leaving in a protest of his own moments after the opening ceremony of the Colts-49ers game because more than a dozen San Francisco players took a knee to protest racial injustice.  The VP's office has told reporters that Pence's protest was not pre-planned, though, as San Francisco 49ers players have pointed out, some players were expected to take a knee to continue the protest started by former 49ers quarterback Colin Kaepernnick last year.
But the Washington Post disputes Pence's innocence. Looking at the timeline, the Post notes that Sunday's NFL 49er vs Colts game was scheduled to start at 1 pm(Eastern time). Pence started a thread on his official Twitter account at 1:08 pm "without a typo to be found."
"I left today's Colts game because @POTUS and I will not dignify any event that disrespects our soldiers, our Flag, or our National Anthem," Pence tweeted, ending the thread at 1:24 with a highly stylized graphic. "This reinforces the obvious conclusion that Pence's appearance at the game and his well-coordinated exit from it was staged. It was a Colts-Niners game — pitting his home-state team against the team from the liberal hotbed where the players' protests over racial violence began. Pence's press pool was informed that, in essence, there probably wasn't any reason for them to join him inside the stadium. Why get out of your press van when Pence would go in, take a quick patriotic picture, and leave?" the Post reported.
Interrupting his truth-lacking tweet-storm rage against former campaign supporter Sen. Bob Corker,@realDonaldTrump tweeted: "I asked @VP Pence to leave stadium if any players kneeled, disrespecting our country. I am proud of him and @SecondLady Karen." And then Trump complained that he wasn't getting enough praise from Puerto Rico: "Nobody could have done what I've done for #PuertoRico with so little appreciation. So much work!" Meanwhile, Puerto Rico Gov. Ricardo Rosselló has asked Congress for more federal help. Not waiting for Trump or Congress, the Teamsters union and the AFL-CIO organized hundreds of truckers to go to Puerto Rico to help move supplies to desperate people inland.
Pence has denied he intends to run for president in 2020, but in an administration founded on lies and hypocrisy, "no" could turn to "yes" in an instant. Additionally, as the Los Angeles Blade pointed out in its recent cover story, Pence is a Christian Supremacist angling to lead the republic into a theocracy. Having donors back him, as Trump's good, submissive Stepford wife, could be useful to moguls who prize loyalty.
Pence headed to a Beverly Hills fundraiser on Sunday night and on Monday stars with House Majority Leader Kevin McCarthy at a pricy political fundraiser at the Pelican Hill Country Club in Newport Beach where tickets start at $2,700 each. He is expected to fly north for a breakfast in Bakersfield, then a dinner in Sacramento—McCarthy represents Sacramento's agricultural Central Valley, where he is expected to throw in some chatter about tax reform.
Pence may feel like the proverbial David in the Lion's Den since California is a majority progressive Democratic state that voted against Trump-Pence by roughly 4 million votes and has since become a "sanctuary state" in dramatic opposition to Trump's anti-immigration "policies." This is a state still reverberates with the political fallout of the anti-Latino Prop 187. But Pence is also considered by some conservatives as the "adult" in the administration, a politician who was once in the Republican leadership of Congress and understands the importance of maintaining control of the House.
And protecting the seats of seven vulnerable Republicans takes money. KTLA report that Pence is expected to raise about $5 million for "a joint fundraising committee that raises money for the National Republican Congressional Committee, a political action committee run by House Majority Leader Kevin McCarthy, whose district includes most of Bakersfield, and the vice president's own PAC, dubbed the Great America Committee." The seven seats are in districts that former Sec. of State Hillary Clinton won in 2016. According to Republican National Committee member Shawn Steel, the money will go to the re-election bids of Reps. Darrel Issa of Vista, Dana Rohrabacher of Huntington Beach, Mimi Walters of Irvine, Ed Royce of Brea, Steve Knight of Palmdale, David Valadao of Hanford, and Jeff Denham of Turlock.
Democrats may be waiting until the primaries pick which candidates to back in opposing the vulnerable GOP elected officials.  But with divisive infighting still fresh within the California Democratic Party, not mounting visible and strong opposition now to make a statement and generate new Democratic energy at the very least concedes the publicity ground to the Trump-Pence Republicans.
Enjoy as a tradition returns this year with July 4 fireworks displays
Here are the places hosting firework shows around Southern California, organized by each county in the region: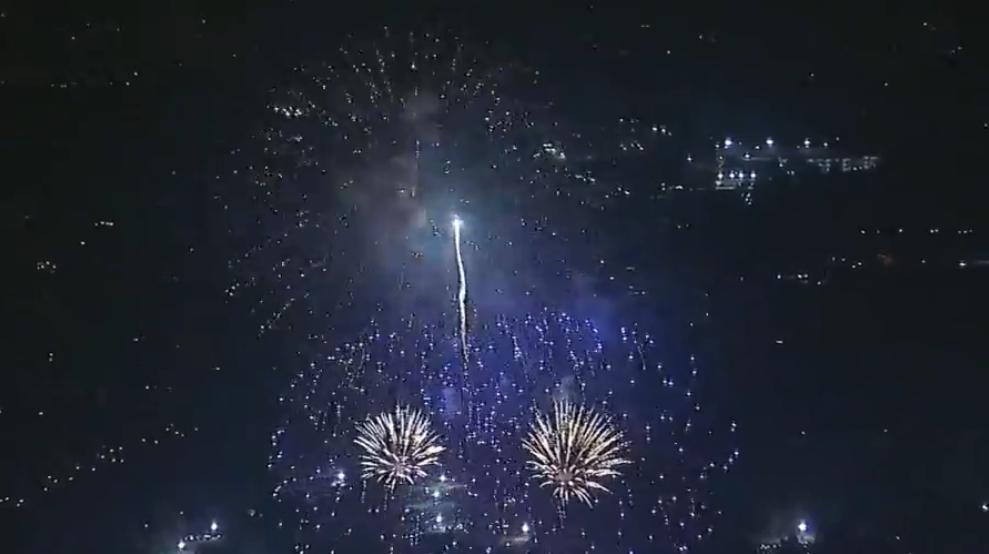 LOS ANGELES – (KABC 7) Due to the COVID-19 pandemic, the last two years looked a little different on the Fourth of July weekend. This year, events are back in full force.
Here are the places hosting firework shows around Southern California, organized by each county in the region:
Los Angeles County
Burbank
Starlight Bowl, 1249 Lockheed View Dr., Burbank
Festivities from 5:30 p.m. – 10 p.m.
starlightbowl.com
Glendale
Jewel City Sparkles Fireworks show in downtown Glendale.
Centered near Harvard St and Brand Blvd.
Fireworks show will begin at 9 p.m.
For information, call (818)548-2792.
glendaleca.gov
La Crescenta
Crescenta Valley High School, 2900 Community Ave.
Show begins at 9:30 p.m.
cvfireworks.com
Long Beach
Fireworks over Queensway Bay
Begins at 9 p.m.
visitlongbeach.com
Hollywood Bowl
This year the Hollywood Bowl is having three nights of Fourth of July traditions.
Thomas Wilkin and the Los Angeles Philharmonic are performing a program of favorites alongside Steve Martin and Martin Short.
First night of festivities is July 2.
The last night will be on the Fourth of July.
Gate opens at 5:30 p.m.
Show begins at 7:30 p.m.
hollywoodbowl.com
Marina del Rey
Fireworks can be seen at Burton Chace Park or Fisherman's Village
Event begins at 9 p.m. and is a 20-minute show.
visitmdr.com
Rose Bowl Stadium, Pasadena
The annual AmericaFest is recognized as one of the nation's largest and longest running shows celebrating the Fourth of July.
Doors open at 5:30 p.m.
The event starts at 7 p.m.
Tickets are available and start at $20.
visitpasadena.com
Santa Clarita
Spirit of America Fireworks Spectacular at Westfield Valencia Town Center.
Begins at 9:20 p.m.
santa-clarita.com
Santa Fe Springs
Annual independence day celebration and firework spectacular at Los Nietos Park.
11143 Charlesworth Rd.
Sunday July 3, festivities start at 4:30 p.m. with the fireworks show at 9 p.m.
santafesprings.org
South Gate
Fireworks show at South Gate Park
Show starts at 9 p.m.
cityofsouthgate.org
Woodland Hills
The July Fourth extravaganza is at Warner Center Park and starts off with a free concert and festivities everyone can enjoy.
5800 Topanga Canyon Blvd
It goes from 6 p.m. to 9:30 p.m.
The fireworks show is 15 minutes long.
valleycultural.org
Lancaster
The July Fourth extravaganza is at the Antelope Valley Fair & Event Center and will feature live entertainment, summer games and competitions.
2551 W Ave H
cityoflancasterca.org
Riverside County
Corona – Santana Park
The city of Corona invites the community to the Main Street USA Independence Day Parade. Corona's Main Street USA Independence Day Parade is a non-competitive parade which provides entertainment, community spirit and fun for all to enjoy. Drawing 4,000+ families, friends, and neighbors, the parade takes place on Main Street from Ontario Avenue to Olive Street.
Parade begins at 9 a.m.
Live entertainment starts at 5 p.m. at Santana Park.
The fireworks celebration will occur at sundown.
coronaca.gov
Riverside
The city of Riverside Pparks
The city's free event displays an array of fireworks at two separate locations which include La Sierra Park (5215 La Sierra Ave.) and Ryan Bonaminio Park (5000 Tequesquite Ave). Participants are encouraged to bring their own blankets and refreshments. Access will not be permitted in La Sierra and Carlson Dog Park all day on Sunday, July 4 after 7 a.m.
Show begins at 9 p.m.
riversideca.gov
Orange County
Huntington Beach
The city of Huntington Beach welcomes back the 118th Annual 4th of July parade after two years of the event not taking place due to COVID regulations.
The parade starts at 10 a.m.
Closing out the festivities will be a fireworks show at the Huntington Beach Pier.
The show starts at 9 p.m. For tickets and more information, visit hb4thofjuly.org
City of Orange
Grijalva Park, 368 North Prospect St., hosts a family event on Sunday July 3.
The event starts at 4 p.m., and there will be plenty of interactive activities for kids.
Local nonprofits host food trucks. Around 8 p.m. the Orange Community Master Chorale performs with the grand finale patriotic fireworks happening around 8:45 p.m.
cityoforange.org
Newport Beach
Newport Dunes Waterfront Resort, 1131 Back Bay Drive, hosts family events from July 1 to July 4.
Family-friendly events on July 1-3 begin at 10:00 a.m. while July 4's events begin at 12:00 p.m.
Monday's firework show begins at 9:00 p.m.
newportdunes.com/event
Los Alamitos
The cities of Los Alamitos and Seal Beach will host the 4th of July Fireworks Spectacular at the Los Alamitos Joint Forces Training Base.
This year, bring your lawn chairs and your blankets for the traditional event setup.
Gates will open at 4 p.m. and close at 8:45 p.m.
The fireworks show will begin at 9 p.m.
cityoflosalamitos.org
Mission Viejo
The Mission Viejo Activities Committee will hold the Annual Street Faire and Fireworks Spectacular on Olympiad between Marguerite and Melinda.
Festivities start at noon, with plenty of food, activities for kids and live entertainment.
Admission is free with tickets being sold for games and rides.
Parking will be available around surrounding streets but the Marty Russo Youth Athletic Field parking lot is closed will be closed to the public on the 4th of July
The show begins at 9 p.m.
mvactivities.com
San Bernardino County
Big Bear Lake
Fireworks spectacular at Big Bear Lake.
Show time begins between 8:45-9:15 PM, runs approximately 30-40 mins, and is free to spectators.
For more information check here:
bigbear.com
City of Upland
Light up the Night fireworks show on Monday July 4.
Gates open at 5:30 p.m.
Show begins at 9 p.m.
Tickets are on sale now and are $12 at the gate.uplandca.gov
City of Victorville
The city of Victorville will host the annual fireworks show on Monday, July 4.
The event will be located at the Victorville Fairgrounds.
Gates open at 4 p.m. and the fireworks show is scheduled to begin at 9 p.m. For further information, call Hook Community Center at (760) 245-5551.victorvilleca.gov
Lake Arrowhead
The Arrowhead Lake Association's 2022 Lake Arrowhead Fireworks show will be on Sunday, July 3.
Show begins at 9 p.m.
lakearrowheadchamber.com
Apple Valley Fireworks
Lenny Brewster Sports Center, 21024 Otoe Rd.
Festivities from 2 p.m. – 9 p.m.
Show begins at 9 p.m.
applevalley.org
Fontana
Fontana's Fourth of July Celebration
Miller Park Amphitheater, 17004 Arrow Rd
There will be music, food, novelty vendors and of course, fireworks.
fontana.org
Ventura County
Thousand Oaks
The 4th of July Fireworks Spectacular takes place on the hill behind the Hillcrest Center of the Arts in Thousand Oaks.
Fireworks start at 9 p.m.
conejovalleyguide.com
Westlake Village
The city of Westlake Village presents its 6th Annual Fireworks Spectacular Show from the Westlake Village Golf Course.
4812 Lakeview Canyon Road
There will be family-friendly activities.
Event begins at 5 p.m.
Show will be at 9:10 p.m.
wlv.org
Moorpark
3rd of July Fireworks Extravaganza is going to be at Arroyo Vista Community Park.
Fireworks show starts at 9 p.m.
Tickets are on sale now.
moorparkca.gov
California ends loitering for prostitution law
This repeals "loitering with intent to engage in prostitution" law, which results in profiling of sex workers particularly trans women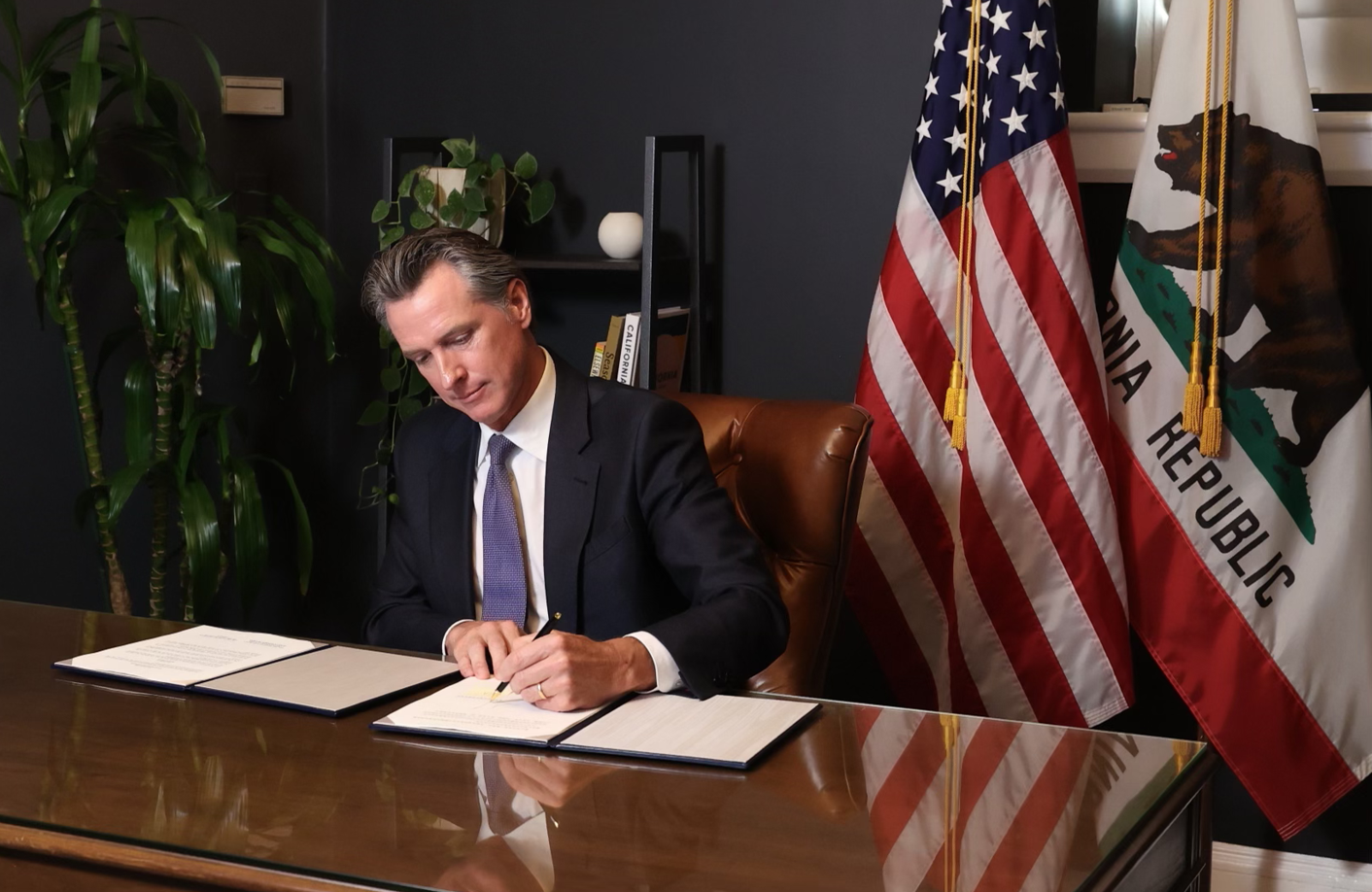 SACRAMENTO – Senate Bill 357, the Safer Streets for All Act, authored by Out state Senator Scott Wiener (D-San Francisco)'s was signed into law by Governor Gavin Newsom on Friday.
"As trans people are being criminalized across the country, Governor Gavin Newsom has once again shown that California stands with the LGBTQ community and communities of color," said Wiener. "Everyone – no matter their race, gender or how they make a living – deserves to feel safe on our streets. Thank you, especially, to our coalition of former and current sex workers and LGBTQ advocates who made this day a reality. Your leadership is inspiring."
SB 357 repeals a provision of California law criminalizing "loitering with the intent to engage in prostitution." This criminal provision — arrests for which are based on an officer's subjective perception of whether a person is "acting like" or "looks like" they intend to engage in sex work — results in the disproportionate criminalization of trans, Black and Brown women, and perpetuates violence toward sex workers.
SB 357 is sponsored by a large coalition made up of former and current sex workers, LGTBQ groups like Equality California and Transgender Gender-variant and Intersex Justice Project (TGIJP), and civil rights groups like the ACLU. The Coalition to Abolish Slavery and Trafficking (CAST LA) is supporting the legislation.
SB 357 does not decriminalize soliciting or engaging in sex work. Rather, it simply eliminates an loitering offense that leads to harmful treatment of people for simply "appearing" to be a sex worker.
This crime is so subjective and inherently profiling that it allows a police officer to arrest someone purely based on how they are dressed, whether they're wearing high heels and certain kinds of make-up, how they're wearing their hair, and the like. This criminal provision is inherently discriminatory and targets people not for any action but simply based on how they look. People who engage in sex work deserve to be treated with dignity and respect.
Criminalizing sex work does not make sex workers or communities safer. Most criminal penalties for sex workers, loitering laws included, do nothing to stop sex crimes against sex workers and human trafficking. In fact, loitering laws make it harder to identify trafficking victims; trafficking victims are often afraid to come forward in fear of being arrested or incarcerated.
In February of 2021, a similar piece of legislation to repeal this type of loitering ban became law in New York. SB 357 is part of the movement to end discrimination against and violence toward sex workers, especially the most targeted communities — trans, Black, and Brown people. SB 357 is co-sponsored by Positive Women's Network – USA, St. James Infirmary, SWOP LA, Trans [email protected] Coalition, Asian Pacific Islander Legal Outreach, Equality California and ACLU California Action.
Under current law, it is a crime to loiter in a public place with the "intent" to commit a sex work-related offense. But this law can be broadly interpreted, and thus allows for discriminatory application against the LGBTQ community and people of color.
Law enforcement can use a non-exhaustive list of circumstances to subjectively determine if someone "intends" to engage in sex work, including factors such as speaking with other pedestrians, being in an area where sex work has occurred before, wearing revealing clothing, or moving in a certain way.
Because current law regarding loitering is highly subjective and vague, law enforcement officers disproportionately profile and target Black and Brown transgender women by stopping and arresting people for discriminatory and inappropriate reasons.
This is how Black and Brown transgender women get arrested and cited for simply walking on the street. It also gives law enforcement the ability to more easily target and arrest sex workers.
People in the LGBTQ, Black, and Brown communities report high rates of police misconduct throughout the United States and are disproportionately affected by police violence.
Transgender people who have done street-based sex work are more than twice as likely to report physical assault by police officers and four times as likely to report sexual assault by police.
A Black person is 3.5 times more likely to be shot by police than a white person. These statistics are a daily reality that transgender, Black and Brown people face and lead to mistrust of law enforcement.
SB 357 will repeal a discriminatory law that makes it a crime to loiter with the intent to engage in sex work, given that it fails to prevent street-based sex work and disproportionately results in the criminalization of transgender people and communities of color.
"For far too long, California law has been used to profile, harass and arrest transgender and gender-nonconforming people simply for existing in public spaces," said Equality California Executive Director Tony Hoang. "We all deserve to live in public peacefully without fear of arrest. Thanks to Governor Newsom and Senator Wiener's leadership, California boldly stands on the side of justice. This law will make our communities safer for all Californians. We are immensely proud to be in this fight as part of a coalition that has been trans led since the beginning."
Proud Boys disrupting a California Pride drag show get pepper sprayed
"There was an altercation, obviously people are here & are upset about the bar having their Pride event," said the deputy police chief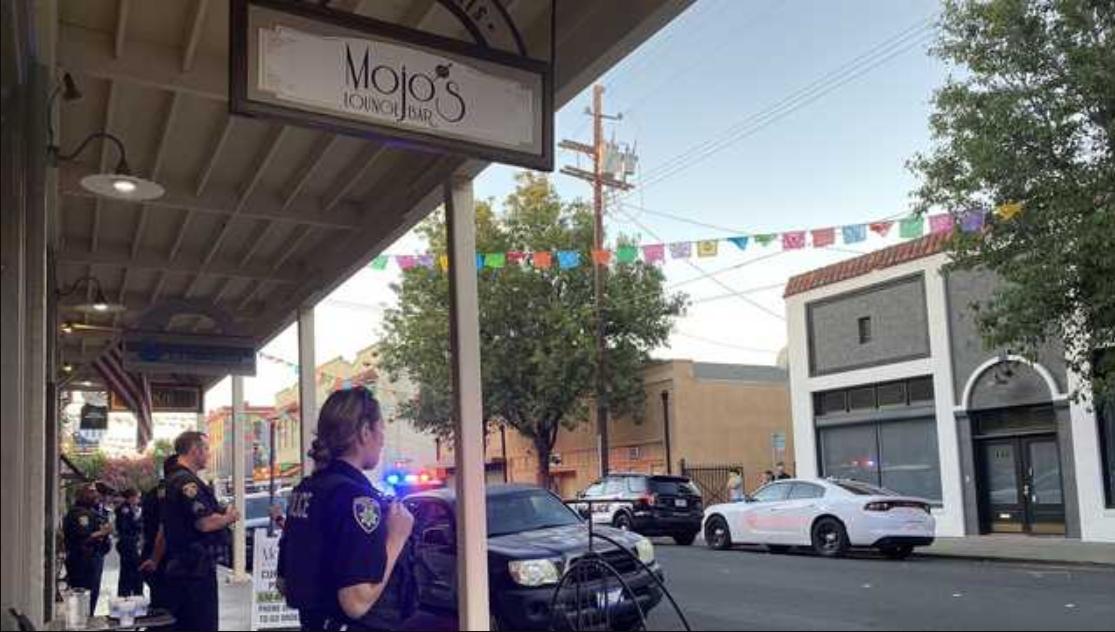 WOODLAND, Ca. – An end of Pride month drag show in this suburban city Northwest of Sacramento was disrupted by Proud Boys at the The Mojo Lounge bar and restaurant in the downtown business district.
As the group attempted to gain access to the establishment, a now viral video by local ABC10 television reporter Luke Cleary showed them and the near-by police officers getting pepper-sprayed by an unseen person inside the bar.
Screams of pain erupted along with one Proud Boy who can be heard shouting "fuck you paedophile motherfuckers," after being sprayed. Woodland police officers can also be seen retreating wiping their eyes from the effects of the irritant self-defensive spray weapon.
Roughly a dozen people have gathered on the opposite sidewalk shouting insults to patrons and police pic.twitter.com/aCB7LSmzCm

— Luke Cleary (@LukeCleary) July 1, 2022
Another reporter, Lee Anne Denyer from NBC News Sacramento affiliate KCRA 3 noted that the event, which was initially advertised as an an all-ages Drag Show by the bar was at first postponed and then scaled back.
Denyer posted video that showed the heavy law enforcement presence after the Proud Boys attempted to storm the restaurant demanding to know how many children were in attendance at the show.
Our story tonight: https://t.co/lRLMWp3PGR

— KCRA Lee Anne Denyer (@KCRALeeAnne) July 1, 2022
"There was kind of rumors that things were brewing on main street but there was obviously a presence by the Woodland Police Department so that made us feel more comfortable. Then it escalated, it escalated pretty quickly," Julie Ramos, who attended the event, told KCRA. "This really was a positive event and everyone was having a great time. So I think most people were angry but I would say resilient."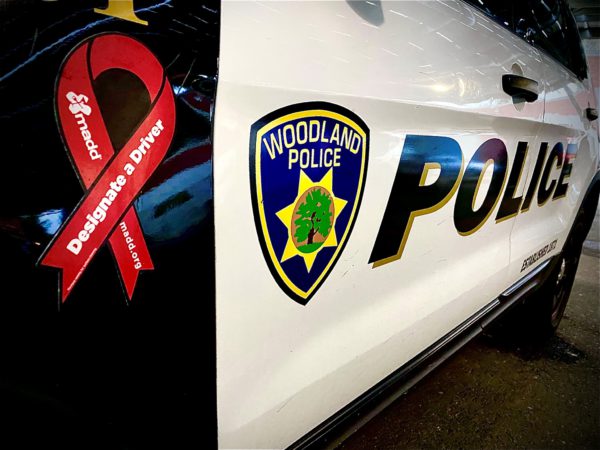 "There was an altercation, obviously people are here and are upset about the bar having their Pride event," Anthony Cucchi, the deputy chief of the Woodland Police Department told KCRA. "We tried to intervene as quickly as we could, it was a pretty chaotic scene. Our main priority was to get a safe scene and then make sure anybody that needed help got the help that they needed. We will work on the investigation."