April 20, 2018 at 4:51 pm PDT | by Robert Williams
A classic shave on Santa Monica Boulevard gives a whole new outlook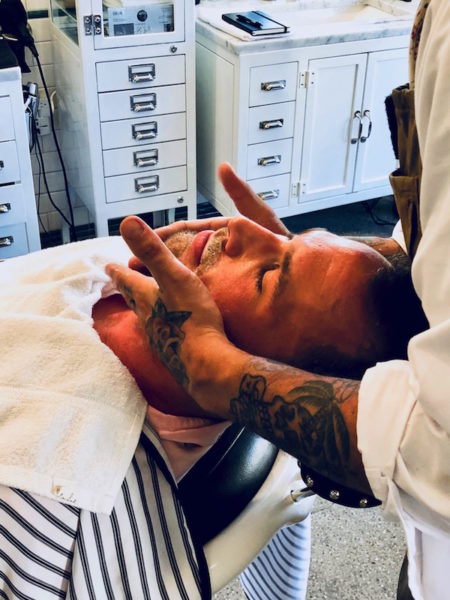 I recently went to Barber's Surgeon Guild in West Hollywood for Botox, but all I needed was an old-fashioned straight razor shave. More on that in a minute…
It's been almost 15 years since Bruce Weber shot me for the pages of the Abercrombie & Fitch catalog on the beaches of Santa Barbara.
All of us-Abercrombie & Fitch, Santa Barbara and myself-have endured the weathering of time albeit with some keeping scars.
I can especially relate to the aging of Abercrombie & Fitch, a brand once so idolized by leagues of gay men used some form of its name as their AOL or gay.com screen name to bedeck their photo-less profiles with allusions of youth and hotness.
Let's be honest, Abercrombie & Fitch, whether the name, its initials, its branded logo or its Woods cologne turned people on; it lit them up. I can admit I used "AFJok22" as my screen name. Why "jok" instead of "jock" you may ask? For a very simple reason, "AFJock22" was already taken.
But with time, AFJock22, AFJok22 and Abercrombie & Fitch began to stop lighting people up. Age can do that. It becomes harder to take someone's breath away when walking into a room. Or in the case of Abercrombie & Fitch, being worn into a room. People have seen you and begin to forget about your brilliance. Sometimes they even resent you for being there.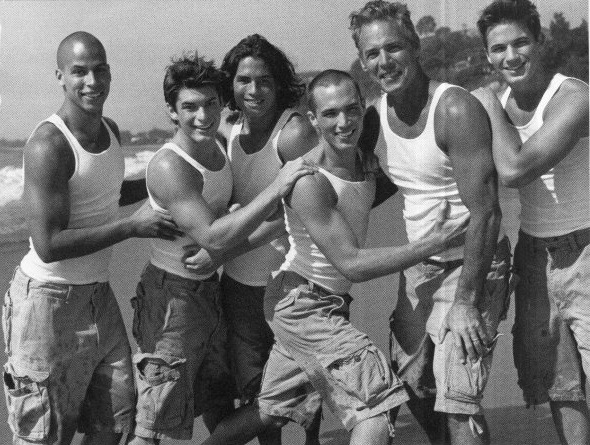 Case in point, what does "AF" mean now? It means "as fuck." No longer does it even mean Abercrombie & Fitch. That's how quickly the world moves on. Abercrombie & Fitch and my screen name have literally lost their initials' identity and been replaced by something else.
About this time, the oh-so-pragmatic and wise readers who relish in their existence grounded to the floor start to say, "these problems are so superficial" and "this is the problem with the gay community."
Just like I have always been more than how I look, Abercrombie & Fitch was more than its branding.
Perhaps its styling lingered a tad too long, but they made a well-made cargo pant, and few can argue with that. The fact that they still make that well-made cargo pant doesn't mean people care; the store has lost its sparkle.
One of the hottest guys I ever met, who now is approaching the gay-toxic age of 30, recently told me about his identity crisis. He can feel the world moving on. His inability to light up a room is weighing on him because it was something he could count on and may not be able to any longer. I can relate. And I think most people can too.
But wait a minute, so it's all over? Should Abercrombie & Fitch, my hot friend and I all shy away because our once bright lights have begun to "dim"? The answer is a definitive no.
It took me a dose of reality to understand how amazing I still am.
Our light hasn't dimmed, and we can't allow those people who ignore us to fool us into thinking it so. Youth's influence on our light may have attenuated, and so might the response from those people with circumscribed views on human worth. But, we don't need their attention because it was never going to last in the first place, with its existence only clouding our ability to see ourselves and those around us clearly.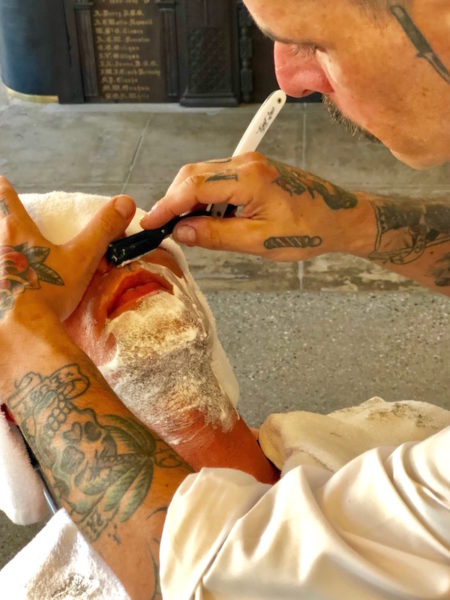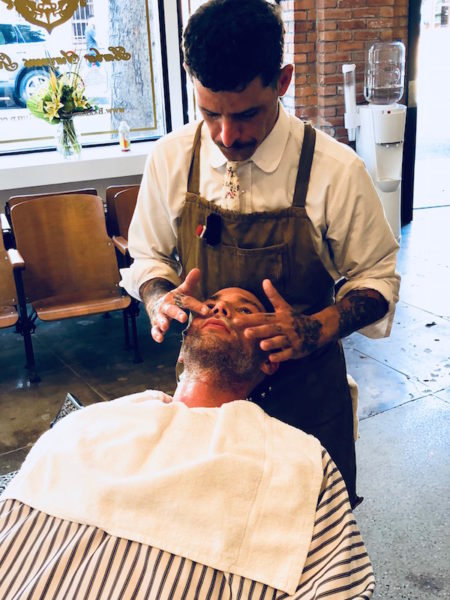 Back to the Botox.
Barber's Surgeon Guild is this beautiful throwback barber shop on Larrabee St. where Video West, West Hollywood's once longest running video rental store operated until 2015 (sorry video stores, your light might be out for good).
When you walk into Barber's Surgeon Guild, you are greeted by the clean smells of aftershave and well-tuned organic grooming products. The shop gives 1920s Brooklyn vibes with its classic barber stations and steel age cabinets. Every detail harmonizes with its vintage design, including the uniforms of the friendly barbers and on-site doctor.
Doctor? Yes, doctor. Barber Surgeon Guild connects the dots between classic grooming and modern cosmetic procedures.
Behind a discrete door (and out-of-site to the vintage barber shop) is a modern medical facility with state-of-the-art equipment able to remove tattoos, replace hair, remove hair and do just about anything someone might need to stay looking younger, including Botox and fillers.
When I made my appointment for Barber's Surgeon Guild this week, my intention was to get Botox. I've never had Botox but after my conversation with my hot friend — 30 — about aging, I thought it might be a small self-esteem boost. Maybe with its help, I could sparkle for those youth-focused gays just a little longer. I mean, it doesn't hurt for them to see me sparkle as long as I know I don't need them to think I sparkle. Right?
But first I laid back in a barber chair for a shave.
Adam, a beautifully tattooed master barber, performed a full-on, old-fashioned straight razor shave. The almost hour-long procedure complete with oils, warmed shaving cream, and a series of hot towels gave me some time to think about how beautiful the barber shop is-a place made to look old, a place to relax and a place to be yourself.
The values that make that shop so stunning are certainly not aligned with chasing youth and over-stimulation, and if it had, it would not sparkle in its maturity and thoughtful elegance as it does.
With a clearer appreciation for age, I passed on the Botox but left feeling lighter and younger than before. Sometimes, slowing down and delighting in the day with an old-fashioned shave can remind yourself of who you are and how to move forward with ease and inspiration.
I might eventually go back for that Botox or if I lose much more hair consider BSG's robotic hair replacement, but for now I'm satisfied and that's a good feeling.
Barber Surgeon's Guild is located at 805 Larrabee Street, West Hollywood CA 90069, Phone (310) 975-7094. Learn more about their services here.