A classic shave on Santa Monica Boulevard gives a whole new outlook
West Hollywood's Barber Surgeon's Guild is an old world luxury experience with a decidedly modern twist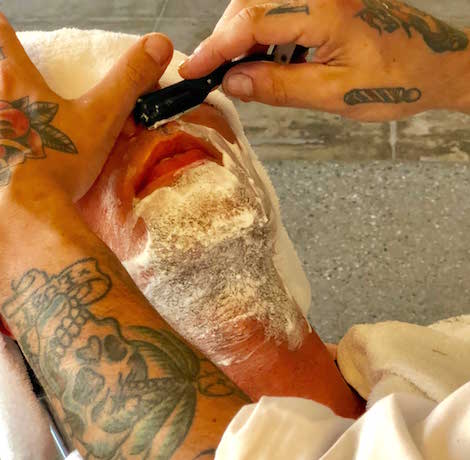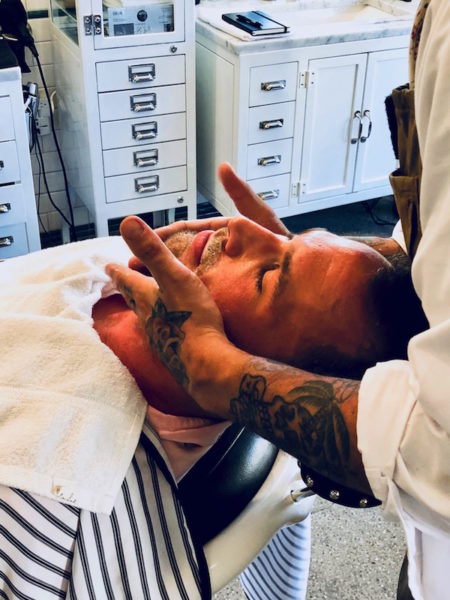 I recently went to Barber's Surgeon Guild in West Hollywood for Botox, but all I needed was an old-fashioned straight razor shave. More on that in a minute…
It's been almost 15 years since Bruce Weber shot me for the pages of the Abercrombie & Fitch catalog on the beaches of Santa Barbara.
All of us-Abercrombie & Fitch, Santa Barbara and myself-have endured the weathering of time albeit with some keeping scars.
I can especially relate to the aging of Abercrombie & Fitch, a brand once so idolized by leagues of gay men used some form of its name as their AOL or gay.com screen name to bedeck their photo-less profiles with allusions of youth and hotness.
Let's be honest, Abercrombie & Fitch, whether the name, its initials, its branded logo or its Woods cologne turned people on; it lit them up. I can admit I used "AFJok22" as my screen name. Why "jok" instead of "jock" you may ask? For a very simple reason, "AFJock22" was already taken.
But with time, AFJock22, AFJok22 and Abercrombie & Fitch began to stop lighting people up. Age can do that. It becomes harder to take someone's breath away when walking into a room. Or in the case of Abercrombie & Fitch, being worn into a room. People have seen you and begin to forget about your brilliance. Sometimes they even resent you for being there.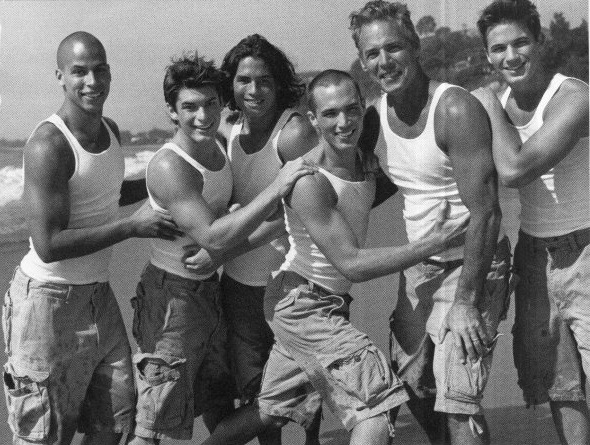 Case in point, what does "AF" mean now? It means "as fuck." No longer does it even mean Abercrombie & Fitch. That's how quickly the world moves on. Abercrombie & Fitch and my screen name have literally lost their initials' identity and been replaced by something else.
About this time, the oh-so-pragmatic and wise readers who relish in their existence grounded to the floor start to say, "these problems are so superficial" and "this is the problem with the gay community."
Just like I have always been more than how I look, Abercrombie & Fitch was more than its branding.
Perhaps its styling lingered a tad too long, but they made a well-made cargo pant, and few can argue with that. The fact that they still make that well-made cargo pant doesn't mean people care; the store has lost its sparkle.
One of the hottest guys I ever met, who now is approaching the gay-toxic age of 30, recently told me about his identity crisis. He can feel the world moving on. His inability to light up a room is weighing on him because it was something he could count on and may not be able to any longer. I can relate. And I think most people can too.
But wait a minute, so it's all over? Should Abercrombie & Fitch, my hot friend and I all shy away because our once bright lights have begun to "dim"? The answer is a definitive no.
It took me a dose of reality to understand how amazing I still am.
Our light hasn't dimmed, and we can't allow those people who ignore us to fool us into thinking it so. Youth's influence on our light may have attenuated, and so might the response from those people with circumscribed views on human worth. But, we don't need their attention because it was never going to last in the first place, with its existence only clouding our ability to see ourselves and those around us clearly.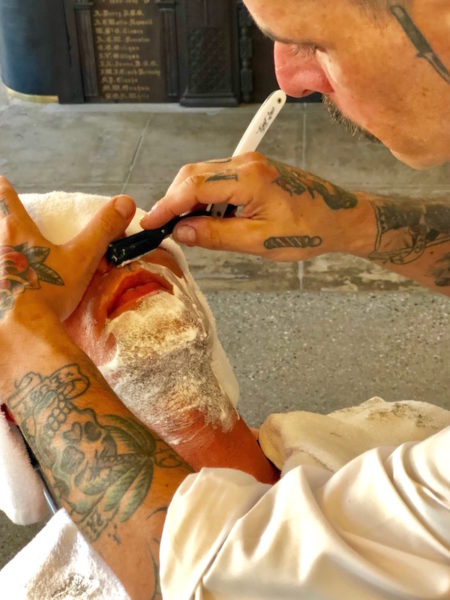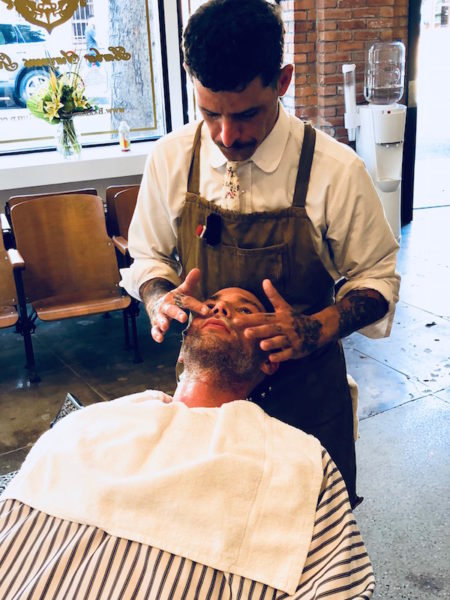 Back to the Botox.
Barber's Surgeon Guild is this beautiful throwback barber shop on Larrabee St. where Video West, West Hollywood's once longest running video rental store operated until 2015 (sorry video stores, your light might be out for good).
When you walk into Barber's Surgeon Guild, you are greeted by the clean smells of aftershave and well-tuned organic grooming products. The shop gives 1920s Brooklyn vibes with its classic barber stations and steel age cabinets. Every detail harmonizes with its vintage design, including the uniforms of the friendly barbers and on-site doctor.
Doctor? Yes, doctor. Barber Surgeon Guild connects the dots between classic grooming and modern cosmetic procedures.
Behind a discrete door (and out-of-site to the vintage barber shop) is a modern medical facility with state-of-the-art equipment able to remove tattoos, replace hair, remove hair and do just about anything someone might need to stay looking younger, including Botox and fillers.
When I made my appointment for Barber's Surgeon Guild this week, my intention was to get Botox. I've never had Botox but after my conversation with my hot friend — 30 — about aging, I thought it might be a small self-esteem boost. Maybe with its help, I could sparkle for those youth-focused gays just a little longer. I mean, it doesn't hurt for them to see me sparkle as long as I know I don't need them to think I sparkle. Right?
But first I laid back in a barber chair for a shave.
Adam, a beautifully tattooed master barber, performed a full-on, old-fashioned straight razor shave. The almost hour-long procedure complete with oils, warmed shaving cream, and a series of hot towels gave me some time to think about how beautiful the barber shop is-a place made to look old, a place to relax and a place to be yourself.
The values that make that shop so stunning are certainly not aligned with chasing youth and over-stimulation, and if it had, it would not sparkle in its maturity and thoughtful elegance as it does.
With a clearer appreciation for age, I passed on the Botox but left feeling lighter and younger than before. Sometimes, slowing down and delighting in the day with an old-fashioned shave can remind yourself of who you are and how to move forward with ease and inspiration.
I might eventually go back for that Botox or if I lose much more hair consider BSG's robotic hair replacement, but for now I'm satisfied and that's a good feeling.
Barber Surgeon's Guild is located at 805 Larrabee Street, West Hollywood CA 90069, Phone (310) 975-7094. Learn more about their services here.
Our recommendation for the holiday procrastinator
It's not too late!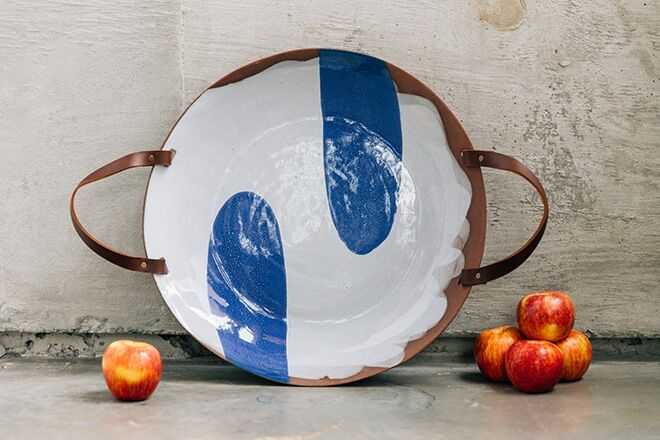 December has been such a busy month you may not have had a moment to do all your holiday shopping. Los Angeles Blade's Susan Hornik put together some of her annual gift suggestions guide that you can refer to, all year long!
For The Drinker
Gérard Bertrand is an incredible biodynamic winemaker from France's Languedoc region. His latest wine is Art de Vivre, which pays homage to the joie de vivre of the Mediterranean. I truly like the ceramic bottle, it is a beautiful keepsake one can enjoy long after the holidays are over.
Besserat de Bellefon Champagne's Bleu Brut Cuvée is lovely. The warmth of its presence surrounds your meal like velours. Both Art de Vivre by Gérard Bertrand + Bleu Brut by Besserat de Bellefon can be bought at Mission Wines & Spirits.
Caribbean Rums' Ten To One, a new range of white and dark rums, is lovely, created by Starbucks' former youngest VP. The white rum is a versatile, mixological game-changer, thanks to its higher proof and pronounced ester content.
California's Bertoux Brandy is blended by a top bartender Jeff Bell (PDT and Legacy Records) and an acclaimed sommelier Thomas Pastuszak (The NoMad). A Solera-style blend of pot-distilled California fine brandies aged 3 to 7 years in French and American oak, the brandy shines in classic cocktails and modern creations.
For the cocktail lover, iichiko Saiten, the first-ever higher proof shochu from Japan, is elegantly rich in flavor and umami character. The country's leading barley shochu brand, is the perfect foundation to genuinely innovative cocktails.
Make sure you try BACARDÍ Rum's limited edition, Coquito! No Caribbean holiday celebration is complete without a few bottles of coquito, and no coquito recipe is complete without a bottle!
For The Foodie
DJ Caroline D'Amore, owner and executive chef of Los Angeles-based family restaurant, D'Amore's Pizza, recently launched Pizza Girl™ a certified organic, locally-sourced and ethically-bottled Marinara, Puttanesca, and Vodka sauces. If you are serving pasta, this is the perfect sauce to use!
For more than a century, the experts at Nielsen-Massey Vanillas have crafted high-quality pure vanilla and flavor extracts to help home bakers create taste that delights. This bundle is bursting with the season's most popular flavors, including Pure Almond Extract, Madagascar Bourbon Pure Vanilla Extract and Pure Peppermint Extract.
Chef's Cut offers turkey, steak, chicken, and bacon jerky—all of which are gluten-free and slow-smoked. Made from turkey breast, this healthy jerky is tender and meaty. You can taste a subtle "smoke" flavor. Each 1-ounce serving has 6 g each of carbohydrates and sugar, 12 g of protein, and 80 calories.
Feel Good Foods offers crave-worthy flavors that are ready within minutes and built to share. Chef-inspired snacks made with worry-free, fresh ingredients best enjoyed on your terms.
Do you know Sprinkles Bakery delivers? For New Years Eve, they have a special champagne cupcake filled with pop rocks and topped with champagne buttercream frosting and gold sugar! Delicious!
Mary's Gone Crackers is the largest organic and gluten free cracker company in the United States. Since its inception, the company has grown at a rapid pace, expanding its offerings while staying true to its promise to use only whole, plant-based ingredients free from wheat, nuts, eggs, and dairy.
The unique coastal region of Croatia is the inspiration for Dalmatia, well-known for its climate and beauty. These Mediterranean fruits and vegetables such as figs, olives, almonds, cherries, tangerines, quince are known to be small to medium in size but concentrated in flavor. Their delicious sweet and savory spreads are made from the best local and regional ingredients.
Water is so important to drink each day, why not try Perfect Hydration, a 9.5+ pH alkaline water, purified to its cleanest form by a 9-stage filtration process. Much less acidic than most bottled water, you can enjoy a light and refreshing taste while helps to restore and rebalance the body's optimum balance.
Chingon Kitchen is the restaurant founded and owned by actor and comedian George Lopez, specializing in authentic, flavorful, high-quality Mexican food that is both exceptionally tasty and reasonably priced. They are now selling Lopez's brand-new line of gourmet salsas, featuring two flavors: Roja and Habanero Pineapple Mango. Packing bold, fresh, authentic Mexican flavors on the level of Chingon itself, these salsas are a smash hit at gatherings.
For The Happy Homemaker
With solar energy the most accessible source we have on this planet, now more than ever, it's a great time to gift solar panels to your favorite green friendly home owner. John Simmons is a fantastic veteran solar expert, with decades of experience—hire him to harness this abundant, clean energy! 8187498396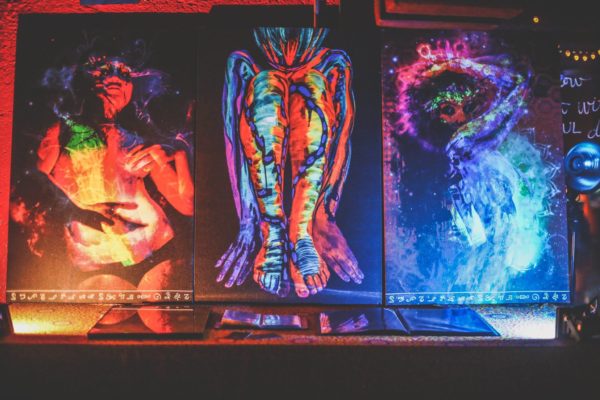 Matt Deifer's art combines fine art bodypainting with photography and often becomes and even more complex mixed media art form with additional paint added to the final printed canvas. He also runs a location agency and opened a new film studio/warehouse complex called CTC Studios. Check out his art online at www.deifer.com and book your next film or event at his studio, www.CTCstudios.LA!
Pillowpia owner Pia Rappaport took her fine and commercial art education, coupled with her background in building archives for major fashion designers, to create a beautiful line, which unites textiles, found objects and table decor. Beautiful pillows for your apartment!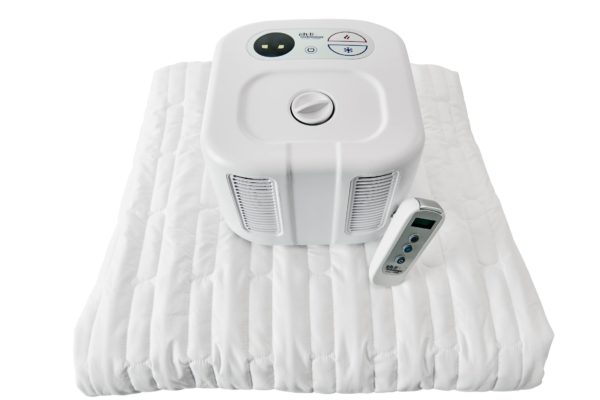 If you are looking for an unbelievably amazing night of sleep, check out chiliPAD and OOLER Sleep Systems from Kyro Inc. These Hydro-powered mattress pads with thermal regulating cubes and remotes are perfect for one or two sleepers. Heat or cool your bed from 55 – 115 degrees. Say goodbye to restless nights and hello to longer, deeper, restorative sleep!
Tobi Tobin Luxury Collection consists of candles, chocolates and fragrances. Tobin started as an interior designer, with numerous a list clientele. Her candles are bought repeatedly by Taylor Swift, Leonardo DiCaprio, Britney Spears and Reese Witherspoon.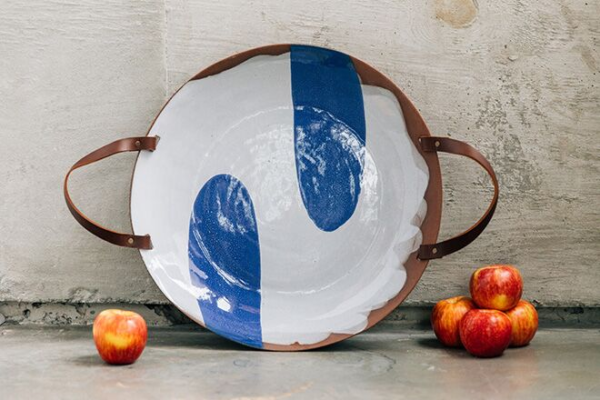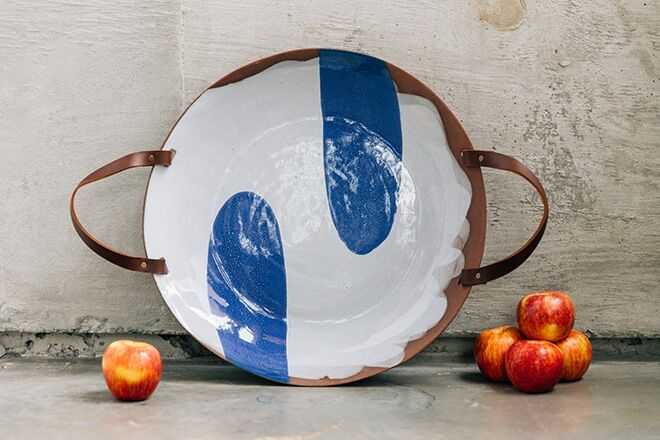 I love the high end retail site, Favor—it's tasteful one stop shopping. Founder, Anne England hand picked all the products you see in the site, like the Large Oval Serving Bowl from Silvia K Ceramics, which is handbuilt in the UK. Its intentionally incomplete glaze provides a peek at the red terracotta that lies beneath its polished, shiny exterior.
Also available on Favor's site is The Jingle Cats, from Portuguese brand Severina Kids. Made from organic and reused materials, these cats' felt eyes are recycled from plastic bottles and their polyester filling is recycled as well. The hand-crocheted merino wool cats have a jingle bell attached to their leather.
In addition, The USIKU Storage Baskets are woven by hand in Southwestern Kenya by The Basket Room. They are crafted by women who benefit from fair pay and flexible workloads. These craftswomen utilize a traditional twining method on an intricate weave.
For The Beauty Addict
RéGén De Peau II is a simple, natural, multi-cultural and complete product that provides benefits of eight different products packaged into one! Not only does it moisturize and rejuvenates it also reduces wrinkles and effects of aging while increasing firmness, luminosity and collagen production.
Winter skin can be a challenge, which is why it was great to find the celebrity-favorite skincare line from Dr. Trevor Cates, author of "Clean Skin from Within." The book offers guidelines and recipes to transform your skin from the inside out. Her two week program will help you clear your mind and energize your body naturally.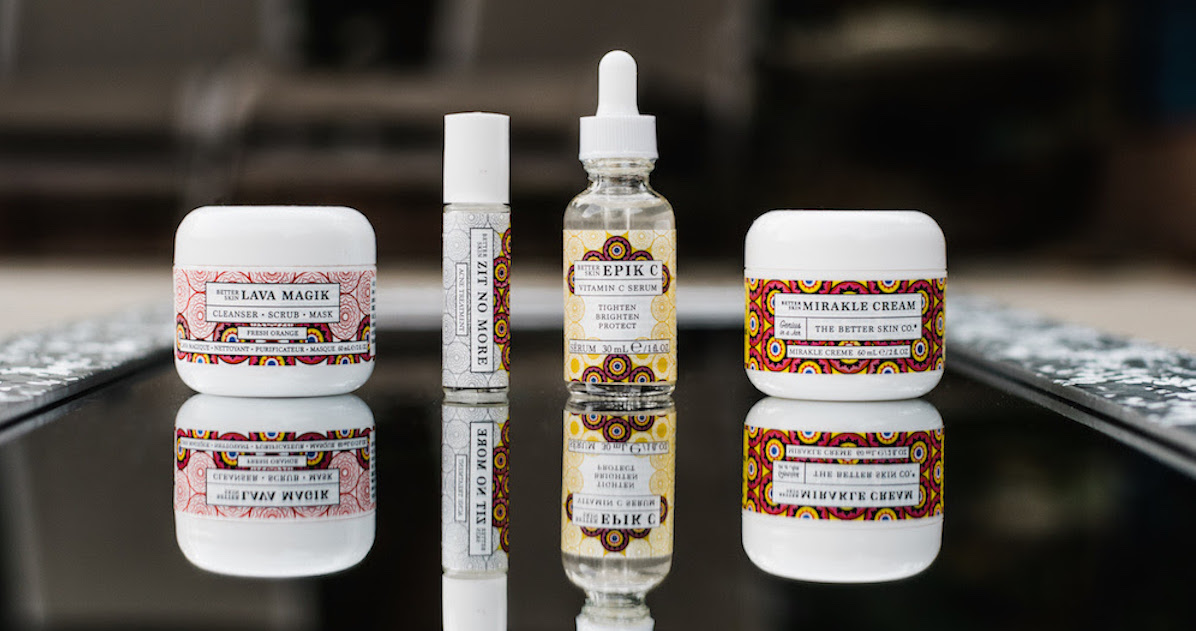 The Better Skin Co. curated five unique skincare gift sets ($32-$78) housed in a playful sequin bag. Most noted for their award-winning hero products Mirakle Cream, Lava Magik and Zit No More, the company focuses on clean, multi-tasking formulations that mix natural and organic ingredients boosted with a bit of science.
The FRANZ Microcurrent Mask System and Everyday Essence combination, is the essential skincare staple, no matter what your skin care goals! With their patented Tissue X™ technology, this microcurrent sheet mask system and healing serum duo will nourish and repair your skin from the inside out.
Winter is coming, and with it, comes the doldrums of days with dry, damaged and overly frizzy hair. JOICO offers several quality products to enhance and restore the strength and shine of hair during the festive season. Whether you are dealing with dryness and static from wool hats, shedding from split ends and temperature changes, or something else, JOICO has a solution especially for you.
No matter who you are, no one enjoys dealing with hair loss. Whether as a result of natural balding, stress or other factors, thinning or losing hair can be a very traumatic experience. Luckily, SH-RD, a unique Taiwanese haircare brand, has created a complete scalp-revitalizing kit to help combat hair loss emergencies.
Strengthen and regrow your hair! The Resolve Scalp Essence normalizes and revitalizes the scalp condition, the Refresh Scalp Essene strengthens the hair shaft while adding shine and anti-microbial protection, and the Revive Scalp Essence promotes strong stimulation of hair follicle metabolism and growth.
Skincare can be tricky. Everyone has different skin, and, for some of us, our shades can be difficult to find, blended, or patchwork and most skin care companies have never done a good job of catering to those people with difficult skin. That is all about to change with the launch of the Synchro Skin line from longtime skincare giant Shiseido, a collection of foundations, concealers and powder finishes that caters to all skin, everywhere.
Inspired by the SHISEIDO camellia flower ("hanatsubaki" in Japanese), this uniquely designed brush features four distinct petal sections that contour the face to maintain optimal skin contact. The design buffs skin into a smooth and polished finish and makes for a fantastic holiday gift! With Shiseido's patented "Hidden Core" technology, this brush is designed to control pressure upon application for a seamless makeup finish, while simultaneously being both ultra-portable and incredibly soft.
For many people, the worst skin problem they face in the winter months is extreme dryness. The hands, the body, the face – every part of us is screaming for hydration in the wintertime. And staying moisturized can be a constant ordeal. Thankfully, there are organic, USDA-approved, vegan-friendly, ultra-hydrating skincare products from Organic Skincare brand Mizz Bloom for those of us who seem unable to retain a drop of moisture.
For the CBD Lover
I love the new, ultra-luxe CBD Holiday Champagne Collection that launched just in time to celebrate and ring in the new year from Kush Queen. Celebrity fans love the set, which includes a 100mg CBD Champagne Bath Bomb, a 150mg Nano CBD Champagne Bubble Bath and 1,000mg Full Spectrum CBD Champagne Tincture. The special edition collection features opulent gold flakes (edible mica) and is lightly scented with champagne fragrance and makes for the perfect holiday gift!
Tinley Beverage Co. has lovely elixirs and tonics that are low in sugar and calories and taste lovely. With a 5mg micro-dose of premium Pineapple Jack sativa THC per serving, Tinley beverages provide fast-onset social and euphoric effects.
Fruit Slabs is a fantastic, organic, vegan, cannabis-infused fruit strips. Paying homage to the Fruit Roll-Ups of childhood with tropical flavors and chewy texture, This is a fun treat for the grown up cannabis consumer.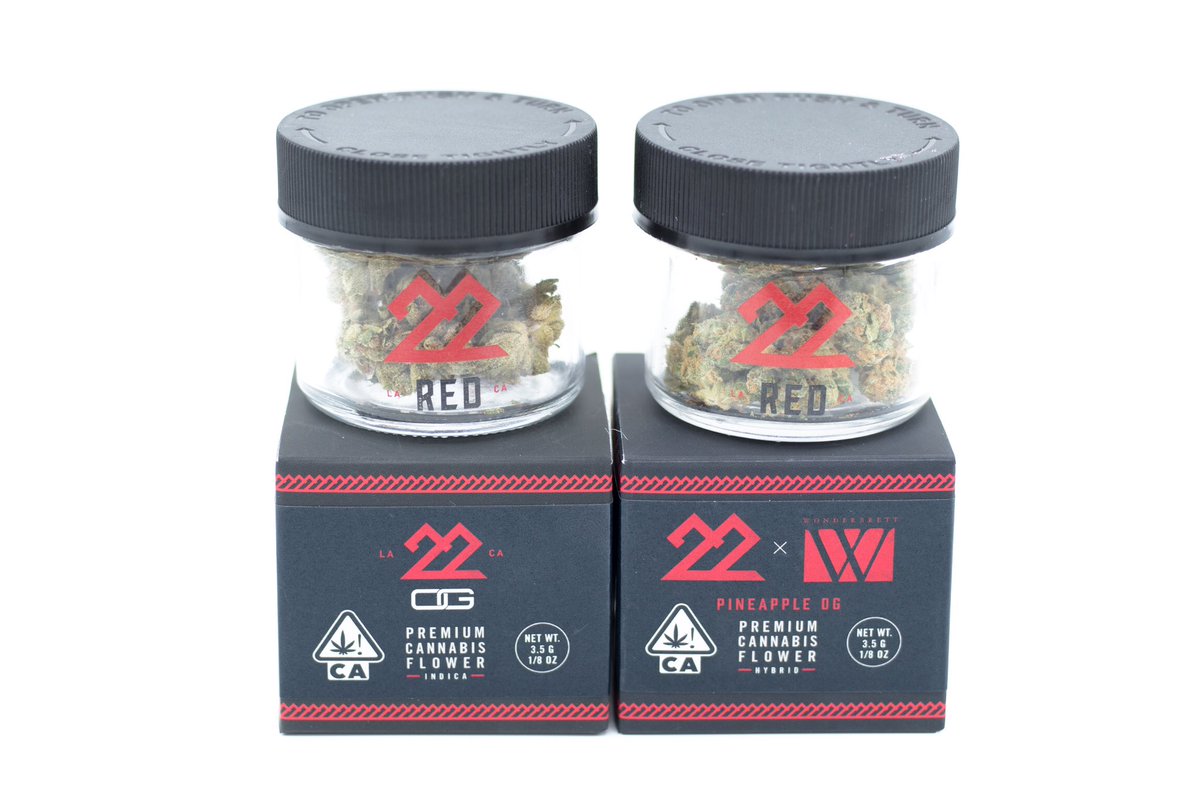 The 22Red product line includes eighth jars of cannabis flower, single pre-rolls, vape cartridges, and disposable vape pens in both THC and hemp-derived CBD options. 22Red uses premium, lab tested cannabis and hemp-derived CBD in each respective product line.
Shanti Wellness has lovely wellness products, like Soothe body balm and Balance tincture, in addition to Calm, Relief and Tranquil soft gel capsules. Each product is named after the stress-relieving properties they deliver.
Mindset Organics – Decadent colitas are the epitome of a sophisticated cannabis experience. Mindset Organics offers meticulously crafted and made with only the highest quality ingredients. They source premium Belgian chocolate and center it with three irresistible flavors- dosed for a truly delicious and euphoric experience from the moment they touch your tongue.
Sweeten your cannabis experience with Platinum's Chocolate Bars and Gummy Coins. Offering a colorful array of scrumptious and lightly-infused edibles, Platinum goodies are the perfect treat to elevate any occasion.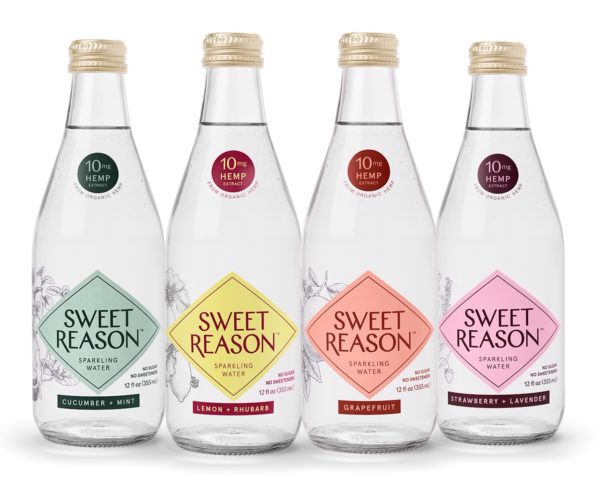 Sweet Reason is the healthiest CBD-infused sparkling water brand that has become a market leader in North America. The brand was founded by Hilary McCain, whose passion for food, health and wellness led her to create a high quality, great tasting CBD beverage that has disrupted the category.
Winged is the first CBD product line formulated exclusively for women. The brand addresses the most common issues facing today's woman such as stress, mood support, sleep improvement and hormonal balance.
For The Health Nut
Body Complete Rx is a proprietary blend of vegan, non-GMO, natural plant-based ingredients clinically proven to curb appetite, increase energy and boost metabolism without harsh side effects or yo-yo weight loss results. The perfect gift to help you meet your fitness goals for the New Year.
If you have a biker in your life, I know the best present ever for them! Alisun Franson, founder of the cute Venice shop, Amiga Wild, takes beautiful vintage fabrics and turns them into gorgeous handlebar bags and matching seat covers. She also specializes in jewelry and accessories made from repurposed bicycle parts, Seriously, like nothing you have ever seen!
For She/Her
From cashmere sweaters seen on Charlize Theron & Cara Santana, to cool 90's inspired basics loved by Kendall Jenner and Katherine Schwarzenegger, celebrity coveted brand Splendid offers the most sought after comfy and on trend pieces that fit anyone's style. Offering a wide range of styles and price points, it's a one stop shop!
For the more laid-back woman with a witty sense of humor, LULUSIMONSTUDIO is the perfect fit. Pet parents, caffeine queens, & boss babes will love the array of tees offered, just like country singer and actress Jana Kramer! The best part? Everything is under $60!
Luxury lovers rejoice! Socially and environmentally conscious brand Garnett Hill uses elevated materials and organic cotton to create their plush and cozy garments ranging from sweaters, wraps, shirts, coats, and more. Selma Blair and Eva Amurri Martino were recently spotted wrapped up in their favorite Garnett Hill pieces!
Global Angel is a lovely philanthropic brand that Amber Shopay started after the Malibu's Woolsey fire last year. For every purchase, you can choose a charity like Best Friends Animal Society, American Cancer Society, etc. where the proceeds will go, and can purchase extra "angel wings" to add to your donation. Check out their Global Angel hoodie!
QVC Fashion designer Renee Greenstein makes fantastic stretch denim pants that are comfortable and sexy to wear. The shape-enhancing tummy control waistband gives you a smoothing, flawless look, perfect for any party you are going to!
For the Traveler
If you are headed out to Palm Springs, check out Chakra Khan's amazing yoga class, Namastoned at The O Spa! You can relax even deeper into your meditation and feel strong and revitalized after just one class! Getnamastoned.com
The holiday season is the perfect time to give the gift of travel with CityPASS. This fun and easy approach to vacation planning offers unparalleled savings and convenience, making it the ultimate holiday gift for travelers, families and anyone who would love a weekend getaway. The gift of travel is timeless!
Go everywhere – With its deep-discount ticket booklets, savings up to 50 percent in most cities and 97% rating of recommendation of customers, CityPASS delivers savings on admissions and line skipping perks to top attractions in 14 North American destinations including Atlanta, Boston, Chicago, Dallas, Denver, Houston, New York City, Orlando, Philadelphia, San Francisco, Seattle, Southern California, Tampa Bay and Toronto.
The Moon Ultralight is a portable lighting gadget controlled by touch offering users the ability to say goodbye to "bad lighting" as this device is designed to brighten and enhance photos/videos. Now capturing images/videos from events like that special holiday dinner at Grandma's where you introduced your boyfriend to the family or that yearly "Friendsgiving" potluck you started are now that much easier with this simple, user-friendly attachable gadget.
Gamblers will love San Manuel Casino Gift Cards, which can be used to buy Food & Beverages, at any San Manuel food outlet, and Merchandise, at all San Manuel retail outlets! Best of all – you can use your earned rewards! San Manuel Casino Gift Cards are available at 1891 Boutique, Puuhia't Gift Shop, Big Mo Cafe and The Pines Modern Steakhouse.
Speck Travel products are designed to be the perfect core essentials, designed with the business leisure traveler in mind. There are 3 sizes in different colors: a 22-inch carry on, the 26-inch checked upright and a 29-inch for extended trips, along with two different backpacks. Prices range from $100 for a backpack, $200 for a 22-inch carry-on to $250 for the 29-inch checked bag. The suitcases are made of a durable polycarbonate shell, have dividers with 3 pocket organization, are super lightweight, and have 360 degree shock dampening double spin wheels.
Giving Back
I love Worldvision, an amazing humanitarian organization dedicated to working with children, families and their communities, helping them reach their full potential by tackling the causes of poverty and injustice. By purchasing some of these fair trade, handcrafted gifts in the gift catalog, you provide resources to World Vision's "Where Most Needed" fund, which helps impoverished children and families in countries around the world. As a thank you, you can choose one of these beautiful handcrafted items that matches the level of your donation to keep or give away!
Votive: A handmade, gold-colored votive candle holder to keep your home warmly lit and smelling great ($75).
The Opportunity Collection: The Opportunity Collection, designed by Everybody Loves Raymond and The Middle's Patricia Heaton, which includes acacia wood serving spoons ($85), a hand-carved mango wood bowl ($150) and decorative, modern coasters that can help protect your tables from the dangers of coffee mug rings ($75).
The Grace Collection: The Grace Collection, also designed by Patricia Heaton, which includes a gold-tone clover and tassel necklace ($75), a 9-inch stretch charm bracelet featuring turquoise glass beads ($85), and a viscose scarf with a leather strap and nickel-free silver-tone buckle ($100).
For the Pet Lover
Bundle up your pup this season with the Onesie from Gold Paw series. Made from the company's signature buttery-soft fleece using recycled content fabrics by bluesign certified mills, it features 7% spandex for a 4-way stretch. The new Onesie is lightweight, which makes a single layer of it just right for a cool walk or perfect for winter pajamas. [Images]
The new Bearnola Bites from Charlee Bear are everything they're baked up to be, and perfectly sized for training or just for fun. They're crafted with real oats, honey and vanilla right here in the USA. Made without soy, corn, artificial flavors or preservatives, each crunchy cluster is bursting with irresistible aroma and taste. Available in 8-ounce packages and four delightful flavors, including Blueberry Pie, Cranberry Cobbler, P.B. & Honey and Pumpkin Spice. [Image]
Introducing Hound & Gatos natural dry food for dogs and cats. Featuring real poultry, meat or fish as the #1 ingredient, these recipes are packed with a spectrum of healthy superfoods, like blueberries, cranberries and dandelion greens. The result is a great tasting, limited ingredient diet that's made in the USA and pea, chickpea, lentil and white potato free. Three grain free and two ancient grain varieties are available for dogs, as well as three grain free options for cats. [Images]
Say hello to a new generation of gloves for professional and at-home grooming. With improved flexibility, HandsOn Gloves are easier to groom, bathe and de-shed with. The scrubbing nodules on the fingers and palms of the new generation match the color of the glove itself – black, purple or green – differing from the previous collection's two-toned design. Whether used wet or dry, HandsOn Gloves are perfect for gently cleaning matted or muddy fur. [Image]
Treatibles offers a complete line of organic full spectrum hemp formulas for dogs, cats and horses that provide a variety of benefits. Their new Topical Cream is formulated with penetrating ingredients for maximum absorption and is ideal for managing joint inflammation, burns, scratches and other minor skin conditions. [Image]
For the Astrology Lover
When it comes to friendship, family, and romance, we all want the same things: to love and be loved, to communicate, to fight fair, and to feel okay in our own skin. Astrology for Real Relationships is a modern, practical guide to life's least practical matters–relationships of all kinds and matters of the heart–that will help you understand your blind spots, blocks, and fears so you can make choices that leave you happy and fulfilled. Full of real talk about attraction, dating, sex, frenemies, self-love, and how to deal with family, this book will help you build and maintain strong connections–with your crushes, your spouse, your boss, or your mom–and uncover and get what you really want in relationships, not what you think you should want.
In these ever changing worlds, it is so nice to get some astrology assistance to guide one's way. That's why I love getting Jonathan Cainer's astrology charts, and recordings. You can sign up for his special 5 star service, which gives you insightful advice that is so accurate! Their year ahead chart is a great gift for anyone!
For Him
Franz Homme Care Beard 2 Mask System: Specially created for men with facial hair, this one-of-a-kind microcurrent face mask adheres tightly to your face, allowing for a deeper absorption of the key ingredients- 8 types of Hyaluronic Acids, 4 types of Peptides, and Sebum Control Complex into the inner skin.
The brainchild of well-known Los Angeles socialite and poker player Dan Bilzerian for active lifestyles and adventurous spirits, Alister is a men's grooming line designed to get you clean and smelling more than pretty. Alister ingredients are vegan, gluten-free, cruelty-free, and paraben-free, and are also imbued with Pheroboost™, specially formulated to boost your confidence.
Get noticed for all the right reasons this holiday season! These feel-good men's body, skin and hair care products help get you looking, feeling and smelling your best, with a little help from nature. Alister products are infused with Pheroboost™, a bold blend of seductive pheromone boosters designed to adjust to your body's chemistry to enhance the production of natural pheromones, helping you increase your power of physical attraction and step-up your confidence. It's the perfect product for a "new year, new you" vibe!