August 4, 2020 at 6:45 pm PDT | by Roman Randall
Sponsored: Skull and Bones celebrates "National Underwear Day"
We know of national awareness days of everything from National Siblings Day to National Ice Cream Day but when is the last time you acknowledged and celebrated National Underwear Day, and treated yourself to a new pair of undies?
If you ask any of the Gay men who own a pair of Skull and Bones underwear the one thing you will hear over and over again is how unbelievably comfortable they are. The fabric is amazingly soft. In today's booming market where companies know that their bread and butter are gay men and our "pink coin", we can make you or break you so taking the time to make sure that we are comfortable all day long is key.
Skull And Bones was founded in 2014 by my husband, Robert (Matysiewski) and I, with a rebellious spirit and an ambitious objective: to offer luxurious designer men's undergarments with bold patterns and superior fabrics while offering flattering fits and luxury for the everyday man who demands more," explained Co-Owner, Vincent Pilato.
Rob and Vincent met in New York and have been together since 1997 and married in 2011. Rob is a graduate of The Fashion Institute of Technology in New York and has been working in the fashion industry for over twenty years as a designer having worked for a number of major brands including Aéropostale, American Eagle, The Gap and more in production and product development and has expertise with everything from knits, fabrics, leather goods and intimate apparel. Vincent is an accomplished career educator with a focus in instructional technology. From the moment Rob began his first internship at Aeropostale, he knew that it was his dream to one day start his own brand.
When you go on the Skull and Bones website it might seem that Gay Christmas has come early. You can choose from what seems like an endless amount of prints. Cotton candy, Pride splatter paint, plaid and hand painted floral designs are just a few popular prints while styles offered not only include the traditional brief, but also jock, trunk, boxer brief and for the daring – the sexy "peek a boo" which gives all the emptiness in the rear area that you need to have a good time without even having to take them off.
As their website mentions, each piece is treated like a "work of art". For Gay men this is key. What you're wearing underneath your clothes is often just as important as your clothes themselves and can often speak to one's personality. Moreover we are a community that is not only brand loyal but boasts trillions of buying power and also tends to be very influential to our straight counterparts. Every Gay man has a female bestie who is constantly looking to us for the best products to purchase for her boyfriend or husband. If a company can nail it and please the Gay male consumer the outcome can have an enormous domino effect.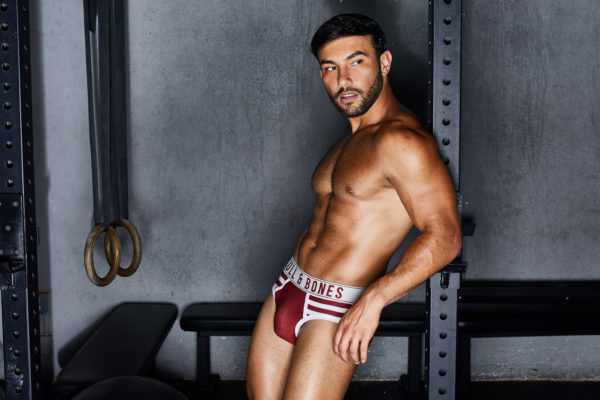 One might wonder why a skull and bones name and image for the brand name and logo. Definitely power and masculinity come to mind as we all strength. But how did this name come about to be?
One day while out shopping for men's clothes, Vincent was looking through Ralph Lauren's preppy men's rugby line and noticed that they had incorporated skulls. Vincent thought it was really cute yet strong and realized they were being used more and more. They decided then and there that Skull And Bones was going to be the name and face of the brand. The rest is history. The logo is strategically placed on each piece of merchandise which spoke to the strength of the Gay community and quickly becoming a favorite in the community.
The origins of the symbol of the skull and crossbones come from the artistic genre of danse macabre (from the french language), speaking to the late- universality of death. The skulls and crossbones were created to remind people of the fragility of their lives and "no matter one's station in life, the dance of death unites all."
Ironic that we are now in a time where this is relevant more than ever. Yet, our community has faced demons head on in the past and our strength in community is always what gets us to the finish line. When we can support the community and patronize LGBTQ+ owned businesses during these tough times of Covid-19, we can all come out on the other end stronger than before.
Celebrate National Underwear Day, tomorrow, August 5, by treating yourself to a pair of underwear that speaks to your personality and strength from Skull and Bones, while you enjoy 20% off – Shop Now –
https://skullandbones.com