Queery: Nia Clark
The youth and LGBTQ advocate answers 20 questions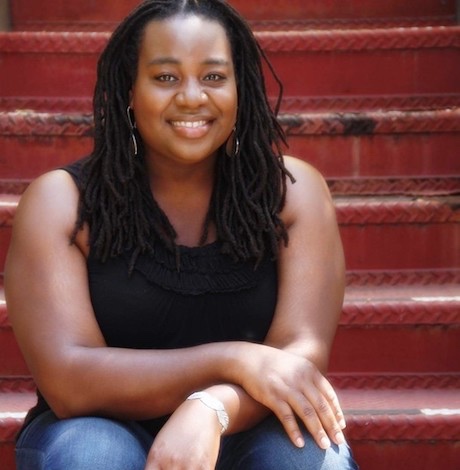 Some people were born to overcome, born to excel and destined from birth to change the world. Nia Clark, 35, is one of them.
As a transgender youth of color who spent most of her childhood in foster care (she entered the system at 8 years old), Nia consistently struggled to find acceptance and support from the adults around her. Read that sentence again. And again.
But while many foster children take their bad situations and make them worse, Nia focused prodigiously and spent her spare time as a teenager doing brainy things like reading Shakespeare and teaching other students about HIV prevention.
She has since that time spent more than a decade racking up an impressive list of accomplishments.
Nia has worked tirelessly to change the foster care system from within as a child welfare consultant, direct care counselor, trainer, and LGBTQ youth advocate. From 2015-2017, she was the Mentoring Coordinator at LifeWorks, the youth development and mentorship program at the Los Angeles LGBT Center. In her role, she matched over 200 LGBTQ+ youth with adult mentors.
In 2016, she served as consulting producer of the Emmy-nominated MTV documentary, "Transformation," a film featuring herself and six trans and gender-diverse youth navigating their identities.
Nia is currently a trainer for the Human Rights Campaign's All Children – All Families Project, an initiative that provides a framework for child welfare agencies to achieve safety, permanency, and well-being by improving their practice with queer youth.
Thoroughly impressed by Clark's hard work and extensive background in child welfare, Big Brothers Big Sisters of America (BBBSA) enlisted her help in launching a three-year national pilot project to provide more inclusive mentoring services and resources to thousands of LGBTQ youth across America.
Nia is presently a social work major at California State University, Los Angeles.
On Nov. 16, my husband Tom Tarr and I will appear with Nia Clark in Riverside County Superior Court. When we walk out of the courtroom that day, Nia will have something she has never had — two loving and legal parents. After being in each other's lives for 20 years, we will finally be family!
Nia is, on every professional and personal level, a wonderful human being who simply makes the world a better place.
And no parents could possibly be prouder of all their child brings to the world.
How long have you been out and who was the hardest person to tell?
I came out in 1991 at the age of eight. I was already in the system and told my first foster mother I was a girl. She responded by placing me in a mental institution in Rockville, Md., for over six months. I was released on the condition I stopped saying I was a girl. My birth mother had by far the worst response to me coming out. I called her on the phone when I was 12. "You are mentally ill," she said. "You belong in foster care. I'm glad you don't live with me. You're going to die of AIDS." She hung up immediately after.
Who's your LGBT hero?
I have always admired and revered We'wha, the first well-known Two Spirit person. She was a Zuni Ihamana from New Mexico who, like me, was an orphan that faced adversity and challenged binary European standards of gender identity & expression in the late 1800s.
What's Los Angeles' best nightspot, past or present?
I love the Hollywood Overlook on Mulholland Drive.
Describe your dream wedding.
I spent 14 years in foster care being claimed by no one. My wedding will be the public antithesis of that! I want a full autumnal spectacle in a big church, replete with purple orchids, a sumptuous white dress, and a gaggle of friends and family.
What non-LGBT issue are you most passionate about?
Child welfare has literally been my life's work. I love working with children and young adults.
What historical outcome would you change?
Instinctively, my first response would be the Transatlantic Slave Trade, but I'm gonna throw a curveball to change it up. Of the countless racial, systemic, and institutional failures in this country, I believe the Reconstruction era was truly a missed opportunity for black folks to cultivate and develop the solid socio-economic foundation to advance as a people.
What's been the most memorable pop culture moment of your lifetime?
Sept. 14, 1985: The premiere of The Golden Girls.
On what do you insist?
Wearing ballet flats. I tried so hard to be the girl who wears high heels.
What was your last Facebook post or Tweet?
The Genderbread Person, a visual tool for to teach other people about sexual orientation and gender identity & expression or, as many of us educators call it, SOGIE.
If your life were a book, what would the title be?
The Little Wanderer
If science discovered a way to change sexual orientation, what would you do?
Absolutely nothing. I love men too much!
What do you believe in beyond the physical world?
Love. I believe it endures. It transcends all corporeal realms, all space and time.
What's your advice for LGBT movement leaders?
You must do your part to call out and end trans-exclusionary radical feminists (TERFs). Women have fought so hard to not be objectified and relegated to their privates. We tell women everyday they are not defined by a mastectomy or their ability to have children. Why would any cisgender woman exact the same oppression on a trans person? Trans.Lives.Matter.
What would you walk across hot coals for?
Gummy bears. My favorite candy!
What LGBT stereotype annoys you most?
I can't stand when cisgender ask trans folks about "the surgery." People always ask if I've had "the surgery," as though there is this one defining medical procedure that makes me a woman. It's not only rude to ask what anyone's genitals look like, but it also negates all other aspects of a trans person's journey.
What's your favorite LGBT movie?
"Priscilla, Queen of the Desert."
What's the most overrated social custom?
Telling white lies.
What trophy or prize do you most covet?
My teddy bear, Charlie. He was given to me when I was 11 years old, making him my oldest and most prized possession. He's pretty beat up but he's always been there, good times and bad.
What do you wish you'd known at 18?
That I am not defined by my trauma, but rather empowered by it.
Why Los Angeles?
I lived in Boston for 30 years. I'm here because LA has no snow!
Turning pain into positive & using art as therapy – Carl Hopgood
He knew he wanted to embark on a path toward a "bold, exciting life" among other "creative people" while "doing amazing things and living"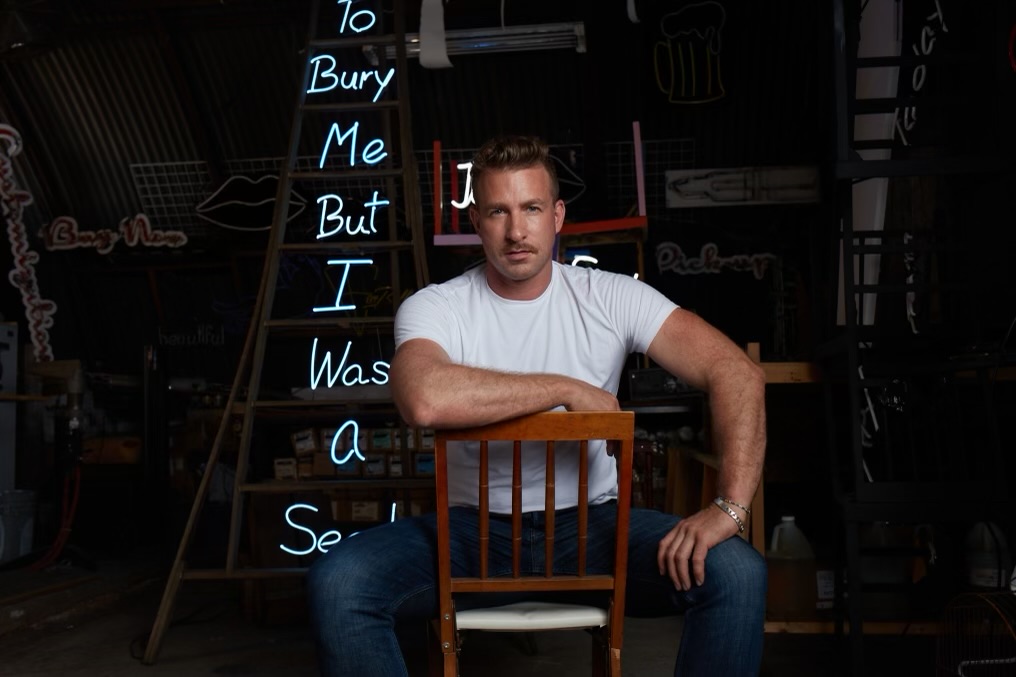 LOS ANGELES – Like many people born with an inclination toward creative expression, Carl Hopgood has known from a very young age that he wanted to be an artist.
Growing up on a small farm in rural Wales, the Cardiff-born Hopgood spent his childhood surrounded by animals and nature, letting his imagination run wild and creating worlds he envisioned with baskets, fruit boxes, flowers, stones, tabloid clippings, and other items that struck his fancy. Then, at 7, he was invited to spend an afternoon with his best friend, whose cousin was visiting; that cousin happened to be Richard Burton, and he happened to be accompanied by his even more famous wife, Elizabeth Taylor.
Hopgood was not just star-struck, he was inspired.
"My world was never the same after that day," he tells the Blade. "They told stories about Hollywood, London, glamorous parties, movies, photography… and Andy Warhol! Andy Warhol was my first artist crush. He was also born on a farm, so I felt an immediate connection."
After that experience, he knew he wanted to embark on a path toward a "bold, exciting life" among other "creative people" while "doing amazing things and living."

Four decades and one continental transplant later, it can safely be said that Hopgood has accomplished his goal.
A successfully established LA-based artist, he's created a unique body of work that includes pieces in Neon, Sculpture, Film / Video Installation, and canvas painting; his collectors include Morgan Freeman, Eugiono Lopez, The Vinik Family Foundation, The Groucho Club and Rupert Everett; and recent exhibitions of his work – like his neon art installations 'Looking For Love In All The Wrong Places', 'My Heart Is Open', and 'You Changed My Life' at the Maddox Gallery in West Hollywood, and 'Chair Therapy' at United Talent Agency's UTA Artspace LA – have garnered a flurry of enthusiasm and increasing national attention.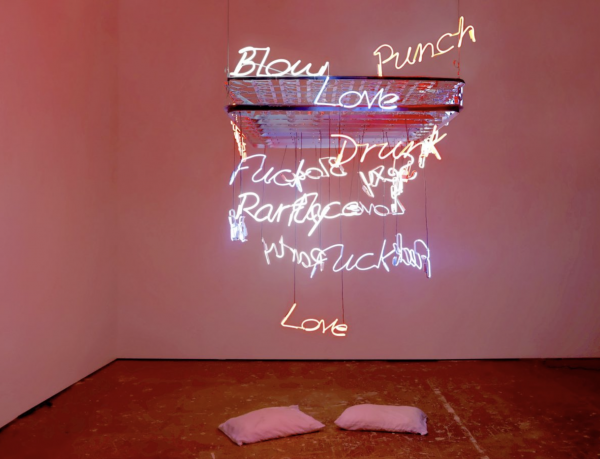 The latter installation created a particular stir with its inclusion of a controversial neon sculpture called "Just Say Gay", Hopgood's response to the draconian anti-LGBTQ legislation championed by Florida Governor Ron DeSantis; that work was acquired by prominent collector Beth Rudin DeWoody and will be on display from December 2023 at her Bunker Art Space in West Palm Beach, Florida.
When talking with the Blade, Hopgood is keen to focus the discussion on a new goal – the completion of a documentary about the creation of "Chair Therapy" – but he's certainly willing to start the conversation by talking about the sense of queer defiance behind "Just Say Gay" and many of his other works, because the two subjects go hand in hand.
"Being a gay man of Welsh and Greek heritage," he proudly proclaims, "the fight against bullying, repression, injustice and discrimination became central themes of my artistic expression."
As he explains, that fight is rooted in a traumatic childhood experience. "I was bullied by classmates," he remembers. "They would chase after me, push me to the ground and kick me in the groin. I managed to escape and found sanctuary under a stack of chairs in the school assembly hall. The school therapist helped me cope by using a technique called Empty Chair Therapy, where you would talk to an empty chair about your feelings.
"I decided turn this pain into something positive and use art as my therapy."

Much later, the young Hopgood would be inspired by the confrontational aesthetic of Damien Hirst – after reading a scathing criticism of one of his works in the paper – and follow in the controversial artist's footsteps to Goldsmiths College in London, eventually becoming part of a movement with fellow graduates like Steve McQueen, Jason Martin, Ceal Floyer, Angela De La Cruz and Alessandro Raho.
"It was an incredible moment to be a young artist in 1990s London."
Nevertheless, after 20 years in the London art scene, he decided it was time for a change.
"I had just watched a documentary featuring David Hockney," he explains. "The freedom and possibility of David's work was clearly inspired by Southern California with its beautiful palette and open, sunny skies. It was a stark contrast to the gloomy weather of the UK, and the anxiety and depression that accumulated over the years. I had heard about the growing LA art scene –LACMA, MOCA and The Broad were beginning to attract an international audience – and I decided that moving to Los Angeles would be good for both my mental health and creativity."
The choice was a fortuitous one for him – "It was the perfect time to go," he says, "and I was ready to work in new mediums and expand my repertoire." Then, like the rest of us, he had to put all his plans indefinitely up in the air.
"In early 2020, when the pandemic hit," he tells us, "I would see all the bars and restaurants shuttered in West Hollywood. It was like a ghost town. Looking through the store front windows, all I could see were chairs stacked on top of each other – and that image took me straight back to my unhappy childhood."
He decided to use it for inspiration and began work on the first sculpture in the "Chair Therapy" series ("My Heart is Open") – which as he describes, addresses "toxic masculinity, oppression and queer identity, themes I've always championed."
Those themes are doubtless also at least partly behind his desire to see the planned documentary – titled "Fragile World" – reach fruition. Filmed during the pandemic, it profiles Hopgood by charting his personal artistic journey, but centers on the development of "Chair Therapy", in which he combined found and vintage wooden chairs with neon lights shaped into positive words to provide hope, love and support for a community who were hardest hit by Covid and the shutdowns it necessitated.
"Seeing those stacked chairs and tables, in those empty establishments, I knew some would be forced to close for good. I felt so helpless, but I knew there was something I could do."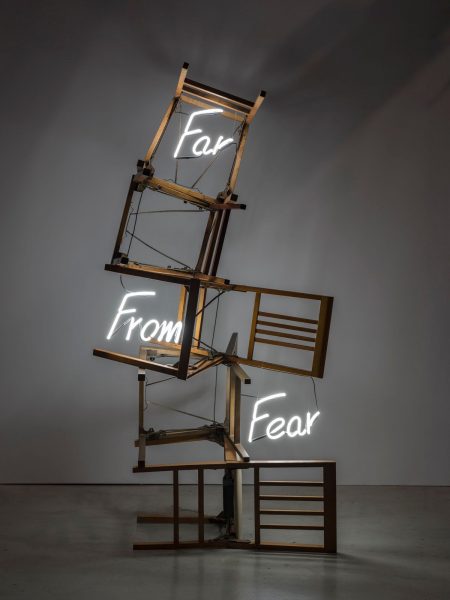 Now, with his own hard-hit community – alongside many others – facing aggressive legislative oppression from the extremist right, he's determined to see the film finished, so that the same empowering message of optimism embodied in his work can be spread to a larger audience as a reminder not to let the bullies break their spirit. To that end, the documentary's director and producer, LA-based British filmmaker Kate Rees Davies, has set up an Indiegogo campaign to raise the funding necessary to finish the project.
Another motivation, perhaps even more personal, might be found in Hopgood's revelation of a hidden influence in another work from the "Empty Chairs" series: "Twelve Steps", which explores the massive financial success of a California citrus industry made possible by the hard work of a segregated Mexican immigrant labor force. "I was also inspired in that piece by a line from Greek poet Dinos Christianopoulos," he says, "who was sidelined by the Greek literary community in the 1970s because he was gay. It's a small but powerful couplet which was included in the collection 'The Body and the Wormwood' that reads, 'What didn't you do to bury me, but you forgot that I was a seed.'"
For Hopgood, perhaps, the documentary also represents a seed, one that he himself has planted in hope of spreading its positive power into the world – and he's counting on the support of his patrons through Indiegogo for the water, light and nourishment it requires to grow.