Military Special: LGBT patriotism from gay ban to trans ban
Commemorating the repeal of Don't Ask, Don't Tell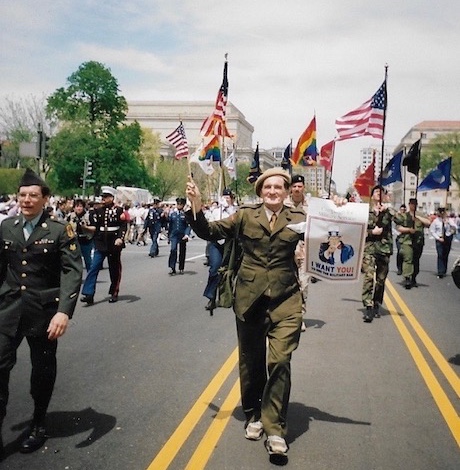 Dec. 22 marks the 8th anniversary of President Barack Obama signing the repeal of the discriminatory "Don't Ask, Don't Tell, Don't Pursue" law banning lesbians and gay men from serving openly in the US Armed Forces. Normally, 8th anniversaries are not particularly noteworthy. But normality died during the 2016 presidential campaign and now, with Donald Trump and Mike Pence appearing so eager to erase LGBT progress, it is imperative to recall from whence the LGBT community came and the obstacles overcome.
On Dec. 14, Solicitor General Noel Francisco filed three separate briefs urgently asking the Supreme Court to ignore the nationwide injunction imposed by three lower courts in the ongoing legal battles over the Twitter-announced transgender military ban. He wants the Court to allow enforcement of the ban during the appeals process. Fortified with banal superiority, Francisco said the injunction caused "direct, irreparable injury to the interests of the government and the public" and complained that open trans service "threatens to undermine, disrupt unit cohesion and impose an unreasonable burden on the military that is not conducive to military effectiveness and lethality."
The rhetoric is familiar, used in numerous lawsuits since the original ban against homosexuals was imposed in 1953 and after President Bill Clinton reneged on lifting the ban in 1993 and agreed to the horrific DADT "compromise." Some courts upheld the ban and DADT, others ruled for the individual, ordering reinstatement. 
But it was the 2004 lawsuit filed by the Log Cabin Republicans (LCR) that sent the Defense Department and the Pentagon into a tizzy in 2010. By then, the DoD had discharged more than 14,000 servicemembers, including a slew of Arabic-speaking translators despite America's wars in Afghanistan and Iraq. Straight LCR attorney Dan Woods, an unsung hero, was David to the DOJ's Goliath at trial in the Riverside, California District Court. Discharged translator Alex Nicholson, then-executive director of Servicemembers United, was a plaintiff, buttressed by witnesses including scholars Aaron Belkin, director of the research-based Palm Center, and Nathaniel Frank, author of Unfriendly Fire: How the Gay Ban Undermines the Military and Weakens America; discharged servicemembers: former petty officer 3rd class Joseph Christopher Rocha, former Air Force officer Mike Almy, and former Air Force Staff Sergeant Anthony Loverde.
Woods also had President Obama's opinion that DADT "weakens our national security" and eloquent support for a congressional repeal from Joint Chief of Staff Admiral Mike Mullen. "We have in place a policy that forces young men and women to lie about who they are in order to defend their fellow citizens," Mullen said before the Senate Armed Services Committee on Feb. 2, 2010. "For me, personally, it comes down to integrity: Theirs as an individual, ours as an institution."
Assistant U.S. attorney Paul Freeborne presented no witnesses, questioned LCR's standing to bring the case, treated Judge Virginia A. Phillips rudely, and argued that DADT was constitutional because it was passed by Congress, with Republican Sen. John McCain's firm support. "In my view, and I know that a lot of people don't agree with that, the policy has been working and I think it's been working well," he said in that Feb. 2 Armed Services Committee hearing.
The LCR lawsuit proceeded virtually unnoticed—until Sept. 9, 2010 when Judge Phillips ruled that DADT violated the First and Fourth Amendments of the Constitution. She found the "sweeping reach" of DADT restrictions is "far broader than is reasonably necessary to protect the substantial government interest at stake." Additionally, DADT violates LGBT personnel's right of association and due process.
"As an American, a veteran and an Army reserve officer, I am proud the court ruled that the arcane 'don't ask, don't tell' statute violates the Constitution," LCR Executive Director R. Clarke Cooper told the Los Angles Times. "Today, the ruling is not just a win for Log Cabin Republican service members, but all American service members."
A month later, on Oct. 12, 2010, Phillips issued a permanent worldwide injunction ordering the military to immediately "suspend and discontinue any investigation, or discharge, separation, or other proceeding, that may have been commenced" under DADT. "The order," Woods said, "reaffirms the constitutional rights of gays and lesbians in the military who are fighting and dying for our country."
Chaos ensued. The Pentagon said it would abide by the ruling but the Servicemembers Legal Defense Network (SLDN) cautioned personnel not to come out as they had in 1993 believing Clinton would lift the ban. The DOJ appealed the ruling to the Ninth Circuit and asked Phillips for an emergency stay until the appeal was adjudicated. Phillips said no. DOJ asked the Ninth Circuit for a stay, which it got. LCR appealed to the Supreme Court to vacate the stay. But on Nov. 12, Justice Kennedy said no—without explanation—and DADT was back on.
The chaos of the briefly lifted DADT so shook the military, they started advocating for a controlled repeal. McCain continued to stubbornly block passage but Speaker Nancy Pelosi and Rep. Patrick Murphy, with Sen. Joe Lieberman pushing Republican Sen. Susan Collins, brilliantly maneuvered the bill through the lame duck Congress and got the DADT repeal to Obama. Before his death, McCain came out supporting openly gay DOD civilian professional Eric Fanning as Sec. of the Army and opposing Trump's trans ban.
This special issue is just a glimpse of the long battle for LGBT full patriotic equality—from gay World War II vets enjoying the freedom of authenticity during the 1993 March on Washington to trans plaintiffs riding in LA's 2017 CSW Pride Parade. 
VA Secretary announces benefits for vets discharged under DADT
Don't Ask, Don't Tell forced about 14,000 service members out of the military during the 17 years that the policy was in place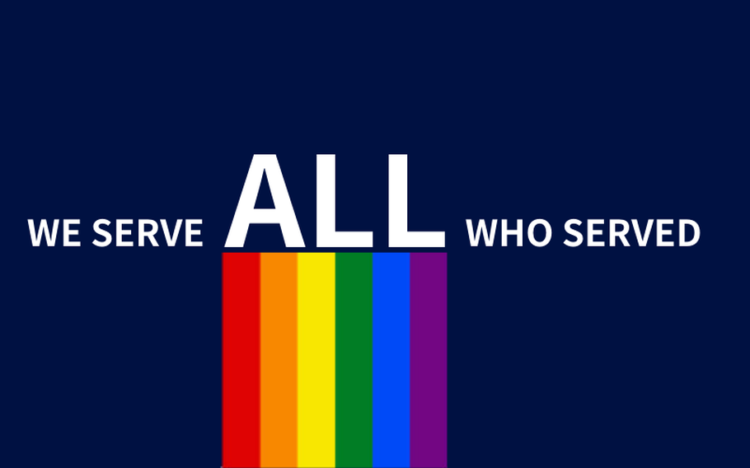 WASHINGTON — The Department of Veterans Affairs announced Monday that LGBTQ veterans who were given 'other-than-honorable discharges' under the Don't Ask, Don't Tell policy before its repeal in 2011, will now be eligible for VA benefits, including health care, disability compensation, home loans and burial benefits.
Timing of the new policies was made to coincide with the anniversary of the repeal of DADT on Monday.
In a blog post Monday, Kayla Williams, the assistant secretary for public affairs in VA's Office of Public and Intergovernmental Affairs wrote:
"At VA, we continuously work not only to meet the needs of LGBTQ+ Veterans, but also to address ongoing issues that LGBTQ+ Veterans face as a result of the military's decades-long official policy of homophobia and transphobia," Williams, who identifies as bisexual continued, "[…] LGBTQ+ Veterans are not any less worthy of the care and services that all Veterans earn through their service, and VA is committed to making sure that they have equal access to those services."
Under the new guidance VA Secretary Denis McDonough sent to VA adjudicators on Monday, VA adjudicators, who decide whether to approve veterans' claims for VA benefits, will no longer consider veterans ineligible because of their discharges for sexual orientation or gender identity, said Williams.
The VA will award a veteran his or her benefits unless the person's military record shows another reason that he or she doesn't qualify.
This policy statement does not represent a change in law, as Veterans who were discharged under DADT alone have been generally eligible for benefits under current statute and regulation. However, this policy reiterates what constitutes eligibility for benefits under law.
In addition, every 'Character of Discharge' case that is initially considered for denial will also get a second look before that action is taken. Given that large numbers of LGBTQ+ Veterans who were affected by previous homophobic and transphobic policies have not applied for a discharge upgrade due to the perception that the process could be onerous, "we are hopeful that this policy statement encourages more of them to contact VA to determine their eligibility for care and services," Williams wrote.
Don't Ask, Don't Tell forced about 14,000 service members out of the military during the 17 years that the policy was in place. The policy was enacted under former President Bill Clinton's administration in 1993, and it was repealed by former President Barack Obama on Sept. 20, 2011.
"Although VA recognizes that the trauma caused by the military's decades-long policy of discrimination against LGBTQ+ people cannot be undone in a few short months, the Biden administration and Secretary McDonough are taking the steps necessary to begin addressing the pain that such policies have created," Williams said.
"Given that large numbers of LGBTQ+ veterans who were affected by previous homophobic and transphobic policies have not applied for a discharge upgrade due to the perception that the process could be onerous, we are hopeful that this policy statement encourages more of them to contact VA to determine their eligibility for care and services," she added.