December 20, 2018 at 5:43 pm PST | by Karen Ocamb
Trans ban is worse than DADT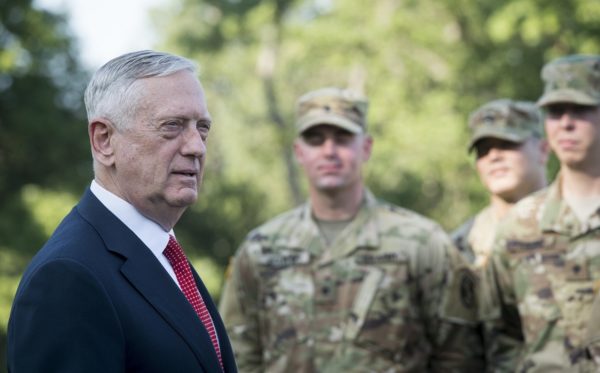 (This is the conclusion of a Military Special timed to commemorate the 8th anniversary of President Obama signing the repeal of "Don't Ask, Don't Tell on Dec. 22, 2010. It has been updated to note Sec. of Defense Jim Mattis's unexpected resignation.)
Trump did it again.
On Dec. 19, President Trump took to Twitter to announce another major change in military policy—the rapid withdrawal of all 2,000 troops in Syria within 30 days because "We have defeated ISIS in Syria, my only reason for being there during the Trump Presidency." No further details, no plan, no strategy to continue support for allies who count on the US military. Just out in 30 days.
That was apparently the last straw for Sec. of Defense Jim Mattis, who met with Trump, tried to talk him out of it, failed as Trump announced plans to leave Afghanistan—and then another serious shocker—submitted his resignation in a letter that is considered a powerful rebuke to the President (See letter below). What will happen now, especially with not even the hint of possible brakes on the proposed trans ban, is anybody's terrible guess.
Some pundits compared the Trump Twitter-shock announcement about Syria to Trump's surprise tweet on July 26, 2017 that "the United States Government will not accept or allow transgender individuals to serve in any capacity in the U.S. Military." This was on the cusp of implantation of the changed Defense Department policy, adopted by Defense Sec. Ash Carter on June 30, 2016, lifting the ban on open service for transgender servicemembers.
Trans people had been left out of the repeal of Don't Ask, Don't Tell, with the promise—based on the military's own creed to never leave a soldier behind—that policy makers would come back for them. Many worked hard to achieve that goal, such as former Army Capt. Allyson Robinson and longtime activist Autumn Sandeen, a Navy veteran who got arrested at the White House gate protesting DADT.
Others, such as "Warrior Princess" Navy Seal Kristin Beck, came out and told their remarkable stories of patriotism and service. They expected full implementation of the new Carter policy after a nearly two year DOD review determined that there was no valid reason to keep the Pentagon regulation excluding qualified personnel from military service simply because they are transgender.
But that was under President Obama, whose administration included a Senate-confirmed openly gay Sec. of the Army, Eric Fanning. Trump, however, has been erasing all-things Obama, regardless of the often devastating toll.
"It's important to remind folks that the repeal of 'don't ask, don't tell,' the 1992 law that prevented gay and lesbian people from serving openly in the military, was just the beginning of our work for equality in the military, not the end, as so much of our movement, and frankly, the country, seems to see it," Robinson, former executive director of OutServe-SLDN, told Michelangelo Signorile on his SiriusXM Progress July 22, 2014 during Netroots Nation. "Transgender people are still prevented, by a series of outdated, obsolete medical regulations, from serving openly in the military. [This is] despite the fact that an estimated 15,000 trans people are serving in the military today."
As Trump's Sec. of Defense, Marine Gen. Jim "Mad Dog" Mattis was expected to wrangle Trump's spontaneous, uninformed tweet-policies. After all, he quietly intervened and helped stop anti-trans legislation pushed by (now indicted) Republican Rep. Duncan Hunter and Rep. Vicky Hartzler. But Vice President Pence and his right-hand evangelical associate, Tony Perkins, head of the Family Research Council, simply took their anti-trans advocacy into the Oval Office.
At first Mattis appeared taken aback by Trump's tweet. He put the brakes on his predecessor's policy change to allow for more study. But when several top military officials came out publicly supporting open trans service, speculation ran high that Mattis would find a way to go that route, too. Instead, when Trump ordered Mattis to come up with an internal military plan that embraces the Trump/Pence trans-ban policy—he did.
"I firmly believe that compelling behavioral health reasons require the Department to proceed with caution before compounding the significant challenges inherent in treating gender dysphoria with the unique, highly stressful circumstances of military training and combat operations," Mattis wrote in his March 23, 2018 three-page memo of recommendations. Mattis apparently extended that logic, as OutServe and Lambda Legal reported Dec. 19, announcing a lawsuit against Mattis for discharging two HIV-positive compliant and respected members of the Air Force who were suddenly found "unfit for continued military service."
There are now four lawsuits against the proposed reinstatement of the trans ban, with four injunctions against Trump and Mattis moving forward. And the Justice Department is angry they are not getting the customary deference once shown in military cases. But, as the Washington Blade's Chris Johnson noted in his Dec. 14 story about Solicitor General Noel Francisco's complaint: "It should be noted the Trump administration has taken advantage of nationwide injunctions in favor of anti-LGBT policy."
"By the military's own account, there have been no problems with transgender service members and they have produced zero evidence of any problems. Their desire to implement Trump's ban is based on pure bias." Shannon Minter, legal director for the National Center for Lesbian Rights, told Johnson after the DC Appeals Court heard oral arguments in Doe v. Trump. The DOJ requests are "an insult to the thousands of dedicated transgender people who are currently serving and willing to make the ultimate sacrifice for their country if called on to do so."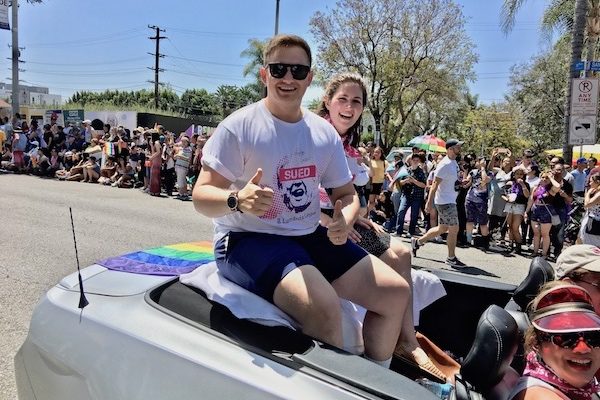 Trans plaintiff Ryan Karnoski and his wife Ester Matskewich in the LA Pride Parade on June 10, 2018 (Photo by Karen Ocamb)
Ryan Karnoski is one of nine transgender individuals and three organizations represented by Lambda Legal and OutServe-SLDN in a federal lawsuit filed Aug. 28, 2017, in the Washington District Court challenging the constitutionality of the Trump administration's trans ban. The state of Washington is also a plaintiff.
Karnoski's story targets the ban on the often-ignored Pentagon accessions policy that prohibits trans service members from recruitment, retention, promotion, and basically having a career in the US Armed Forces.
The fight, Karnoski told the Los Angeles Blade as he rode with his wife Ester Matskewich in the LA Pride Parade on June 10, "is not about me. And I am so grateful to have role models in some of the trans service members who made the decision to come out and serve openly."
Hopefully, remembering the joyous feeling of patriotism and freedom after the DADT repeal will inspire advocates to work hard to prevent Trump's new trans ban.
Here is Sec. of Defense Jim Mattis' letter of resignation: