July 11, 2019 at 12:01 pm PDT | by Karen Ocamb
ICE raids to begin in LA on Sunday: know your rights and resources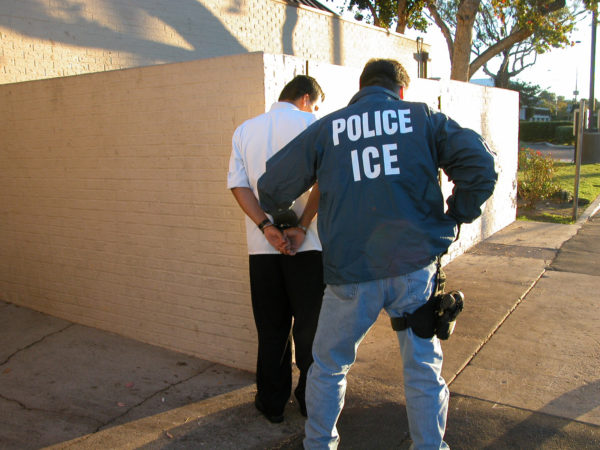 Los Angeles is among 10 cities targeted by Immigration and Customs Enforcement in an operation ordered by President Donald Trump to arrest at least 2,000 undocumented immigrants with final orders of deportation. The multiple-day operation is expected to begin early Sunday morning and is also expected to include "collateral" deportations, The New York Times reported, meaning people who were not targets of the raid but are there when the raids happen.
Immigrant advocates say it is important to think ahead, plan, and know your rights and contact a reliable immigration attorney. Immigration Advocates Network has a website with 12 languages to help you find one in your area.
"We have the constitutional right to maintain silence. (But) when ICE arrives…people start to talk," Luis Aleman, project coordinator at the Orange County Labor Federation, said at a recent church forum sponsored by the Orange County Congregation Community Organization. "The most important thing is to maintain silence."
It is also critical not sign anything without first talking with an immigration attorney. "A lot of people are handed a paper, told 'Sign this and I'll help you.' And people sign it. And what have we signed? Our own deportation order," Aleman said.
There are several organizations that provide extensive help and resources. United We Dream has an app called Notifica to notify your Deportation Defense Network to plan, learn, act if you're at risk for deportation.
Immigrant Legal Resource Center helps immigrants create a family preparedness plan.
It is important to write down and have easy access to emergency numbers and medical information for all family members, including pets in case a neighbor or stranger comes to help. There must also be power of attorney to make health and/or business decisions, or some other form of documentation from a care provider (mother, father, grandparents) authorizing the temporary caregiver to take care of children or pets in the event of family separation or the adults are deported.
LA Cooperative also has a list of resources to help find an immigration attorney and other issues.
And Inquisitr explains what ICE raids are, how to prepare and what to expect if targeted.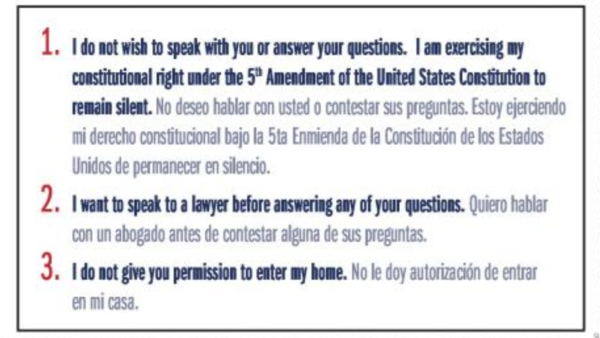 It is also advisable to carry a "know your rights" card. Remember ICE agents are law enforcement – they are cops – so expected to be treated as police treat citizens and in turn, respond respectfully to avoid any compounding of issues. That also means you have a right to remain silent and ask to speak with a reliable lawyer, whose name and number you can provide.
"If you have an "alien registration number" (a unique 7, 8 or 9 digit number assigned to a noncitizen at the time he or she files that begins with an "A," followed by a unique set of numbers), you should keep that on you at all times as well. Keep a copy of all this information at home so that your family members know where to find it.

…if police or immigration officials come to your home?

If this happens, do not immediately open the door. Opening the door can be considered giving the officer "consent" to enter. Ask the officer if they have a warrant. A warrant is a paper signed by a judge giving the officer permission to enter your home. The warrant will specify what areas of your home they are allowed to search. If the officer has a warrant, ask them to slip it under the door. Only then should you let them in. Make sure you observe whether the official searches any areas that were not listed in the warrant. If they take any property, make sure you get a receipt. Keep track of what the officer did. Being aware of what they are doing will help you stay prepared.

…if police or immigration officials stop you on the street?

If the police or an immigration official stops you on the street and does not have a warrant, they cannot arrest you without evidence that you are a non-citizen. Remember that you have the right to remain silent and to refuse a search. Do not say anything about your immigration status or where you were born. If you have valid immigration documents, show them. Above all, do not lie and do not show any false documents. Ask the officer, "Am I free to leave?" If the officer says yes, walk away (don't run). If the officer says no, continue to answer each question by stating that you want to talk to a lawyer.

…if police or immigration officials come to your workplace?

Immigration must have a warrant signed by a judge, or your employer's permission, to enter your workplace. If you work in a public place, immigration does not need a warrant. If police or immigration officials come to your workplace, stay calm and do not run. If you are questioned or detained, follow the instructions above."
The LA-based TransLatin@ Coalition has been on top of trans immigration and asylum issues for a longtime.
Immigrant Legal Resource Center notes that there are special circumstances for LGBT people seeking asylum:
"Asylum for Those Who Fear Returning to Their Home Country – Protections for those fleeing their home countries due to persecution (abuse, threats or other serious harm) are rooted in federal law and international treaties. Given this, it will be difficult for the Trump Presidential Administration to change this area of the law. People with refugee and asylum status are eligible to apply for a green card in the United States and eventually U.S. citizenship. Asylum claims based on sexual orientation and gender identify from countries where LGBTQ individuals are targeted for abuse or lack legal protections have been successful. Those who have fled persecution or fear being persecuted if they return to their home country but have not yet applied for protection should consult with a qualified legal service provider. Asylum applications should be submitted within one year of arriving in the United States, although there are some exceptions to that requirement. Even if you decide together with a legal representative to not apply for asylum, if you are ever detained by immigration authorities or required to appear before an immigration judge, you should express any fear you have of returning to your country of origin."
In my extensive interview with Rep. Judy Chu about her trip to Texas  to visit detention centers housing migrant children, the longtime LGBT ally said she is very concerned trans women of color being held in ICE detention.
"I want to make sure that everybody is safe and treated humanely in the detention centers, including trans people. I know that they are the most vulnerable and it just saddens and angers me to see how Miss Leon was treated," Chu says. "The LGBT community has to be concerned about this, especially with regard to the treatment of transgender people."
Chu said anyone concerned about these issues should contact her district offices in Claremont (Tuesdays & Thursdays, 909-625-5394) or Pasadena (626-304-0110).
It is important to remember that while ICE agents may act as if everyone within eyeshot is a criminal, there are many people who sincerely care about the humanity of migrants and undocumented immigrants in the United States.