'Lights for Liberty' rally in WeHo Friday night protesting ICE raids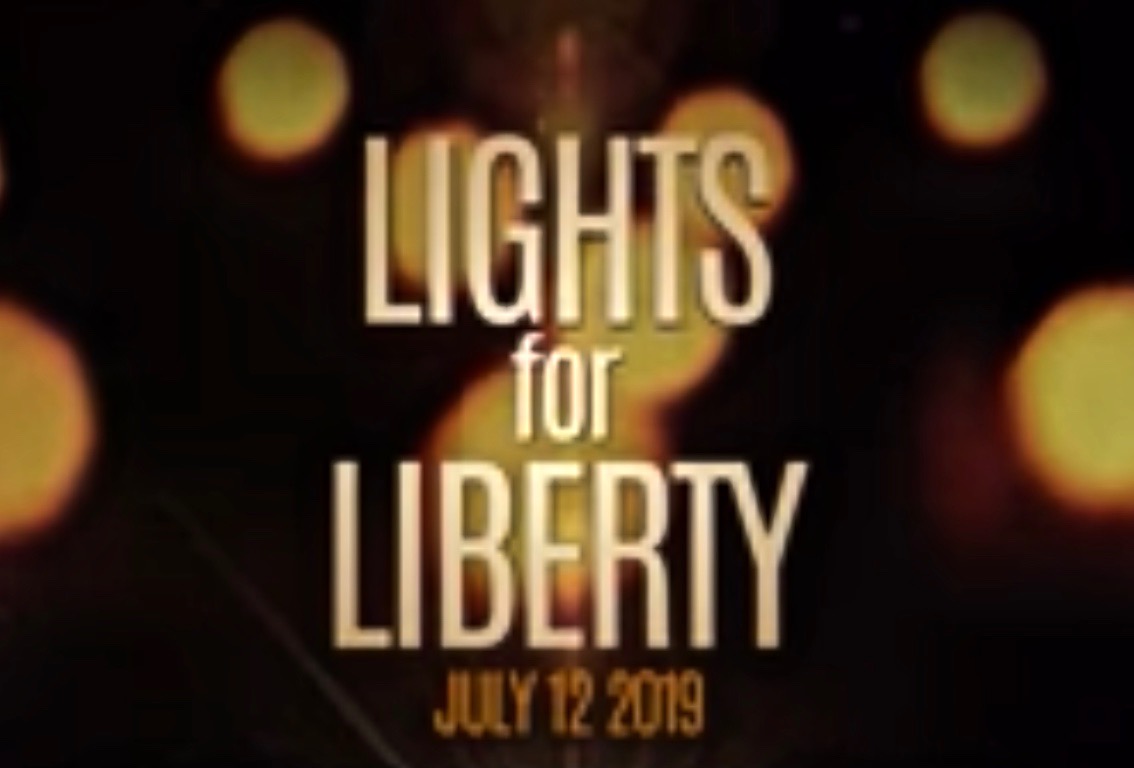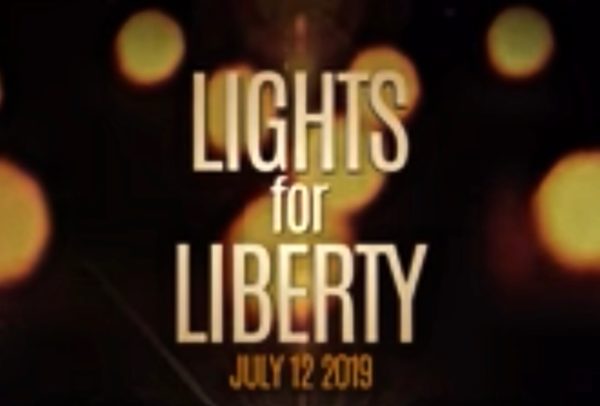 After the news media and elected officials reported on the inhumane conditions in which the Trump-Pence Administration is warehousing migrant children and adults fleeing poverty and violence in Central and South America and the announcement of ICE raids this Sunday, the American people are starting to stand up and say, "Not in my name!"
ROAR, a local activist group led by Abbe Land and Michael Ferrera, is sponsoring a rally in West Hollywood Friday night as part of the nationwide movement called Lights for Liberty.
The rally in West Hollywood Park starts at 8:00pm with speakers West Hollywood Mayor John D'Amico, Councilmembers John Duran, John Heilman, and Lauren Meister, former LA Mayor Antonio Villaraigosa, CHIRLA's Melody Klingenfuss, as well as immigration attorneys and civil rights advocates.
The Trump-Pence Administration's fear-mongering of Latinos and abject cruelty towards migrant families has intensified over the past weeks with Trump's "white GOP" fixation in putting a citizenship question on the upcoming US Census and how the ICE raids were announced, eliminating the element of surprise.
As the Los Angeles Times points out, when Oakland Mayor Libby Schaaf last year alerted her residents of an impending ICE raid, Trump called the tip-off a "disgrace" and a GOP member of Congress from Iowa "proposed criminal penalties for officials in so-called sanctuary cities who make similar disclosures."
Different standards apply to Donald Trump. "Next week ICE will begin the process of removing the millions of illegal aliens who have illicitly found their way into the United States," Trump tweeted on June 17.
That nationwide raid was postponed until this Sunday when ICE is expected to descend on 9 cities, including Los Angeles. New Orleans was apparently taken off the list after local officials noted that the region would be overwhelmed with Tropical Storm Barry. Human rights advocates also noted that undocumented immigrants, even in families with US citizens, would not heed evacuation orders for fear of being swept up by ICE—especially after reports that there could be "collateral" arrests of anyone nearby.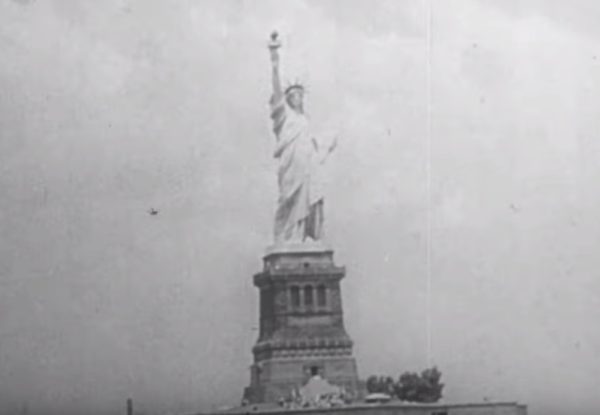 The ACLU is suing to stop the raids targeting 2,000 immigrants, claiming they violate due process procedures, noting that some warrants for arrest were issued based on faults within the system.
"Even when the government sent notices to the right address for a real hearing, it repeatedly sent them too late, for locations unreasonably far from immigrants' homes," the ACLU lawsuit says. "Notices thus arrived either after the date set for a hearing or just a few days before, requiring indigent families to immediately travel across the country to hearings in distant states."
LA-based attorney Brad Philipps, who is involved in the ACLU lawsuit, said the ICE raids would be "inhumane."
"The Trump administration's plan to send families and children who came to this country seeking refuge from violence and abuse in their home countries back to those places, without so much as one opportunity to show a judge they are entitled under U.S. law to stay, is fundamentally at odds with what this nation stands for," Philipps said in a statement. "We hope by this lawsuit to stop the administration's unjust and inhumane plan in its tracks."
But ICE is adamant. "As always, ICE prioritizes the arrest and removal of unlawfully present aliens who pose a threat to national security, public safety and border security," Matthew D. Bourke, an ICE spokesman, said in a statement on Thursday.  "However, all of those in violation of the immigration laws may be subject to immigration arrest, detention and — if found removable by final order — removal from the United States."
Some ICE agents are not waiting for Sunday, nor, apparently, do they care about proper procedure, according to gay immigration attorney Andrew Reback.
"Mr. "Z" (name withheld) was arrested by ICE agents at his home and separated from his wife and three children early Thursday morning," Reback says in a press release. "ICE Agents threatened Z at his home, confiscated his personal belongings (including passports and important immigration paperwork), and detained Z for nearly ten hours at a jail like facility. During detention, Z was constantly told he would be Removed (Deported) because his B-2 Tourist Visa had expired. This was false — as Z had two other legal bases to remain in the United States."
Z holds a valid E-2 Investor Visa Status and employs eight Americans at a popular San Diego area eatery, Reback says. Additionally, Z has a valid pending affirmative Asylum application.
Reback "pleaded with ICE and DHS to review Z's file, as in it was clear proof that he was here legally," he says. "ICE initially refused. ICE officers and DHS attorneys further admitted via telephone that the raid was approved, and executed, and that Z was incarcerated before such a review. In other words, DHS arrested someone who is here legally – without being bothered to review his file first," or contact his attorney of record.
"They just told me my Asylum case had been taking too long, and they did not care when I told them about my E-2 Visa" said Z. "I was following all the Immigration laws right, and they still wanted to deport me until my Attorney showed them they were wrong."
Strenuous efforts are being made to inform immigrants of their rights—including by House Speaker Nancy Pelosi.
"An ICE deportation warrant is not the same as a search warrant. If that is the only document ICE brings to a home raid, agents do not have the legal right to enter a home. If ICE agents don't have a warrant signed by a judge, a person may refuse to open the door and let them in," Pelosi at her weekly press conference.
"Families belong together," she added. "Every person in America has rights."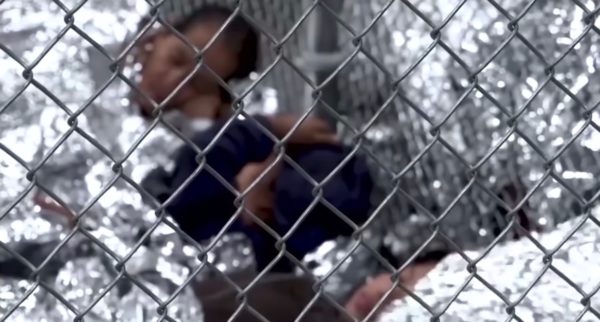 California House Minority Leader Kevin McCarthy claimed the raids are a result of Pelosi refusing to negotiate with Trump.
"I think if the president actually saw the House actually taking action, he probably would delay even further to make sure the [immigration] problem gets solved," McCarthy said. "It is the speaker who is causing this problem."
The Los Angeles Blade has posted "know your rights" list of resources, noting that LGBT people, especially trans women seeking asylum, are particularly vulnerable.
Equality California has also distributed information, working in coalition with other groups, highlighting the search engine at Informedimmigrant.com. Oasis Legal Services provides help specifically to the LGBT community.
Executive Director Rick Zbur says:
"These blatant attacks on our immigrant communities are racist, ruthless and reprehensible. As Speaker Pelosi said, they are part of this Administration's attempt to 'Make America White Again,' and we will not stand idly by as the president attacks our families or our democracy. Immigrant rights are LGBTQ rights, and LGBTQ rights are immigrant rights.

"We will fight for the America we believe in — an America that doesn't rip children from their parents or lock them in cages, an America that celebrates our diversity rather than deriding it and an America that tells everyone that they count, regardless of the color of their skin or where they were born."
Stage and screen actress Lisa Banes has died after hit and run
The 65 year-old actress was admitted to the ICU at Mount Sinai Morningside hospital in New York with a traumatic brain injury.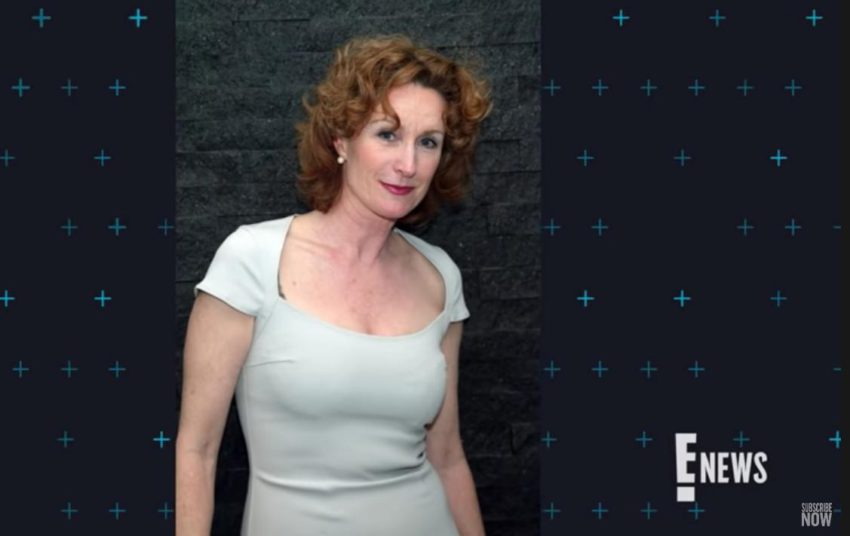 NEW YORK – Los Angeles resident and critically acclaimed actress Lis Banes died Monday at Mount Sinai Morningside hospital as a result of injuries she suffered stemming from a hit and run accident on June 4, after being struck by an electric scooter, a spokesperson for the NYPD confirmed.
The 65 year-old actress was admitted to the intensive care unit at Mount Sinai Morningside in New York with a traumatic brain injury. According to the NYPD, the actress was crossing Amsterdam Avenue at 64th Street, in a crosswalk near the Juilliard School, at Lincoln Center. The driver left the scene and no arrests have been made.
Banes's wife, Kathryn Kranhold, a contributing reporter for the Center for Public Integrity, had made a plea "to pray for Lisa" after the accident — and called for anyone with information about the accident to contact police.
"We are heartsick over Lisa's tragic and senseless passing. She was a woman of great spirit, kindness and generosity and dedicated to her work, whether on stage or in front of a camera and even more so to her wife, family and friends. We were blessed to have had her in our lives," her manager David Williams said in a statement released Tuesday.
Banes has appeared in numerous television shows and movies, including supporting roles in "Gone Girl" starring Ben Affleck in 2014 and "Cocktail" with Tom Cruise in 1988. On television, she's had roles on "Nashville," "Madam Secretary," "Masters of Sex" and "NCIS." NBC News Entertainment reported.
Anyone with information about Banes's death is asked to call the NYPD's Crime Stoppers hotline at 1-800-577-TIPS (8477), or for Spanish, 1-888-57-PISTA (74782). You can also submit a tip via the website or on Twitter, @NYPDTips. All calls are kept confidential.
Extreme Heat Warning: High temperatures forecast for Southern California
"If you have an elderly or infirm neighbor who is without air conditioning, check on them throughout the day."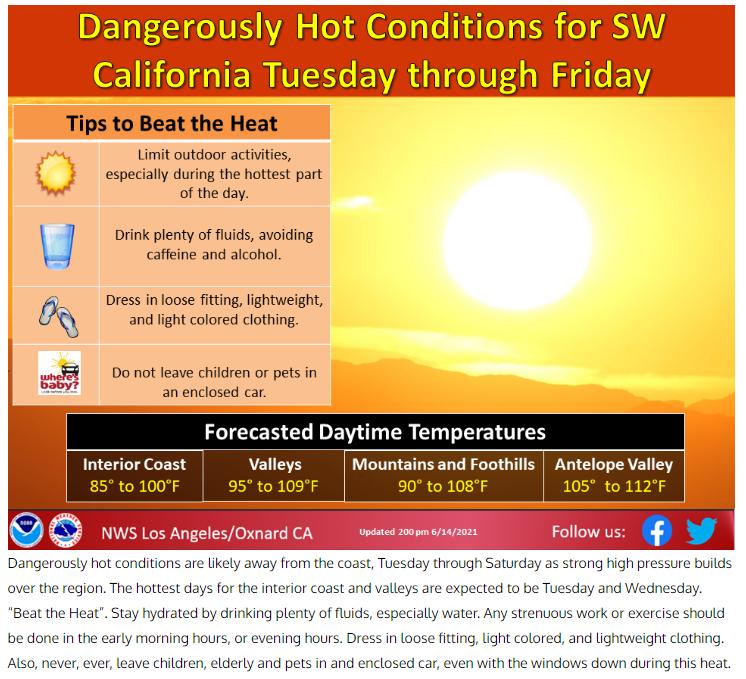 LOS ANGELES – The National Weather Service has issued a warning that a dangerous heat wave is expected to be in full effect Tuesday through the remainder of the week with peak high temperatures expected Tuesday through Thursday in the triple digit range in some parts of Southern California.
The Los Angeles County Health Officer has issued an Extreme Heat Warning Monday advising everyone to take precautions to avoid heat-related illness, especially older adults, young children, outdoor workers, athletes, and people with a chronic medical condition who are especially sensitive to negative health impacts from extreme heat.
County and City partners have planned ways to safely operate cooling centers during times of high heat. Residents who do not have access to air conditioning are encouraged to take advantage of these free cooling centers. To find a location near you, visit https://ready.lacounty.gov/heat/ or call 211.
The health and safety of staff and visitors at cooling centers is priority. Public Health notes the following for cooling centers:
Staff and visitors are instructed to stay home if they do not feel well. Any person reporting or exhibiting signs of illness is advised to seek appropriate medical care.
Staff and visitors are required to wear a face covering at all times, regardless of COVID-19 vaccination status.
"High temperatures are not just an inconvenience, they can be dangerous and even deadly. But we can protect ourselves, our families, and our neighbors if we take steps to remain cool and hydrated. It is critically important to never leave children, elderly people, or pets unattended in homes with no air conditioning and particularly in vehicles, even if the windows are 'cracked' or open, as temperatures inside can quickly rise to life-threatening levels," said Muntu Davis, MD, Los Angeles County Health Officer. "If you have an elderly or infirm neighbor who is without air conditioning, check on them throughout the day."
The Los Angeles County Health Officer reminds everyone to take precautions to avoid heat-related illness, especially older adults, young children, outdoor workers, athletes, and people with a chronic medical condition who are especially sensitive to negative health impacts from extreme heat. Public Health offers the following recommendations during high temperature days:
Drink plenty of water and keep hydrated throughout the day.
If you must go out, plan your day to avoid going out during the hottest hours, and wear sunscreen. Wear lightweight, light-colored clothes, and wear a hat or use an umbrella.
Cars get very hot. Never leave children or pets in cars and call 911 if you see a child or pet in a car alone.
Beware of heat-related illness, like heat stroke and call 911 if you see these symptoms: high body temperature, vomiting, and pale and clammy skin.
Check on those at risk, like those who are sick, older adults, pregnant women, and children, and those who live alone.
If you are wearing a mask, avoid strenuous workouts wearing face coverings or masks not intended for athletic purposes.
Visit your power company's website or contact them by phone to determine if you are scheduled for a rolling power outage.
Twitterchat supporting trans and nonbinary youth Monday
The Twitterchat encourages support for LGBTQ young people finding and defining their own freedom of self-expression.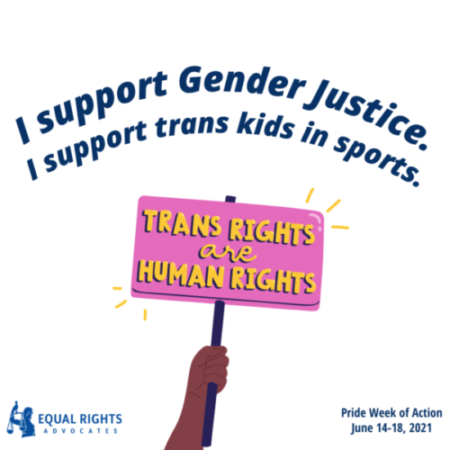 SAN FRANCISCO – It's Pride Month and Rainbow Flags are visible everywhere. But 2021 is officially the worst year in recent history for anti-LGBTQ legislative attacks with more than 250 bills introduced or passed in statehouses around the country, according to the Human Rights Campaign.
In the ongoing backlash against marriage equality, many of the bills target transgender and nonbinary youth from participating in sports or receiving gender-affirming medical care. The San Francisco-based Equal Rights Advocates – which fights for gender justice for all – has organized a Twitter- oriented Pride Week of Action from June 14-18 @equalrightsadv. [ To sign up, go to: bit.ly/prideweekofaction ]
The week kicks off with a Twitterchat on Monday afternoon to support trans and nonbinary youth. ERA has also invited Public Justice – a national legal advocacy organization (@Public_Justice) – as well as Center for American Progress LGBTQ (@LGBTQprogress), Center for LGBTQ Economic Advancement & Research (CLEAR – @lgbtq_economics), the LGBTQ Movement Advancement Project (@lgbtmap) and The New York Women's Foundation (@NYWomensFdn), among others, to participate.
The Twitterchat starts at 12 PT / 3 ET on ERA's Twitter page (@equalrightsad). After introductions, the ERA moderator will pose questions every 5 minutes, to which the participating organizations and the public are urged to respond with the tags:@equalrightsadv (for retweets) and hashtags #LetKidsPlay #ProtectTransKids.
"Public Justice is pleased to participate as a coalition member in this Twitterchat organized by Equal Rights Advocates supporting trans and nonbinary students," says Adele Kimmel, Director of the Students' Civil Rights Project at Public Justice. The Twitterchat hopes to educate, as well as be fun, progressive networking.
For instance, last week, on June 9, Kimmel gave testimony before a hearing organized by the U.S. Department of Education's Office for Civil Rights which has launched a comprehensive review of Title IX regulations after changes made by former Education Sec. Betsy DeVos.
"The Department of Education's Office for Civil Rights is responsible for and fully committed to enforcing Title IX's protections to ensure equal access to education for all students regardless of sex. This includes making certain that students who have experienced discrimination based on sexual orientation and gender identity have their legal rights fully met," said Suzanne B. Goldberg, acting assistant secretary for civil rights and former Lambda Legal attorney in the DOE's press release.
Kimmel concurred, testifying that, among the actions the DOE should take is to explain that "sex-based harassment" includes harassment based on "sexual orientation, gender identity, and gender expression."
The ERA-organized coalition hopes the Twitterchat encourages the LGBTQ community and allies to take action to support young people finding and defining their own freedom of self-expression.
"All young people — trans, cis, nonbinary, queer, survivor — have an equal claim to their own self-knowledge, Public Justice civil rights lawyer Adrienne Spiegel wrote in a commentary for The Advocate last April. "We believe them. We support them. We will continue to fight for them."