Do or die for Buttigieg in Iowa?
Caucuses present key test for gay candidate's viability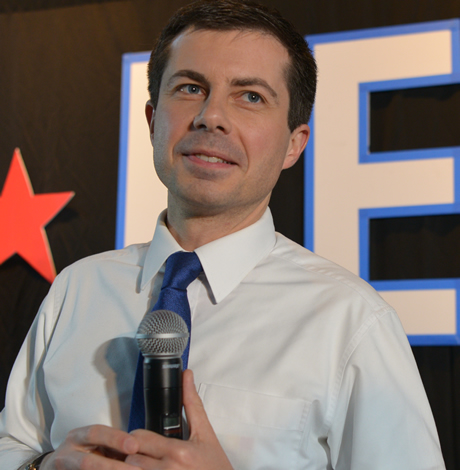 Editor's note: The Blade will have a reporter on the ground in Iowa next week covering the caucuses. Visit washingtonblade.com to follow updated reporting.
With just days to go before the Iowa caucuses on Monday, all eyes will be watching to see which candidate claims the momentum going forward — and a win for Pete Buttigieg is all but essential.
Buttigieg, the first viable gay presidential candidate, will need to win delegates in the Midwestern state near his home in South Bend, Ind., to show he can compete elsewhere in the nation. If he doesn't pull it off, his case will be much harder to make.
Spencer Kimball, a professor in political and sports communication at Emerson College, said a strong performance in Iowa is "vital to a Buttigieg candidacy, and likely for [Sen. Amy] Klobuchar as well."
"I think only one of them gets a ticket out of Iowa because they are both pulling from a similar voting bloc," Kimball said. "Both need the momentum to catapult them onto the national stage as both are struggling nationally and in other early states."
Although Buttigieg was once polling well above his competitors in Iowa, the front-runner status seems to belong to Bernie Sanders now. An Emerson College poll puts his support at 30 percent.
As pointed out by Vox, three of the four latest polls have the Democratic socialist from Vermont as the favored candidate, while former Vice President Joseph Biden is the front-runner in the fourth poll.
Meanwhile, Buttigieg's ranking is now all over the place. The former South Bend mayor is second in the New York Times poll, with 18 percent support, but CBS and Suffolk polls put him in third, while the Emerson poll has him fourth place tied with Elizabeth Warren.
(National polls, in contrast, have Biden in the front-runner position, where he has been since he announced his candidacy for the Democratic nomination last year. Although Biden's performance in Iowa polls, as well as New Hampshire, is comparable to other Democratic candidates, he's polling well ahead of the pack in South Carolina, which has a greater population of black voters.)
One prominent Buttigieg fundraiser who talked to the Blade on condition of anonymity emphasized the critical importance of finishing first or second in Iowa and New Hampshire. The winner in Iowa will see a tremendous boost in fundraising overnight, leading to a big advantage moving forward, the source said. If Buttigieg fails to finish in the top two in those states, he will likely be forced to end his campaign before Super Tuesday, the source added.
Keep in mind the Democratic primary contests aren't winner-take-all like the Republican primary or the Electoral College. Each candidate will be allocated an amount of delegates proportionate to their wins on caucus night.
But what makes the situation demanding is a candidate needs at least 15 percent of support from caucus-goers at any particular site to remain viable. Any candidate with less than that won't be scored by the Iowa Democratic Party to receive delegates in the presidential candidate nominating process at the upcoming Democratic National Convention.
As a result, the winner of the most delegates at the end of the day may be the candidate whose campaign has the greatest ground game and is able to bring out supporters to the caucus. If Buttigieg can pull that off, he may have a strong performance at the end of the day.
On top of that, the Iowa Democratic Party for the first time this year will report out the raw vote total for each of the candidates — both for the beginning and at the end of the caucus. Because a candidate needs to meet the 15 percent threshold to be viable, the numbers could be different at the end.
So that means three sets of results: A vote tally at the beginning, a vote tally at the end and the delegate count. As a result, three different Democratic contenders could claim victory when everything is said and done. Lyz Lenz, a columnist for The Gazette who was a moderator at the GLAAD presidential candidate forum in Iowa on LGBTQ issues, predicted caucus night is "going to be madness."
"It's possible I'm going to be very wrong," Lenz said. "But I think we will see a lot of confusion coming out of the caucuses. There will be three reported counts. And in a very tight race, that's three ways for candidates to claim some sort of victory. So, on to New Hampshire and no one will have to think about ethanol for another four years."
In a related development, Biden took a not-so-veiled swipe at Bernie Sanders for accepting Joe Rogan's support despite comments from the podcast host condemned as transphobic.
Taking to Twitter, Biden drew on comments he made as vice president when he called transgender rights "the civil rights issue of our time," which stands in contrast to the Sanders campaign accepting Rogan's support.
An LGBTQ backlash against Sanders ensued after he promoted the Rogan endorsement on his Twitter account. Among those criticizing Sanders was Human Rights Campaign President Alphonso David, who said, "it is disappointing that the Sanders campaign has accepted and promoted the endorsement."
"The Sanders campaign must reconsider this endorsement and the decision to publicize the views of someone who has consistently attacked and dehumanized marginalized people," David said.
Among other things, Rogan in the past has said a transgender woman athlete is actually a man, has used anti-gay epithets before "retiring" them and compared a black neighborhood to "Planet of the Apes" before admitting the comments were racist.
Amid the backlash, the Sanders campaign didn't retract the endorsement or admonish Rogan for his comments, but instead defended the decision.
"Sharing a big tent requires including those who do not share every one of our beliefs, while always making clear that we will never compromise our values," said Sanders national press secretary Briahna Joy Gray.
Biden administration uses IDAHOBiT to highlight LGBTQ+ rights support
WHO on May 17, 1990, declassified homosexuality as mental disorder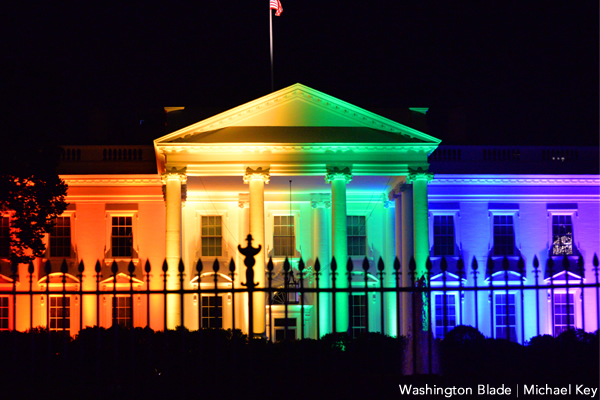 WASHINGTON — The Biden administration on Tuesday publicly acknowledged the International Day Against Homophobia, Biphobia and Transphobia.
"Jill and I stand in support and solidarity with lesbian, gay, bisexual, Transgender, queer and intersex (LGBTQI+) people in the United States and around the world," said President Biden in a statement the White House released. "We join with Americans across the country to reaffirm our commitment to the ongoing work of upholding human dignity for all people and advancing equality globally."
Biden in his statement noted there "has been much progress" since the World Health Organization on May 17, 1990, declassified homosexuality as a mental disorder. Biden also highlighted "we continue to witness disturbing setbacks and rising hate and violence targeting LGBTQI+ people in the United States and around the world."
"This is wrong," he said. "LGBTQI+ people are entitled to all the rights, opportunities, and protections that belong to every human on this planet. LGBTQI+ people are an essential part of families and communities—teachers, first responders, public officials, doctors, lawyers, front-line workers and friends who enrich and strengthen every single country."

"And make no mistake: Hateful legislative attacks against members of our own LGBTQI+ community cannot be tolerated in America or anywhere else," added Biden. "They spur discrimination and can stoke violence. And they are rooted in the same ignorance and intolerance that we see around the world. Hate is hate—and all of us have a responsibility to speak out against hate wherever we find it."
Secretary of State Antony Blinken on Tuesday issued his own IDAHOBiT statement.
"The United States affirms today, on the International Day Against Homophobia, Biphobia, Interphobia and Transphobia (IDAHOBIT), that the human rights of lesbian, gay, bisexual, Transgender, queer and intersex (LGBTQI+) persons are the same human rights to which all persons are entitled," said Blinken. "As enshrined in Article 1 of the Universal Declaration of Human Rights, '[a]ll human beings are born free and equal in dignity and rights.'"
Bliken further noted that "too many LGBTQI+ persons live under the shadow of discrimination, violence and fear."
"Global data makes clear that the dehumanization of LGBTQI+ persons is systemic, pervasive, and often violent," he said. "Homophobia, biphobia, interphobia and transphobia are deeply entrenched in societies across the world, including here in the United States. Countless persons are at extreme risk for being themselves."
Biden shortly after he took office in 2021 issued a memorandum that committed the U.S. to promoting LGBTQ rights abroad.
The administration last June appointed Jessica Stern as the special U.S. envoy for the promotion of LGBTQ+ rights abroad.
The U.S. Senate earlier this year in a bipartisan vote confirmed Chantale Wong, the U.S. director of the Asian Development Bank, as the first openly lesbian American ambassador. The State Department on April 11 began to issue passports with "X" gender markers.
The State Department on April 28 released a report that details the federal government's implementation of Biden's foreign policy memo.
"We remain committed to ending this intolerance. Everyone deserves to live with respect, dignity, and safety," said Blinken in his IDAHOBiT statement. "The United States affirms that all LGBTQI+ individuals, couples, and their families are valid and valuable."
Biden in his statement also referred to the report.
"By openly reporting on our own progress, the United States hopes to inspire other governments to take similar action to address the needs of their LGBTQI+ communities," he said.

"To the LGBTQI+ community, my administration sees you," added Biden. "We stand with you. And we will continue to defend human rights and dignity, at home and around the world."
Spanish Prime Minister Pedro Sánchez, Cuban President Miguel Díaz-Canel and Council of Europe Human Rights Commissioner Dunja Mijatović are among the other world leaders who have publicly acknowledged IDAHOBiT.
Victor Madrigal-Borloz, the independent U.N. expert on LGBTQ+ rights, and other U.N. human rights experts in a statement they released on Monday highlighted the plight of LGBTQ+ people who have been forcibly displaced from their homes.
"With the number of forcibly displaced persons continuing to rise, States, businesses and humanitarian and civil society organizations must invest in developing human rights-based policies and programs that take into full account the intersectional dimensions of forced displacement and sexual orientation and gender identity, fostering stronger collaboration and coordination among all actors responsible for the protection of displaced LGBT individuals," reads the statement.
Advocacy groups around the world also commemorated IDAHOBiT.
"Today I want to thank my incredible team of Insight public organization who still works for LGBTQI+ people in Ukraine, saving life's (sic) of our community during the war," tweeted Olena Shevchenko, chair of Insight, a Ukrainian LGBTQ+ rights group. "We are here for equality."
Today I want to thank my incredible team of Insight public organization, who still works for LGBTQI + people in Ukraine, saving life's of our community during the war!#IDAHOBIT2022 We are here for equality pic.twitter.com/wOMholwaOv

— Olena Shevchenko (@InsightOlena) May 17, 2022
Sexual Minorities Uganda in a tweet said IDAHOBiT "is a significant day for the LGBTIQ+ community because it serves as a reminder of the ongoing violence and prejudice that our communities face."
"The struggle for equality still continues," added SMUG.
The 17th of May (IDAHOBIT) is a significant day for the LGBTIQ+ community because it serves as a reminder of the ongoing violence and prejudice that our communities face. The struggle for equality still continues. 🌈
Happy IDAHOBIT22 #ourbodies #ourlives #ourrights pic.twitter.com/h5moRos4VH

— Sexual Minorities Uganda | SMUG (@SMUG2004) May 17, 2022
Pride House Tokyo in Japan also acknowledged IDAHOBiT.
May 17th is the International Day Against Homophobia, Transphobia & Biphobia (IDAHOTB or "YES to Diversity Day" in Japan). 32 years ago in 1990, the World Health Organization removed "homosexuality" from the list of mental disorders & finally stopped being considered a disease. pic.twitter.com/rQK6pn65b5

— Pride House Tokyo(プライドハウス東京)🏳️‍🌈 (@PrideHouseTokyo) May 17, 2022
Federal judge issues mixed ruling in Kansas Trans case
Fort Riley Middle School, located on the sprawling home to the U.S. Army's First Division, has policies to protect LGBTQ+ students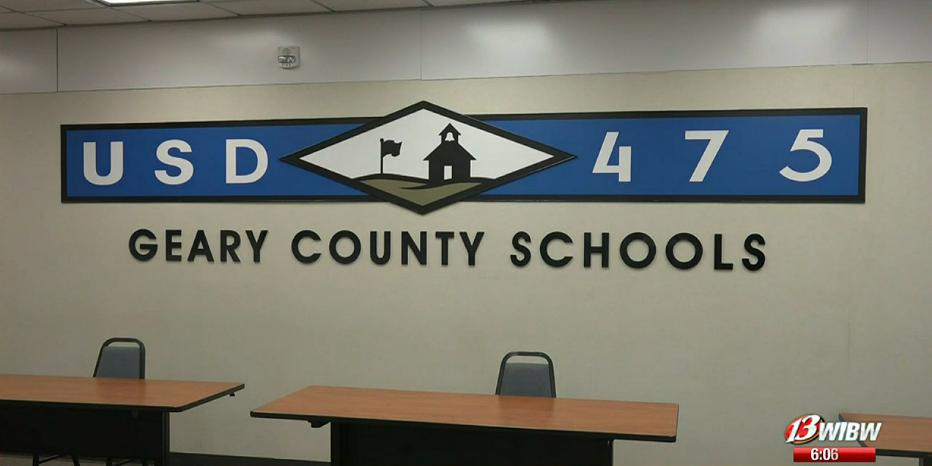 TOPEKA – In a ruling last week, a U. S. District Court allowed the Geary County Unified School District 475, (GCUSD 475) to continue its policy of requiring teachers and staff to respect trans students pronouns and additionally not out them to their parents.
However, Judge Holly Teeter sided with the teacher that brought the lawsuit prohibiting the GCUSD 475 from disciplining her for her refusal to follow policies based on her religious beliefs.
Fort Riley Middle School, located on the Ft. Riley post, the sprawling home to the U.S. Army's First Division, has a long standing set of policies to protect LGBTQ+ students.
A math teacher Pamela Ricard, sued Geary County Schools over LGBTQ anti-discrimination those policies claiming that those policies conflicted with her Christian beliefs. Ricard was represented by Alliance Defending Freedom, a conservative Christian legal advocacy group listed by the Southern Poverty Law Center as a hate group for its anti-LGBTQ+ lying and deceptive propaganda.
Teeter, was nominated by former President Donald Trump and on August 1, 2018, the U.S. Senate confirmed her as United States District Court Judge for the District of Kansas.
Topeka Capital-Journal journalist Jason Tidd reported , Teeter issued a preliminary injunction on Monday blocking the school from disciplining Ricard if she reveals preferred names and pronouns of her transgender students when communicating with their parents.
"The Court relies on Plaintiff's statements that she does not intend to communicate with a parent for the sole purpose of disclosing a student's preferred name and pronouns," Teeter wrote.
Ricard has two transgender students in her class, the judge wrote, neither of whom have authorized the district to disclose their preferred names and pronouns to their parents. While Ricard uses their preferred names in class and avoids pronouns, she has emailed parents using a student's legal name and biological pronouns, the Topeka Capital-Journal noted.
"Plaintiff believes that addressing students one way at school and a different way when speaking to their parents is dishonest," the opinion states. "Being dishonest violates her sincere religious beliefs."
According to the Topeka Capital-Journal, Teeter, ordered the injunction to remain in place until May 18 or until Ricard's contractual responsibilities to the district end, whichever comes last. Court records state that Ricard is not returning to work next year at Fort Riley Middle School, after teaching in the district since 2005.
Will Rapp, a statewide organizer for the Kansas chapter of GLSEN, told the Capital-Journal:
"Any effort to force teachers to out students to their guardians is a violation of young people's privacy and can place vulnerable young people in harm's way," Rapp said. "When transgender and nonbinary youth feel unsafe at school, they experience negative impacts not only to their health, but to their academic achievement and likelihood of graduating or moving to higher education opportunities.
"Attempts to forcibly out students also jeopardize educators' ability to foster trust and create the kind of safe school environment that allows young people to grow and learn without fear of harassment or discrimination."
WNBA players back petition for Biden to 'prioritize' Brittney Griner's release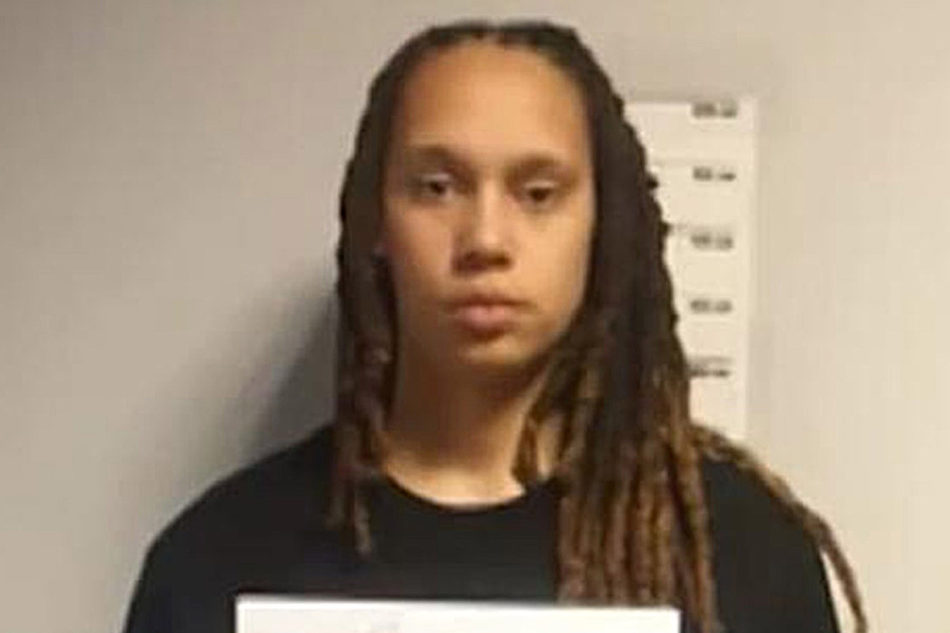 WASHINGTON — The Women's National Basketball Players Association has endorsed a petition that urges the Biden administration to "prioritize" WNBA star Brittney Griner's release.
"It is imperative that the U.S. government immediately address this human rights issue and do whatever is necessary to return Brittney home quickly and safely," reads the Change.org petition that Tamryn Spruill, a freelance journalist and author, created.
"The WNBPA and its members proudly join Tamryn Spruill, the creator of this petition, in demanding that lawmakers prioritize Griner's return," it continues. "White House and Biden adminsitration, we ask that you take action today—doing whatever is necessary—to bring Brittney Griner home swiftly and safely."
More than 135,000 people have signed the petition.
Spruill on Saturday in a tweet said the WNBPA, a union that represents WNBA players, partnered with them and Change.org "in demanding that our elected officials work urgently to gain BG's swift and safe release."
A new phase in the Brittney Griner/Change.org petition is underway! @TheWNBPA has partnered with me and @Change in demanding that our elected officials work urgently to gain BG's swift and safe release.

Details here:https://t.co/AHtb1DYcSI#WeAreBG

— Tamryn Spruill (@tamrynspruill) May 14, 2022
Griner — a center for the Phoenix Mercury and a two-time Olympic gold medalist who is a lesbian and married to her wife — was taken into custody at Moscow's Sheremetyevo Airport in February. Russian officials said customs inspectors found hashish oil in her luggage.
The State Department earlier this month determined Russia "wrongfully detained" Griner. A Russian court on Friday extended her detention for another month.
"The Russian system wrongfully detained Ms. Griner," then-White House Press Secretary Jen Psaki told reporters on Friday during her last White House briefing. "We take our responsibility to assist U.S. citizens seriously. And we will continue to press for fair and transparent treatment for all U.S. citizens when they are subject to legal processes overseas."

"Now, because the State Department recategorized her as wrongfully detained, it means that our Special Presidential Envoy for Hostage Affairs — it's quite a title but a well-deserved one — is going to be overseeing this case and leading the effort," added Psaki. "Because it's a deliberative process and we know from experience of bringing other Americans home, we're just not going to detail what those efforts look like at this point in time."
Griner faces up to 10 years in prison.