March 17, 2020 at 3:08 pm PDT | by Karen Ocamb
TransLatin@ Coalition limiting services due to coronavirus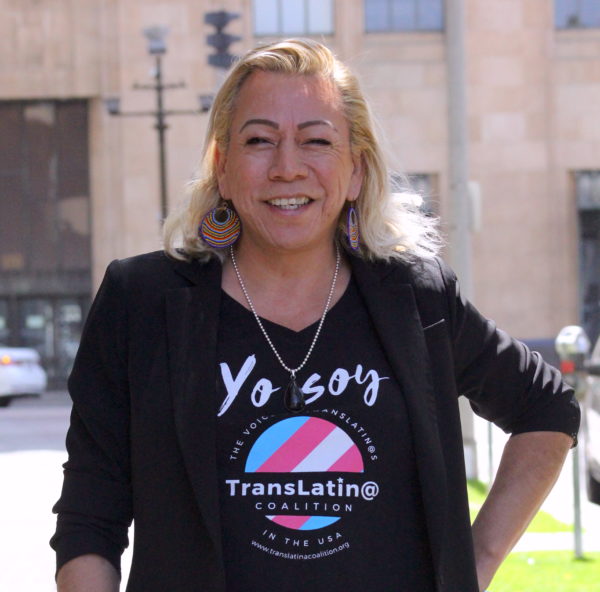 Longtime LGBTQ and HIV/AIDS activist Bamby Salcedo says the TransLatin@ Coalition is limiting its services in response to governmental guidance about the coronavirus. The organization will continue to offer our daily lunch, some  case management services, and some peer-to-peer counseling.
"As trans people we are the ones who get the end of the stick when it comes to getting support in general," Salcedo tells the Los Angeles Blade. "That is why I am personally committed to supporting our community. I know what it is to be forgotten and not to be acknowledged. I know that many people in our community are reasonably scared, but I do have a privilege and I am using my privilege to support my people. I ask that others also use their privilege to at least be kind to one another."
"I am here," says Salcedo, adding that she and Yara were preparing lunches, which will continue Monday-Friday from 12:30p to 2:00pm at their headquarters at 3055 Wilshire Blvd, #350, Los Angeles, 90010.
"The reality is – we, as trans people are regularly at the bottom of everything. And in this case, even the access to healthcare. We are not a priority," she says.
Salcedo says they do not have the infrastructure to provide mental health services, but they will refer people and provide peer-to-peer counseling. Additionally, she intends to conduct webinars to facilitate educating the broader community, video chats and live-streaming with the message "Stay Strong."
Here's here message to friends and supporters in English and Spanish. At the end of her email is a link to donate to TransLatin@ Coalition to help keep their services going.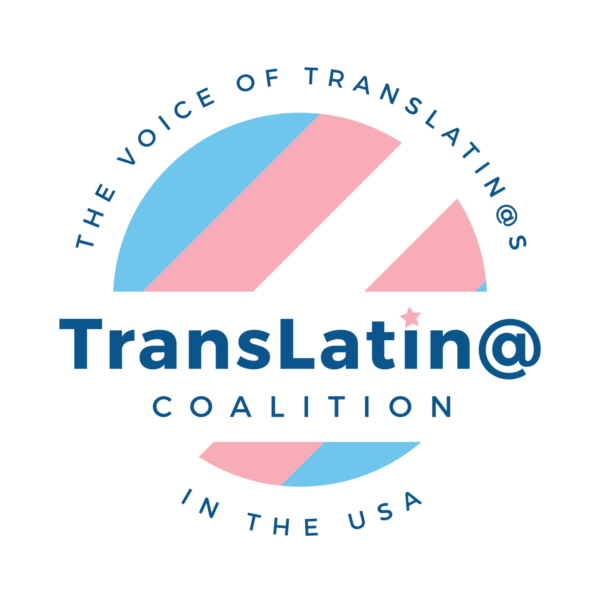 "A Message from Bamby Salcedo:

Hello Beautiful Family, Siblings and Comrades-

We hope that you are holding and supporting each other in these difficult times. As we all know, there is much uncertainty about the Corona virus (COVID-19). What is for sure is that this pandemic is and will be affecting the most vulnerable, and in this case, many members of our community. It is particularly painful to the leadership of our organization. We unanimously felt that we could not, in good conscience put the health and safety of our staff and community at risk given the current outbreak of COVID-19.

In making our decision, foremost in our mind was our social justice mission, and, in particular, our commitment to trans rights and trans justice in all of its forms. Many members of our board, members and staff, and people who receive services are HIV-positive, older adults, have other health concerns, or are primary caregivers for people with vulnerable immune systems. We as an organization function under the values of "Tu Eres Yo" (I am You). It became clear to us that, given the circumstances of the outbreak, we could not continue the doors of our organization fully open due to public health concerns. However, at the same time, we cannot turn our backs on our community understanding that many members of our community depend on the services that we provide, that is why we are going to continue to offer our daily meal program to our community and limited case management services. The bottom line is that our commitment to our community is for all of the Trans, Gender Non-Conforming and Intersex (TGI) people to continue to live, thrive and succeed and it is our ethical duty to protect and support each other in these difficult times.

As we continue to seek guidance about decisions related to COVID-19, it is also an opportunity for our organization to continue to use a lens of compassion, as we center the most vulnerable in our communities in our decision-making. Limiting the services of our center in Los Angeles is a hard decision, but it is the best option for the well-being of all of our members and for us as an organization to contribute to the public health goal of mitigating this pandemic, while at the same time supporting the most vulnerable in our community.

We will be delivering limited services in person to those who seek our support. In addition, we are going to prepare as much content as possible virtually via webinar and other formats over the coming weeks to provide peer support to members of our community. We are also preparing a set of topics that will be disseminating though our social media outlets, web page and webinars for members of our community to have access to critical information. We remain committed to the mission of our organization and our work. We are going to continue to work with our local partners to find other ways to support the unique needs of our community, and find opportunities to support our people. As we continue to do this work, we ask that you also be mindful of our siblings who are of Asian descent and do not portray racism and stereo types that continue to harm our siblings. We ask that you hold each other with compassion and love and know that "Juntex Venceremos!"

If you want to contribute to our work please consider making a donation to our organization as right now those who are in immigration detention need commissary support for them to be connected to the outside world. If you feel that we can support you in any way, please make sure to contact us to our phone line (833)847-2331 and we will figure out a way to support your needs but we also ask that you be patient as we anticipate many of our siblings are already on distress and will have multiple needs.

Again, we ask that you be patient with us as we are receiving multiple calls and messages. We also ask that you be compassionate with one another and practice kindness through these tough times.

May our Creator help keep peace in your heart through these times of uncertainty.

Much love and respect,

Bamby Salcedo
President/CEO
The TransLatin@ Coalition

Hola Gente Hermosa, Familia, Hermandad y Compatriotas-

Esperamos que se estén apoyando entre ambxs en estos tiempos difíciles. Como sabemos, hay mucha incertidumbre sobre el Corona Virus o (COVID-19). Lo que si es por seguro es que esta pandemia es y está afectando a las personas más vulnerables, in este case son personas de nuestra comunidad. Esto es muy doloroso para el liderazgo de nuestra organización. Unánimemente decidimos que no podemos en buena fe poner en riesgo la salud de nuestro personal y de nuestra comunidad al ver la situación con COVID-19.

Al tomar nuestra decisión, lo que estaba en nuestra mente es nuestra misión de justicia social y en particular, nuestro compromiso para los derechos trans y derechos de justicia en todas formas. Varias personas de nuestra mesa directiva, personal y clientes son personas que son VIH-positives, personas de edad y personas que tienen otras situaciones de salud y también son personas que proveen cuidado de salud a otras personas que tienen sistemas inmunes vulnerables. Nuestra organización funciona bajo los valores de "Tu Eres Yo." Fue claro para todes nosotres que dadas las circunstancias de la epidemia solo podemos proveer servicios limitados para nuestra comunidad debido a la salud pública y el cuidado a nuestra gente. Nuestra organización está comprometida en apoyar a nuestra comunidad y muchas personas dependen de los servicios que proveemos es por eso que vamos a seguir ofreciendo comida a nuestra gente todos los días y servicios de manejo de caso limitados. La verdad es que nuestro compromiso es para nuestres hermanes que se identifican Trans, Genero No Binario o Intersexo para que sigamos viviendo y teniendo éxito dentro de la sociedad y es nuestro deber ético al apoyar y protegernes a nosotres mismes en estos tiempos difíciles.

Conforme seguimos tratando de obtener guía sobre las decisiones relacionadas con COVID-19, es también la oportunidad para que nuestra organización vea la situación con lentes de compasión al centrar a las personas más vulnerables en nuestra comunidad en nuestra decisión. El limitar los servicios en nuestro centro en Los Angeles es una decisión difícil pero es la mejor decisión para todes les miembres de nuestra comunidad y para nosotres como organización no contribuir a la propagación de esta pandemia y al mismo tiempo apoyar lo más posible a las personas más vulnerables en nuestra comunidad.

Vamos a proveer servicios limitados en persona a aquellas personas que busquen nuestro apoyo. Tambien vamos a preparar el mas contenido posible para apoyar a las personas de manera virtual por medio de talleres por la web y otros formatos en las próximas semanas para poder ofrecer otro tipo de apoyo a nuestra comunidad. Vamos a preparar temas que se van a deseminar por medio de nuestros medios sociales, pagina web y webinars para que nuestra comunidad pueda tener información crítica. Nuestra organización se mantiene comprometida a nuestra misión y a nuestro trabajo. Vamos a seguir trabajando con nuestros aliados para seguir apoyando las necesidades de nuestra comunidad Trans y buscar la manera de apoyar a nuestra gente.  Conforme seguimos haciendo nuestro trabajo, les pedimos que por favor sean amables y sensibles con nuestres hermanes quienes son de descendencia Asiática y por favor no proyecten el racismo y los estereotipos can continúan hiriendo a nuestra comunidad. ¡Les pedimos que por favor tengan compasión para ambes y se demuestren amor y recordemos que Juntes Venceremos!

Si gustan contribuir al trabajo que hacemos por favor consideren hacer una donación a nuestra organización, como sabemos, nuestras hermanas que están detenidas en los centros de imigracion necesitan apoyo con dinero para poder estar en contacto con el mundo exterior. Si de alguna manera podemos apoyar por favor comuníquense con nuestra organización al (833)847-2331 y vamos a ver como encontramos la manera de apoyarles, pero les pedimos que por favor sean pacientes por que anticipamos que muches de nuestres hermanes están en destres y tienen necesidades complejas y complicadas.

Nuevamente, les pedimos que tengan paciencia con nosotres que anticipamos que vamos a recibir muchas llamadas y mensajes. Tambien les recordamos que por favor tengan compacion une con el otre y practiquen la humildad en estos tiempos difíciles.

Que nuestro Creador nos de la paz en nuestro corazón en estos tiempos difíciles de incertidumbre.

Con amor, cariño y respeto,

Bamby Salcedo
Directora Ejecutiva
La Coalición TransLatin@"