March 31, 2020 at 9:51 pm PDT | by Brody Levesque
Garcetti orders additional business and institution closures, city-wide rent freeze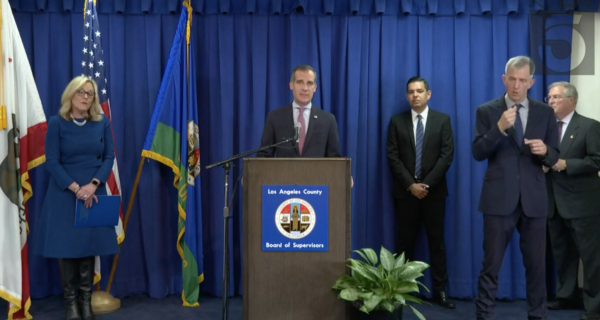 Taking action in response to numerous complaints, Los Angeles Mayor Eric Garcetti ordered temporary closure of all Farmer's Markets in the city Monday. One of the busiest of those markets in Brentwood, had drawn condemnation from the daughter of former California Gov. Arnold Schwarzenegger. "The farmers markets in Brentwood still being open seems like a huge issue when it comes to social gatherings,"Katherine Schwarzenegger tweeted Sunday.
Pictures of the market published by various LA media outlets showed crowded stalls as people shopped without maintaining the required 6 feet of separation.
During his daily press briefing on Monday, Garcetti said that Farmers markets will be temporarily closed, and would only be allowed to reopen if they submit a plan to show how crowds can be controlled. The mayor noted that may mean requiring a single entry and a single exit, among other measures.
On Tuesday after Garcetti's order, Schwarzenegger responded, "I am sure there could be better protocol that would allow the markets to stay open during this time. As a Brentwood girl, thru & thru, I want nothing more than to keep the people in our neighborhoods safe, including the people selling goods at farmer's markets," adding, "All I am asking the Mayor to do, is find a HEALTHY and SAFE way to support local farmers, allow people to buy and sell goods and keep everyone happy, without the overcrowding that many of us saw on Sunday. The overcrowding puts everyone at risk, increasing the spread of COVID-19."
Schwarzenegger defended her initial Sunday tweet on Tuesday morning saying, "For all those who are upset about my farmer's market tweet- let me clarify by saying I love farmer's markets, my family and I go every Sunday and buy a lot of our food for the week. I would never want to prevent farmers and small business owners from making money EVER."
Seeking cooperation of Angelenos to adhere to the requirements of the public health crisis directives has been a challenge for Garcetti as well as Los Angeles County and other jurisdictions. During his Tuesday press briefing the mayor noted that over 540 non-essential businesses had been visited by city designated 'business ambassadors' and later 144 by the Los Angeles Police Department to ensure compliance with the Safer-At-Home Public Health order.
Garcetti reiterated that any business that fails to comply would be referred to the City Attorney for further action or possibly face having their water and power shut off. As of Tuesday the mayor said 4 businesses had been referred for prosecution.
Garcetti also announced Monday that due to the financial uncertainty and high sudden unemployment of thousands of workers many furloughed by the pandemic, landlords would not be allowed to increase the rent for hundreds of thousands of apartments in the city.
"Rent will stay the same. This is a common sense action on top of the eviction moratorium that will help folks stay in their homes and make ends meet." Garcetti said.
The announcement covers about 624,000 apartments that fall under the city's rent stabilization program, according to city statistics. the Los Angeles Times reported.
During Tuesday's daily COVID-19 press briefing by Los Angeles County officials, Dr. Barbara Ferrer Director of The Los Angeles County Department of Public Health, (LACDPH), told reporters that the first case of a healthcare worker who died from the novel coronavirus in Los Angeles County was confirmed by her department though no details were provided other than the deceased was over the age of 60.
Ferrer added that LACDPH also confirmed that there were 10 new deaths and 548 new cases of COVID-19. According to Ferrer Six of the 10 deaths reported today occurred in people over the age of 65, two between 41– 65 years old; and two between 18 – 40 years old. All had reported underlying health conditions except for one individual between 18-40 years old.
She stated that over the past 48 hours there were 890 new cases, but pointed out that as more testing is made available these numbers would be expected to rise.
"This is the highest daily number of deaths we've reported to date, and our hearts go out to every family who has experienced loss related to this pandemic," Ferrer said. "Though we expect to continue to see a rise in positive COVID-19 cases and sadly, deaths in the weeks to come, it is crucial that we continue to stay home as much as possible, practice social distancing if we must go out for essential services, self-isolate when we are sick, and self-quarantine if exposed to someone who is sick. We are all in this together."
County officials also noted that street-level clinical workers will commence visiting the city and county's numerous homeless encampments, and they are getting ready to begin administering tests.
In other developments, 900 motel and hotel rooms have been secured as isolation and quarantine sites for people who are homeless. Additionally 13 homeless shelters have now opened, and are 95 percent at capacity.
In a letter released late Tuesday afternoon, the California Superintendent of Public Instruction Tony Thurmond stated that the state's public schools are unlikely to reopen to complete this academic school year.
"Due to the current safety concerns and needs for ongoing social distancing it currently appears that our students will not be able to return to school campuses before the end of the school year," Thurmond wrote.
As of Tuesday, Los Angeles County had recorded 3,011 confirmed cases of COVID-19 and 54 deaths.
Total U.S. Coronavirus Cases:
March 1 – 89 cases and on March 31 – 186,258 cases as of 10PM ET
Total U.S. Coronavirus Deaths:
March 1 – 2 deaths and on March 31 – 3,816 deaths as of 10PM ET
Source: CDC and NBC News