April 2, 2020 at 9:24 am PDT | by Karen Ocamb
A new COVID-19 surge but a sliver of hope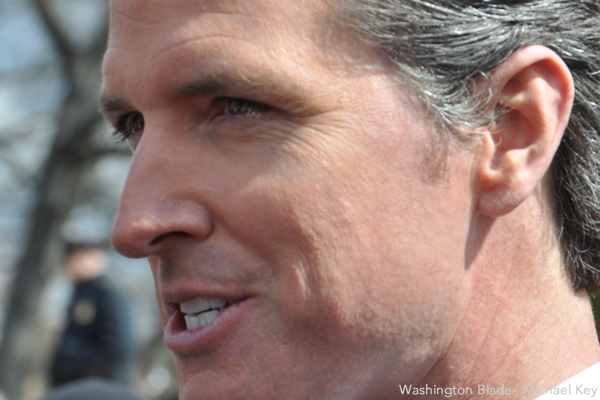 Each day brings new numbers. And new fears. And a glimmer of hope. And then resignation as an anxious, locked down public clamors for answers, though the answers are sometimes too bleak to comprehend.
On March 30, Dr. Deborah Birx, the global AIDS expert serving as the White House coronavirus response coordinator, gave a sobering projection for the trajectory of COVID-19 in the United States. "If we do things together well, almost perfectly, we could get in the range of 100,000 to 200,000 fatalities," Birx told NBC's Today show, though thus far, the public was not uniformly and consistently following physical distancing orders.
Birx echoed a similar pronouncement issued by her mentor, Dr. Anthony Fauci, the government's top infectious disease expert, the day before.
"Looking at what we're seeing now, I would say between 100,000 and 200,000 cases… excuse me, deaths. I mean, we're going to have millions of cases," Fauci said on CNN's "State of the Union."
"As I have said before," Fauci added, "it's true the virus itself determines that timetable [of easing physical distancing restrictions]. You can try and influence that timetable by mitigating against the virus, but, ultimately, it's what the virus does."
And yet, on April 1 as many people unemployed and furloughed faced bills due for rent and mortgages, Trump used the beginning of the daily coronavirus briefing to practice a little politics about gangs, drugs and The Wall – a Gallup poll shows his approval ratings have risen thanks to the showcase – but he refused to order a national "stay at home" order to governors who still think their states are immune.
Vice President Mike Pence dutifully played Trump cheerleader, as well, denying that his boss ever downplayed the impact of the coronavirus, despite video evidence.
"I don't believe the president has ever belittled the threat of the coronavirus," Pence told CNN. "He expressed gratitude and confidence in healthcare workers in this country, and the American people can be assured President Trump is going to continue to be confident that we will meet this moment."
The moment might be meeting Trump, whether he likes it or not. Globally, the coronavirus pandemic is more than 885,600 confirmed cases with over 44,200 deaths; more than 185,400 people have recovered.
In the U.S., the death toll as of April 1 was 4,542 – higher than the reported deaths in China. Johns Hopkins University said 865 people died in the 24 hours from March 31 to April 1.
California Gov. Gavin Newsom told CNN that Trump has been attentive to California's needs unlike Trump's reported treatment of others.
"This is not the time to bicker. I don't care who's up and down, whose polls are looking better than someone else's or who wants to run for president or who doesn't. When it comes to times of crisis, we need to [rise] above the partisanship and I've extended always an open hand, not a closed fist, in those circumstances. And this is no different," Newsom told Jake Tapper.
Late April 1, California officials reported 9,925 coronavirus cases, with 127 confirmed positive healthcare workers as of March 31.
In his daily briefing, Newsom announced that California has about 9,500 confirmed cases of COVID-19 – Doubling since March 27 and increasing nearly ten-fold since the Stay ay Home order was initiated on March 19, according to the San Francisco Chronicle. There was a dramatic increase in the need for hospital beds and a five-fold jump in less than a week in ICU cases. One startling fact: there were nearly 1,000 new cases in 24 hours — and the death toll at 204.
Newsom's advisors project that the state will need 50,000 more hospital beds by mid-May and another 16,000 by month's end.
The slight silver lining is that the cases are growing slower than New York, which public officials have taken as a sign of what's to come in Los Angeles and the state. That suggests the two-week stay home order may be working and that there is time before mid-May to staff up hospitals. However, there is also more evidence that asymptomatic people may be carrying and spreading the silent virus, leading to an unknown number of infections with testing still an issue.
"This disease could impact anyone," Newsom said. "Take this seriously."
Newsom also announced that public schools will remain closed for the rest of the year. Online teaching will improve with Google boosting Wi-Fi and broadband capacity across the state.
"And not only access to the internet, but quality access to the internet," Newsom said. Google is "providing a minimum three months free access to high quality, to broadband throughout the state of California. Those 100,000 points will help us substantially address the digital divide issues, the rural issues, the equity issues that are at play, even in the best of times."
Late April 1, Newsom signed an executive order that allows for the immediate use of $1.4 billion in emergency funding to respond to the COVID-19 crisis.
"The executive order facilitates expenditures from the state's Disaster Response-Emergency Operations Account, a subaccount of the Special Fund for Economic Uncertainties in the General Fund – the state's traditional budget reserve – as well as from any other legally available fund to help with the COVID-19 response," reads the press release. "In addition, the Legislature enacted SB 89 prior to adjourning last month. This legislation signed by the Governor created an additional mechanism to provide up to $1 billion General Fund for expenditures related to the COVID-19 emergency."
There is one eye-raising point that may speak to Newsom's apparently good relationship with Trump. "Most of the state's expenditures associated with the COVID-19 response are expected to be largely reimbursed by the federal government," says the press release.
While the sliver of relative good news may help ease the acute disruption, coronavirus cases continues to surge, as predicted.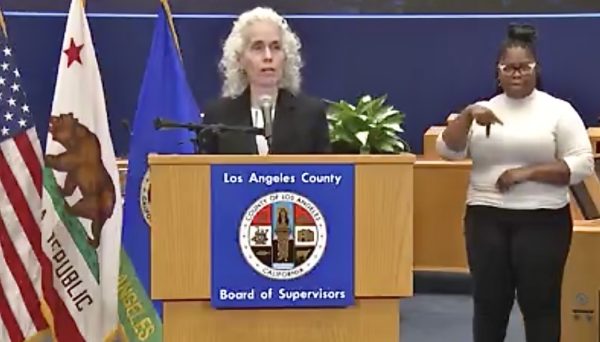 The L.A. County Dept. of Public Health reported 513 new cases on April 1, bringing the total infected by COVID-19 to 3,518. Five of those new positive cases were among the homeless, said Public Health Director Barbara Ferrer.
There were also 11 new deaths, nine of whom were over the age of 65; seven had underlying health conditions; one was between 18 and 40 years old; and one was between 41 and 65 years old, bringing the County total to 65 (64 in L.A. County and one in Long Beach).
"Every day reporting these numbers is devastating," Ferrer said. "I know it's more devastating for the family and friends who have experienced this tremendous loss."
Ferrer cautioned against the public using N95 and surgical masks which are much needed by healthcare workers and first responders but after some local health officials recommended wearing face coverings during public outings, Ferrer eased up a bit in compliance with new CDC guidance suggesting that individuals use universal precautions all the time under the presumption that each person could potentially infect another.
Ferrer suggested that using a bandanna or piece of fabric to cover the nose and mouth might be OK. But she cautioned: "Wearing a mask is not a shield."
Nor does it excuse not frequently washing hands and practicing physical distancing.
"I want to reassure the public that the L.A. County hospital system, both public and private, is doing everything it can to be able to scale up and meet the projected demand, but I would reiterate the crucial importance of respecting those social and physical distancing guidelines so that we can flatten the curve and make sure there's not excessive strain on the hospital system in the days and weeks to come," Dr. Christina Ghaly, director of the LA Department of Health Services, said during a briefing.
Not as much focus has been given to front line community clinics and health centers that continue to face a shortage of test kits and medical supplies. For the non-profit St. John's Well Child and Family Center, for instance, one of the few LA-area clinics that serve transgender clients of color, the virus has created a dire situation, St. John's gay Chief Executive Jim Mangia said in a March 24 conference call.
In the previous week, St John's saw 879 patients "who were required to be placed in triage tents to isolate them from other patients," the LA Times reported. Of the 39 tests given, seven were positive for COVID-19 and at least three patients were hospitalized.
"By the end of this week, we will have run out of protective gear," Mangia said. "We still don't have the tests that we need in order to contain the spread and isolate our patients. We're essentially doing makeshift front-line work."
As of April 1, there were 64 cases reported out of the City of West Hollywood. The City of Glendale reported 86; Torrance reported 63; Santa Monica reported 53; the City of Los Angeles reported 1,580 cases, with Melrose reporting 104 cases and Hollywood 67. It is widely suspected that the high tallies in these areas reflect access to testing and healthcare.
Additionally, about 80% of those who contract COVID-19 recover. Nonetheless, the loss of any person to this new virus is devastating and frightening.
"Our sadness is not diminished by the daily frequency of announced deaths related to COVID-19, and reminds us of our need to work together to protect each other," said Ferrer. "The hard truth is we have some difficult days ahead as we work tirelessly to flatten the curve of this horrible virus. Though the end may not be as close as we'd like, if we all continue to do our part to slow the spread by staying home, social distancing, self-isolating when we are positive or presumed positive, and self-quarantining if we are close contacts of a positive case, we will  get to the end of the COVID-19 crisis more quickly, together."