April 9, 2020 at 7:43 pm PDT | by Brody Levesque
COVID-19 DAILY: WeHo closes all parks, 425 new cases in LA County, unemployment benefit update
Californians receiving unemployment benefits will see an additional $600 in weekly unemployment benefits from the federal stimulus CARES Act package starting this upcoming Sunday, April 12, Governor Gavin Newsom said during his daily COVID-19 press conference Thursday.
This infusion of extra benefits comes as the state is experiencing record numbers of unemployment claims filed weekly, which included a record of 2.3 million claims filed in March.
"Many Californians are feeling the effects of this pandemic, and this added benefit is very important to our workers so they have needed resources during this difficult time," Newsom said.
On another front, Newsom announced a new program designed to assist the state's health care workers by providing doctors, nurses and other critical front-line health care workers access to no-cost or low-cost hotel rooms.
"California is fighting to protect those who are protecting us," he said. "Health care workers are the heroes of this moment. As we ramp up the workforce to meet the demand we are also stepping up to help keep our workers' families safe by providing hotels as temporary housing options."
The Governor stated that commencing Friday, April 10, the state's Department of General Services will open CalTravelStore.com for California Health Corps workers to make reservations. According to Newsom, 150 hotels have already opted in to provide discounted rates and other hotels are encouraged to sign up and participate. He also praised four major airlines for providing vouchers to accommodate air travel to the state by volunteer healthcare and medical workers.
Newsom singled out a newly developed state partnership with United Airlines, which will provide free, round-trip flights for volunteer medical professionals from across California and the country who join the state's health care workforce. The airline will connect essential workers and supplies to the areas where they are needed most during the COVID-19 pandemic with daily flights. The state is working on similar agreements with air carriers SouthWest, Delta, and Alaska Air he added.
In his daily status report, Newsom noted that as of Thursday, 18,309 residents had tested positive for COVID-19 and that there had been a slight decrease in the number of patients requiring Intensive Care Units (ICU), 1,032 which in a twenty-four hour period represented a 1.9% decrease. However, he noted that there was a 4.1% uptick in cases, 2,825 requiring hospitalization. Overall the numbers for California totaled 20,164 with 546 deaths.
During the question and answer period with reporters in response to a question posed by the Los Angeles Blade regarding the state's efforts for strategic solutions for LGBTQI+ youth who are experiencing homelessness, and also in regards to State Superintendent of Public Instruction Tony Thurmond's efforts to reach out to LGBTQI+ K-12 students caught up in the crisis as schools are closed, Newsom paused and then said "It's a deeply personal issue."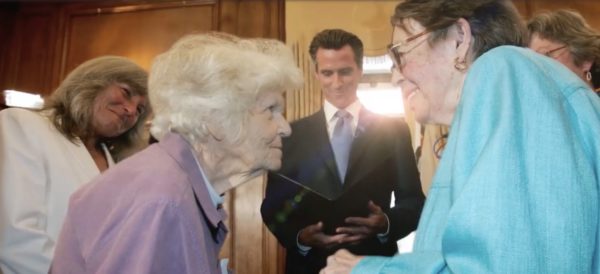 He paused in his answer to reflect on the death of early LGBTQI+ activist and equality rights pioneer Phyllis Lyon who passed away Thursday according to a tweet from Kate Kendall, former Executive Director of the National Center For Lesbian Rights (NCLR).
"I just learned a few hours ago that one of my heroes – Phyllis Lyon – 95 years young, passed. Phyllis – as you may know – I had the privilege of being involved in a marriage ceremony between Phyllis Lyon and Del Martin. The couple had been together for almost a half a century – the manifestation of faith, love and devotion, and yet they were denied on the basis of their sexual orientation the right to say two extraordinary words: I do. The power and potency of those two words is profoundly significant," Newsom said.
The Governor then went on to say that his administration was working with school districts, calling out efforts by the Los Angeles Unified School District (LAUSD) in particular, to address the needs of the LGBTQI+ youth in the state and the schools, specifically pointing out the resources for LGBTQI+ young people on the state's COVID19.CA.GOV website including the 24 hour manned crisis hot lines.
The Los Angeles County Department of Public Health (LACDPH) confirmed 25 new deaths and 425 new cases of COVID-19. The Department's daily press statement and updates showed that over the last 48 hours, there have been 1,045 new cases.
"Today's heartbreaking announcement of additional deaths related to COVID-19 is a reminder of the seriousness of the situation we are in as a community, and we extend our deepest condolences to the loved ones who have experienced these tragic losses," said Dr. Barbara Ferrer, Director of Public Health.
"Although our case numbers continue to rise along with the number of people who have died, the effectiveness of our collective effort to slow the spread are apparent. These actions, although immensely disruptive as they are, are very powerful in helping to prevent infections, and we need to keep up this difficult work to slow the spread of COVID-19 for the next few weeks. It's a good idea to continue to plan for staying home as much as possible, including having food, medicine and other essential supplies delivered, and to check on the most vulnerable among us."
Thursday evening the LA Blade was notified that The City of West Hollywood's Manager and Director of Emergency Services Paul Arevalo issued an Emergency Executive Order closing all parks and dog parks in the WeHo to the public.
Additionally, construction sites in the City of West Hollywood shall follow additional requirements for hygiene, sanitization, signage, face covering, and more.
The Emergency Executive Order was issued in response to numerous public complaints and City staff-witnessed failures to socially distance at parks and construction sites in direct contradiction to Federal, State, County, and City directives to physically distance, not gather in groups, and stay home except for essential needs in order to slow the spread of COVID-19, according to the city's media statement.
"Failure to abide by public health directives is unsafe and dangerous in this unprecedented time of a worldwide health pandemic," said City of West Hollywood Mayor John D'Amico. "Health authorities warn that this week and the following week are expected to be critical weeks in terms of controlling spread of the virus.
While construction is identified as an essential activity, the work must be done in a safe manner that is consistent with public health directives and guidance. Face coverings are deemed an appropriate method to protect others from the spread of the virus, as carriers of the virus may show no symptoms and should be worn at construction sites where people may be in close proximity to one another. We are all in this together and must do our part to protect ourselves and others during this time," he said.