May 8, 2020 at 9:31 pm PDT | by Brody Levesque
COVID-19 Daily; Newsom stresses vote by mail for November election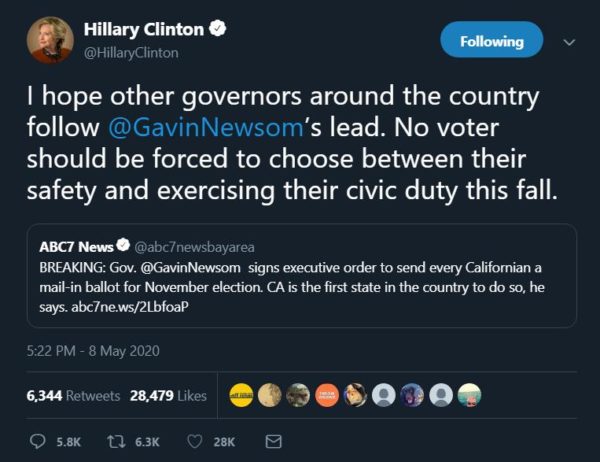 SACRAMENTO. Calif. – Citing public health concerns over the threat COVID-19 continues to pose to the health of millions of Californians who would be showing up to cast their ballots at voting locations statewide this fall, Governor Gavin Newsom ordered ballots to be mailed to the state's 20.6 million registered voters for the November election Friday.
The decision, the governor said, reflects the assessment from the state's health officials that the COVID-19 pandemic will not have subsided enough to permit the election to move forward under its traditional means.
The governor's order requires that each of the state's 58 counties elections officials send vote-by-mail ballots for the November 3, 2020, General Election to all registered voters.
Californians who may need access to in-person voting opportunities – including individuals with disabilities, individuals who speak languages other than English, individuals experiencing homelessness, and others – will still be able to access in-person voting opportunities.
"Elections and the right to vote are foundational to our democracy," Newsom said. "No Californian should be forced to risk their health in order to exercise their right to vote. Mail-in ballots aren't a perfect solution for every person, and I look forward to our public health experts and the Secretary of State's and the Legislature's continued partnership to create safer in-person opportunities for Californians who aren't able to vote by mail."
Friday afternoon the Governor's office sent out a statement that read in part,
"The Administration will continue to work with the Legislature and the Secretary of State to determine how requirements for in-person voting opportunities and other details of the November election will be implemented while preserving public health and giving county elections officials needed flexibility. If by May 30, 2020 counties do not yet have clarity for in-person voting opportunities and other details of the November election, it may be necessary to issue a further executive order addressing these issues."
"California will not force voters to choose between protecting their health and exercising their right to vote. I thank Governor Newsom for taking decisive action now, to preserve voting rights and provide sufficient time to properly prepare for the General Election," said Secretary of State Alex Padilla. "Today we become the first state in the nation to respond to the COVID-19 pandemic by mailing every registered voter a ballot. We are meeting our obligation to provide an accessible, secure, and safe election this November. Sending every registered voter a ballot by mail is smart policy and absolutely the right thing to do during this COVID-19 pandemic."
Speaking to reporters during his daily noon press conference held at a local Sacramento floral business Friday, Newsom sounded as if he planned on the Phase 3 reopening of the economy sooner than had first been forecast. The state is moving into Phase Two currently with the limited reopening of some businesses in the retail sector for curbside pickup with new safety and hygiene protocols. Manufacturing and logistics work can also resume.
"Phase 3 is not a year away. It's not 6 months away. It's not even three months away. It may not even be more than a month away," Newsom said. "We just want to make sure we have a protocol in place to secure customer safety, employee safety and allow the businesses to thrive in a way that is sustainable."
The next round of phased reopening will include higher risk workplaces such as hair salons, nail salons, barbershops, gyms, movie theaters, and sporting events without live audiences, all that necessitate close proximity between persons.
The governor said that the state plans to slowly rollback restrictions on businesses every couple of weeks with public health officials noting that the simultaneous reopening of businesses would not occur.
"Roughly 70% of the economy in the state of California can open with modifications into this next phase," the governor said. "I know 70% is not 100%, and I recognize that 'with modifications' means 'with restrictions' and 'with restrictions' means a struggle for businesses to get back where they were pre-pandemic."
Mark Ghilarducci, the state's emergency services director, sent warning letters Friday to three rural Northern California counties, Yuba, Sutter, and Modoc, where local officials are openly defying following the phased reopening of the state economy and the stay-at-home order. Gyms, dine-in restaurants, shopping malls, hair salons, and other businesses are opening out of the structure specified by the state.
Ghilarducci, cautioned officials that defying the state's stay-at-home order to fight the spread of coronavirus could result in a loss of disaster funding.
In Los Angeles, the Los Angeles County Department of Public Health (LACDPH) confirmed 51 new deaths and 883 new cases of COVID-19. Two deaths were reported by the City of Long Beach. To date, Public Health has identified 30,296 positive cases of COVID-19 across all areas of LA County, and a total of 1,468 deaths.
In California as of Friday, there have been 64,496 cases and 2,628 deaths. In the United States there are 1,283,929 cases reported and 77,180 deaths.
Los Angeles Mayor Eric Garcetti urged Angelenos to stay safe and use caution this weekend when heading out to newly reopened trails and golf courses.
"With every action, we cannot forget we are not moving beyond COVID-19," he said during his daily press briefing. "We are just learning to live with it."
Garcetti noted that while there weren't enough city employees to monitor the hundreds of miles of trails, particularly in extremely large park areas like Griffith Park and Hansen Dam recreational area, he pointed out; "It's also not our vision to make this like a junior high school dance, with people saying 'you're too close to each other'," he said but added that if too many people violate the rules then the city parks staff and rangers will cut off admissions to the trails, if necessary. "But I hope this weekend will be a good experiment," the mayor said.
Most big California counties are not close to meeting the state's strict standards that would allow a wider reopening of the economy including dine-in restaurants and shopping malls, a Los Angeles Times data analysis found. In fact, 95% of California residents live in counties that don't meet the top two criteria, The Times found. Not a single county in Southern California or the San Francisco Bay Area met those criteria.