June 1, 2020 at 10:02 am PDT | by Karen Ocamb
CalVets' Dr. Vito Imbasciani on saving lives from COVID-19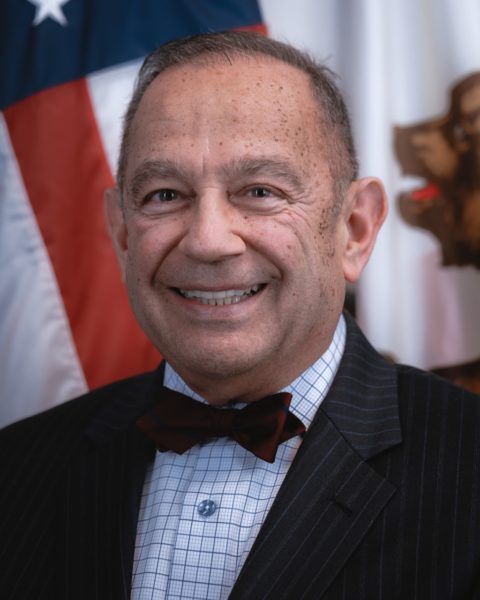 The coronavirus pandemic has exposed the true character of America's leaders. The White House has proven to be a boiling cauldron of bleak conspiracy, callousness, and ineptitude while on the sunny-side up West Coast, Gov. Gavin Newsom shines a light of optimism even on the dreariest of fact-based days.
Now the protests and riots over the alleged murder of George Floyd by a white police officer in Minneapolis have dimmed that light to near extinction with healthcare experts warning that the persistent shouting of closely gathered demonstrators could lead to a catastrophic explosion of COVID-19. The streets may now be incubators as John Hopkins University reports on June 1 morning there are 1.793,780 confirmed cases and 104,450 deaths in America; 112,287 confirmed cases in Los Angeles, and 4,173 deaths, according to the LA Times – that's an average of 2,553 new cases and 59.7 new deaths per day, with the focus shifting to SoCal.
The highest toll is among seniors – roughly 79% of the dead were 65 or older and at least 2,090 were living in a nursing home.
The first two US deaths from coronavirus were in Santa Clara County on Feb. 6 and Feb. 17.  COVID-19 took three months to go from two deaths to 104,450 dead in America from the novel coronavirus.
In California, however, there are small pockets of safety, thanks to the forethought of Dr. Vito D. Imbasciani, the out gay Secretary of Veterans Affairs. Imbasciani was hailed by Gov. Gavin Newsom just before Veteran's Day weekend.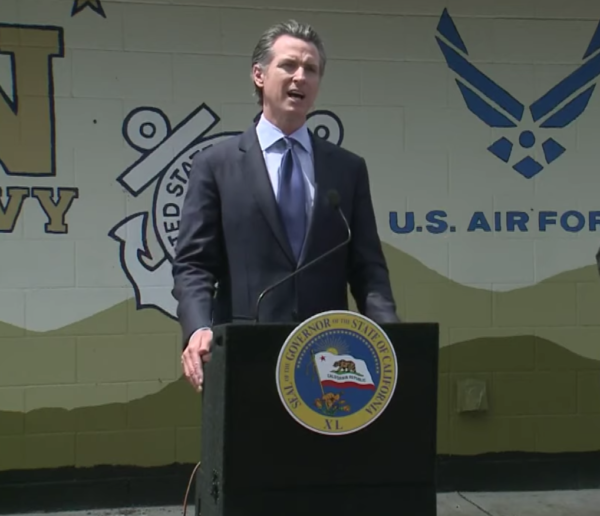 May 22 was a hold-your-breath kind of day as Newsom started inching toward reopening the state with an amended health order in advance of Memorial Day weekend, with the prospect of thousands defying physical-distancing and mask wearing orders in the name of fun and "freedom."
Standing outside the Veterans Home of California in Yountville, Newsom noted the solemn opportunity to "reflect and remember those that sacrificed their lives for the cause we hold dear, and that's our freedom. Never to be taken for granted. Never to be forgotten. And it is appropriate, despite this pandemic and all the strife, the challenges, all the consternation that it brings, that we take this time together with our family and our loved ones to reflect and to remember."
But California honored veterans not just rhetorically but in practice, thanks to "the outstanding practice of leadership" demonstrated by "our Secretary of Veterans Affairs and his remarkable team and outstanding frontline staff" that have protected over 2000 veterans in eight vet homes throughout the state.
"There have been some horrific headlines and tragic lives lost and examples where the insidiousness of this disease spread like wildfire through facilities like this across the country," said Newsom.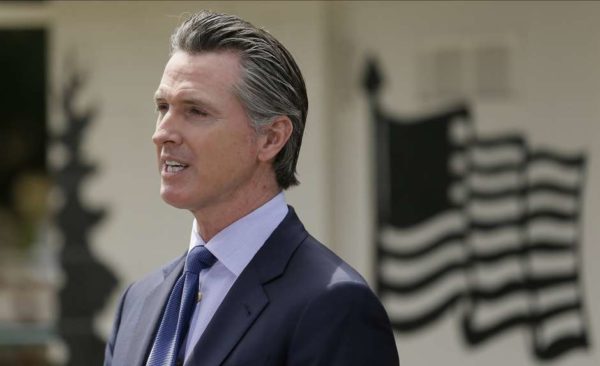 "That has not been the case — and I say this cautiously, soberly —  not been the case to date in the state of California," he continued. "Throughout our entire system, eight hospitals, we have had just three patients test positive for COVID-19. We've had a number of staff, but the overwhelming majority of staff, all but two have recovered and are back at work. And that's because of the seriousness of purpose that was advanced weeks before California stay at home order was put into place by our Secretary of Veterans Affairs."
And Vito D. Imbasciani, that literal life saver — grew up near West Point and became a urologic surgeon, a Ph.D. and an Army colonel, retiring after 27 years of badge and ribbon-winning combat medical service — is gay.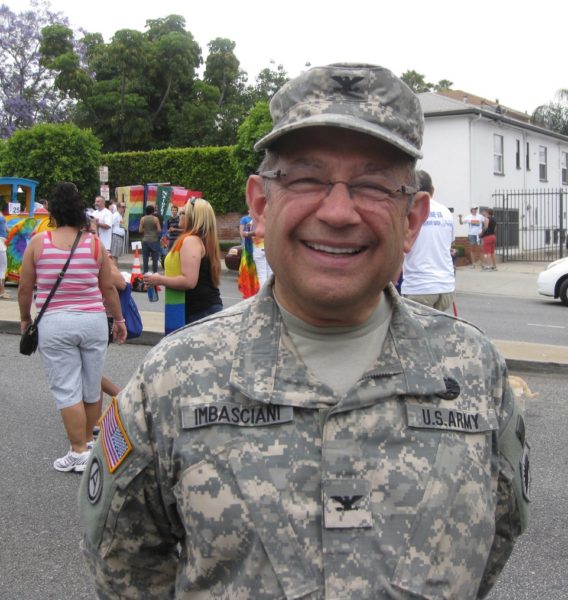 Was Newsom right about the low rate of VA cases, while COVID-19 is wreaking havoc and causing death in nursing homes, in particular? In California, 40% of all deaths to COVID are happening in nursing homes.
"Yeah. Three cases and only two gentlemen died and veterans of Korea and World War II. Late in his 80s and the other one late in his 90s. One of them really died with COVID and not because of it, meaning he was already actively failing due to advanced age," Imbasciani told the Los Angeles Blade.
And of the 14 staff who tested positive in CalVets' eight homes in Barstow, Chula Vista, Lancaster, Los Angeles Ventura, Fresno, and Redding, "all but three of them eventually tested negative without getting sick and came back to work. And in all of those cases, they contracted their corona positivity from the community," he said. "In fact only one in Redding did we think a staff member actually probably got it from one of our sick veteran residents."
The reason Imbasciani was able to save so many lives is because he was aware of the virus in China and he acted early.
"For decades since the HIV virus began in 1980-81 when I was a medical student at the University of Vermont, College of Medicine, I have made it a habit always to follow CDC reports of viruses or other strange diseases popping up, whether it's five people or 50," he says. "They always write a report about it and they say where it happened and this is what it looks like, so you have an idea. And when I heard that another virus had come out of, in this case, it was in Wuhan, China documented cases. It looked like, oh, heaven's this had a really, really high death rate and it was easily transmitted from one person to another, so that was very contagious."
And, Imbasciani concluded, "this could easily get out of hand. That was in December," he says. "And in our first staff meeting in early January in Sacramento, I asked my home administrators to brush off their emergency preparedness book, which we've developed because we have to have plans to evacuate in case of earthquakes and wildfires. We also have chapter in the book that gets us ready for an outbreak of influenza every winter. And we practice these things. Not only that, our whole staff, all 3,000 employees in all eight homes practice infection control, they're taught in person and they're mandated to take computer classes on infection control."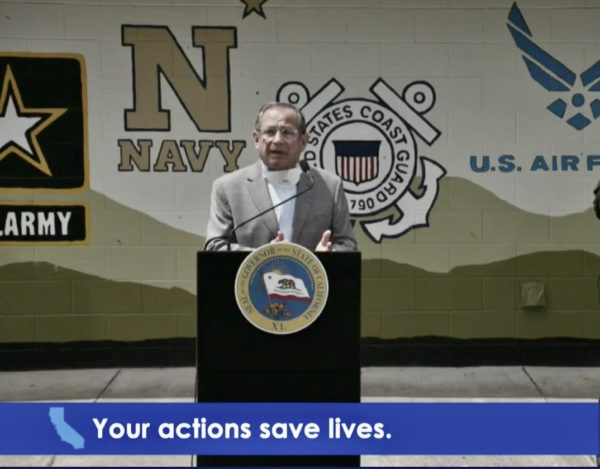 Everybody from haircutters to people who prepare the food to nurses and doctors, everybody had to take those classes.
"We did absolutely everything that the government agencies ultimately told nursing homes to do," Imbasciani said. "And by that I mean the VA system, the CDC, the State and County Public Health Departments and the Department of Social Services who give us our directions on assisted living. We did all of the guidance that they ultimately came up with, but we had put it in place a month before they told us to and two weeks before the State of California went into lockdown."
Imbasciani and his team put together 38 specific prescriptive guidelines on infectious disease control, on temperature checks and symptom checks for patients, as well as staff.
"We basically restricted movement of people in the community coming into the homes," he says. "We didn't do anything special. None of what I just said was magic. It's just applying common sense and a 10th grader's knowledge of germ theory to the situation. It just what was key is that we did it early."
But first Imbasciani got clearance "because it was a restriction on activity of citizens. The people that live in our veteran's homes are not like Californians who are either in prisons or jails or the state hospitals who are wards of the state. Our veterans are free and independent citizens who choose to live with us. Any restriction on their movement, even for health reason, I cleared first with either the State Department of Public Health or the State Department of Social Services, my main regulators."
They then informed the Veterans Affairs system and the CDC about the actions they were about to take – in January.
"No one said no, no one said to stop. Maybe they took some of our initial steps and our successes as a help to guide the subsequent development of policy," Imbasciani said.
Imbasciani also had the advantage of working with a system of homes, "which means I could get all eight of them — as we have now for 11 weeks — on the phone every morning, seven days a week. And we compared our inventory of masks. We compared our protocol techniques. We compared our worries. If somebody noticed something like, "Hey, we have a worker who's married to a guy who is a prison guard and the husband is positive. What do we do?" We would talk about situations like that as a system, so that whenever we develop any one of our constantly growing list of 38 steps, that the next day it was policy in all eight of our homes."
By contrast, three of the worst private California nursing homes with the highest numbers of deaths and positive cases are in three different counties are all owned by the same company, he says.
"But they didn't act as a system of homes. We shared our masks. I remember we did an inventory and West LA didn't have enough masks and gowns, but Yountville and Napa County did, so that day somebody drove. We shared among ourselves so that everybody had the critical number of PPE and that number —  there's a science to that. It's called the CDC science of PPE. And they tell you not only how many gloves, masks, gowns every nursing home should have based on per capita, but the science of how to use them, how to put them on, how to take them off, how many times you can wear it, how long you can wear it," Imbasciani says.
"We did all of that. We shared our best practices, our worries," he says. "We had a director, a director of nursing, the doctor, we had three or four people from each of the eight homes on the phone every day, still do. And the amount of shared knowledge and observations that number of trained people can make, it's really a proof that you put your heads together and good ideas will come out of it."
Imbasciani believes there will be a Blue Ribbon panel to investigate what happened when the coronavirus pandemic hit America and come up with recommendations for future lawmakers.
But in the meantime, COVID-19 is still a new mutating virus with an incubation period of up to 14 days. And during that time an asymptomatic carrier can spread the easily contagious virus without warning or awareness. It is therefore up to each person develop and display their own character — taking care of themselves and protecting others.
"There is a moral responsibility that everybody has to bear whether they're religious or not," says Imbasciani. "Morality is not a religious commandment. All have to be moral."