June 2, 2020 at 11:38 am PDT | by Karen Ocamb
Trans women take legal action against DTLA bar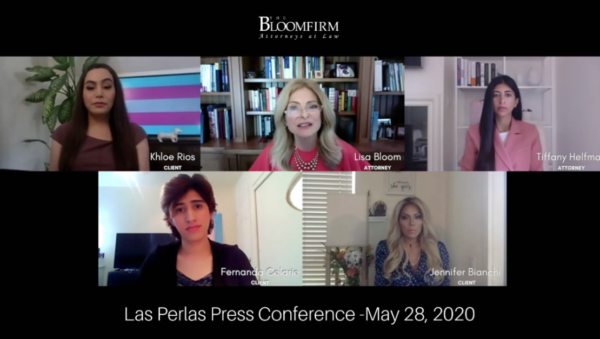 It was a shock. Khloe Rios and a group of trans women and gay men working and volunteering for Bienestar Human Services were taking a dinner break at Las Perlas restaurant last Aug. 23 after working the opening ceremonies of the DTLA Pride Festival when a heterosexual couple approached them with anti-LGBTQ slurs.
A confrontation ensued as the drunk man threatened to "kill all the faggots." The group sought help and intersession from restaurant management, Rios told the Los Angeles Blade after the incident.
Las Perlas management asked the heterosexual couple to leave but they called the LAPD and bar security forcefully ejected the group of trans women and gay men – which Rios caught on tape.
A representative for Cedd Moses, CEO of the restaurant hospitality group Pouring with Heart which owns Las Perlas, subsequently released a statement on Instagram (@lasperlasla) defending the security staff and offering a financial gift to Bienestar.
On May 28, attorney Lisa Bloom announced she was filing legal action on behalf of her trans clients Fernanda Celarie, Jennifer Bianchi, and Khloe Rios. During a Zoom press conference, Bloom said the complaint is believed to be the first known challenge to a bar's liquor license on the grounds that it violated the civil rights of the LGBTQ community, ironically citing liquor laws and their "public morals" clauses that had often been used to shut down gay bars.
Bloom describes what happened to the patrons in a press release as: "One was placed in a chokehold; another pushed through the door, causing her to stumble down the stairs. Outside, the transphobic man waved a large steel object and again threatened to kill them."
"Harassing, physically accosting and removing transgender women from a bar flies in the face of the principles of equality and respect that California stands for," Bloom said "It is an act of public immorality. That's why we have now filed a complaint with the Alcoholic Beverage Control seeking to have the bar's liquor license revoked."
Bloom says they have demanded an apology and accountability but neither the bar nor the security company has been forthcoming.
Here's the complaint:
2020.05.27 ABC Complaint_redacted