The color of new LGBTQ leadership 
This is what the color of change looks like.
An estimated 25,000 protesters marched from Hollywood to West Hollywood railing against racism and police brutality, calling out the names of black victims of racist violence — Ahmaud Arbery, Breonna Taylor, George Floyd, Rayshard Brooks.
But what was different from the hundreds of other marches since George Floyd fell fatally silent under the knee of white Minneapolis police officer Derek Chauvin last May 25 was that among the names called out in this march were Marsha P. Johnson and Sylvia Rivera, the Stonewall-era trans activists.
Also called out was the name Tony McDade, 38, a Black trans man shot dead by Florida police on May 27.
"Tony was a queer Black American who was gunned down by law enforcement," Gina Duncan, director of Transgender Equality for Equality Florida, told Mother Jones.
"What brings Tony McDade's murder so close to home is that this is a national pandemic," Duncan says. "We have not only COVID-19 impacting our nation, but also the virus of institutional racism. No matter what your gender, no matter how you identify, we still have this pervasive culture of Black Americans suffering under overt discrimination by law enforcement. And when you look at the big picture, Tony McDade's shooting is a symptom of that national virus that we're dealing with as a country."
The Human Rights Campaign tracked 52 reported murders of transgender or gender non-conforming people in 2018 and 2019, the vast majority  of whom were trans women of color, which the American Medical Association called an "epidemic."
And "the number of victims could be even higher due to underreporting and better data collection by law enforcement is needed to create strategies that will prevent anti-transgender violence," says AMA Board Member S. Bobby Mukkamala, M.D.
HRC believes at least 15 transgender or gender non-conforming persons have violently died this year in America.
During the march, some shouted these names, too: Dominique "Rem'mie" Fells, 27, a Black trans woman was found June 9 in Philadelphia, stabbed with trauma to her head and face; and Riah Milton, 25, a Black trans woman, fatally shot when three suspects robbed her on June 9 in Liberty Township, Ohio.
"All Black Lives Matter" shouted the protesters of all races, ages and backgrounds as they marched from the "All Black Lives Matter" art installation in front of Grauman's Chinese Theater between Highland Avenue and Orange Drive on Hollywood Boulevard, past the Laugh Factory on Sunset Blvd and Laurel Ave, to the newly painted Transgender Flag painted at the intersection of Santa Monica Blvd and San Vicente in West Hollywood.
A name on no one's lips is Howard Efland, a white gay nurse murdered by police on March 9, 1969 at the downtown SRO, The Dover Hotel. His name, like so many LGBTQ people before and since, has been largely forgotten, though Back2Stonewall's Will Kohler reported on the anniversary of Efland's murder last year.
"LA vice officers Lemuel Chauncey and Richard Halligan claimed that Efland groped them," Kohler wrote, "so they arrested him, dragged him naked, bleeding and screaming down a flight of stairs by his feet and into the street. In front of several witnesses, the two police officers, who were well over 6'2 inches, started beating the slightly built, unarmed and non-resisting gay man to death while he screamed 'Help me! My God, someone help me!'
"The two police officers kicked him repeatedly, did knee-drops onto his stomach, and savagely beat him. While several witnesses claimed that Howard Efland died at the scene," Kohler wrote, adding that the LAPD lied to Efland's parents about cause of death, which the LA County coroner ruled an "excusable homicide."
The LA Advocate found out, prompting activist Morris Kight and the Rev. Troy Perry to lead a march of 120 marchers to the hotel for a rally.
"We were horrified and we did the first real organized protest about that — in that we asked that a coroner's jury of civilians was put together — and they had two days of testimony of police brutality (us mostly), with the police saying he was a dirty faggot and so on. The homicide was called justified. We didn't think it was justifiable," Kight told the team at Preserving LGBT Historic Sites in California.
"That radicalized me," said The Rev. Troy Perry, founder of the Metropolitan Community Church and co-founder of Christopher Street West with Kight and The Rev. Bob Humphries. "That was my radicalization of never saying, 'I'm not gonna stand up for people's rights.'"
More names, witch hunts, lobotomies, brutal deaths, the AIDS epidemic — so many names lost in the fog of war for dignity and civil rights.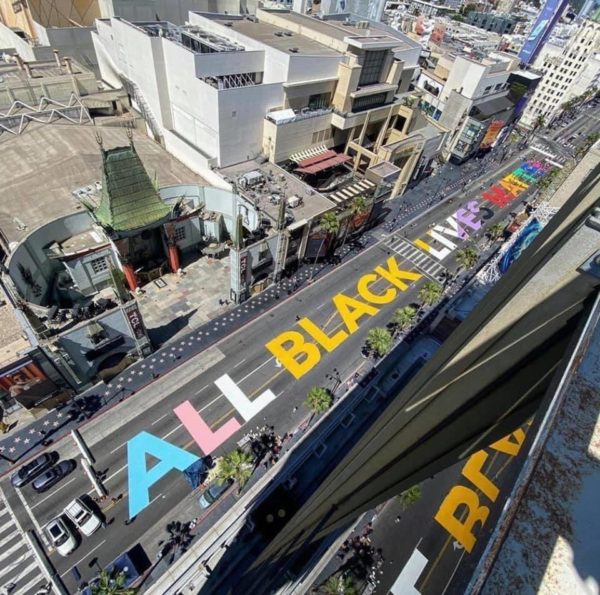 All LGBTQ Lives Matter.
Out LA City Council member Mitch O'Farrell, who helped then-Councilmember Eric Garcetti turn the Black Cat and the Mattachine Steps into historical sites, temporarily stopped the erasure of the temporarily permitted All Black Lives Matter art installation and on June 17 introduced a motion to memorialize the march.
"We had a once-in-a-generation moment this weekend in Hollywood as tens of thousands gathered for a peaceful demonstration on one of the most recognizable boulevards in America," O'Farrell said. "We now have a chance to memorialize the movement in a meaningful way. I look forward to working with BLAC (Black LGBTQIA Action Committee) and other community members on this project."
The motion directs city staff to work with BLAC on a permanent art installation around the Hollywood Blvd and Highland Ave area. That starts the discussion process with appropriate City Departments and the Black LGBTQ community on an appropriate tribute.
"BLAC is centered on effective partnerships designed to bring visibility and action to the unique needs of Black LGBTQ+ communities. Efforts like this, designed by BLAC member, Luckie Alexander [a Black transman], and in collaboration with Councilmember O'Farrell's office, Trailer Park Group, and all other partners and individuals that came together to make this happen is true proof of collaboration. And for a new installation of some kind to live permanently becomes a symbol not just to the city, but to the world," said Gerald Garth and Brandon Anthony, co-founders of BLAC & lead organizers of the All Black Lives Matter march.
Things are more confusing in West Hollywood.
During the recent council meeting, Councilmember John Duran asked how the trans flag got there, since it did not go through the required government approval process.
The Los Angeles Blade was told by a reliable source that West Hollywood Mayor Lindsey Horvath, West Hollywood Planning Commissioner John Erickson, who is a candidate for city council, as well as several other city advisors were involved.
Mayor Horvath, in an email to Los Angeles Blade, said "If the organizers of this flag painting action had come to me in time, I would have proudly drafted an agenda item of support for the Council to consider, and I would like to think the Council would have passed it."
"This action was clearly meant to lift up trans voices and visibility and stand as allies for the trans community, as trans people -especially Black trans women – continue to fall victim to violence and murder," Erickson told the Los Angeles Blade. "I believe it's important to center trans voices in the conversation and I hope West Hollywood will do more to include them in the conversation as we work to build a more just future."
Erickson added: "While painting the flag was not my idea, I support the action.  While activists, advocates, and others are out fighting to keep our transgender community alive, some seem to be more concerned with washing away advocacy, rather than fighting for Black trans lives and supporting all members of our community."
West Hollywood Sheriff's Captain Ramirez said he doesn't know who the female was who sought prior permission, nor does he know who came into the station.
"I received a call and someone asked a question but I was under the impression that it would take place during the march," Ramirez told the Los Angeles Blade. "Their question was would they be arrested and charged if they painted it in the intersection? I told them there is a section for graffiti, but that their intention was peaceful and nonviolent so they would likely not be arrested. I didn't want to be adversarial. But it was painted overnight. Members of the group came into the station overnight and requested permission, saying that 'Ramirez was okay with it,'" so the late night officer responded like the Captain.
"That officer offered cars to observe, block the intersection. That was done for the personal safety of those painting the mural. We didn't want anyone to get hit by a car or accosted by someone who doesn't support trans people," Ramirez said. "That was around 2 to 3:30 AM the morning of the march.
"I don't think I was misled," he said. "This was their way of memorializing all that has happened. We knew their actions would be peaceful and non-violent. These are tumultuous times and we need to work hand in hand with our community. We wanted to recognize the moment and have the trans community and black community celebrate it. The roar of the crowd showed their approval."
As to whether the painting is illegal, Ramirez said: "There may be a Cal-Trans code. It could be considered vandalism like a street mural or side-walk painting. Sometimes they are left forever."
Ramirez said the trans flag can stay, "as it maintains its luster. I don't know why this wouldn't stay unless it violates Cal-Trans code."
"I am not aware of the Sheriff providing clearance to anyone. I do know our Sheriffs were there, protecting the peaceful protestors, and I truly appreciate them stepping up to protect our trans activists and their allies," said Mayor Horvath.
She added "We need to direct our energy to support activists who are fighting to protect black trans lives. We should focus our anger on the recent brutal murders of two black trans women, or the Trump Administration's erasure of healthcare protections for transgender people during Pride Month on the anniversary of the Pulse shooting. Better yet, maybe cisgender people can take a pause all together and listen to our transgender family, center their voices in this conversation, and empower their work."
However, some question whether Ramirez has the authority to make such decisions about city public spaces. Duran, a criminal defense attorney who is also up for re-election, is troubled by city officials possibly committing a misdemeanor crime "under the color of authority." 
Duran is also concerned about setting a precedent.
"There is a reason that law enforcement and government officials have to remain neutral on free speech," Duran told the Los Angeles Blade. "For example, if this sets a precedent and a group wants to paint a confederate flag on Santa Monica Blvd, we can't say 'Oh, we agree with trans rights so that unauthorized mural can stay but your confederate flag has to go.'   Now we are regulating content. And the government cannot regulate free speech – whether its law enforcement or city government."
Additional reporting by Troy Masters
The pleasures of Palm Springs Pride are many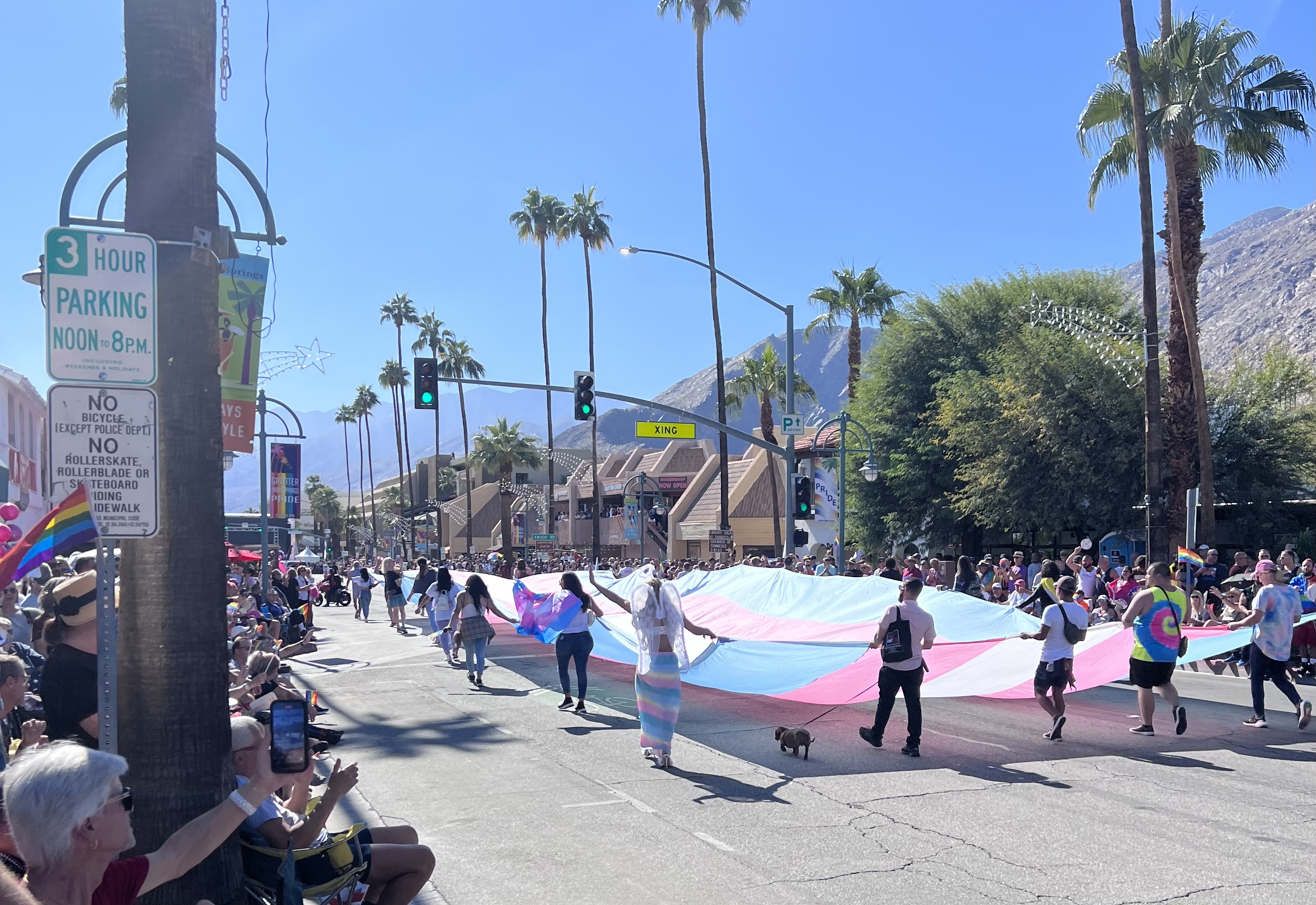 PALM SPRINGS – There is, of course, the obvious element – a strong sense of shared community with hundreds of fellow LGBTQ+ people, living our lives and taking a moment to celebrate all the things that make us both unique and essential within the totality of American culture – that marks any Pride event across the globe; but there's something special, dare we even say "magical", about the vibe in this desert city's timelessly elegant approach to the occasion.
It's difficult, in fact, to describe the blend of progressive modern sensibility and aspirational small-town idealism that defines the experience. Though Palm Springs is a long-established oasis for Angelenos seeking an escape from the big-city intensity that governs their daily lives, it's also a comparatively modest municipality in which queer culture interacts with quotidian practicality on a regular basis. That means, for the purposes of Pride, that the city comes together as a unified voice to assert not only the validity of queer experience, but the inextricable part it plays in the daily life of the community – a welcome and valued part of the diverse and inclusive environment in one of Southern California's most iconic destinations.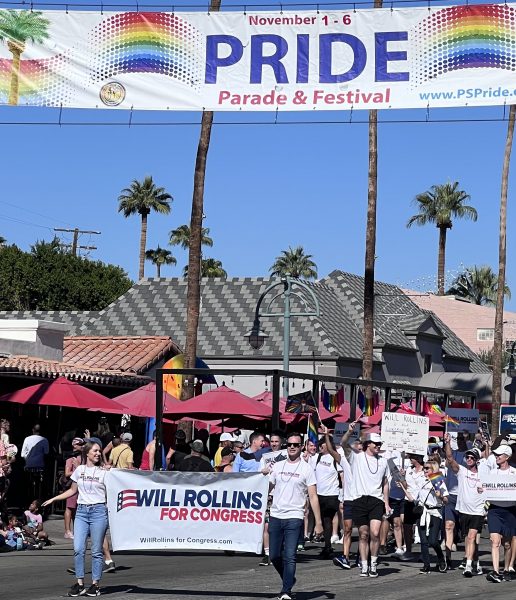 This year's festivities were no exception. Whether it's because, coming on the cusp of a crucial midterm election, Palm Springs Pride represents an eleventh-hour throw-down against the Trump-ist forces that threaten to undermine most of the hard-won freedoms we've come to take for granted, or because it reminds us of the deep well of allied support that exists around our struggle to break free of the stigma and repression of the past, the vibe at this year's 36th annual festival was a heartening dose of positivism – an unequivocally welcome counterpoint to the worst-case scenarios and doom-laden prognostications dominating our current cultural discourse.
The sense of enthusiastic solidarity that permeated the event can be attributed, at least in part, to the heavy participation of local merchants and organizations – something that is part of any Pride celebration, perhaps, but here taken to a level which made a smalltown festival feel as if it were happening in a major metropolitan hub.
With over 150 exhibitors, there was much to do, see, and sample from the vendors, artists and craftspeople, non-profits, and food and beverage providers on hand; deployed in booths, outdoor lounges, and food trucks across several blocks of the city's classic downtown corridor on Palm Canyon Drive, these representatives of the community ensured there was no shortage of activity to keep visitors entertained between the weekend's plethora of musical performances and other scheduled events.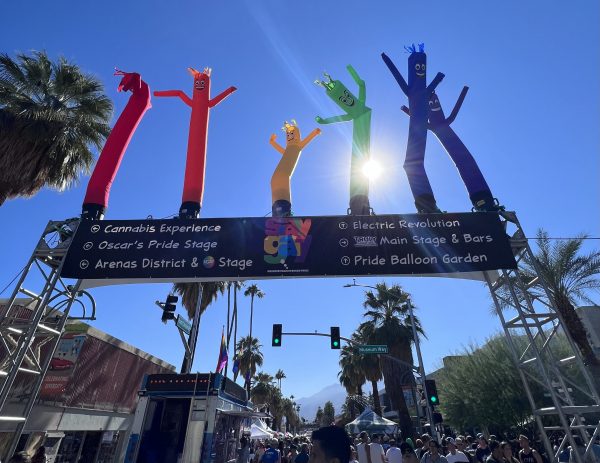 Pride flags, buttons, gear, and other queer-affirming merchandise were available everywhere; opportunities to interact with local organizations – from nudist recreation clubs to live theatre companies to anti-bullying advocacy and support groups – were plentiful; if you were in search of a monkeypox or flu vaccination, those services were available, too, along with plentiful information and resources around other LGBTQ+ health and wellness concerns.
In addition, the location allowed for numerous stores and restaurants lining the streets of the Pride venue – many of them on the Palm Springs "must do" list for tourists and locals alike – to remain open for business, offering full access without even having to leave the festival's "Event Zone."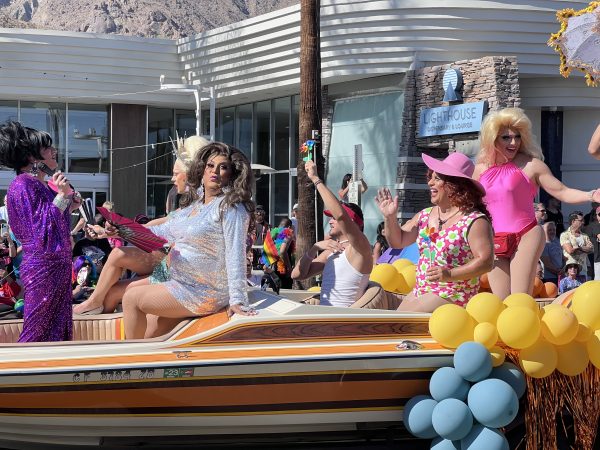 All of this helped to create a vibrant, diverse, and welcoming atmosphere in which all the colors, sights, and sounds of Pride were on full and constant display – an environment where everyone could feel seen, supported, and appreciated, from out and proud members of the LGBTQ+ community to allies and family, or anywhere in between.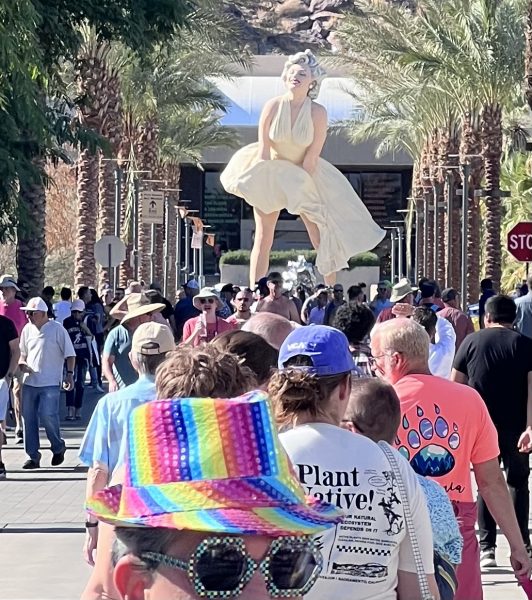 That's not to say there wasn't a keen awareness at Palm Springs Pride of the precarious edge on which our queer future teeters. Though the atmosphere within the festival was focused on celebration, there was an aura of grim-but-determined battle-readiness that became most evident, perhaps, in the cheers of support bestowed on openly gay US Congressional candidate Will Rollins by the tightly-packed crowd of spectators as he marched in Sunday morning's parade.
Alan Uphold, a relative newcomer to Palm Springs who relocated from Los Angeles with husband Jeff Olde just before the pandemic, told the Blade he believed the sense of political urgency was sparked by the recent redistricting process that made the city part of a very "red" political region. "Because of redistricting," he observed, "Palm Springs was lumped in with the more conservative areas to the west of us that are currently represented by one of the most corrupt, anti-LGBTQ, anti-reproductive freedom, January 6th-denying members in Congress. There's a real sense of stress here, mixed with cautious optimism that Palm Springs voters could help Will Rollins win, because we CAN NOT be represented by a radical MAGA extremist like Calvert."
Eva L, a festival attendee from Coachella who told the Blade she came to march with Rollins, also expressed frustration over the redistricting. "I can't believe residents and politicians in Palm Springs just rolled over and didn't object to it. Being represented by Calvert is a setback to the peaceful haven that is our community. I think we should demand to be reincorporated. So, I'm here in part just to support Will and hope for the best on Tuesday."
There were voices in the crowd, too, that served as reminders that – even at Pride – not everyone is on board with progressive ideas about LGBTQ+ acceptance. Roberta C, who was wearing a Bianco for Sheriff campaign badge, told us she doesn't understand why people need Pride in Palm Springs. "You guys have it easy now – and I realize that can change – but I'm here to be with my nephew who thinks he might be transgender. I'm confused because he's going to become a woman and says he's a lesbian. He insists on being called 'they'." The Blade offered to provide contact information for Trevor Project as she walked away, wiping a tear from her face as she said with cracking voice, "It's all too much for me."
Still, the overall mood of the crowd was festive throughout the weekend, with many people overheard saying it was the best Pride they've seen in recent memory. One attendee, Carlos Hernandez, who was visiting Palm Springs and happened upon the event by accident, told us "I can't believe my luck! Be always wanted to attend Pride in the states and it's just hard to believe how joyous this day has been so far."
"Joyous" is, in fact, the word we would also use to describe the occasion, which was ultimately a triumphant declaration of how far we've come as a queer community coupled with a fierce recognition of how far we have still to go. It's that heady mix of emotions that made Palm Springs Pride less remarkable, perhaps, for its party atmosphere and high-voltage entertainment – though those were undeniably part of the event's success – than for the thousands of little moments, powerful and personal, experienced by those who were there.
Uphold perhaps encapsulated the resonant magic of this phenomenon.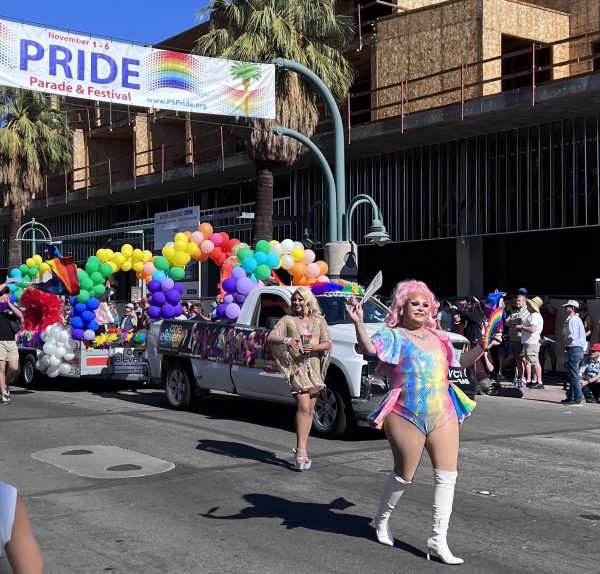 "The thing that Jeff and I love about Palm Springs Pride is that even though the event attracts more than 125,000, it still feels like a smalltown festival," he told us. "I especially like that the parade features local high school bands and students from local high school students all across the Coachella Valley."
"When we attended Pride celebrations 25 years ago in WeHo, it was practically an act of subversion and defiance just to show up. That's why, every year, I get really emotional just seeing these high school kids marching in a Pride parade," he added.