National AIDS Memorial posts Quilt online mirroring COVID crisis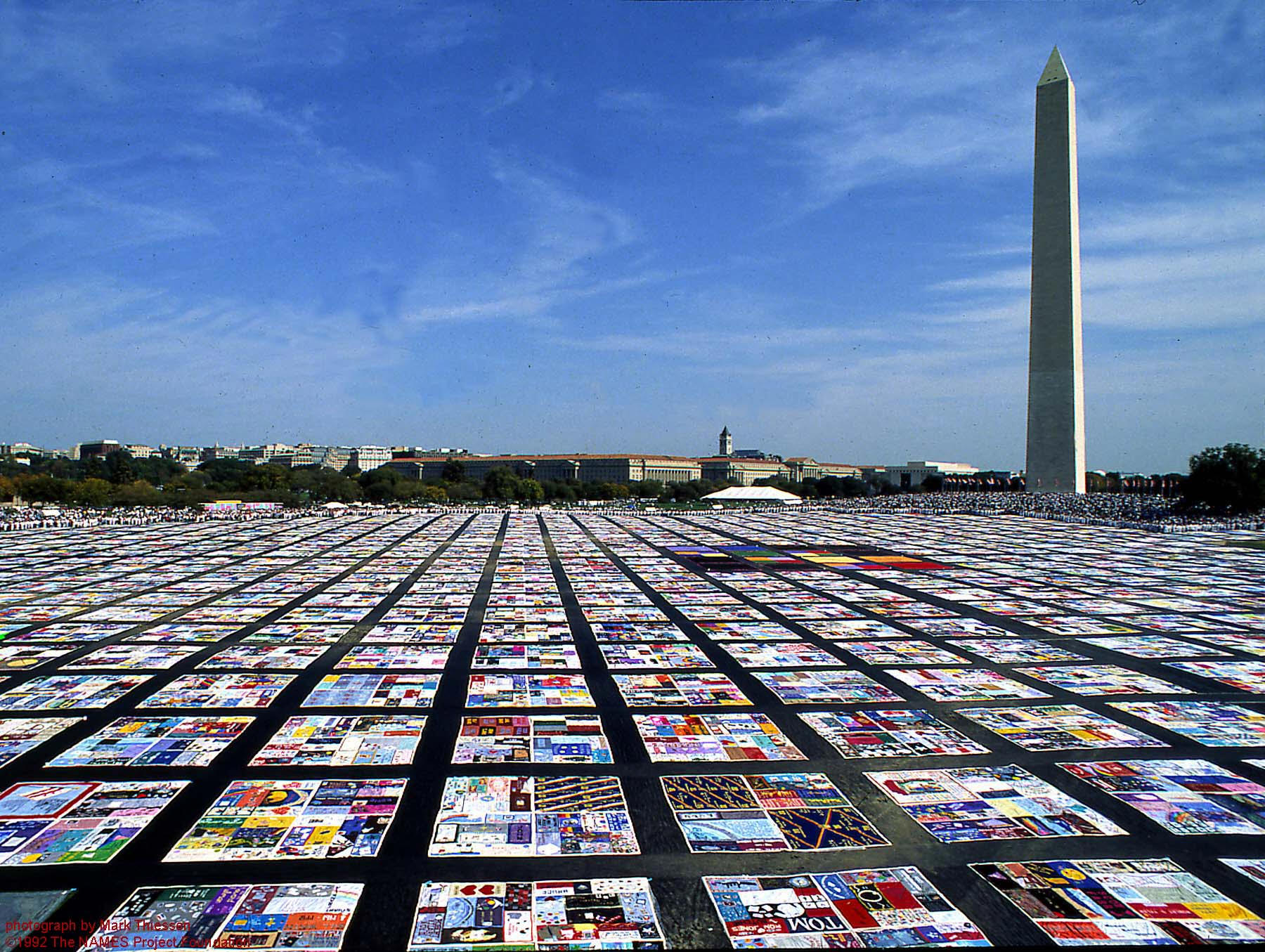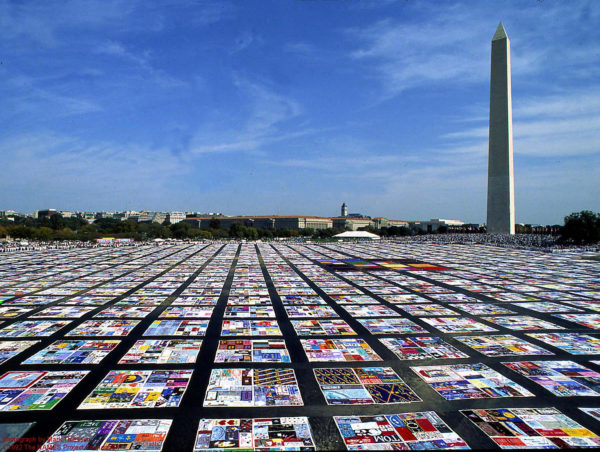 The 23rd International AIDS Conference made history when it opened its July 6-11 conference this year. Scientists and AIDS activists were forced to deal with the twin pandemics of both AIDS and the novel coronavirus – both of which severely impact the LGBTQ community.
That prompted many to compare President Donald Trump's failed response to COVID-19 to President Ronald Reagan's disastrous neglect of the AIDS crisis in the 1980s. From June 1981 to Nov. 2018, more than 700,000 people have died from AIDS in America.
In just four months under Trump, 135,279 people have died from COVID-19, though the number from March 2 to July 9, 2020 may actually be under-reported.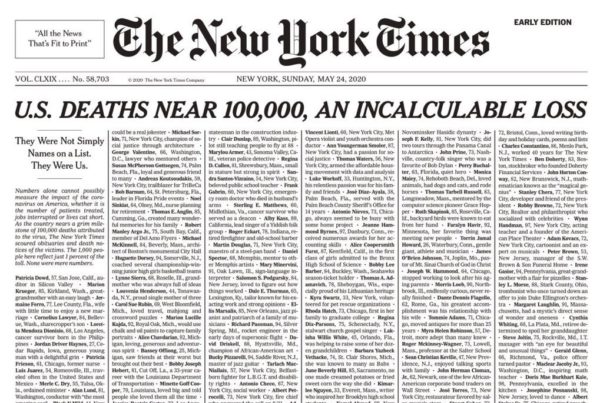 The comparison between the twin pandemics was underscored on May 24 when the New York Times filled its entire front page with the names of those lost as the number approached 100,000 COVID dead.
The gasp heard around the world was similar to the tears shed when the Names Project AIDS Memorial Quilt was unfurled on the Washington Mall in 1993.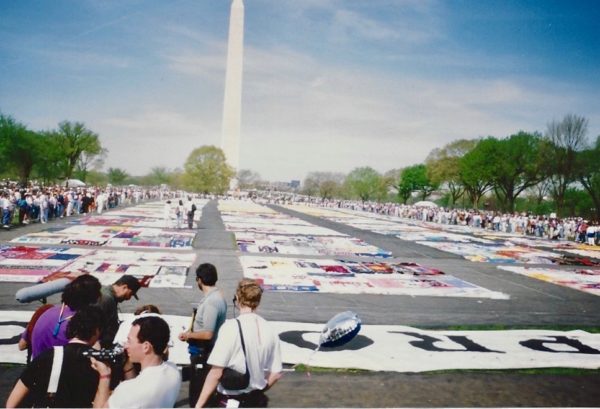 The Names Project AIDS Memorial Quilt was displayed on the Washington Mall during the March on Washington in 1993 (Photo by Karen Ocamb)
This year's international AIDS conference returned to San Francisco, though under very different circumstances than the explosive 1990 conference where ACT UP demanded urgency and accountability. Because of the coronavirus, AIDS/2020:Virtual (AIDS2020.org) was virtually attended by delegates from 175 countries with talks and debates that included ending systemic racism and how COVID-19 has disrupted HIV/AIDS services, especially for LGBTQ people.
"Epidemics run along the fault lines of inequalities and we can and must close the gaps," UNAIDS Executive Director Winnie Byanyima said at the opening news conference.
Byanyima presented findings from the UNAIDS 2020 Global AIDS Update report, Seizing the Moment: Tackling entrenched inequalities to end epidemics. World Health Organization Director-General Dr Tedros Adhanom Ghebreyesus, also presented findings of a new WHO survey showing significant disruptions caused by the coronavirus pandemic in access to HIV treatment. Recently, WHO confirmed that COVID-19 is an airborne virus.
"A survey of 13,562 people in 138 countries conducted from mid-April until mid-May showed that COVID-19 is having a devastating impact on the LGBTI+ community worldwide," according to an AIDS/2020:Virtual press release. "Nearly half the survey participants faced economic difficulty, with many unable to meet their basic needs, skipping meals or reducing meal sizes. Further, nearly half of those who were working expected to lose their employment in the wake of the pandemic, and 13% had already lost their jobs. Of concern, 26% of participants living with HIV reported that they had experienced interrupted or restricted access to refills of antiretroviral treatment."
Additionally, the economic impact of the COVID-19 crisis has forced 1% of survey respondents into sex work with the reduced ability to negotiate safer sex. 
"The findings of this survey are deeply concerning," Tedros said. "We cannot let the COVID-19 pandemic undo the hard-won gains in the global response to this [HIV/AIDS] disease." 
Meanwhile, on July 6 at the White House, the same day the AIDS conference opened, Trump spun a Twitter storm about confederate statues, China, NASCAR driver Bubba Wallace, the "Sanctuary City card," "angry, violent, criminal mobs taking over certain (Democrat run) cities," the NASDAQ, the Washington Redskins & Cleveland Indians, opening schools, and spouted more dangerous COVID-19 lies about hydroxychloroquine, the success of US testing and "lowest" mortality rate.
Trump not only failed to acknowledge the International AIDS Conference – he went one cruel step further, as the State Dept. "notified the [UN] Secretary-General … of its withdrawal from the World Health Organization, effective on 6 July 2021," NPR reported. 
Two days later, on July 8, the US reported more than 3 million COVID-19 cases and 134,000 reported deaths, though how many of those deaths are LGBTQ is still unknown as LGBTQ data collection has not been an urgent priority.
The tale of two pandemics did not escape the attention of the San Francisco-based National AIDS Memorial.
Coinciding with the AIDS conference, the non-profit that oversees the AIDS Memorial Quilt launched a new interactive website displaying the entire 48,000 Quilt panels online, as well as a new initiative to collect and share stories about those who died and those impacted over the 40 years of the AIDS pandemic.
The timing is ironically important as State Sen. Scott Weiner and Equality California indicate in pressing for LGBTQ data collection during the COVID crisis – lack of which they explicitly tie to Reagan's neglect of AIDS.
"We know that COVID-19 is harming the LGBTQ community, but because no data is being collected, we're hamstrung in making the case to devote attention and resources," Wiener said before introducing SB 932. "The history of the LGBTQ community is a history of fighting against invisibility. Without data, we quickly become an invisible community and risk being erased. California must lead and collect this critical health data."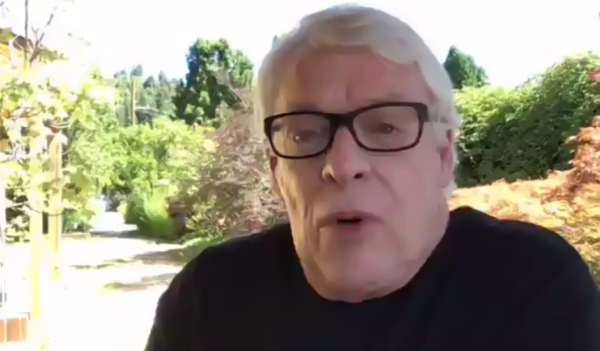 Fearing erasure is precisely why gay activist Cleve Jones started the AIDS Quilt in 1987.
"Within just a few years, almost everyone I knew was dead or dying or caring for someone who was dying. And one of the things that frightened me and led really to the creation of the quilt was my fear that all of these people would just disappear, that their stories would not be known," Jones said during a Zoom news conference July 6. "And my friends were such remarkable people and I wanted them to be remembered….Now when we look at the complexities of COVID-19, there are just so many parallels — the importance of testing; the significant racial disparities that we're seeing; the importance of community action; the difficulties, the challenges of persuading people to modify their behavior in ways that can save lives. So, I think it just underscores that this Quilt still has a role to play."
Jones added:
"The Quilt was never intended to be a passive Memorial. The Quilt was about revealing the lives and the humanity behind the statistics. It was about shaming a government whose inaction had created such a catastrophe. It was a tool for the media to help them understand how the disease was spreading and communities that it was affecting. So, uh, it was never intended to be just a passive thing. And today, as we see people hoping for a vaccine, hoping for a cure, it brings back a lot of very painful memories for me — and I think all of us. This is just bringing back a lot of really, really difficult memories — but those are exactly the memories we need to keep in the front of our minds right now, as we endeavor to face this new challenge."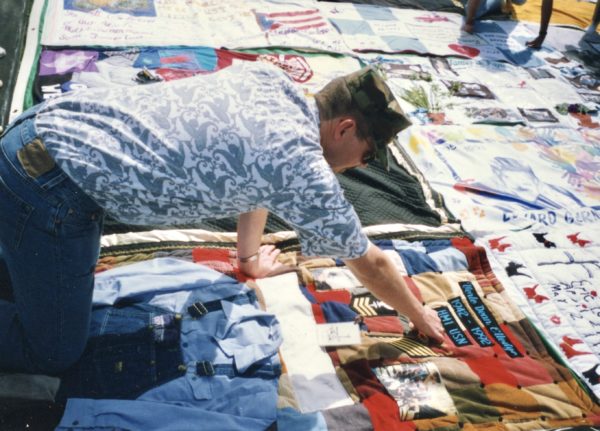 Honoring and mourning a person lost to AIDS (Photo by Karen Ocamb, 1993)
John Cunningham, Executive Director of the National AIDS Memorial, underscored the importance of honoring and telling the stories of those lost and inspire a new generation to take action.
"We do have a pandemic we're in the middle of right now and there are lessons that we can carry forward to bring about solutions," said Cunningham. "And I think the most profound one is for us to ensure that we stand up and that we take action and become activists as we were back in the day, to hold our elected officials in our government responsible for the inaction that they are taking at the present time for stigmatizing a virus as was done in the early days of the epidemic."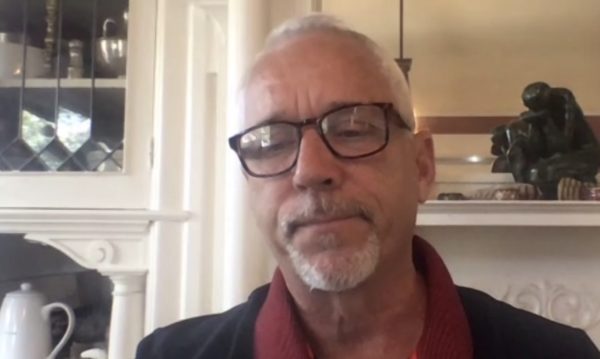 Turning the actual tactile fabric of The Names Project AIDS Memorial Quilt into a metaphor, Cunningham said: "That's part of what's in the fabric of our nation — challenging the bases of power to bring about profound change in our society."
(Lead photo via Wikipedia)
President's Emergency Plan for AIDS Relief marks year 20
Achievements PEPFAR have been remarkable, well-documented by outside evaluators, and hugely applauded throughout the advocacy community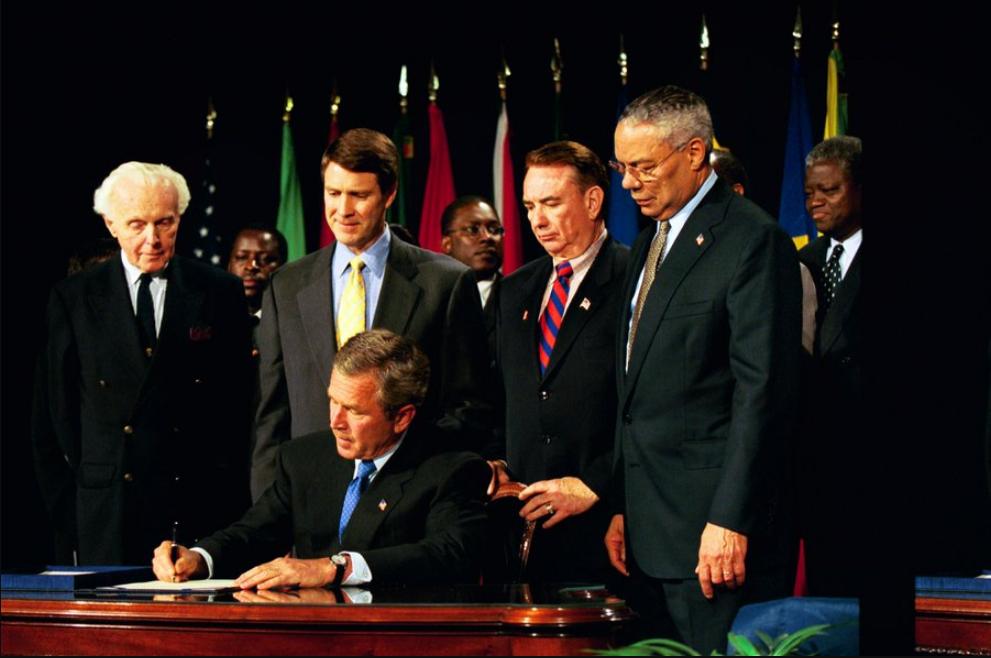 WASHINGTON – The President's Emergency Plan for AIDS Relief (PEPFAR) marks its twenty year anniversary today, marking the largest commitment by any nation to address a single disease in the world.
The initiative which was personally led and launched by former President George W. Bush in 2003, its funding has totaled more than $110 billion to date, including funding for the Global Fund to Fight AIDS, Tuberculosis and Malaria (Global Fund), to which the U.S. government is the largest donor.
PEPFAR is credited with saving millions of lives and helping to change the trajectory of the global HIV epidemic. The White House today released a statement by President Joe Biden marking the 20th Anniversary:
Twenty years ago today, President George W. Bush declared that preventing and treating HIV/AIDS was a foreign policy priority of the United States. At a time when nearly 30 million people were HIV positive, but very few were receiving life-saving medicines, the President's Emergency Plan for AIDS Relief (PEPFAR) transformed the global AIDS response and laid a marker for America's commitment to countries that were impacted the hardest by the AIDS epidemic. Helping lead the bipartisan effort in Congress to authorize PEPFAR is among my proudest achievements from my time in the Senate. To this day, PEPFAR remains a powerful example of America's unmatched ability to drive progress and make life better for people around the world.

Since 2003, PEPFAR has saved more than 25 million lives and dramatically improved health outcomes in more than 55 partner countries. AIDS-related deaths have declined by 68 percent since their peak in 2004, and new HIV infections are down 42 percent. PEPFAR investments have ensured that 5.5 million babies have been born HIV-free. And two decades of investment in partner nations' health systems played a critical role in countries' ability to respond to other health crises such as COVID-19, Mpox, and Ebola.

Today, PEPFAR continues to support 20.1 million people around the world with HIV/AIDS treatment, and my Administration is committed to continuing to lead the global HIV/AIDS response. We will build on our decades of progress to reach the Sustainable Development Goal of ending AIDS by 2030, work to eliminate the stigma and inequities that keep people from accessing care, and keep the voices of people living with HIV/AIDS at the center of our response. I look forward to working with Congress on PEPFAR's reauthorization this year.
PEPFAR is overseen by the U.S. Global AIDS Coordinator, who is appointed by the President, confirmed by the Senate, and reports directly to the Secretary of State, as established through PEPFAR's authorizing legislation.
PEPFAR's original authorization established new structures and authorities, consolidating all U.S. bilateral and multilateral activities and funding for global HIV/AIDS. Several U.S. agencies, host country governments, and other organizations are involved in implementation.
Dr. John Nkengasong, the current coordinator was sworn in on June 13, 2022, and holds the rank of Ambassador leading the Office of the Global AIDS Coordinator (OGAC) at the U.S. Department of State.
Twenty years ago this month, President George W. Bush announced #PEPFAR during his State of the Union address. Since then, the U.S. government has invested $100B+ in the global HIV/AIDS response through PEPFAR, saving 25M lives & bringing us closer to #EndAIDS2030. #PEPFAR20 pic.twitter.com/SMAOHWPZ03

— PEPFAR (@PEPFAR) January 11, 2023
Nobel Prize winning scientist Harold Varmus, who served as Director of the National Institutes of Health (NIH) from 1993 to 1999 and currently the Lewis Thomas University Professor of Medicine at Weill Cornell Medicine in New York City, wrote in an article honoring World Aids Day 2013:
[…] "the PEPFAR story must begin with George W. Bush and his wife, Laura, and their interests in AIDS, Africa, and what Bush termed "compassionate conservatism." According to his 2010 memoir, Decision Points, the two of them developed a serious interest in improving the fate of the people of Africa after reading Alex Haley's Roots and visiting The Gambia in 1990.3 In 1998, while pondering a run for the U.S. presidency, he discussed Africa with Condoleezza Rice, his future secretary of state; she said that, if elected, working more closely with countries on that continent should be a significant part of his foreign policy. She also told him that HIV/AIDS was a central problem in Africa but that the United States was spending only $500 million per year on global AIDS, with the money spread across six federal agencies, without a clear strategy for curbing the epidemic."
Key Facts (As provided by Kaiser Health & Family Foundation)
Although the U.S. has been involved in efforts to address the global AIDS crisis since the mid-1980s, the creation of the President's Emergency Plan for AIDS Relief (PEPFAR) in 2003 marked a significant increase in funding and attention to the epidemic.
PEPFAR is the largest commitment by any nation to address a single disease in the world; to date, its funding has totaled more than $110 billion, including funding for the Global Fund to Fight AIDS, Tuberculosis and Malaria (Global Fund), to which the U.S. government is the largest donor. PEPFAR is credited with saving millions of lives and helping to change the trajectory of the global HIV epidemic.
U.S. funding for PEPFAR grew from $2.2 billion in FY 2004 to $7.0 billion in FY 2022; FY 2022 funding includes $5.4 billion provided for bilateral HIV efforts and $1.6 billion for multilateral efforts ($50 million for UNAIDS and $1.56 billion for the Global Fund).
As the COVID-19 pandemic continues to have profound effects across the world, PEPFAR has acted to respond to COVID-19 in countries that receive support in order to minimize HIV service disruptions and leverage the program's capabilities to address COVID-19 more broadly.
Looking ahead, PEPFAR faces several issues and challenges, including how best to: address the short- and long-term impacts of COVID-19 on PEPFAR and the HIV response; accelerate progress toward epidemic control in the context of flat funding; support and strengthen community-led responses and the sustainability of HIV programs; define its role in global health security and broader health systems strengthening efforts; and continue to coordinate with other key players in the HIV ecosystem, including the Global Fund.
Key Activities and Results (As provided by Kaiser Health & Family Foundation)
PEPFAR activities focus on expanding access to HIV prevention, treatment, and care interventions. These include provision of antiretroviral treatment, pre-exposure prophylaxis, voluntary male circumcision, condoms, and other commodities related to HIV services. In addition, PEPFAR has launched specific initiatives in key strategic areas. For example, in 2015, PEPFAR launched DREAMS, a public-private partnership that aims to reduce HIV infections in adolescent girls and young women.
The latest results reported by PEPFAR indicate that it has:
supported testing services for 63.4 million people in FY 2021;
prevented 2.8 million babies from being born with HIV, who would have otherwise been infected;
provided care for more than 7.1 million orphans and vulnerable children (OVC);
supported training for nearly 300,000 new health care workers; and
supported antiretroviral treatment for 18.96 million people.
In the 15 countries implementing the DREAMS initiative, new diagnoses among adolescent girls and young women have declined with most DREAMS areas (96%) experiencing declines greater than 25% and nearly two-thirds with declines greater than 40%.
The achievements of the PEPFAR program have been remarkable, well-documented by outside evaluators, and hugely applauded throughout the advocacy community and the developing world. In general, milestones have been met, the program has been enlarged (for instance, to include some research on implementation of medical assistance), the roster of PEPFAR countries has grown and spending plans have not been exceeded.