July 8, 2020 at 8:37 pm PDT | by Brody Levesque
LA Mayor warns Stay-At-Home order may return as Covid numbers soar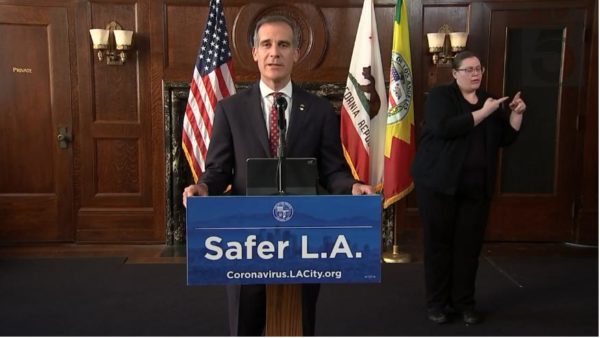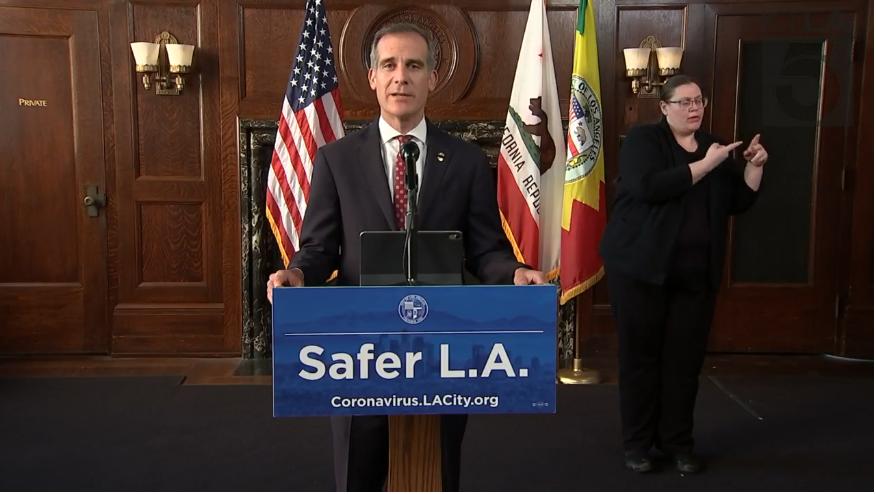 LOS ANGELES – This week has marked a shocking series of surges in cases of new infections, hospitalizations, and ICU cases of the Coronavirus. On Wednesday the United States surpassed the 3,053,328 cases of COVID-19 while in Los Angeles County, the Director of the County's Public Health Department, Dr. Barbara Ferrer noted in a statement that the County had recorded 123,004 cases.
The alarming surge in cases has been attributed to larger gatherings of people as the stay-at-home restrictions were lifted, many who did not comply with social distancing or mask orders
"Unfortunately, where we are today is different than where we were two, three or four weeks ago," Ferrer told reporters in a press conference. "Cases are surging, hospitalizations are increasing, and mostly, this is all a reflection of a lot more community spread."
"There's been a significant increase in infections among those aged 18 to 40 years old. "Almost 50% of new cases occur among younger people, and then those younger people are spreading the infection to others," she added.
Her department confirmed 65 new deaths and 2,496 new cases of COVID-19. The daily positivity rate factoring a composite of a 7-day rolling average is 10.4%, a rate that Los Angeles County hasn't seen since late-April.
In his press conference Wednesday Los Angeles Mayor Eric Garcetti cautioned that he could reinstate a stay-at-home order should the current trend of COVID-19 cases and hospitalizations continue to rise.
"Today, more than 50% of the people who are testing positive in Los Angeles County are between 18 and 40 years of age," Garcetti said. "Remember, just a few weeks back it was 30%. Then when I talked to you last week it was 40%."
The mayor had announced last week that city officials would categorize and share the risk assessment of coronavirus infection threat levels via a color-coded indicator breaking down the risk of levels of infection spread into four categories: red, orange, yellow, and green.
Garcetti noted given the recent surge the threat level remained at orange, meaning there is an extremely high risk of infection and residents should take precautions and assume everyone around them is infectious. The recommended course of action in the Orange condition is for Angelenos to stay home only traveling outside their homes to only participate in essential activities.
"If things get worse, that dial could move to red in this coming week or two. That would place us at the highest risk of infection and we'd likely return to a mandated safer at home," he said.
"But if things get better, we'll see that dial back down to yellow, indicating we're successfully flattening the curve."
California had 284,138 coronavirus cases Wednesday with 9,500 new cases recorded Tuesday in a single-day record for the state Governor Gavin Newsom said during his press conference.
KTLA reported that the demand for coronavirus testing will likely continue to outstrip appointment availability over the next few weeks in Los Angeles County as officials scramble to expand capacity while record-high COVID-19 case numbers continue to dramatically rise.
No appointments are available the rest of this week countywide, including at locations run by the city, county and state, as well as at private clinics and pharmacies usually included in the directory on L.A. County's scheduling website, said Dr. Christina Ghaly, the county's director of health services.
Dr. Ferrer also said that Angelenos can help lessen the strain on testing by seeking an appointment only if they have symptoms of the respiratory illness, live or work in a high-risk setting, or if they've been exposed to someone who tested positive KTLA also noted. That request by Ferrer differs from the guidance adopted by the City at its testing locations, where anyone can get tested, even if they're asymptomatic and have no known exposure.