July 6, 2020 at 9:06 pm PDT | by Brody Levesque
Half of COVID-19 LA County cases are persons age 40 and younger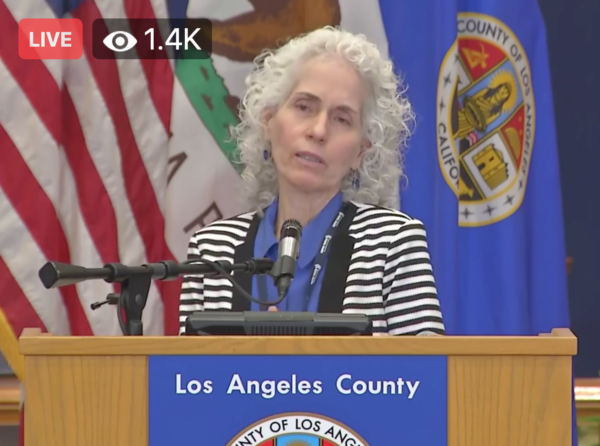 LOS ANGELES — The Los Angeles County Department of Public Health reported Monday, July 6 that nearly fifty percent of confirmed new cases of the coronavirus (COVID-19) occurred among younger people with the most significant increase in the percentage of cases among residents between 18 and 40 years old.
"Unfortunately, where we are today is different than where we were two, three or four weeks ago," Director of Public Health Barbara Ferrer told reporters in a press conference. "Cases are surging, hospitalizations are increasing, and mostly, this is all a reflection of a lot more community spread."
"There's been a significant increase in infections among those aged 18 to 40 years old. "Almost 50% of new cases occur among younger people, and then those younger people are spreading the infection to others," she added.
Hospitalizations for individuals between 18 and 40 years old have also increased from a little over 10% of hospitalized cases in April to about 25% in July.
There are 1,921 people currently hospitalized, 28% of these people are confirmed cases in the ICU and 18% are confirmed cases on ventilators.
On Monday the Dept of Public Health confirmed 48 new deaths and 1,584 new cases of COVID-19. To date, the department has identified 116,570 positive cases of COVID-19 across all areas of LA County, and a total of 3,534 deaths.
Monday's tabulations of COVID-19 cases were in part mirrored by the overall dramatic increase in cases in the state. During his Monday press briefing, California Governor Gavin Newsom announced that across the state hospitalization totals continue to climb to a total of 271,000 lab-confirmed positive cases. Newsom also noted that over the weekend California had a total of 11,529 cases recorded.
Newsom told reporters that he as well as state health officials were attributing the significant rise in cases numbers to certain residents who were not complying with the mandatory facial mask order, or social distancing protocols especially by groups of friends and extended family members.
California Department Health Department health officials say that most of the recent spike in cases and hospitalizations dating back to the Memorial Day weekend have been linked by contact tracing investigations linking outbreaks to private gatherings as well in addition to crowds in confined spaces that reopened such as bars. Newsom ordered all bars shut down in the state's seven hardest-hit counties, and with today's cases numbers has expanded that list to include another 12 counties.
In Los Angeles County, Dr. Ferrer quoting an University of Southern California study, noted that in the month of April, 86% of residents in the county had stayed home in observance of the Stay-At-Home order issued. However, she pointed out that as of Monday, that percentage had dropped to only 58%.
"It's clear that after months of quarantine combined with the reopening of many sectors in the span of several weeks, we've had a lot of people disregard the very practices that allowed us to slow the spread," Ferrer said adding, "This cannot continue."
As LA County has allowed businesses to reopen, many of which require close contact or have close with other people, the risks have drastically increased, especially if safety protocols aren't followed Ferrer pointed out.
"If we do not find it in ourselves to actually continue to adhere to the social distancing and infection control practices, it finds us in a place where we're slowing down our recovery journey," she said. "What we do now, will determine where we are in three to four weeks."
While LA County and other jurisdictions did close their beaches over the weekend and fourth of July celebrations of fireworks displays and large gatherings were also prohibited, the health director also noted the large gatherings of young people, many shown on the various social media platforms with no masks and not observing social distancing. She observed that under those circumstances, it made significant outbreaks even more likely.