July 14, 2020 at 8:26 pm PDT | by Brody Levesque
COVID-19: Los Angeles County records highest daily new case and hospitalizations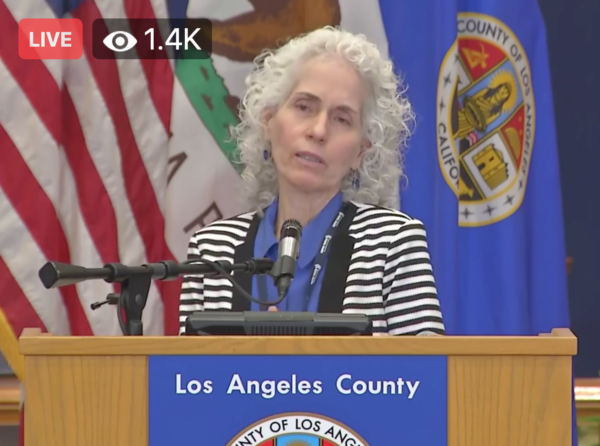 LOS ANGELES – Los Angeles County public health officials on Tuesday confirmed the highest number of new COVID-19 cases and hospitalizations reported in a twenty-four hour period with 4,244 new cases and 2,103 people currently hospitalized. The LA County Public Health Department reported 73 additional deaths.
Of the 2,103 people hospitalized, 27% are confirmed cases in the ICU and 19% are confirmed cases on ventilators. To date, Public Health has identified 140,307 positive cases of COVID-19 across all areas of LA County, and a total of 3,894 deaths.
This sharp increase has been attributed partially to better access and faster test results according to a source at LACDPH who spoke to the Los Angeles Blade Tuesday evening. But, the sharp uptick is also the result of Angelenos who have not complied with the requirements of social distancing, facial masks, and avoiding large crowds the official said.
Dr. Barbara Ferrer, the County's Director of Public Health modified the County Health Order in alignment with Governor Gavin Newsom's Monday roll-back of some reopening of portions of the business sector and pleaded with residents to adhere to the requirements.
"As a community, we must slow the spread of COVID-19 to prevent an overwhelming surge of COVID-19 in our hospitals and more untimely deaths. I urge you to wear a face covering, stay at home as much as possible, avoid close contact with people you don't live with, and wash your hands. Together, we can stop the spread of this deadly virus," Ferrer said Tuesday.
"Today's numbers are alarming and unfortunately are the result of many businesses and individuals not adhering to the basic public health requirements of distancing and wearing face coverings.  We are just not able to continue on a recovery journey without everyone doing their part.  Keeping businesses open is only possible if we get back to slowing the spread," she added.
The Order requires the closure of the following sectors for all indoor operations:

Gyms and Fitness Centers

Places of Worship

Indoor Protests

Offices for Non-Critical Infrastructure Sectors as identified at covid19.ca.gov

Personal Care Services(including nail salons, massage parlors, and tattoo parlors)

Hair Salons and Barbershops

Indoor Malls

Bars, indoor dining at restaurants, indoor museums, indoor operations at zoos and aquariums, and cardrooms and satellite wagering facilities remain closed and all events and gatherings unless specifically allowed by this Order remain prohibited.
While the resurgence of the virus in 30 of California's 58 counties has been alarming, late Tuesday afternoon the Associated Press reported that the first COVID-19 vaccine tested in the U.S. revved up people's immune systems just the way scientists had hoped, researchers told the news service Tuesday — as the shots are poised to begin key final testing.
"No matter how you slice this, this is good news," Dr. Anthony Fauci, the U.S. government's top infectious disease expert, told The Associated Press.
The experimental vaccine, developed by Fauci's colleagues at the National Institutes of Health and Moderna Inc., will start its most important step around July 27: A 30,000-person human trial study to prove if the shots really are strong enough to protect against the coronavirus.