September 30, 2020 at 8:49 pm PDT | by Brody Levesque
Sacramento Roundup- Newsom signs LGBTQ civil rights & healthcare bills into law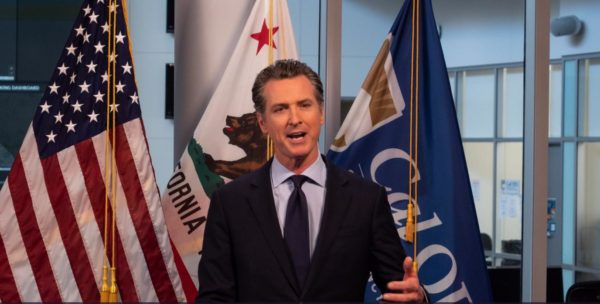 SACRAMENTO – California's LGBTQ Legislative caucus advanced several critical pieces of legislation in this year's now-ended session, which Governor Newsom signed into law this past week. Addressing the ongoing Coronavirus crisis, Senate Bill 932 (SB932) mandates that health care providers in California report sexual orientation and gender identity (SOGI) data, if known, for all reportable communicable diseases.
"California has some of the strongest pro LGBTQ+ laws in the nation and with the bills signed today, our march toward equality takes an additional step forward," said Newsom in a media statement. "These new laws will help us better understand the impacts of COVID-19 on the LGBTQ+ community, establish a new fund to support our transgender sisters and brothers and advance inclusive and culturally competent efforts that uphold the dignity of all Californians, regardless of who you are or who you love."
SB932, introduced by State Senator Scott Wiener, was targeting the specific lack of data points for the coronavirus on the state's LGBTQ residents. In the initial stages of the COVID-19 pandemic there was a failure by the health departments at a local level to collect the data point metrics needed to account to tabulate impact. Wiener later expanded the legislation to encompass all reportable communicable diesases. It is the first law of its kind in the country that requires healthcare providers to collect LGBTQ health data for all reportable communicable diseases. Equality California and the LGBTQ Health and Human Services Network co-sponsored Wiener's legislation.
Another critical legislative effort led by Wiener, which was co-sponsored by TransLatin@ Coalition, TGI Justice Project, Equality California, ACLU of California, Lambda Legal, Medina Orthwein LLP, and Transgender Law Center, was Senate Bill 132 (SB!32).
SB132 requires that incarcerated transgender, nonbinary, and intersex individuals in the custody of the California Department of Corrections and Rehabilitation (CDCR) be classified by their gender identity and housed based on their stated health and safety needs and searched according to the policy for their gender identity or the facility where they are housed, based on their search preference. Currently, incarcerated transgender, nonbinary, and intersex individuals are automatically housed by sex assigned at birth, which can lead to increased violence and harassment.
In an email to the Los Angeles Blade this week, Wiener wrote: "Today, California took a big step toward LGBTQ equality and inclusion. LGBTQ Californians are no longer invisible in our healthcare system, and we will now have health data so that we can advance health equity for our community. And, transgender people who are currently in prison will have a much greater opportunity to be safe while incarcerated, and to be treated with the respect and dignity they deserve. I'm proud to be an LGBTQ Californian and proud to be a part of the coalition working toward a fairer society. Thank you, Governor Newsom, for once again getting it and stepping up to support the LGBTQ community."
Newsom also signed Assembly Bill 2218 (AB 2218) into law this past week. Sponsored by Assemblymember Miguel Santiago (D-Los Angeles), the law establishes the Transgender Wellness and Equity Fund. The Fund will assist organizations serving people that identify as transgender, gender nonconforming, or intersex (TGI), and help create or fund TGI-specific housing programs and partnerships with hospitals, health care clinics and other medical providers to provide TGI-focused health care.
"This is a critical measure for our transgender community and I thank Governor Newsom for his steadfast leadership in signing AB 2218," Santiago said in an emailed statement. "California's TGI community has long faced obstacles in receiving safe, non-discriminatory, comprehensive care, and COVID-19 has exacerbated these existing health care disparities. This bill will help create programs where TGI-identified people can receive safe, competent, and inclusive healthcare and other social services."
The Governor's office noted in a statement that "recognizing that too many Californians who are HIV+ experience heightened levels of discrimination by insurers, the Governor signed SB 1255 by Senator Lena Gonzalez (D-Long Beach) and the Senate Committee on Insurance to end the practice of insurance companies discriminating against individuals because of their HIV status."
"Thanks to Governor Newsom and Senator Wiener's leadership, California is a beacon of hope to LGBTQ+ people everywhere. Nearly four decades after I watched the government look the other way as our community was devastated by the AIDS crisis, I am proud to say California has become the first state to mandate the collection of voluntary LGBTQ+ data for all reportable communicable diseases," Rick Chavez Zbur, Executive Director of Equality California, said in an emailed statement.
"And while President Trump unleashes endless attacks against the transgender community, California is ensuring incarcerated transgender people are afforded the respect, agency and dignity that every person deserves. I recently had the chance to hear from currently incarcerated transgender people about their experiences and need for SB 132 — this bill is going to save lives. We are so grateful to our coalition partners — many of whom are trans," Zbur added.